Video Of Pool Party At Missouri's Lake Of The Ozarks Goes Viral Amid Pandemic
Posted by admin on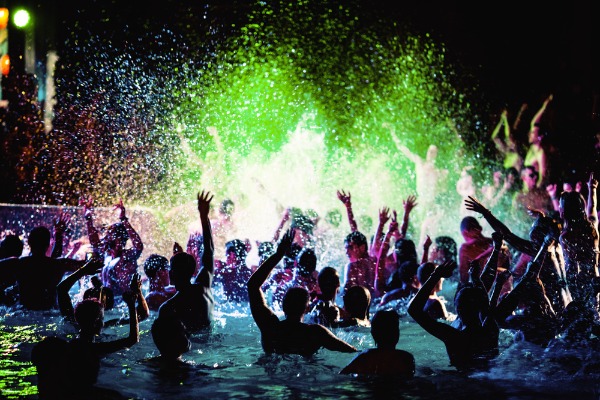 Image via Michael Vano / Shutterstock.com
Over the Memorial Day weekend, videos of people celebrating in crowded pool parties during the
coronavirus pandemic
have gone viral on social media.
One of the videos displayed people partying in close proximity at Missouri's Lake of the Ozarks. The video was shared by Twitter user
@maxbaker_15
, who captioned the post as "This video is on Snapchat in the Lake of the Ozarks? Unreal. What are we doing?"
Another video shot by
Scott Pasmore
, an anchor for KTVK, showed people gathering at Backwater Jacks Bar & Grill in Osage Beach. The bar had
posted
about the summer party, called Zero Ducks Given Pool Party, on Facebook for people to come together for the weekend.
According to Missouri's
reopening plan
, restaurants were allowed dining-in services with social distancing rules and preventive public health measures put in place, per
CNN
. However, both of the videos went viral as people were seen dismissing social distancing measures instilled to curb the COVID-19 spread.
The CDC has
reported
that the virus is not likely to spread in water but the risk increases if people are in close proximity. It is crucial for people to stay at least 6 feet apart to avoid getting infected and it is more important for people in pools or at beaches as masks are not helpful in water.
The videos sparked outrage as internet users expressed their disappointment about the incident. "I am rarely this shook up, but tonight is taking the cake. I'm mad, despondent, nauseous, and defeated all at the same time," a
Twitter user
responded to the video.
Some internet users have also taken the opportunity to mock the situation by referencing the Jason Bateman-starring Netflix's show Ozarks.
One user
joked
, "Marty Byrde [played by Bateman] getting ready to launder the cartels money after seeing the how many people were at the pool party yesterday in the Lake of the Ozarks."
This video is on Snapchat in the Lake of the Ozarks? Unreal. What are we doing? pic.twitter.com/m0qsEQ4KLp
— Max Baker (@maxbaker_15)
May 24, 2020
No covid concerns at the lake of the ozarks😳 #loto pic.twitter.com/Yrb4UNM64u
— Scott Pasmore (@scottpasmoretv)
May 24, 2020
Marty Byrde getting ready to launder the cartels money after seeing the how many people were at the pool party yesterday in the Lake of the Ozarks pic.twitter.com/TbE463PIPm
— alex (@AlexUlrichh)
May 24, 2020
Marty Byrde telling the gang end game of going to Lake of the Ozarks pic.twitter.com/WYQy22hk8e
— Gamer1🎮🕹 (@LFCFanClub3)
May 24, 2020
Clicking through to see why "Lake of the Ozarks" is trending: pic.twitter.com/u8JSZGN3rJ
— Rob Krosley (@RobKrosley)
May 24, 2020
Me, watching "Ozark" on Netflix: This isn't really a fair representation of the average IQ of Missourians.

Actual Lake of the Ozarks during a pandemic: pic.twitter.com/EFfKQdwtds
— Evan Jones (@Evan_D_Jones)
May 24, 2020
[via
CNN
, cover image via
Michael Vano / Shutterstock.com
]
---
Share this post
---
---
---
0 comment