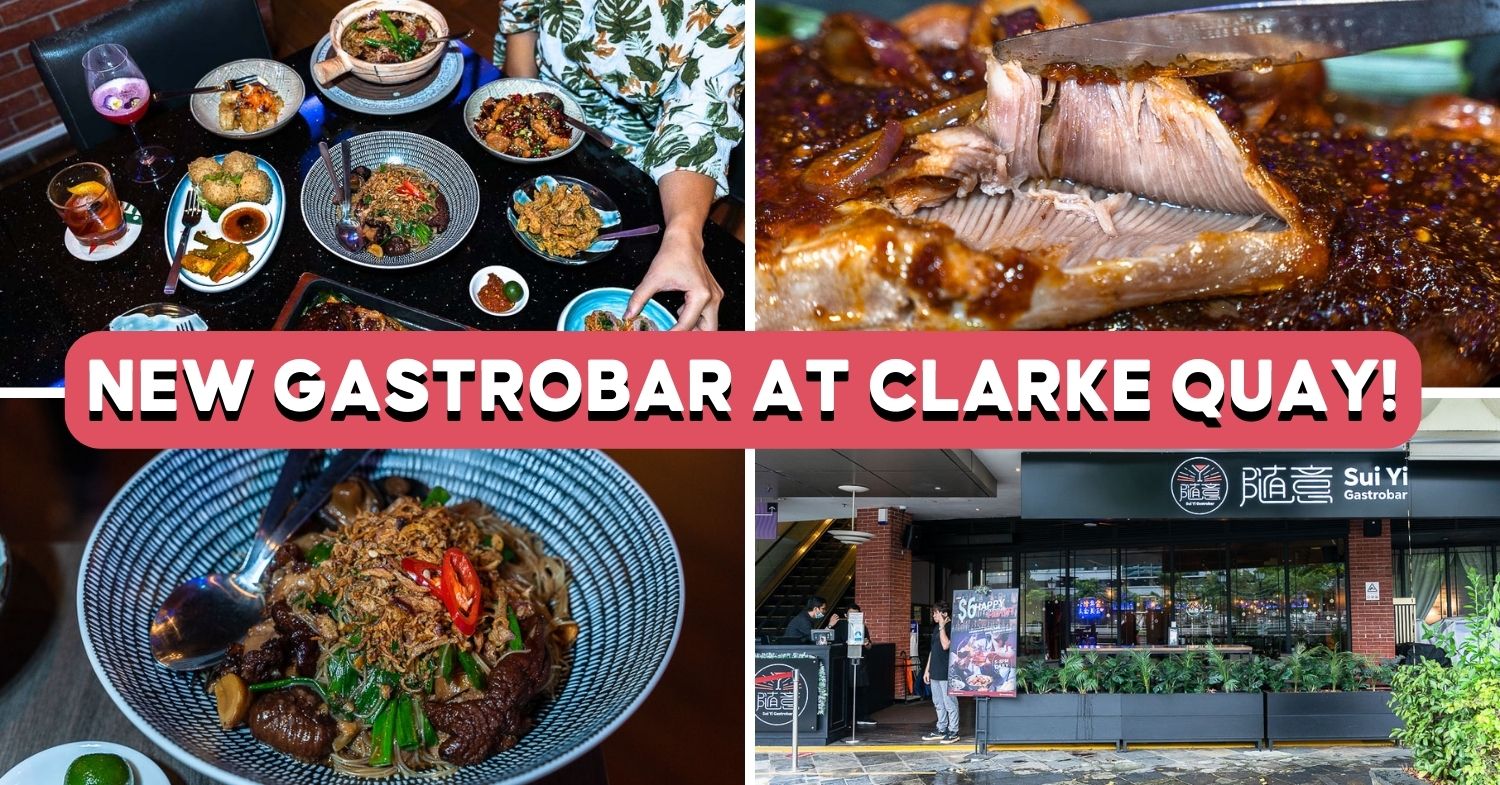 Sui Yi Gastrobar is a new restaurant bar in Clarke Quay by JUMBO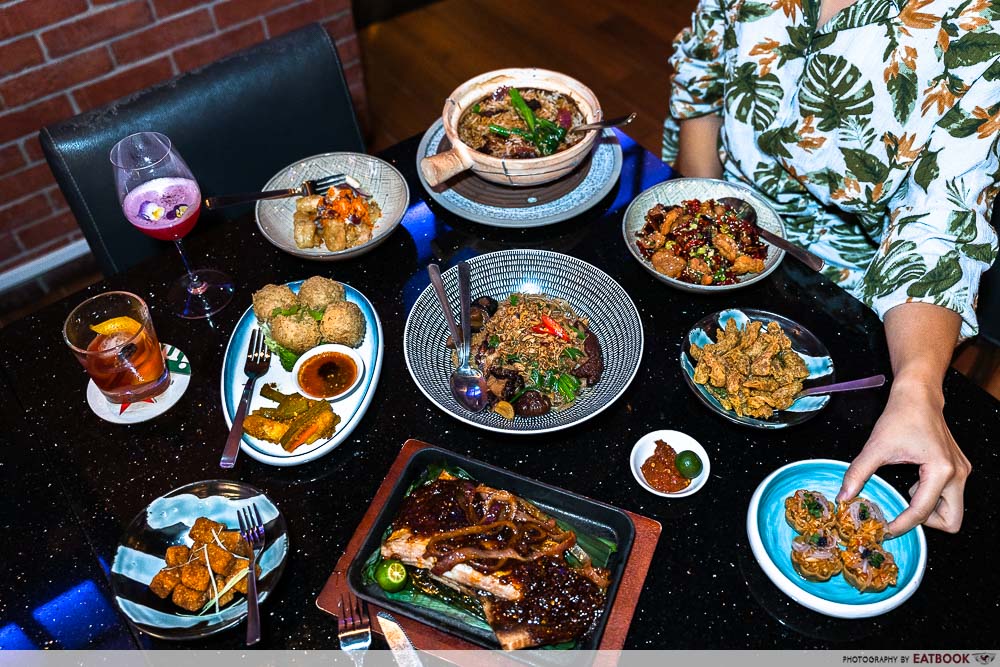 Now that dining out is back in full swing, I find myself making more plans for Friday night outs and weekend drinks with friends. A recent addition to my list is Sui Yi Gastrobar, the newest kid on the Clarke Quay block.
The spacious restaurant bar, which also houses six private karaoke dining rooms, is JUMBO's Group's latest venture. They specialise in Mod-Sin cuisine, with flavours that are familiar and comforting, yet elevated at the same time.
14 Clarke Quay Food Places To Dine At, Including A Korean Pocha And Japanese Speakeasy
Food at Sui Yi Gastrobar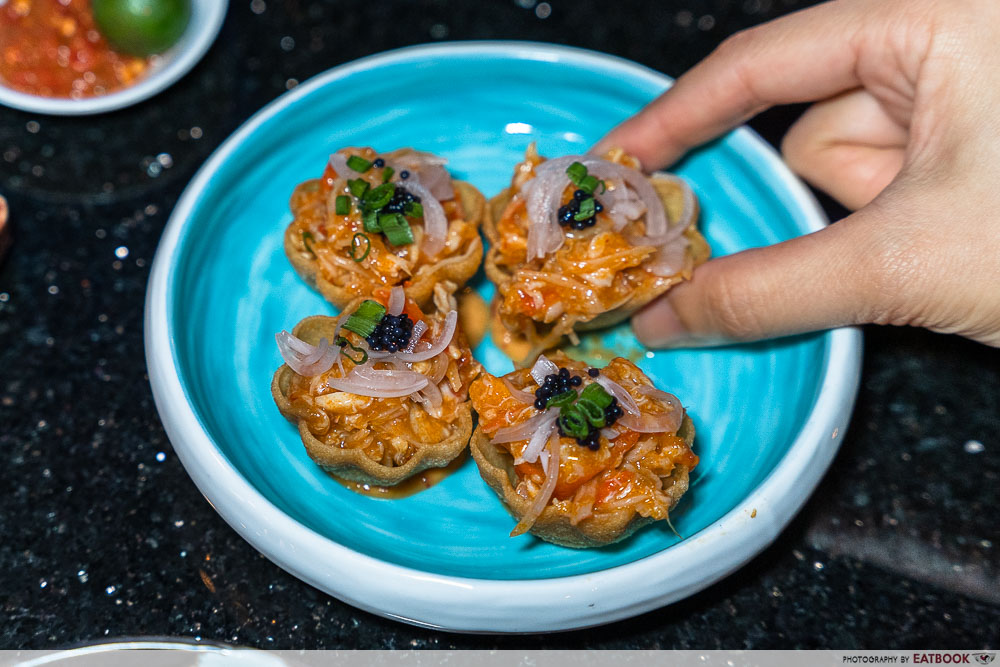 You get to choose from a whole slew of unique bar bites, including the popular Chilli Crab Flower Dome ($16++) that's made with JUMBO's signature chilli crab sauce.
Topped with caviar, this kueh pie tee-inspired snack was unfortunately too soggy after sitting out for a while. I was also slightly let down by the watery crab sauce, which could have been more flavourful.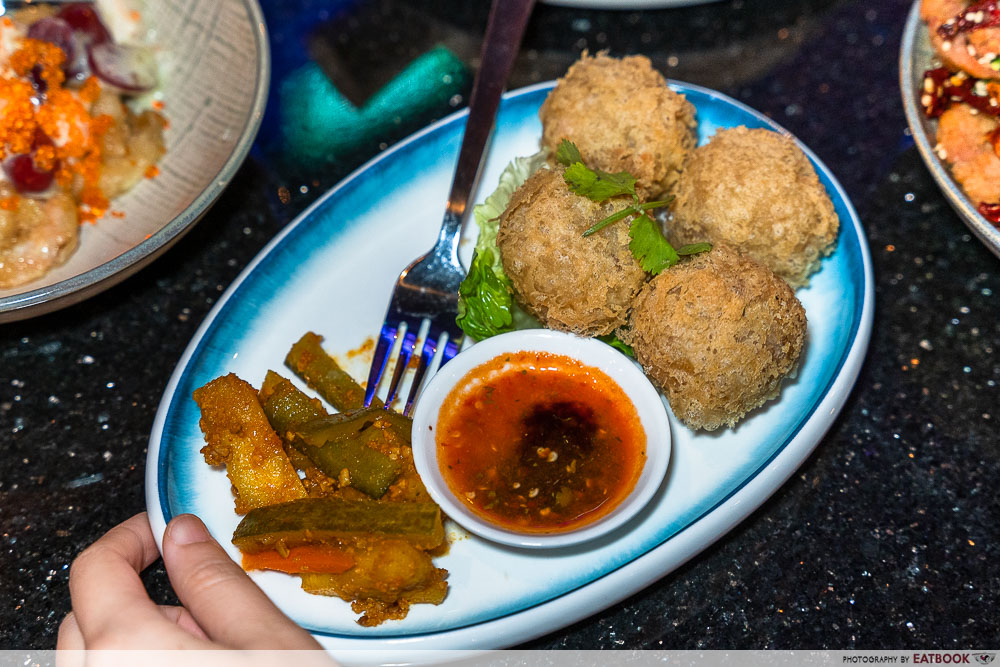 Instead, opt for the Fill Good Chicken Rice Balls ($14++), featuring fragrant rice and tender chicken wrapped in a deep-fried crust that was crispy and savoury.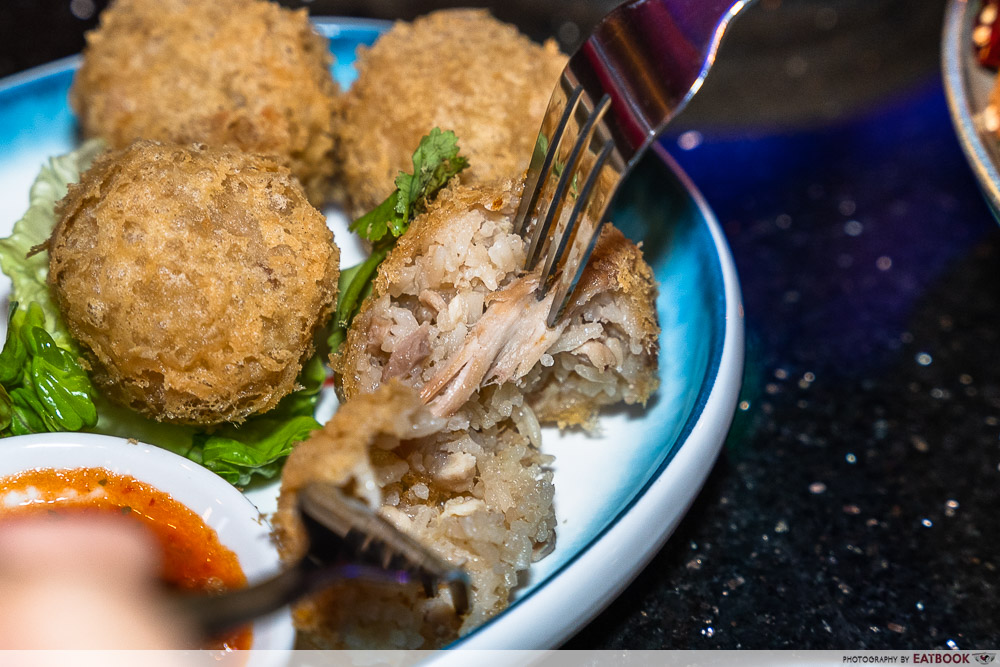 Served with a punchy house-made chilli sauce, this appetiser had the right mix of flavours and textures.
The Firecracker Mala Kaarage ($16++) is another savoury starter that might go well with your booze. This came with bite-sized chicken chunks, showered with mala spices and dried chillies.
While the flavours were decent here, I felt that the deep-fried chicken pieces were a tad dry, so I'd suggest you skip out on them.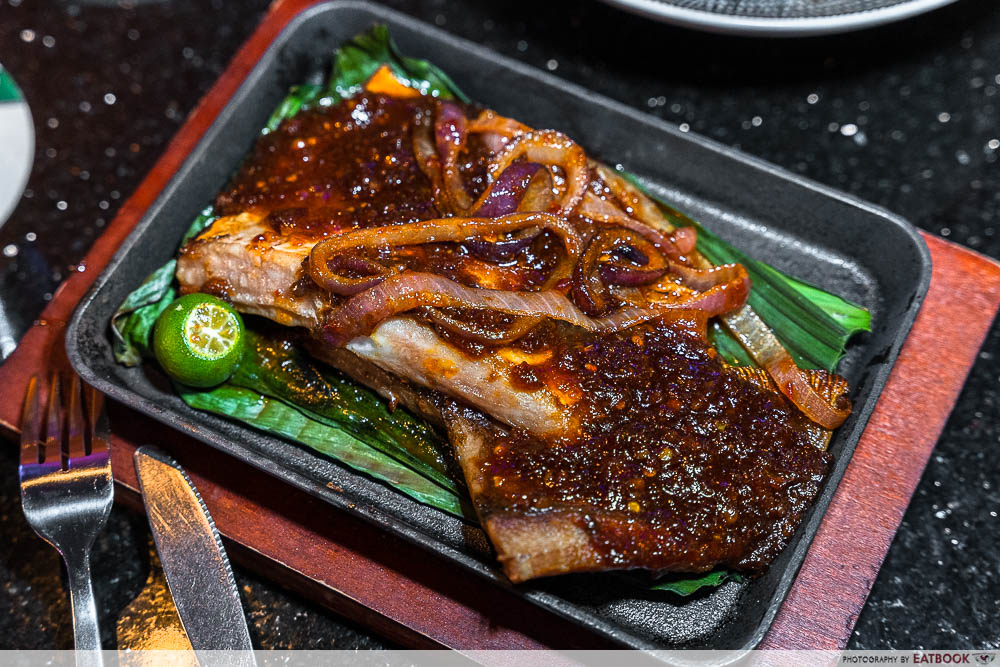 It was my first time seeing sambal stingray on the menu of a restaurant-bar, so I knew we had to try the Master Hawker's Sambal Stingray ($28++). This sharing-sized slab arrived piping hot on a sizzling plate, so it'll definitely wow you and your dining companions.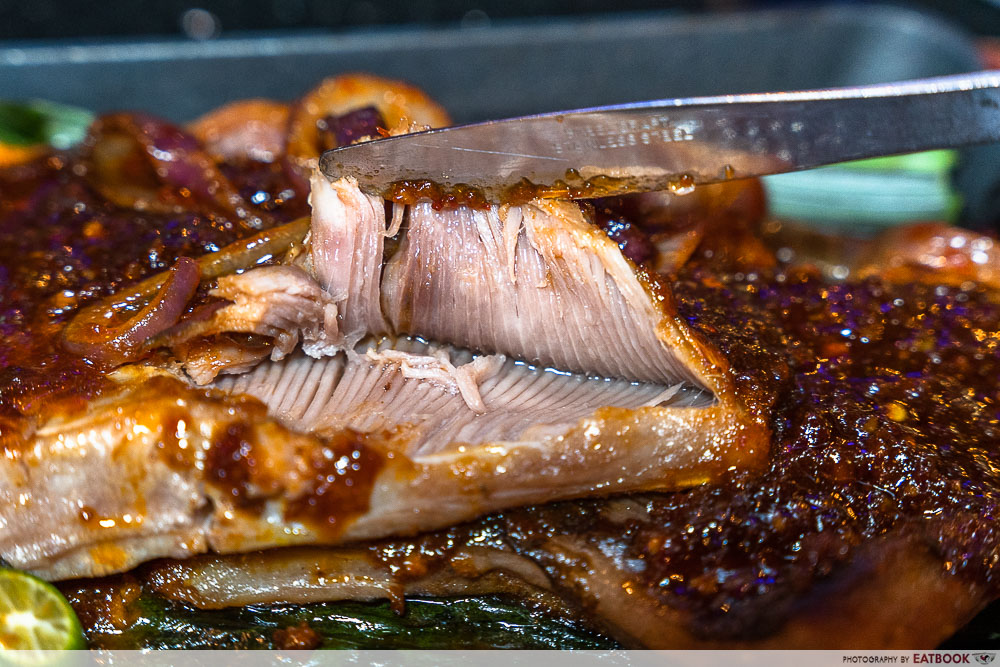 While this dish was a step up from regular bar fare, there was a strange tingling sensation that came along with consuming the sambal. It threw us off a little, but otherwise, the fish itself was undeniably tender and flavourful.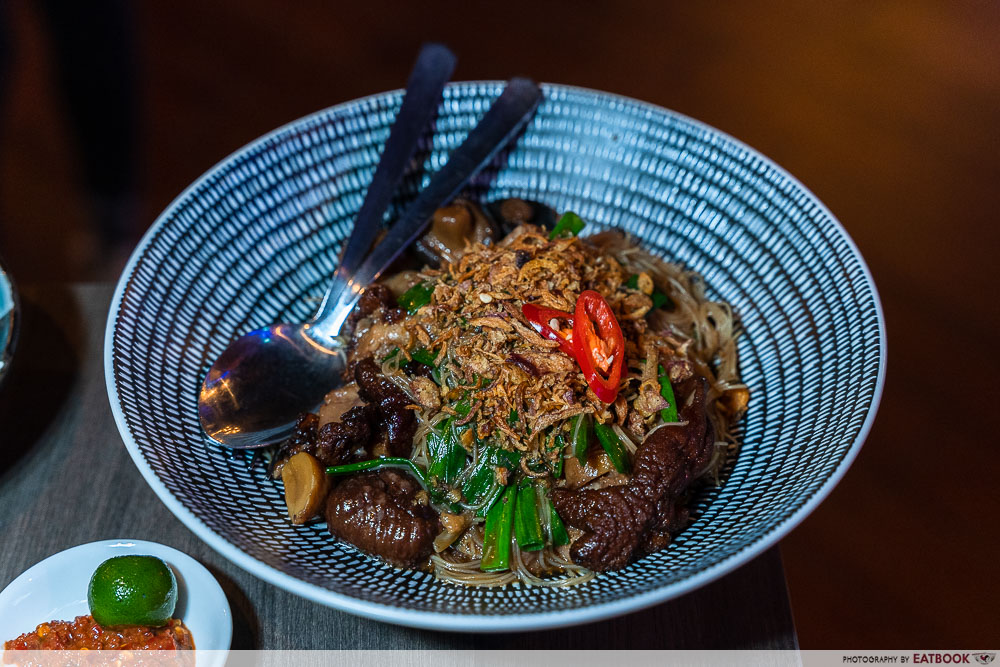 A unanimous favourite at the table was the Wok Braised Pig Trotter Bee Hoon ($24++), a hearty, homely dish that reminded me of my ah ma's version.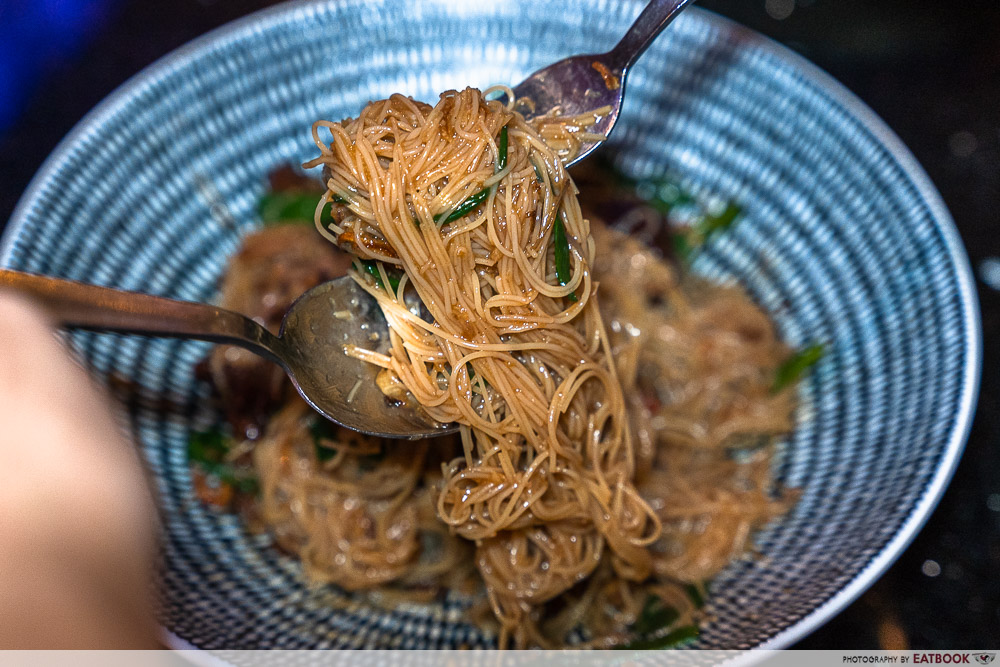 Featuring thin bee hoon tossed in an unctuous braising sauce that's full-on flavour, this main was a highlight of my meal. The trotter was soft and tender, falling apart without much effort, while a dollop of tangy sambal belacan helped to uplift the heavier flavours here.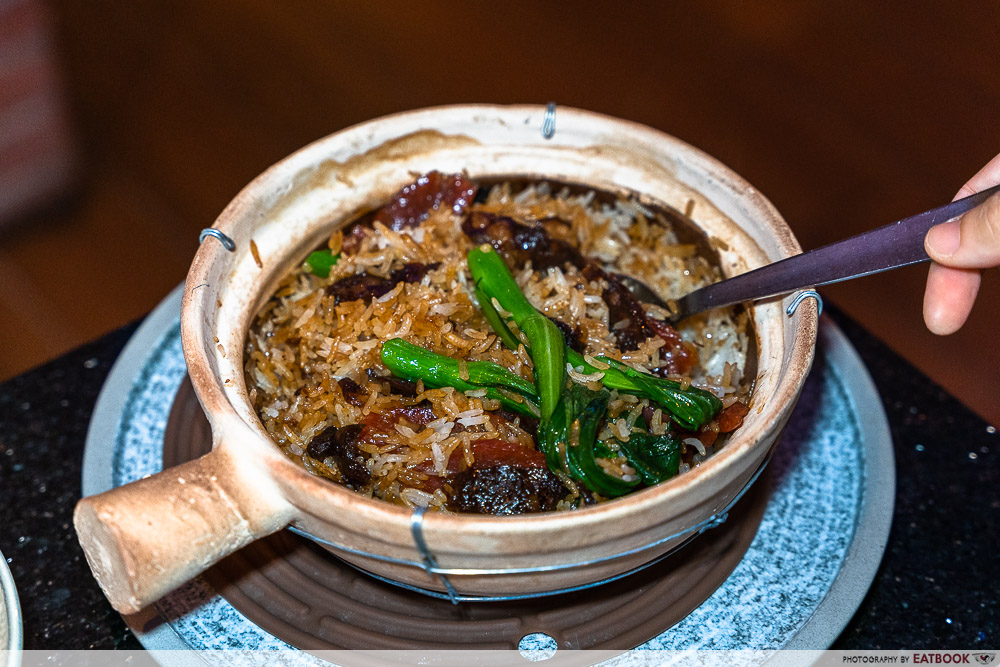 Sui Yi's Sah Poh Fan ($22++) is another interesting item on the bar menu. You get an actual claypot filled to the brim with the full works: fluffy jasmine rice, sweet lup cheong, chestnuts, and steamed greens for balance. This was a party in the mouth.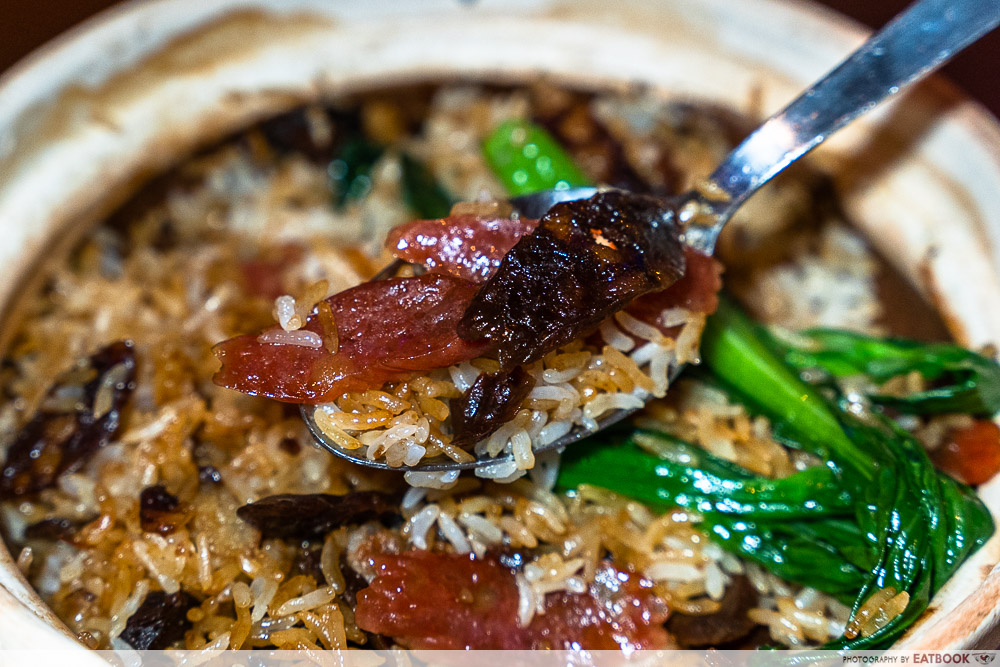 If you, like me, are a sucker for the crispy rice bits in any claypot dish, I'd suggest you wait a while before digging so the rice gets some time to char on the sides of the pot.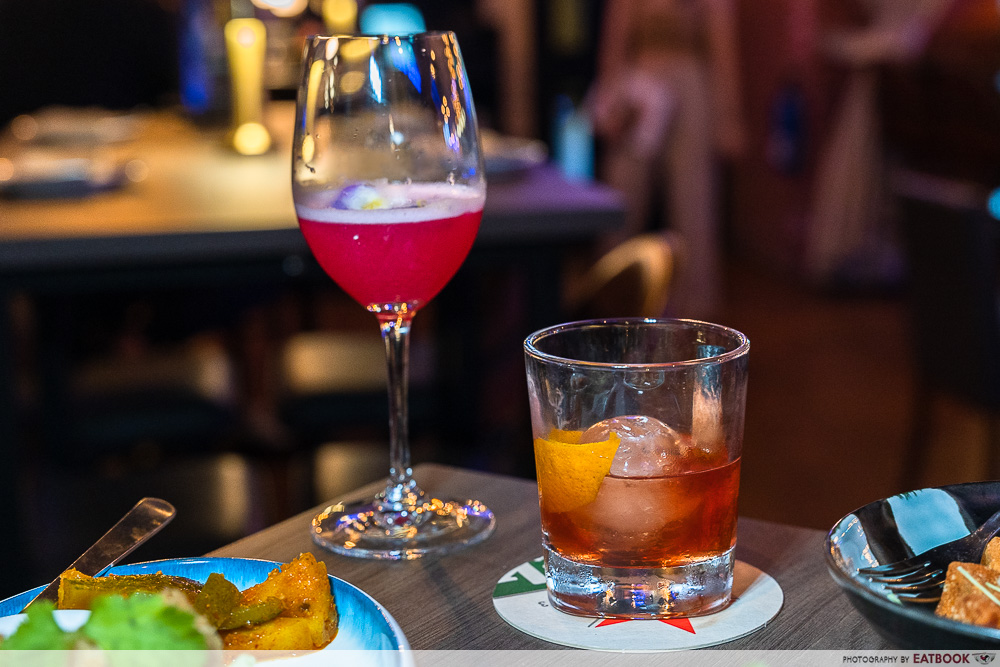 For drinks, Sui Yi Gastrobar offers a small selection of house-made cocktails inspired by popular Mandopop songs. I quite liked A Rose For The Youth ($20++), a pink-hued, easy-drinking tipple with a faint floral fragrance. There's also the more spirit-forward Heartbreak's Remedy ($22++) if the Old Fashioned is your go-to poison.
Ambience at Sui Yi Gastrobar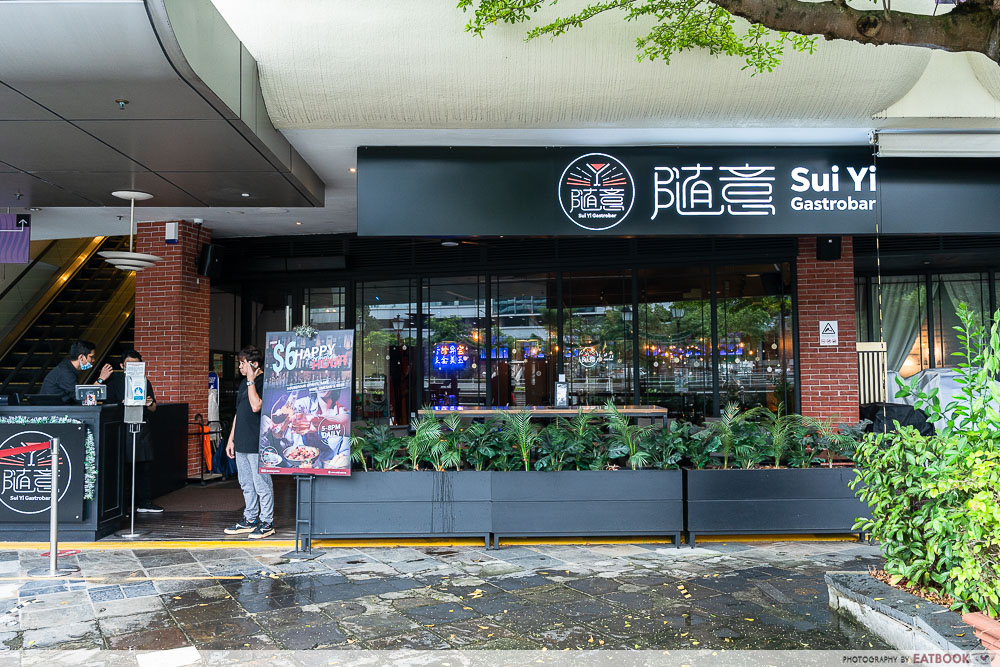 Sui Yi Gastrobar is a convenient two-minute walk from Clarke Quay MRT Station. The restaurant bar sits along the river, so you can opt to dine outside if you prefer a view.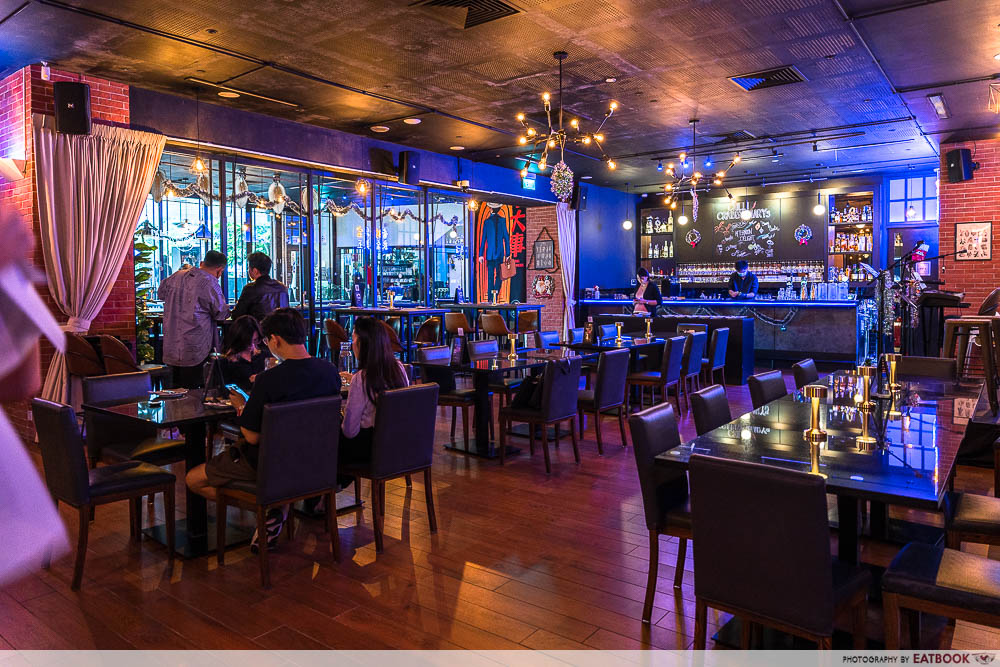 It's super spacious within; snag a table nearer to the main entrance or head inside towards the live band area if you're here for the music.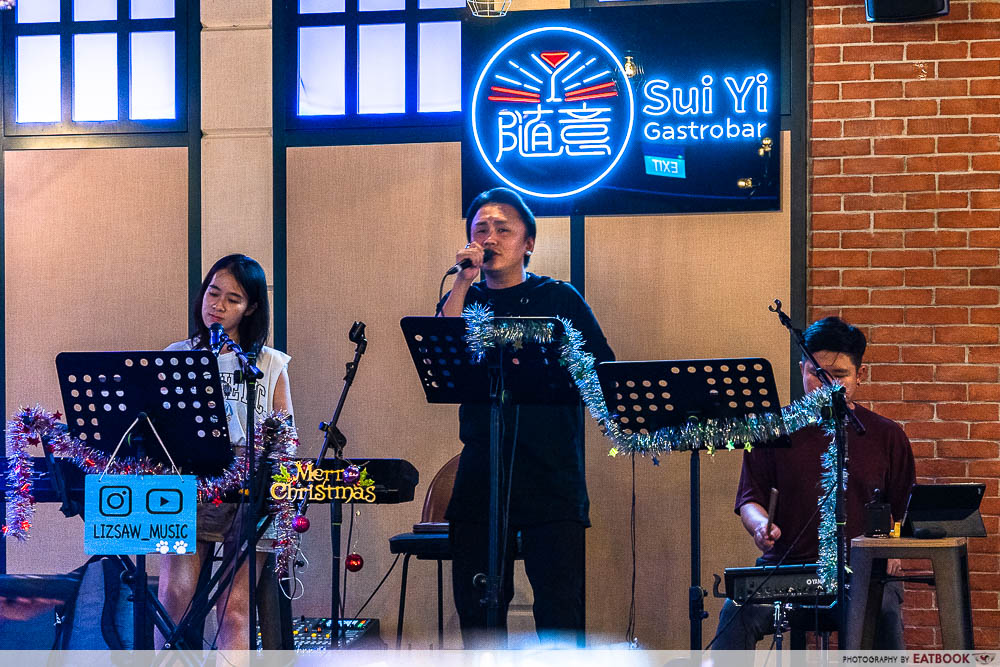 There are also a couple of private karaoke rooms for booking, should you wish to sing to your heart's content while enjoying the same Mod-Sin fusion fare.
Hanjip Korean Grill House Review: Korean BBQ With USDA Prime Ribeye And Wagyu Platters In Clarke Quay
The verdict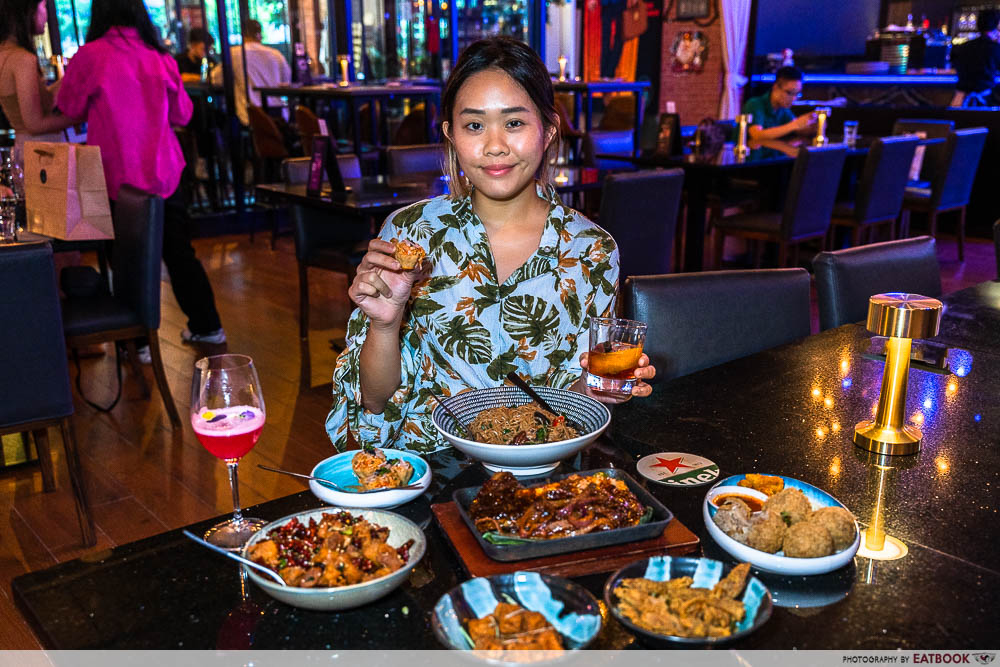 If you're up for good vibes on a Friday night in a bustling neighbourhood, you won't be disappointed at Sui Yi Gastrobar. While the dishes were a hit or miss, I felt that the ambience and central location helped make up for it.
Another must-try restaurant in Clarke Quay is Hanjip Korean Grill House, which has tasty Korean BBQ meats and more. Otherwise, read our Ten Tenths review if you're up for wallet-friendly roast meat rice bowls in the area.
Address: 20 Upper Circular Road, #B1-48, The Riverwalk, Singapore 058416
Opening hours: Daily 5pm to 12am
Tel: 6534 3435
Website
Sui Yi Gastrobar is not a halal-certified eatery.
Ten Tenths Review: Cantonese-Style Roast Meat Rice Bowls Near Clarke Quay
This was a media tasting at Sui Yi Gastrobar.
Photos taken by Chew Yi En.
The post Sui Yi Gastrobar Review: Pig Trotter Bee Hoon, Fried Chicken Rice Balls And More appeared first on EatBook.sg - Local Singapore Food Guide And Review Site.