Malu Paan ~ Sri Lankan Fish Buns
Posted by admin on
While I was trying to figure out what all I need to bake for this months Bake-a-thon, the first thing I did was to go through my Pinterest boards for ideas. However, it so happened that nothing went as per what I was planning to do. Interesting ideas kept coming in between and I kept changing my plans but then if there was one thing that I stuck to and did was to bake these buns called Malu Paan that I had bookmarked when I had dabbled a bit with Sri Lankan cuisine in an edition of the BM sometime ago remember the Sri Lankan Chicken Curry? If you havent tried it, then please do!
I dont have a tuna friendly home, to say the least. I love it as a lazy meal and usually prepare it this way. It is the best thing you can get in without spending too much time cooking it. However, B is not fond of it at all, so I avoid making it whenever he is there for dinner or he carries his lunch, and somehow those days are always more. But when D and umma comes, he needs me to make tuna for dinner at least once. He loves to mop them up with khuboos and it is always a delight to see him enjoy it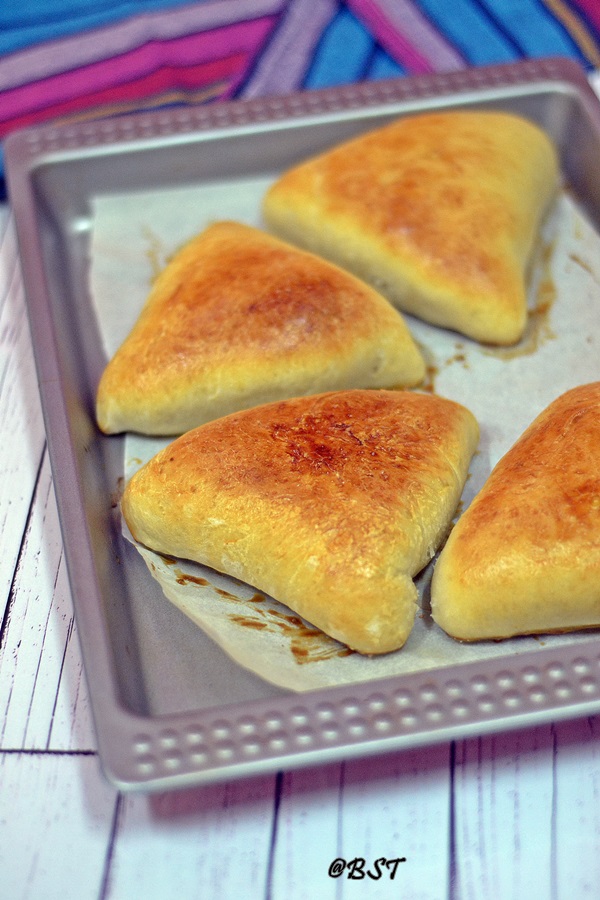 So when I decided to make these Malu Paans which are triangular buns stuffed with a delicious tuna potato filling I had already planned to distribute this to HDs staff. The reasons are obvious I was sure my girls wouldnt like it. The recipe for these buns are straightforward. The covering can be any usual yeast bread dough that you would usually make, with or without eggs as per your choice. The filling is done with potatoes and tunas, so it feels like a bun filled with tuna cutlets. Hehe
While going through the recipes on Google, many of them used curry powder to spice the filling. If you get your hands on Sri Lankan curry powder, then there is nothing like it, but you can use any curry powder or masala powder that you have in hands. I had a pack of Madras curry powder, which I have used here. If the potatoes are boiled in advance, then the filling comes together very fast. HD totally loved it that he enjoyed two buns and immediately wrapped the rest and took it for his staff. They sent feedback that it was amazing, Alhamdulillah. So not always you need feedback from family on the food that you make, I feel outsiders are better at it. Off to this recipe
Malu Paan ~ Sri Lankan Fish Buns
Ingredients
FOR DOUGH:
3 cups flour + more
1 tsp instant yeast
1 tsp sugar
1 tsp salt
25 gm butter, melted
Warm water as required (I used around a cup)
1 small egg, for brushing
FOR FILLING:
2 tbsp oil
3 pods garlic, minced
1 sprig curry leaves, minced
1 large onion, minced
tsp turmeric powder
tsp red chilli powder
1 tsp curry powder (I used Madras curry powder)
300 gm potato, boiled and mashed roughly
170 gm can tuna
Salt to taste
Instructions
In a large bowl, whisk together all the dry ingredients. Add the butter and lukewarm water and knead till you have a soft dough, a little sticky is OK. Add more flour if needed. I used almost cup extra.
Oil the bowl and leave the dough to double for an hour.
Meanwhile, to make the filling, heat oil. Fry the garlic and curry leaves briefly. Add the onion and saute till wilted.
Add the spice powders and cook for a minute. Add the mashed potato and the tuna. Break down with the spatula and mix well till done. Adjust seasoning and switch off.
Prepare a large tray or two with parchment paper. Set aside.
Once the dough has proofed, punch down the dough and divide into 8 balls. Divide the filling equally as well.
Roll one ball into a round. Put one part of the filling and seal (as per above step by step). Press well and keep on the prepared tray. Complete the remaining in the same process. Cover and allow it to rise for around 20 minutes.
Meanwhile, preheat oven to 180 degrees. Brush on top of the buns generously with the beaten egg.
Bake for 25 minutes. Turn on the top grill and grill for 3-5 minutes till the top is browned. Take off, allow to cool slightly and enjoy with some ketchup.
You are invited to the Inlinkz link party!
The post Malu Paan ~ Sri Lankan Fish Buns appeared first on The Big Sweet Tooth.
---
Share this post
---
---
---
0 comment