As COVID and Delta cases rise, we wanted to offer up our Outdoor dining guide. Many friends and followers have asked me my opinion about what restaurants I have felt comfortable going to that have good food, good service and still feel like a fun night out.
All have QR code or disposable menus, outdoor socially distanced seating, encourage masks except when eating or drinking, and chef/owners and servers who are serious about social distancing and following CDC protocols.
I respect that everyone is entitled to their own opinion and what they feel most comfortable doing… be it takeout, cooking at home or dining out. But please continue to follow guidelines and even if vaccinated, RESPECT THE MASK.
Of course, the "hot spots" that provide a buzzy vibe of bodies pressed shoulder to shoulder at the bar waiting for tables are not featured here, and there are plenty of places that will remain nameless that offer that "scene", but here are the 20 I have enjoyed and felt totally safe at.
1 Hotel Beach Club: Set in the sand with recycled wood tables and chairs, and lush foliage, Wave at the 1 Hotel is totally open to the elements and seating set far apart to feel socially distant. Open only from 12-8 pm, they offer a Mediterranean menu of fresh fish, salads, Mezze platter, and creative cocktails. Good spot for weekend brunch.
Amara at Paraiso- One of the most scenic and romantic special spots in Miami is at the foot of the huge Paraiso Condominium luxury complex in Edgewater. Along the Biscayne Bay waterfront, the restaurant and rooftop deck offers the best views of Miami Beach day or night. The food matches the setting, with raw bar items, ceviches, sunchoke salad, fish dip and tostones, and mains like whole grilled fish, pan roasted 1/2 chicken, grilled skirt steak and sides like Japanese sweet potato, charred asparagus and tanjin spiced fries. Mondays are 1/2 price bottles of wine and Tuesdays are $1- Island Creek Oysters. Best Brunch with a view, too.
Big Mama's BBQ- Tiny casual location on 79th St corner in Little River, this counter-service spot is great for takeout or stay and dine at hi-top tables made from wine barrels. Smoked ribs, pulled pork, fried chicken and sausages are all good and juicy. Add Mac & Cheese, coleslaw or baked beans and wash it down with a cold Modelo.
Blue Ribbon Sushi- On Miami Beach, a block from the beach and across from the Bass Museum is the boutique Plymouth Hotel. Blue Ribbon Sushi is the hotel restaurant, with fresh sushi, sashimi, an extensive sake menu, and their famous fried chicken. The outside dining option on their patio overlooks the hotel pool and is a nice setting for evening dinner. Tip: Early dining seems to attract families and children.
Itamae- I first discovered Itamae when they were in a corner stall at the "formerly know as St Roch" food hall. Now boasting a James Beard nomination, Nando, Val and Fernando (aka Papa Chang), fondly known as the ChangGang, introduced Miami diners to Nikkei-style Peruvian/Japanese cuisine. Their recently opened full service outdoor only restaurant in the Palm Court of the Design District offers all of the favorites and more. Creative rolls, ceviches, bowls and special main dishes abound including our favorite Signature rolls; Lost in Translation, My Neighbor Totoro and Thirty Three & One Third. All feature fresh fish of the day, ripe avocado and are uniquely enhanced with either crispy quinoa, sweet shitake mushrooms and acebichado or aji amarillo aioli. Our shareable show stopper was the colorful and vegan arequipa tiradito with piquillo peppers, sweet plaintains, avocado, edamame, cucumber, red onion, choclo, aji rocoto and leche de tigre. Dining for lunch or dinner under the palms is a treat for those of us still following safe CDC protocols.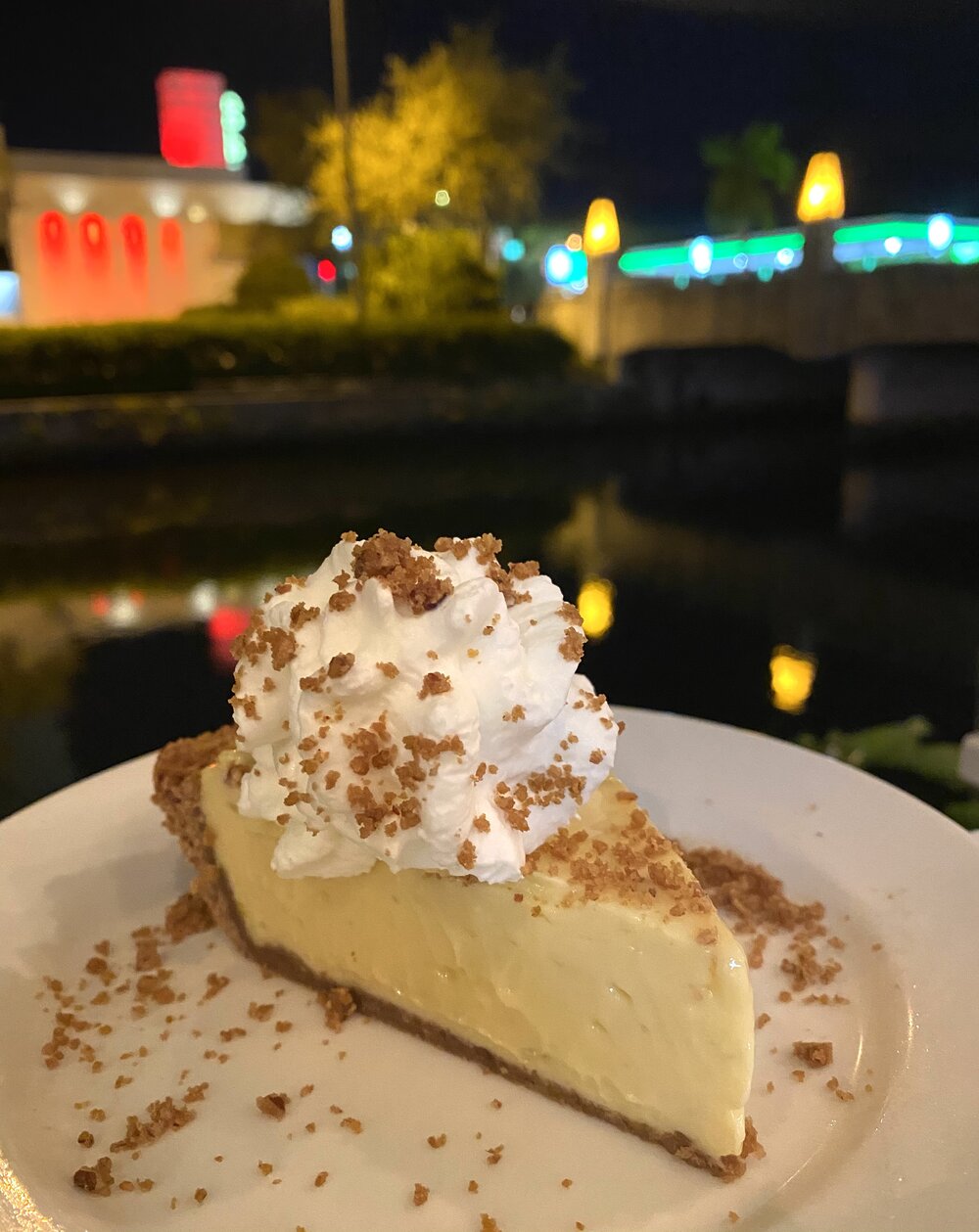 Café KUSH- Tucked into the Mid Century Gold Dust Hotel on Biscayne Blvd, Café KUSH has both indoor bar and dining upstairs in Selina, but also outside dining right along the Miami River just across the bridge from the Gold Rush Club. The menu is French bistro with onion soup, steak frites, the classic Kush burger and the best key lime pie I have had in ages. Enjoy your meal and see if you can catch a manatee swimming by.
The Lobster Shack- Very casual, "day at beach" kind of place South of Fifth in South Beach offers the largest fresh lobster tank in Miami. Lobster rolls, Lobster salad with avocado and bacon, New England style Lobster dinners, Lobster bisque, burgers and beers on tap and outdoor seating make this a good stop before or after a bike ride or visit to the beach or South Pointe Park.
Macchialina- Chef Michael Pirolo and his sister, Jackie have always offered a cozy, Italian taverna setting for diners, but now they have expanded into a wonderful funky garden space by taking over the former hostel next door and turning it into outdoor dining. $10 Pasta Thursdays still rein, as do all of their fresh pasta specialties and homestyle Italian comfort food. The wine selection is creative with many organic and clean crafted wines to try.
Malibu Farm- Located oceanside at the EdenRoc/Nobu Hotel, Malibu Farm is one of the few Miami Beach restaurants that can boast oceanview dining. And for lunch and brunch the view can't be beat. The food, fresh and sourced from local farms and purveyors is a refreshing change from the heavy steaks and stone crabs Miami Beach is famous for. We went for Sunday brunch, and although busy, the tables were nicely spaced and there was a breeze from the ocean. Malibu Blue Nachos came piled high with black beans, queso, salsa and sour cream, the Caesar Salad was topped with crisp bacon and the lightly fried fish tacos with avocado crema, salsa and grated cheese made for an enjoyable and safe Sunday lunch
Mr. Mandolin- Located in the MiMo Vagabond Hotel, Mr. Mandolin is the reimagined Gregory's Diner, but with a new menu including Greek specialties like shaved meat in pita, Kabob sticks in Lavash, Greek Salads and sides like hummus and baba ghanoush. Order at the open kitchen counter and enjoy outdoor dining on the patio under twinkling lights and a starry sky.
Palat- I recently discovered upper Buena Vista and Palat. Authentic Italian with a large outdoor garden seating area and an extensive menu that included an impressively presented cacio de pepe with shaved black truffles served tableside in a wheel of parmesan, whole fish also expertly fileted tableside and grilled branzino and fresh pasta with seafood were among our favorites.
Pubbelly Sushi Sunset Harbor- Getting around by bike on Miami Beach is a fun way to see the city, and on a recent ride to Sunset Harbor, I stopped for lunch at Chef Jose Mendin's Pubbelly Sushi. Plenty of outdoor seating. Sanitizers at each table and a fun menu that includes the best from Pubbelly as well as plenty of sushi rolls and sashimi. Shishito peppers were dressed in miso dressing and pistachio nuts, the Yellowtail roll was stuffed with Kanikana and topped with nori flakes and the Vegetarian roll was colorful and packed with avocado, cucumber, seaweed salad and topped with red pepper and avocado pureé. The Soft Shell crab Bao came 2 to an order and was crispy and well seasoned. A Ginger and Cucumber Mocktail was just the right pick me up for the ride home ahead.
RED South Beach- Sometimes things are worth waiting for. Chef/Owner Peter Vauthy closed his popular South of Fifth steakhouse during COVID and pivoted to a takeout and delivery model while also offering quality butcher shop cuts of meat. When the opportunity to open at newly vacant, 801 South Pointe Dr. location, Chef Peter grabbed the spot. 5+ Months later( and many delays), RED is finally open with outdoor dining on the spacious patio. If you want C.A.B steaks, seafood, pasta ,chops and more and dine outdoors this is the place. The patio has been nicely landscaped with lots of foliage, umbrellas and soft lighting, and heaters for those cool Miami evenings. On a clear evening, we dined on a crisp Caesar salad, Bucatini pasta with meatballs and 16 oz Rib Eye perfectly cooked with sides of truffled whipped potatoes and parmesan frites. The wine and cocktail list is extensive, but we especially enjoyed the Raymond Napa Valley Cabernet. Menus are QR coded and the staff are knowledgeable and take Covid seriously.
Red Rooster Overtown- I hold a special spot in my heart for Chef Marcus Samuelsson's Red Rooster Overtown. When Covid first closed everything, we opened our first Food Rescue US Miami Community Kitchen in partnership with Red Rooster and for 10 weeks provided hot meals 3x a week to the community. Chef Tristen Epps and his team were not only our partners but became our friends and we are excited to see the response they have been getting for their amazing food, drinks and ambiance. Dining options include socially distant inside seating or The Coop, the outdoor patio anchored by a 150-year-old ficus tree. Signature dishes include Marcus' Cornbread, Smoked Rooster Royale, torched tableside, conch and corn fritters, and shrimp and grits. I recently saw the return of picnic tables on the side lot so look forward to even more outside options and the reopening of The Creamery ice cream.
Rosie's Popup at the Copper Door B&B- The former Demetree hotel in Overtown has been renovated and reimagined by young couple, Jamila Ross and Chef Akino West and their popup café, Rosie's offers the best breakfast and brunch Thursdays thru Sundays. The food is lovingly prepared in an adjacent trailer, while you dine under an overhang surrounded by lemon trees and herbs. Chicken and Waffles, Shrimp and Grits and Eggs over easy with thick slab bacon were a great start to the weekend.
Ruby Dees at MIA Market: Out with St Roch, In with MIA Market - the new food hall concept on the mezzanine level of the Palm Count in the Design District. Yes, you do have to go inside to scout out the options and order your food but grab seating outside and the food will be delivered to you. Chef Daniel Roy, Exec Chef at Generator hotels, has opened his Ruby Dee's concept offering creative casual fair and gourmet sandwiches. Look for the Kusshi oysters with mint mignonette and the Wagyu Picanha sandwich which featured crusty bread, smoked peppers and onions and aioli and made my "cheesesteak" not your typical fare.
Stiltsville Fish Bar- Sunset Harbor has a number of outdoor dining options, but I found Top Chefs, Janine Booth and Jeff McInnis' Stiltsville to offer the best seating across from the harbor itself. Fresh fish is displayed in an icy tub, and favorites like Deviled eggs topped with caviar, Kataifi wrapped Coconut shrimp, Spoon cornbread and the always good Fried Chicken makes this a good spot to enjoy the Miami sunsets. Lots of weekly specials including ½ price wine Mondays, Taco Tuesdays, $2 oyster Wednesdays, and $5 stone crab claw Thursdays. PRO-TIP: The Happy Hour 5-7 pm cocktail and food menu is the best on Miami Beach. and Mondays, add on 1/2 price wine. Watch the sun set and eat and drink for reduced prices.
Sugarcane Raw Bar and Grill: After over 10 years, Sugarcane Raw Bar is still the most popular restaurant in Midtown. The outdoor seating was always my favorite even before Covid and it has still got the positive vibe that matches the food. Favorites still include bacon-wrapped dates, duck and waffles, hangar steak chimichurri, sweet soy glazed sweet potatoes and many sushi and raw bar items and robata grill selections.
Sweet Beach Pop Up- It really doesn't matter if you like Unicorns or the color pink, but Sweet Beach Pop Up at the Shelborne is a fun casual stop for weekend lunch or brunch or outdoor dinner. Presented by Chef Michelle Bernstein and Sweet Liberty Drinks & Supply, this is the place for cocktails and light fare right off the Miami Beach beachwalk. We stopped by on a sunny Sunday at 12Noon, and sipped piña coladas, and snacked on Stone Crab salad in a grilled avocado, Tamarind BBQ wings and a churrasco steak Bahn Mi with pickled daikon, kimchee and the puffiest fries, Hours are limited Thursday-Friday 4 pm to midnight, Sat-Sunday noon to midnight and as always, #PursueHappiness. .
Taquiza North Beach- Steve Santana of Taquiza is #stillgrinding their signature blue corn into tortillas and providing fresh made to order tacos, elote corn, totopos, salsa, and chips. Vegan options and plenty of margaritas and expanded seating on picnic tables just across from the beach. The $10 Beach Box is a bargain and includes 2 tacos, elote, chips and salsa.
Have I missed a favorite? Please let me know as I am sure there are many that can be added to this list, that I just haven't gotten to yet.
And, above all, SUPPORT LOCAL RESTAURANTS!!!!