— Recommendations are independently chosen by Reviewed's editors. Purchases you make through our links may earn us a commission.
When you get a cat, you're thinking about couch cuddles, purring and all of the pet products you can buy them. What you likely aren't thinking about is poop. But you should be. And the first thing you should be thinking about is finding a great litter box for your cat to do their business in.
After extensive research and testing, we recommend Nature's Miracle Advanced High-Sided Cat Box (available at Amazon). This litter box is as simple as it gets, but it gets the job done. The Advanced High-Sided Cat Box fits in a variety of spaces. Its sides are high enough and the box itself is large enough that it can handle days of cat waste before it needs to be cleaned. A narrow but deep "scooped" front catches the mess kicked up by your kitty and deposits it right back into the bottom of the litter box, where it belongs. And, thanks to the three handles built into the litter box's sides, emptying the Advanced High-Sided Cat Box for cleaning is a breeze.
These are the best cat litter boxes we tested ranked, in order:
Nature's Miracle Advanced High-Sided Cat Box
Frisco High-Sided XL
Catit Jumbo Hooded Cat Pan
Petmate Booda Dome
Modkat Flip
Nature's Miracle Hooded Flip Top Litter Box
Petphabet Covered Litter Box
Lucky Champ Cat Litter Pan
PetFusion BetterBox Non-Stick Cat Litter Box
Omega Paw Elite Roll 'n Clean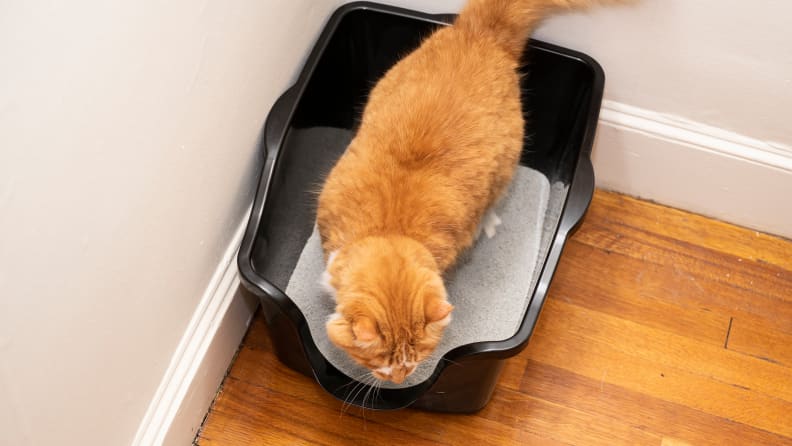 How We Tested Cat Litter Boxes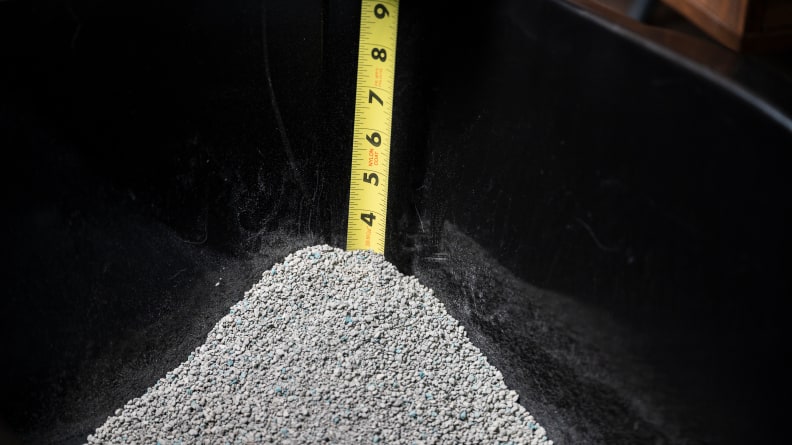 The Tester
Lela Gwenn has lived with two older cats, for years. This has provided her a tremendous amount of insight into how important a good litter box can be for anyone wanting to keep their home clean and relatively odor-free.
The Tests
If you're going to test cat litter boxes, you're going to need a cat. I have two of them.
My first cat, Punch, is ancient. I have had her for 20 years and she was fully grown when I rescued her. Punch is blind and, if her feet are touching litter, she assumes she can pee. This means a litter box that is too small or requires any sort of consideration from her won't pass muster. My second cat, Tag, is perhaps 10 years old. There's something of the wild left in her from her feral days, so she can be … unpredictable. Punch and Tag's propensity for making a mess makes them absolutely perfect for testing cat litter boxes.
In order to figure out which of the litter boxes from our test group deserved top honors, the Best Right Now team decided that, above all, a good one needs to be capable of containing all of the cat urine and kicked up litter a kitty can throw at it, without leaving litter all over the floor. A very close second to this is how easy it is to clean out a litter box when a cat's done enough bathroom duty to warrant it.
To test these points, I filled each box with three inches of cat litter and then left the box out for my cats to use. After 24 hours, I scooped all of the cat waste out of the litter box, to assess how easy the box was to maintain. and checked in on how much the cats were "missing" the box and how much litter was outside the box. At the end of the 48 hours, I emptied the box, cleaned it, and checked for scratches. At the end of 48 hours, I emptied out the litter box to assessed how easy it was to wash it and checked how scratched up the interior of the litter box got during use. This test was repeated for each litter box.
Additionally, I paid attention to how difficult each litter box was to assemble (if the assembly was required,) how hard it was to disassemble it (if required) in order to clean it and, whether or not each box was sized to make dumping it into an average-sized kitchen garbage bag easy.
What You Should Know About Buying Cat Litter Boxes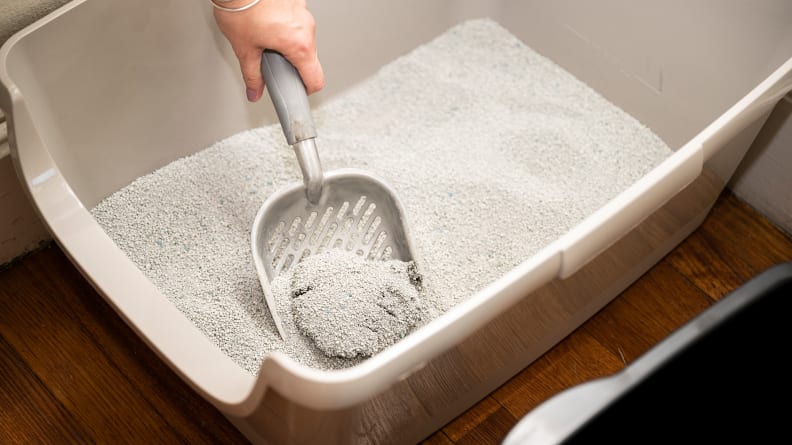 What Kind of Kitty Litter Should I Use?
There are many types of cat litter, the most popular of which are:
Clay Litter: The most common type of cat litter, clay litter is easy to find in stores and online. As its name suggests, clay litter is composed of clay fragments, of varying sizes. In some instances, the clay may be infused with an attractant chemical, designed to encourage a cat to visit its litter box, more frequently. Clay litter excels at absorbing urine. The absorbed urine and clay harden into a clump that can easily be scooped out. The downside to clay litter is that when kicked up by your cat, or when emptying it from a litter box, it's known to create a good amount of dust.
Paper Litter: If you've ever torn up sheets of newspaper to throw into your cat's litter box, you've created paper litter. Store-bought paper litter is most often compressed into pellets, making it easier for your cat to bury its business in and, easier for you to empty out of your cat's litter box when the time comes. The downside to paper litter is that it does not absorb liquid well. This can lead to stronger odors, mo0re difficult litter box cleanup.
Pine Litter: Low dust, great and combating litter box odors and absorbent, pine litter, which is made from pine trees, is another popular option. It can be found in two different formats: pine pellets and pine sawdust. The pellets prevent dust from getting kicked. Sawdust is… dustier. However, its absorbency allows urine to clump up in a similar fashion to clay litter. This makes it easier to keep the litter box it's used in, clean.
There are other types of litter out there as well, which are less common: Grass seed, ground corn cob, or walnut shells and, silica gel litters are sometimes preferred by cat owners for their lack of scents, chemicals, and absorption.
Where Should I Place My Cat's Litter Box?
The ideal place for a cat box needs to be someplace accessible. If you have a young, small, disabled, or older cat make sure that there are no impediments like stairs that could keep your kitty from getting to the box. It should also ideally be someplace quiet. You wouldn't want the buzzer on your dryer going off and scaring your cat mid-evacuation. Many cats appreciate some privacy, so placing the box in an area that is not heavily trafficked is ideal. You should have at least as many litter boxes as you have cats.
The Pros And Cons of Hooded Litter Boxes
A hooded or lidded box can help to mitigate odors, as many of them come with either a door to help keep smells inside of the box, or a charcoal filter to eliminate some of the stench that comes with living with cats who do their business indoors. This all sounds great, but you should know that having to navigate a litter box hood makes it harder to clean the box out. Additionally, as the hoods suppress odors, it might not be as easy to smell that your feline friend's toilet needs to be cleaned.
Some cats may enjoy a hooded litter box, for the privacy it affords them. Others might become anxious due to how dark it is inside of the litter box or because the hood turns their pooping grounds into a confined space. Hooded boxes with doors can exacerbate this. Hoods also can make it harder to scoop, and their odor mitigation may lead some owners to believe the box is cleaner than it actually is. As a result, the box might not get cleaned as often as it needs to be. This lack of cleanliness can lead to health issues for your cat.
---
Other Cat Litter Boxes We Tested
More Articles You Might Enjoy