We made a visit one summer to a certain nautically-inspired cottage in Falmouth, on Cape Cod. The circa-1958 house, sited between a tidal salt marsh on one side and a bay beach on the other, is rich in views and atmosphere if not in space: it's just 640 square feet. Owner Victoria Birch of LA design firm Victoria Birch Interiors collaborated with her friend and former college roommate Tei Carpenter, an architect with NYC's Agency-Agency, on a top-to-bottom renovation that yielded some seriously practical storage solutions. As Tei explained, "We wanted the house to be functional, usable, and shipshape. To that end, we studied berth cabins; how things are organized in a tight and tidy way, and inserted built-in storage whenever possible." Here are 10 ideas to steal.
Photography by Justine Hand for Remodelista.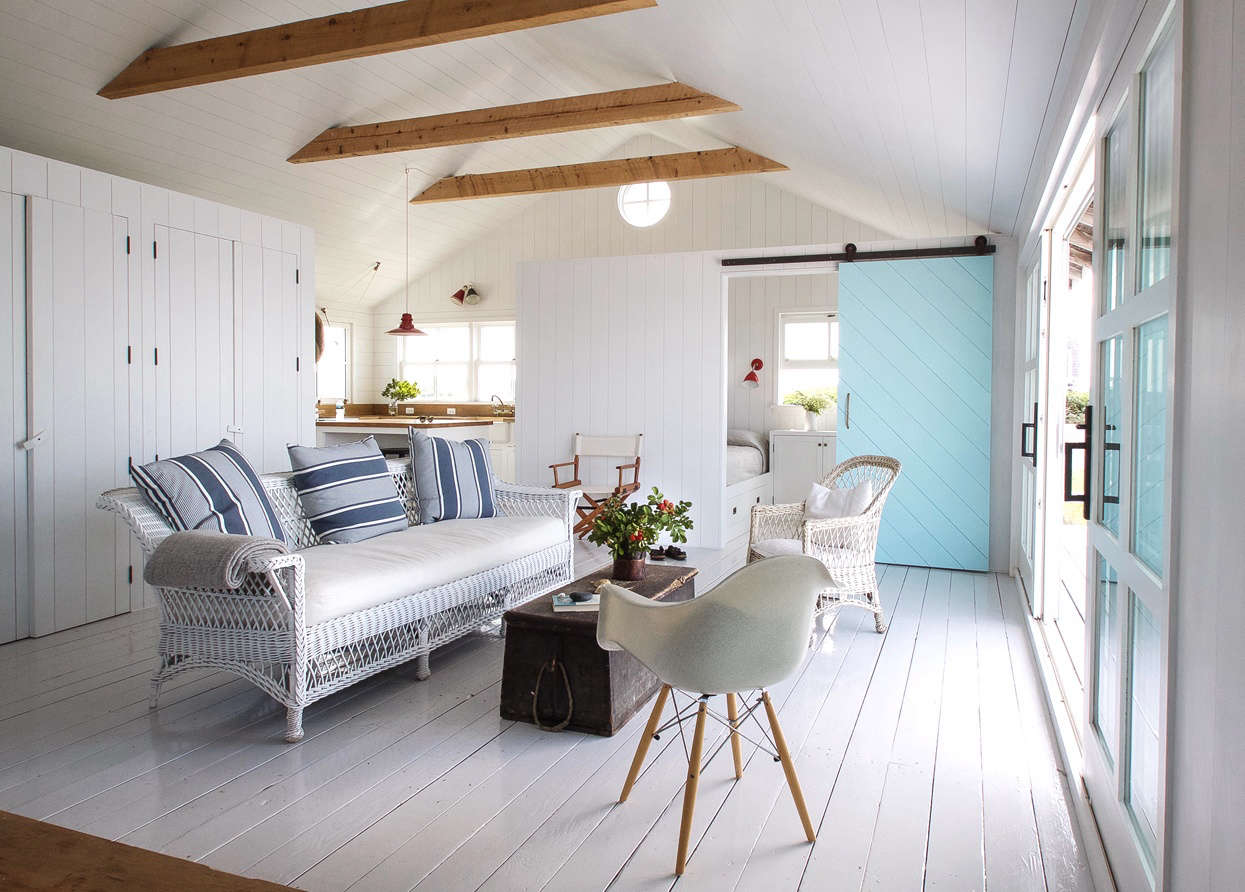 1. Make a Shaker peg rail your welcome committee.
An elegant 10-peg "rail" was created by sinking individual dowels directly into the wood paneling. Located next to the entry, the rail holds basics for heading outdoors (straw hats, bandana) and keeping unwelcome bugs and sand at bay (fly swatter, brush). The cork fishing float is original to the house.
2. Create storage that's part of the woodwork.
The house has spectacular views from all four sides, which Victoria and Tei chose to foreground by keeping the interior free of extraneous color and detail. In the dining area, a bench with a hinged lid wrangles crab nets, fins, and other beach needs into a chest made of the same painted-wood paneling as the walls and floors.
3. Jump-start your next cocktail party.
By keeping all the ingredients for entertaining in a single drawer, Victoria can pull together a casual lunch or drink with friends in a hurry. A silverware caddy contains knives, forks, and spoons as well as paper napkins, but cotton ones are also close at hand; likewise, options for lighting and serve ware are ready to go. (See also: our Instant Cocktail Party Kit, over on Remodelista.)
4. Invite radical transparency.
To keep counter workspace clear, appliances were moved "below deck" wherever possible onto dedicated shelves: the microwave gets its own garage-door-style panel in the kitchen island. A simple aged-brass pull swings open easily, even with a hot plate or mug in one hand.
5. Practice the art of kitchen utensil maintenance.
Peg boards invite visual clutter, which can sometimes be an asset in a spare but spacious workshop or garage. But given the  tiny quarters here, Tei and Victoria wanted a more streamlined look. So they drafted a few simple rules for peg board arrangement: hang like with like—coffee mugs along the bottom, metal spoons to the right—and give unique items like pans or a colander their own parking spaces. The paper towel holder was made by the contractor from a single piece of marine rope spliced into a loop at either end, then slid through the roll.
6. Take a page from the Navy.
The cottage's nautical theme extends to its door and window hardware. Kitchen windows open and close via a system of  ropes and pulleys that tie off on elegant brass cleats bolted right into the walls—a clever and decorative solution.  The old salt figurine makes a convenient paperweight for a grocery list.
7. Make room for a few simple luxuries.
Though space in the cottage is tight, Victoria prioritizes a few small pleasures, like savoring a cold drink while taking in the sunset.  A refrigerated drawer in the kitchen holds enough of the house brews to serve a small crowd.
8. Put everything in its place.
Inspired by a bathroom space a former employer, Kerry Joyce, designed in Malibu, Victoria mounted shallow shelves to hold beachcombing finds. A vintage medicine cabinet keeps the less beautiful basics out of sight.
9. Create artful access.
Given the tight quarters in the bunk rooms, every addition was carefully considered. A five-rung ladder helps kids up into bed; its pleasing proportions, highlighted with a coat of marine-blue paint, stand in as minimalist sculpture.
10. Take inspiration from the original captain's bed.
N.B.: This post is an update; it was first published December 2017.
For more storage ideas to steal, see: