Four Quick Tasks to Deep Clean Your House for the Holidays
Posted by admin on
Need some ideas for how to deep clean your house to prepare for holiday guests without spending a ton of time? Here are four simple tasks that will make a world of difference and can be done in about an hour.
One of the lovely things about living in a brand new home is how clean it is. Its wild to me how different it feels to be in a new construction home versus one that has had time to feel a little more lived in. Im a bit obsessive about a clean house, so its been a priority for me to keep our house feeling spotless for as long as possible.
I mean, lets be real. I have two young boys and a Doberman. And a husband. Its not gonna stay clean forever. Ive gotta enjoy it while it lasts, you know?!
One thing Ive been working to do is find some new cleaning solutions and tools that will help me stay on top of things and keep the fresh new house feeling for as long as possible. I actually wrote a post about using a steam cleaner to clean around the house a couple of years ago, and Ill be honest I used it all the time before I had Grant, but my cleaning routines fell by the wayside with a new baby in the house and I havent kept up with using the steamer nearly as much as I would have liked to. I figured this was the perfect time to get myself back into the habit of using it and to find a few new ways to utilize this super versatile tool to do some deep cleaning before the Christmas chaos fully descends.
So today, Im going to walk you through how to get some serious deep cleaning done around your house, quickly. For me, it took less than an hour to go through this routine! If youve got holiday guests coming and you really need to prep your home, this is the perfect routine to go the extra mile and really make sure your home feels welcoming and in picture-perfect condition. My goal is going to be to follow this routine a few times a year to hopefully preserve this my house is so nice and clean feeling year-round!
How to deep clean your house with a steam cleaner 4 quick tasks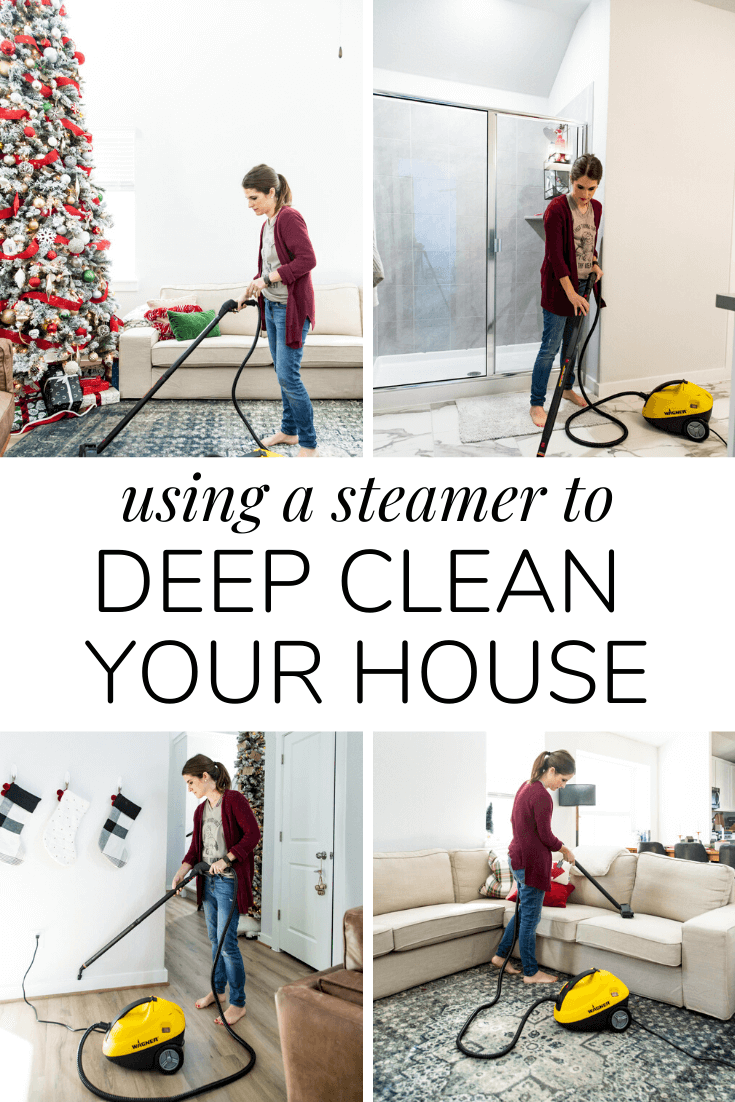 This post is sponsored by Wagner and contains affiliate links.
Obviously if youre preparing for guests for the holidays youre going to want to do a bit of cleaning to get things ready. We only host my immediate family (we have about 8 people that come every year), but I still love to spend some time making the house shine and feel extra special.
Cleaning feels even more important if youre hosting overnight guests or people you dont see often! This time of year can be wild, so I wanted to share some tips that focus on making the biggest impact with the least amount of work.
If you need some help with the basics (because we all need help this time of year) so you can get your house to a base-level clean before you do the deep cleaning, here are a few posts that might help you out:
Once the laundry, toys, and other various pieces of junk are picked up and out of the way, youre ready for some deep cleaning. Im focusing on just 4 areas that will make the biggest impact in your home. If you do these, everyone will comment on how sparkly and clean your home feels and not a soul will even notice if you miss a stray toy or two.
Promise.
setting up the steamer
First, lets take a quick tour of the steam cleaner and learn how to use it its super simple!
I used the Wagner 915 On-Demand Power Steamer to do my cleaning. Its so great for cleaning a variety of surfaces without any chemicals just steam! Not only can it clean almost every surface in your house, it can remove wallpaper too.
To set it up, all you need to do is pour some water into the container using the provided funnel, turn it on, and wait for the light to turn green.
While its heating up, you can choose the attachment that works best for the job (it comes with attachments for everything from window cleaning to removing wallpaper!), and set it up. Then, pull the trigger and go to town!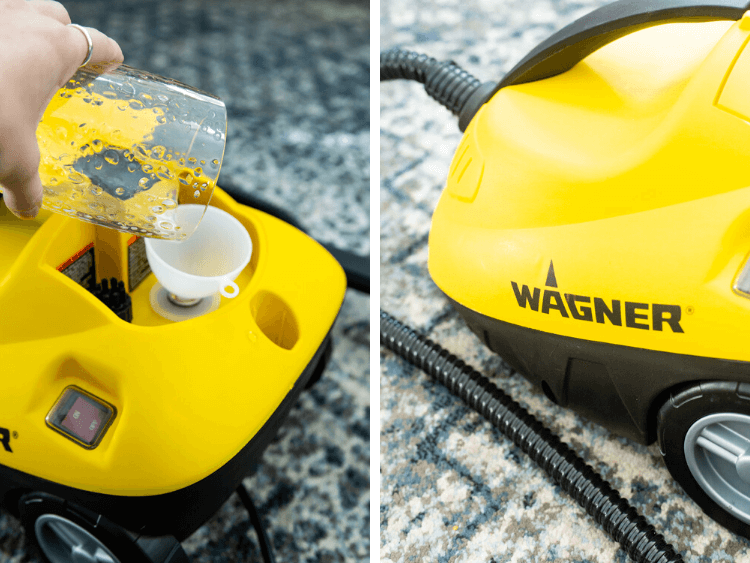 Heres a quick rundown of what I did to deep clean my house with the steamer. For more ideas, be sure to read this post with 15 genius ways you could use it!
*NOTE:: Anytime youre steam cleaning carpet or upholstery, you should test on a small, inconspicuous spot and wait about 24 hours to ensure it will not damage the surface.
task one: steam clean y0ur rugs & carpet stains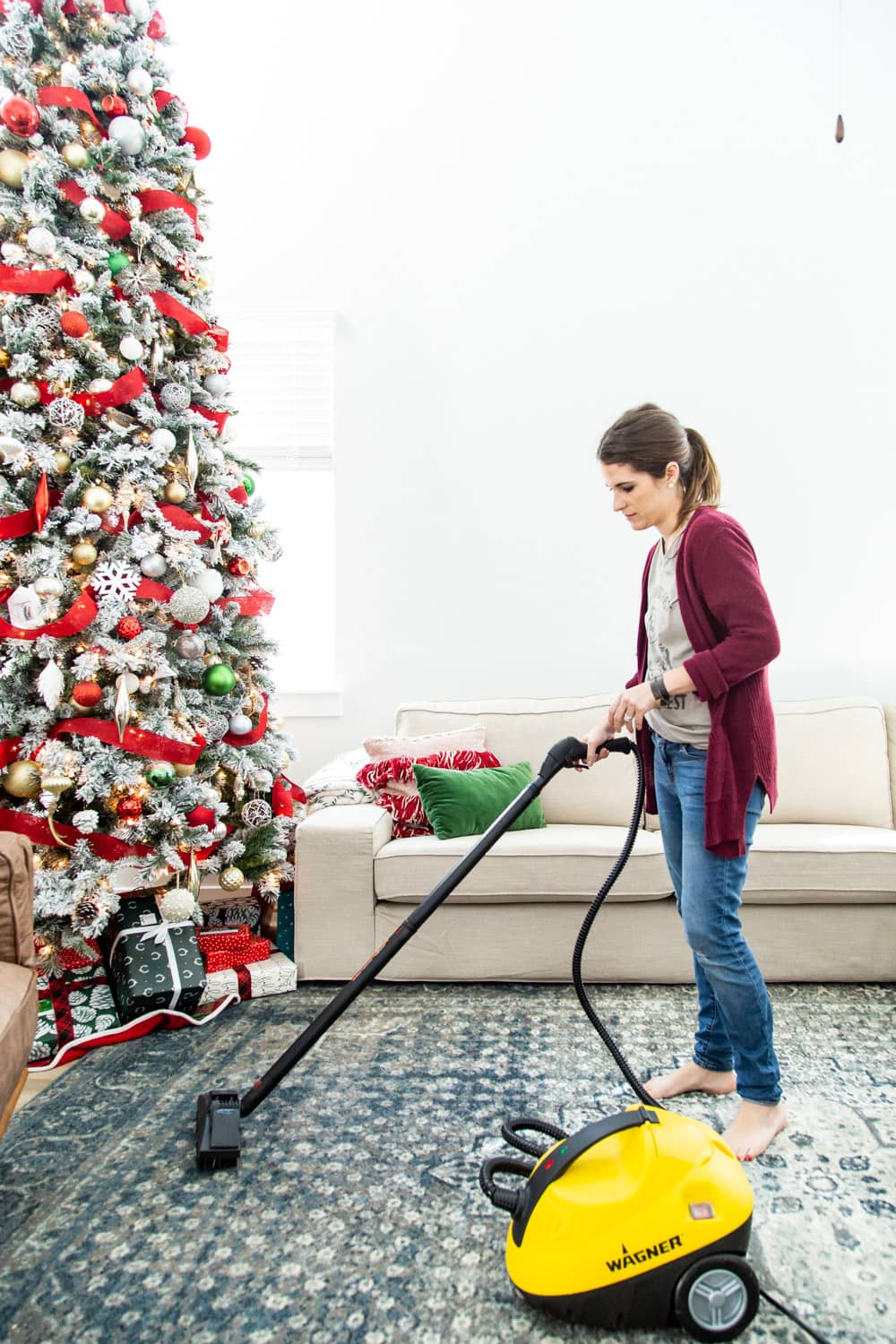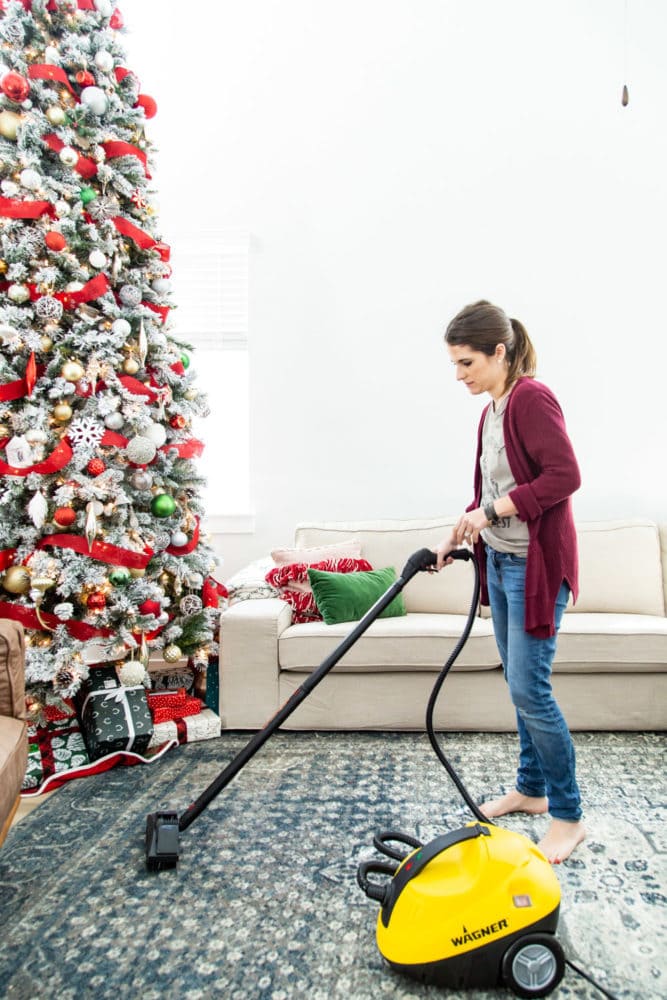 This is, for me, the most life-changing use for a steam cleaner. I knew it was possible but I hadnt given a shot before, so I decided it was high time I tried it out. A clean floor can make a world of difference and even if the rest of the house is sparkling clean, if youve got nasty carpet the whole house can feel like a mess. So, Im a firm believer that its always worth taking a little extra time to get all of the carpet and rugs looking (and smelling) fresh if you want a really deep clean.
Our carpet upstairs is still in basically brand-new condition, but the rug in our living room is several years old and it definitely needs a good cleaning. I attached the large surfaces attachment to the steamer and went to town on the rug.
Now that I know how well this works, Im dreading the inevitable spills and messes upstairs a lot less! Carpet has always been really intimidating for me to keep looking really new and great, and it feels a lot more manageable now that I have this in my back pocket.
task two: clean the couch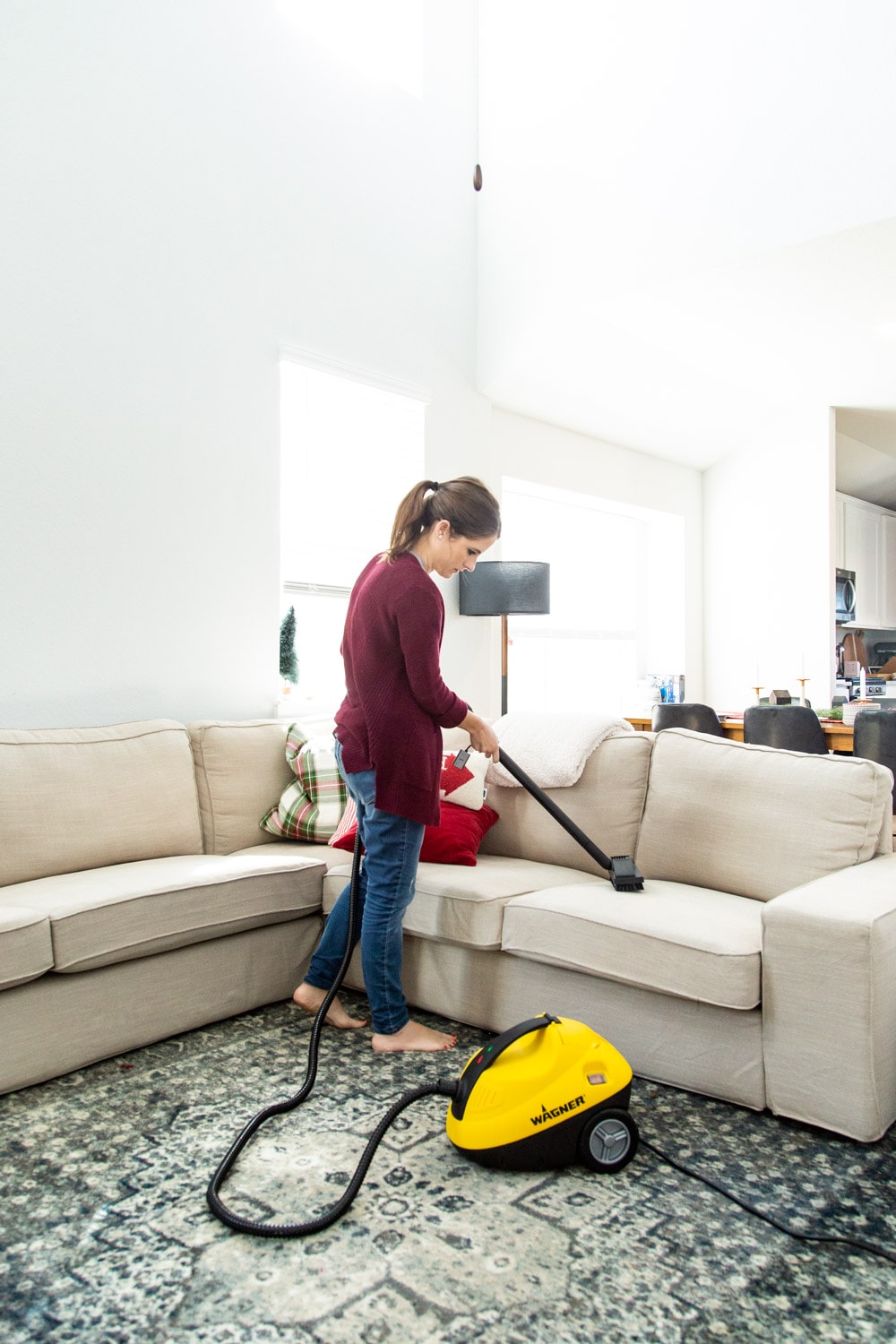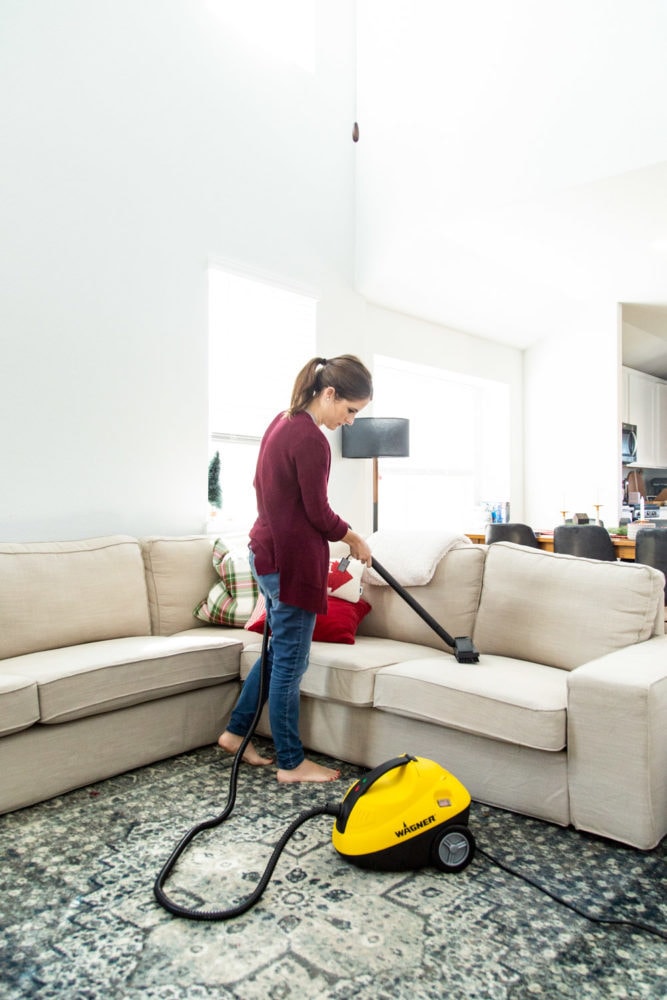 Your couch is one of the things your guests will get the most up close and personal with. If your family is anything like mine, as soon as your holiday meal is over everyone will pile on it to watch Christmas movies (we watch A Christmas Story every year!), take naps, and chat. The last thing you want is for someone to plop down right next to a milk stain from the sippy cup your toddler hid in the cushions (not that Id know anything about that)
The cushion covers on our sofa are machine washable (read more about our couch right here!), so stains arent too terribly stressful, but I was curious if I could get the occasional spot out without having to pull everything off the couch. Thankfully, the steamer did the job. There were a few spots from dirty paw prints, sticky fingers, and that darn sippy cup, and the steamer got them right up.
If you have other chairs in your living room (we just have the leather chair and this sectional), you can also steam clean them. Basically, Id recommend walking around the main gathering spaces in your home and taking stock of any upholstery that needs a good clean while youve already got things set up. It doesnt take long, and it goes a long way towards giving your home that sparkling clean look and feel.
task three: Clean the baseboards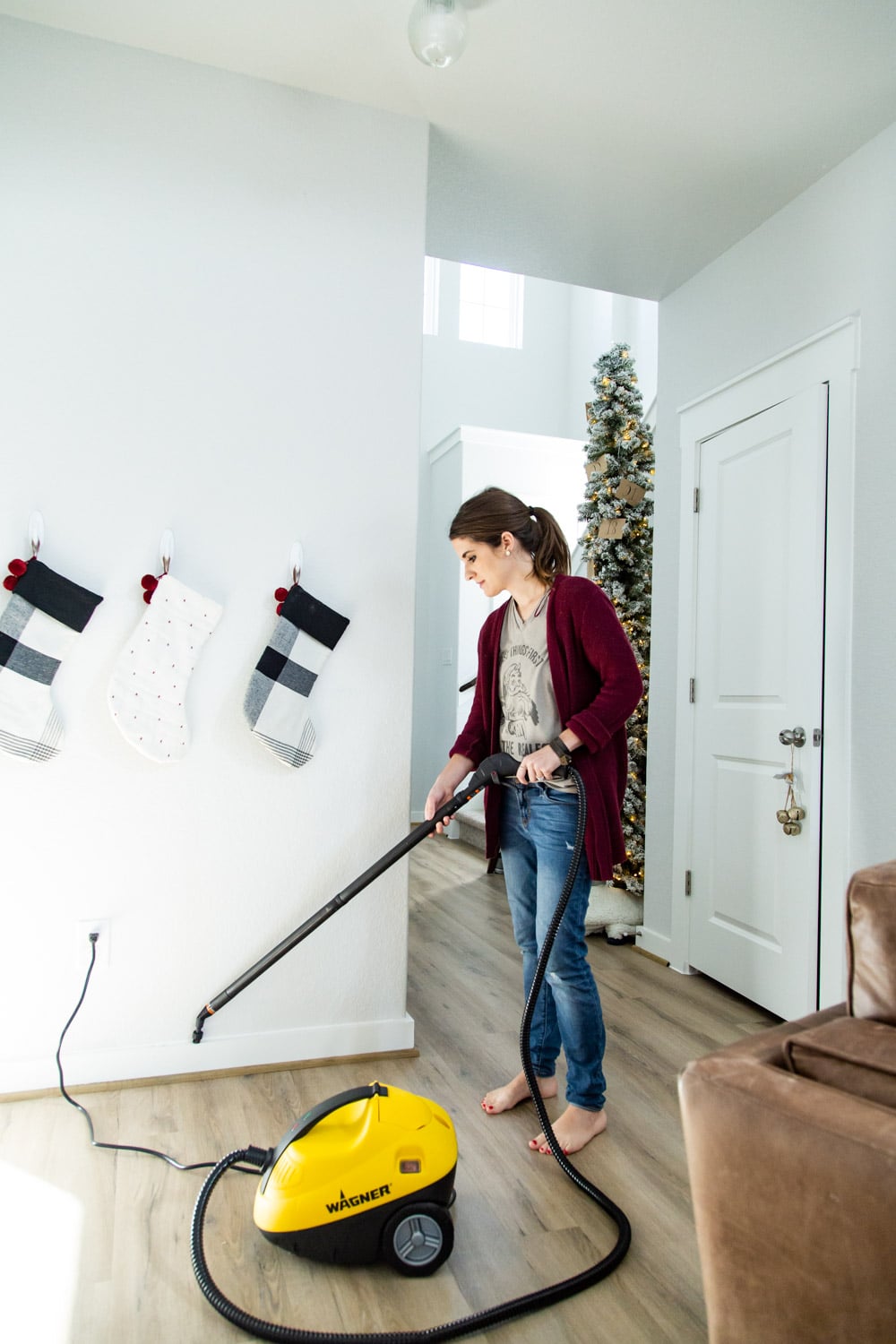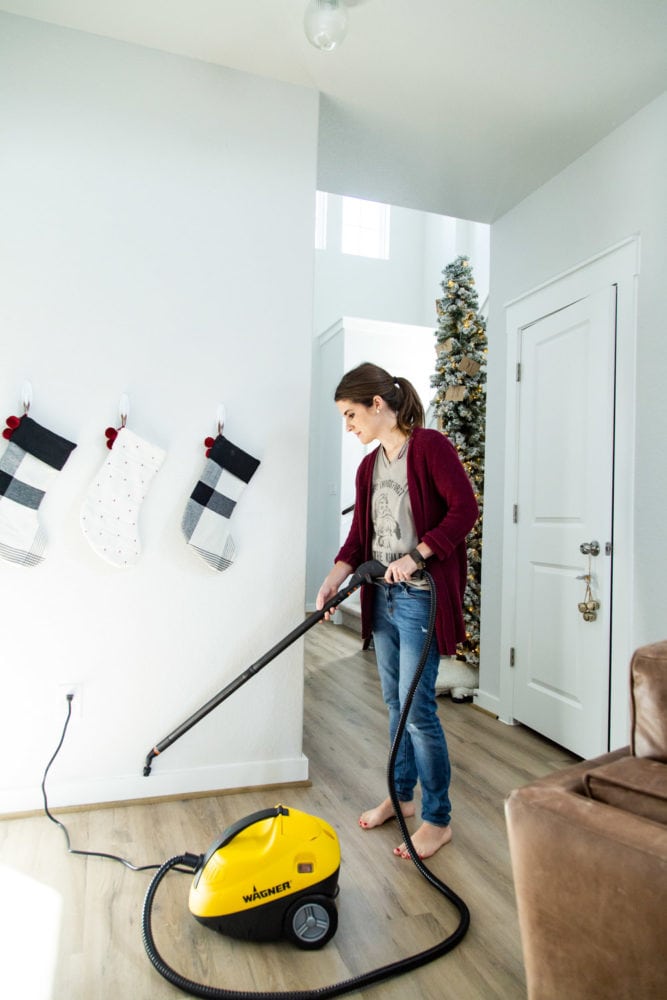 I know. I knoooooooow. Cleaning the baseboards is the worst. But I hope youll believe me when I tell you that having super shiny and clean baseboards will make a shockingly huge difference in how clean your house feels.
Theres just something about dusty and dirty baseboards that we dont even register on a conscious level, but they sit in the back of your mind and make the entire house just feel dirtier. Its hard to explain until youve experienced it, but I promise you itll be worth your time to give your baseboards a quick cleaning with the steam cleaner.
If your baseboards are extra dusty, you might want to grab your vacuum with a brush attachment and go over them first to remove the dirt. Then, use the wand attachment on your steamer so you dont even have to bend over, put on a good podcast, and go to town. It should require very little scrubbing, and itll probably go a lot faster than youd expect!
If youre short on time, start by just cleaning the baseboards in the main areas of the house. Its worth it to get them all nice and shiny, but this time of year is busy. Start with just the living room, dining room, and entryway those are where itll make the most impact, and once youve been convinced of the power of a clean baseboard, you can go back and do the rest.
task four: clean the bathroom grout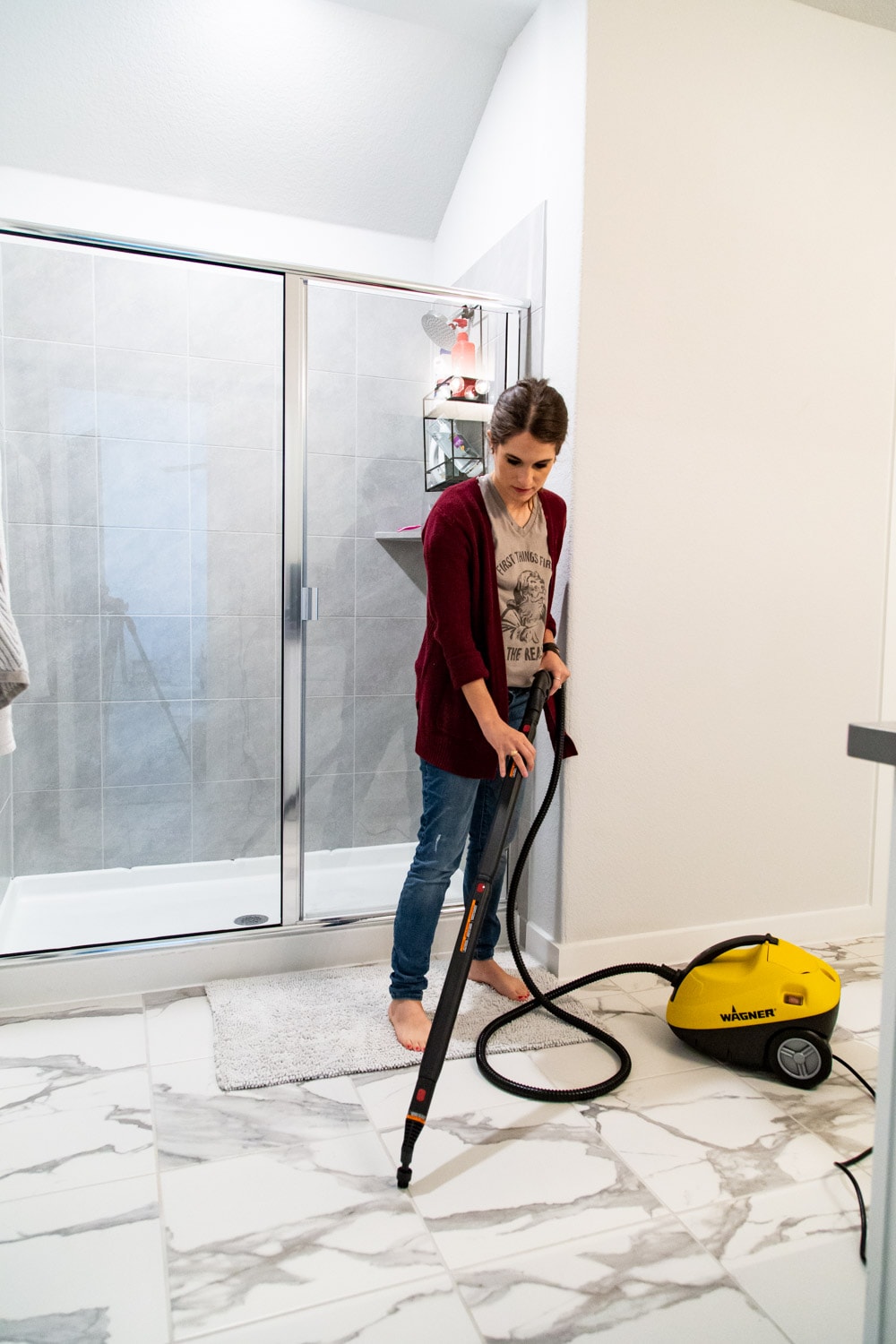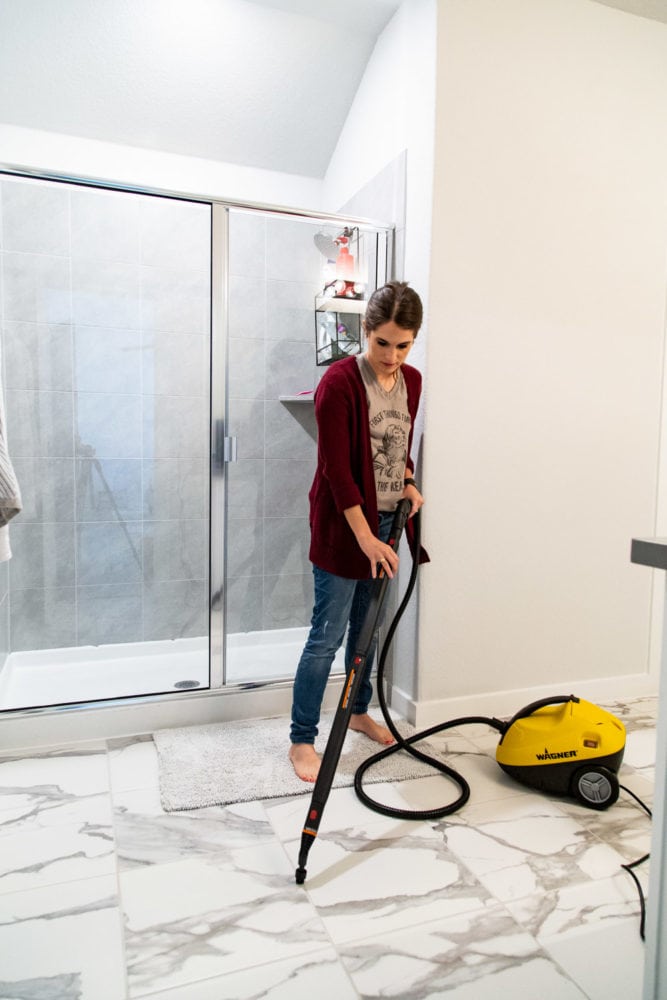 I talked about this trick last time I wrote about my steamer, but its so good its worth mentioning again. Grout can get so gross, especially in the bathroom and especially around the toilet. Nobody wants to get on their hands and knees and scrub the dang stuff, but with a steam cleaner you can get it sparkling clean while staying on your feet (and away from the grossness).
Of course, I dont think I need to explain to you why cleaning the bathroom floors will make a huge difference when youre having guests. The bathroom is one of the most important spots to get clean when youre having a gathering at your house, so its worth a little extra effort!
Our bathrooms are thankfully still in great condition and the grout hasnt gotten too disgusting yet, but I brought the steamer in there anyways for a nice, deep clean, and I was impressed with how much cleaner things felt even though they werent all that dirty to begin with!
While I was at it, I went ahead and cleaned the tile and grout in the shower too, but thats just extra credit. None of your guests will be paying that close of attention to the shower tile just make sure its clean enough for a shower and youre good to go.
And that, my friends, is how you deep clean your entire house in record time just focus on those high-impact spaces, use a steam cleaner, and youll be amazed at how quickly things come together! You can click here to learn more about the Wagner 915 On-Demand Power Steamer its been so great to have around the house for us!
I think this would make a great seasonal cleaning routine maybe once a quarter we can all commit to busting out the steam cleaner and showing our homes some love. I think itll be a great way to keep that special-occasion-clean feeling going year-round!
Have you ever tried a steam cleaner to stay on top of the deep cleaning in your house? Id love to know what you use it for!
The post Four Quick Tasks to Deep Clean Your House for the Holidays appeared first on Love & Renovations.
---
Share this post
---
---