There's always been something mystical about Tulum, Mexico. Famed for its clifftop Mayan ruins, sacred cenotes and Instagrammable coastline, it has exploded in popularity to become the quintessential eco-chic retreat.
Located 81 miles south of Cancun International Airport (CUN), Tulum's hotel scene is a world apart from the glamorous gated resorts that stud the Riviera Maya farther north. Surrounding Tulum Pueblo, clusters of solar-powered, palapa-style boutique hotels embrace the region's back-to-nature minimalism and cater to wellness seekers, yogis and free-spirited travelers looking for a more offbeat Caribbean getaway.
But until recently, it's been slim pickings for points travelers. 
Amid a flurry of top-tier additions to the Hilton portfolio in Mexico, the highly anticipated Conrad Tulum Riviera Maya debuted in January of this year. As the Waldorf's luxe-but-more-unbuttoned sibling, it promised to entice new and returning visitors seeking a stylish bolthole that marries an appreciation for the finer things in life with a full embrace of the region's bohemian sensibilities. 
But would it live up to expectations? Here's what my experience was like at the Conrad Tulum.
Quick take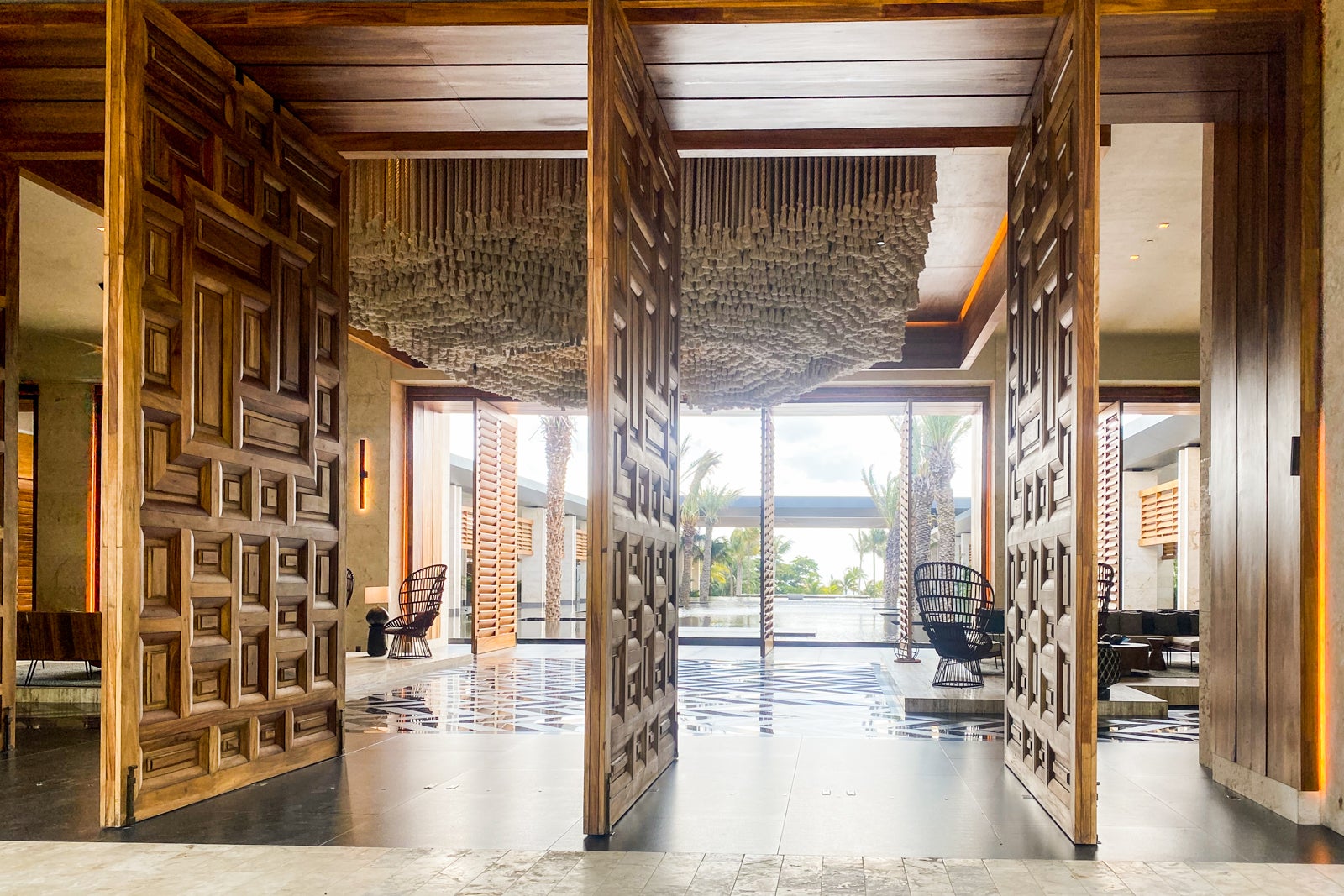 Discreetly tucked into mangrove forests alongside a gorgeous horseshoe bay, the Conrad Tulum is a sophisticated, grown-up retreat that marries Tulum's back-to-nature ethos with a jaw-dropping design.
Behind the open-air lobby's magnificent carved doors, onyx-tiled reflective pools lined with palm trees flow to a stunning infinity pool and rainforest-fringed, white-sand beach with swimmer-friendly waters. Along the way, there's a series of dens for lounging, furnished with rattan chairs and hammocks, all very in the spirit of Tulum's chic, boho vibe.
Everything at the Conrad feels bathed in light and connected to water. Maya-inspired artifacts and custom-made pieces grace both the public spaces and guest rooms, providing a true sense of place. 
There's no standing around waiting to check in here; instead, guests sip on cocktails in cozy lounges filled with books and artworks while check-in formalities are completed and guests are handed a black beaded bracelet that acts as their room key.
Getting there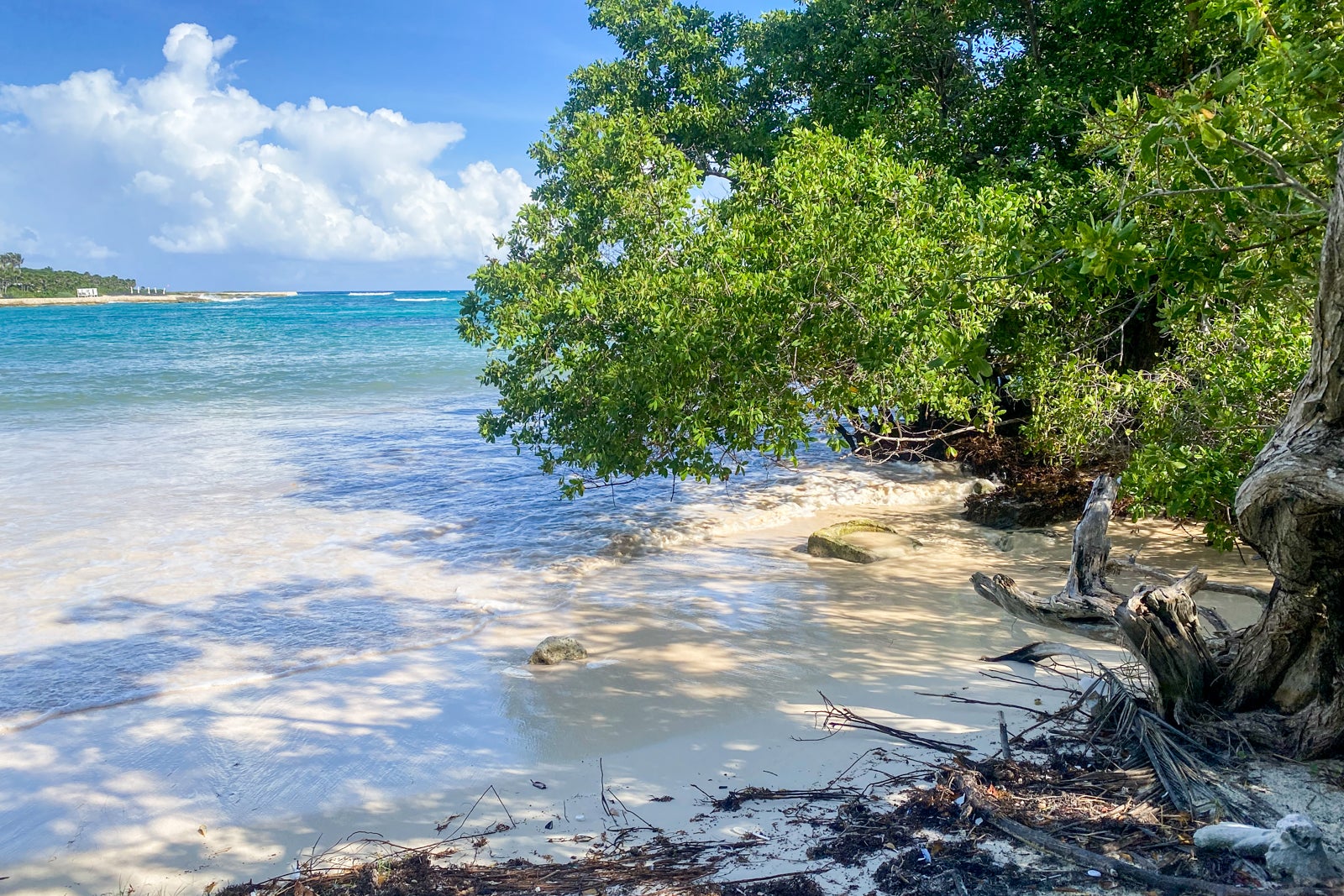 The Conrad Tulum is a 90-minute drive from Cancun International Airport (CUN). Know, though, that the hotel is not in Tulum Pueblo, or near the Mayan archaeological site, but 13 miles north, near Akumal.
Meet-and-greet transportation can be booked in advance through the Conrad's concierge for $170 each way (for up to five passengers) in a luxury SUV. If you wing it and take a taxi with one of the many companies soliciting at the airport, it will cost around $90.
Booking details
Off-season rates start from $352 per night, or 90,000 Hilton Honors points, but expect to pay in the region of $674 during peak winter months. Ocean-view suites start at $1,163 per night. For my mid-November, two-night stay I paid $403 per night for a "tropical-view" king plus a whopping $391 in taxes and fees. 
Another way of gaining free nights is to apply for a Hilton Honors cobranded credit card — such as the Hilton Honors American Express Surpass® Card, Hilton Honors American Express Business Card or Hilton Honors American Express Aspire Card — that offers members free night certificates, either as ongoing benefits or as special perks you can earn by spending. If you earn these certificates, you should be able to apply them to stays at the Conrad Tulum when there is 90,000-point availability.
If you were to plan a February break, these are the rates you'd be looking at: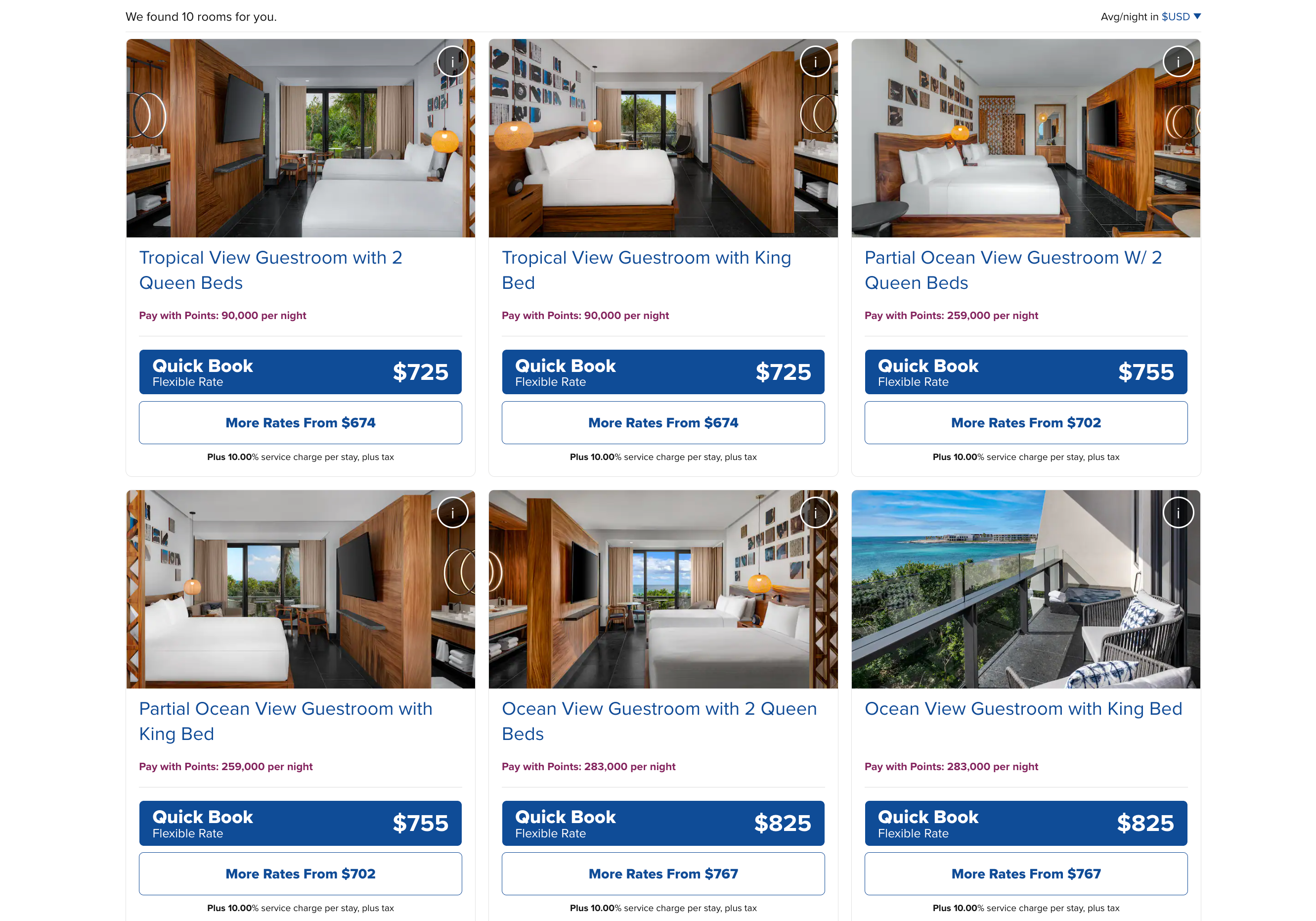 Standout features
The resort is beautifully integrated with Tulum's jungle-fringed coastline and mangrove forests, so you always feel immersed in nature. A forested trail leading from my room to the main lobby was populated with iguanas, lizards and families of raccoon-like tejones.

Surrounded by palm trees, t

he blue-tiled main infinity pool is striking. The scene is

cool but without being pretentious. With three quieter casita pools and an idyllic beach, there's a setting for every mood.
All the food and cocktails I tried were excellent: imaginatively prepared, creatively presented and made with wholesome indigenous ingredients.
The staff members were warm, ever-present and genuinely interested in guests.
Even the base-level rooms are chic, stylish and beautifully appointed. I didn't feel any ocean-view envy at all.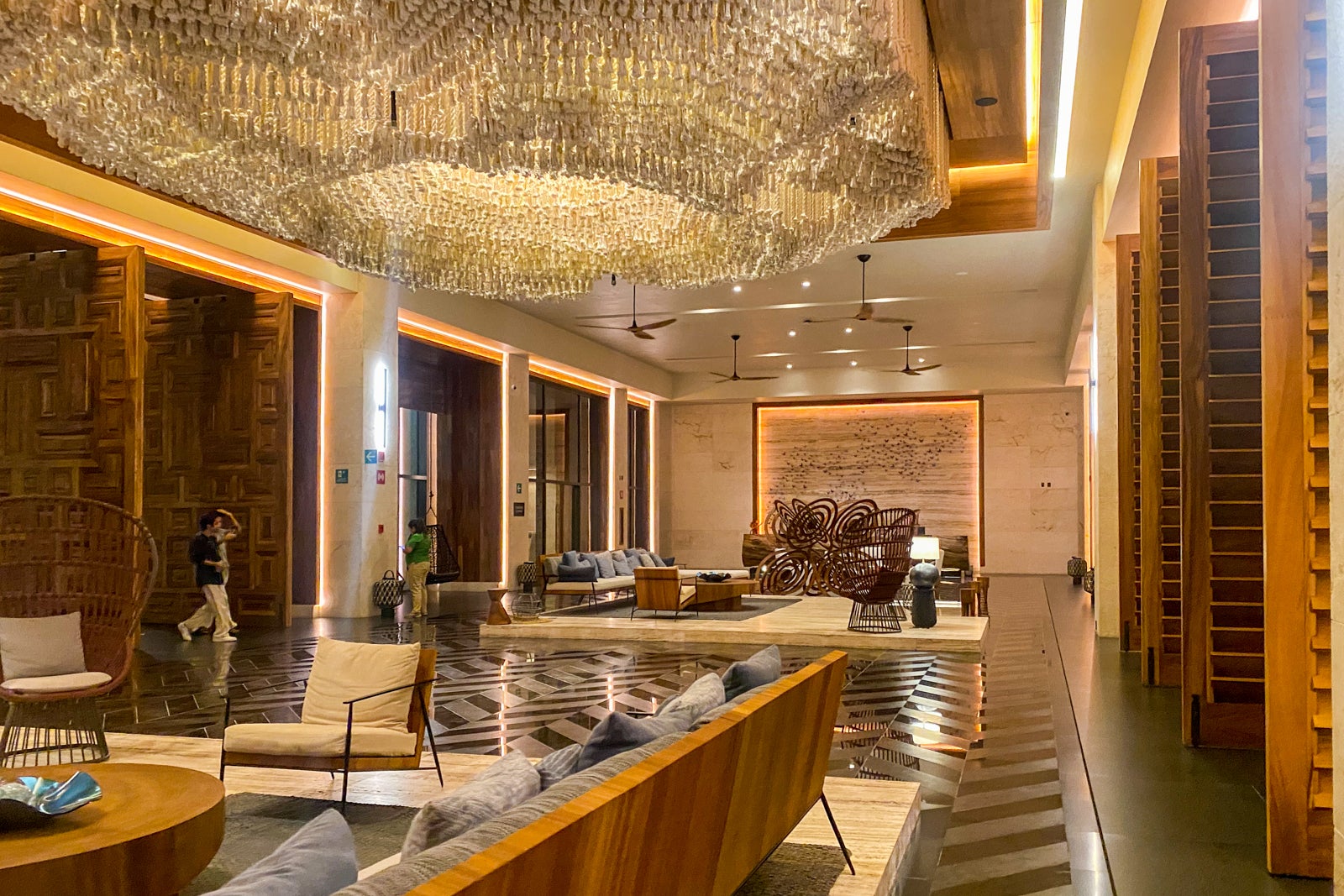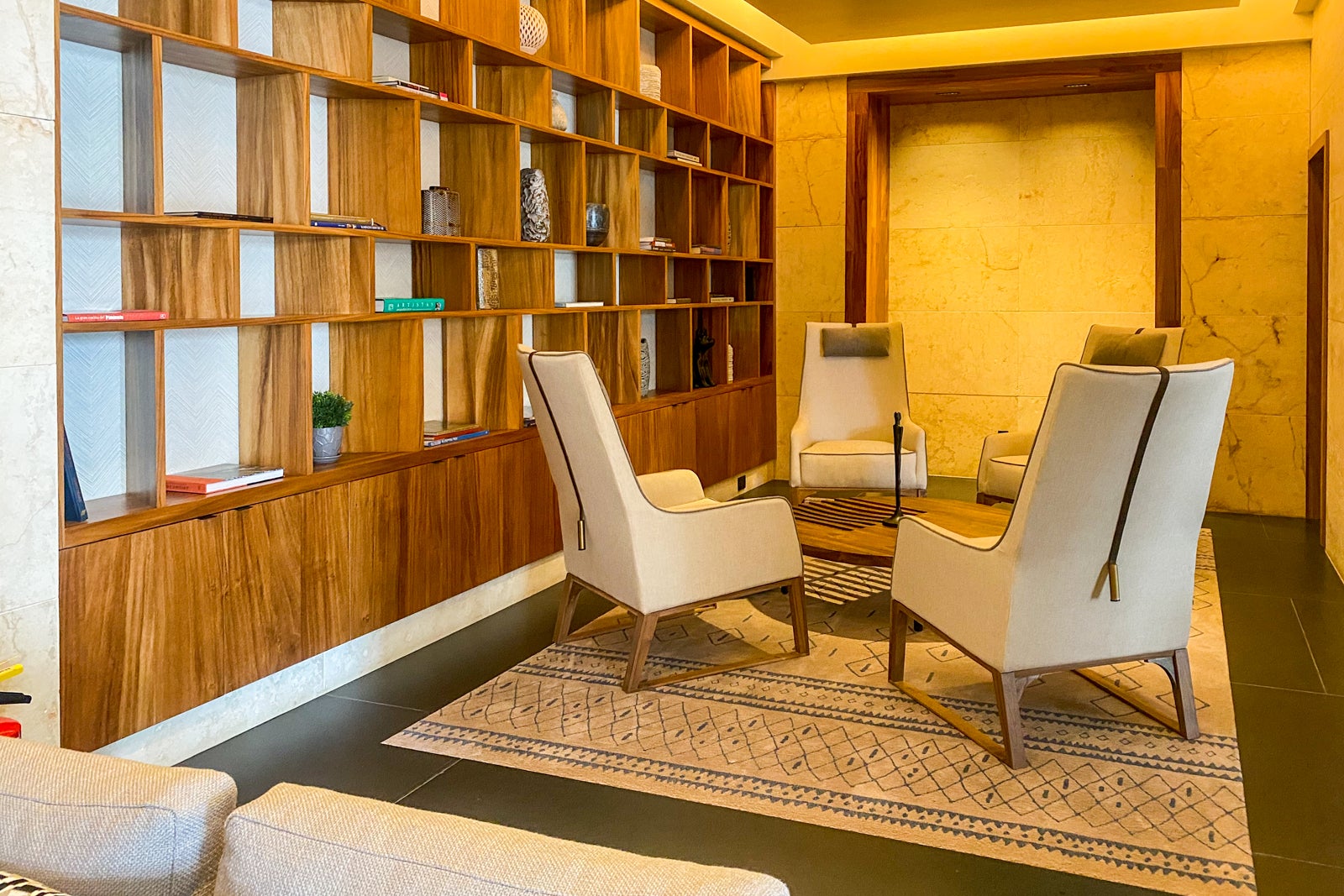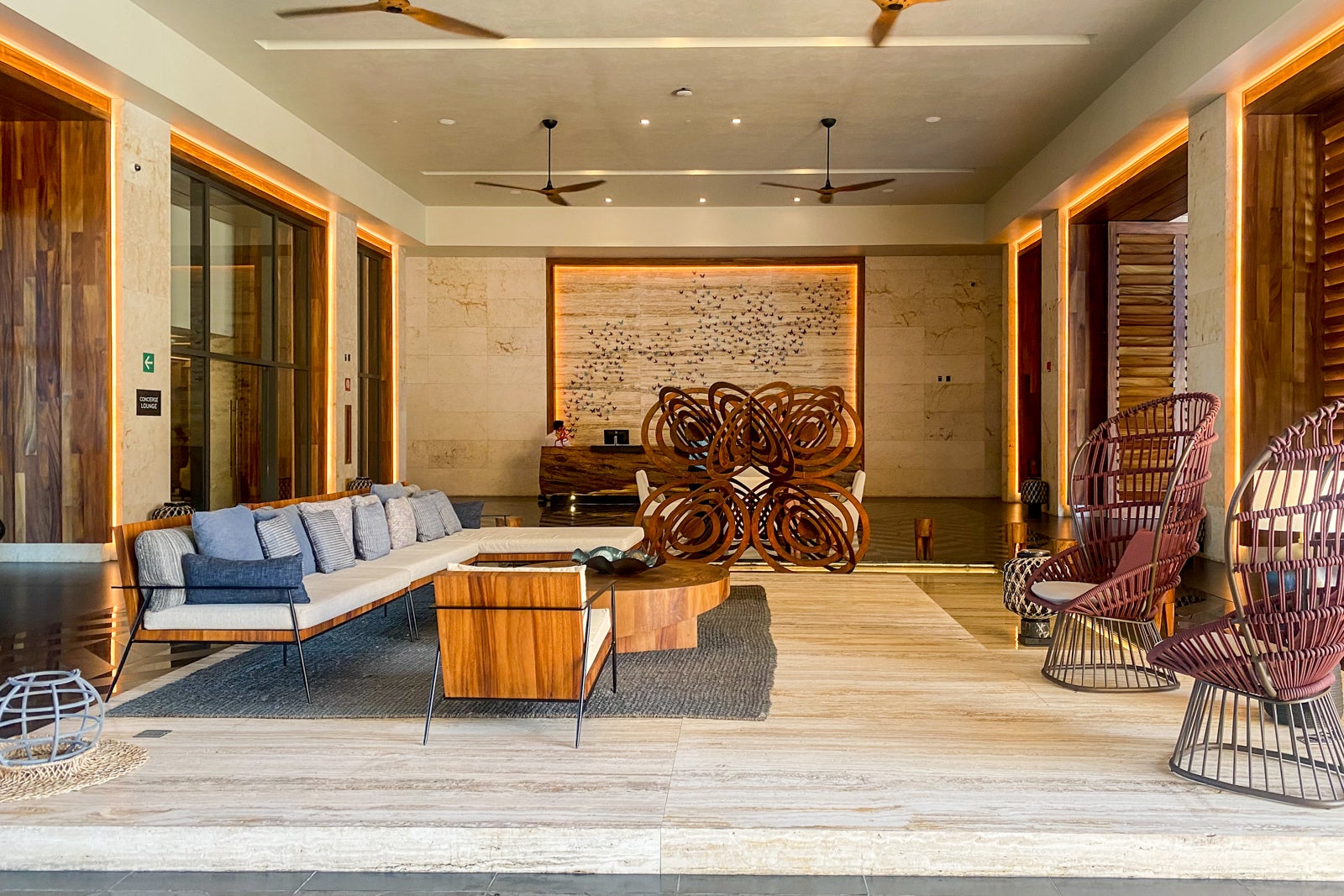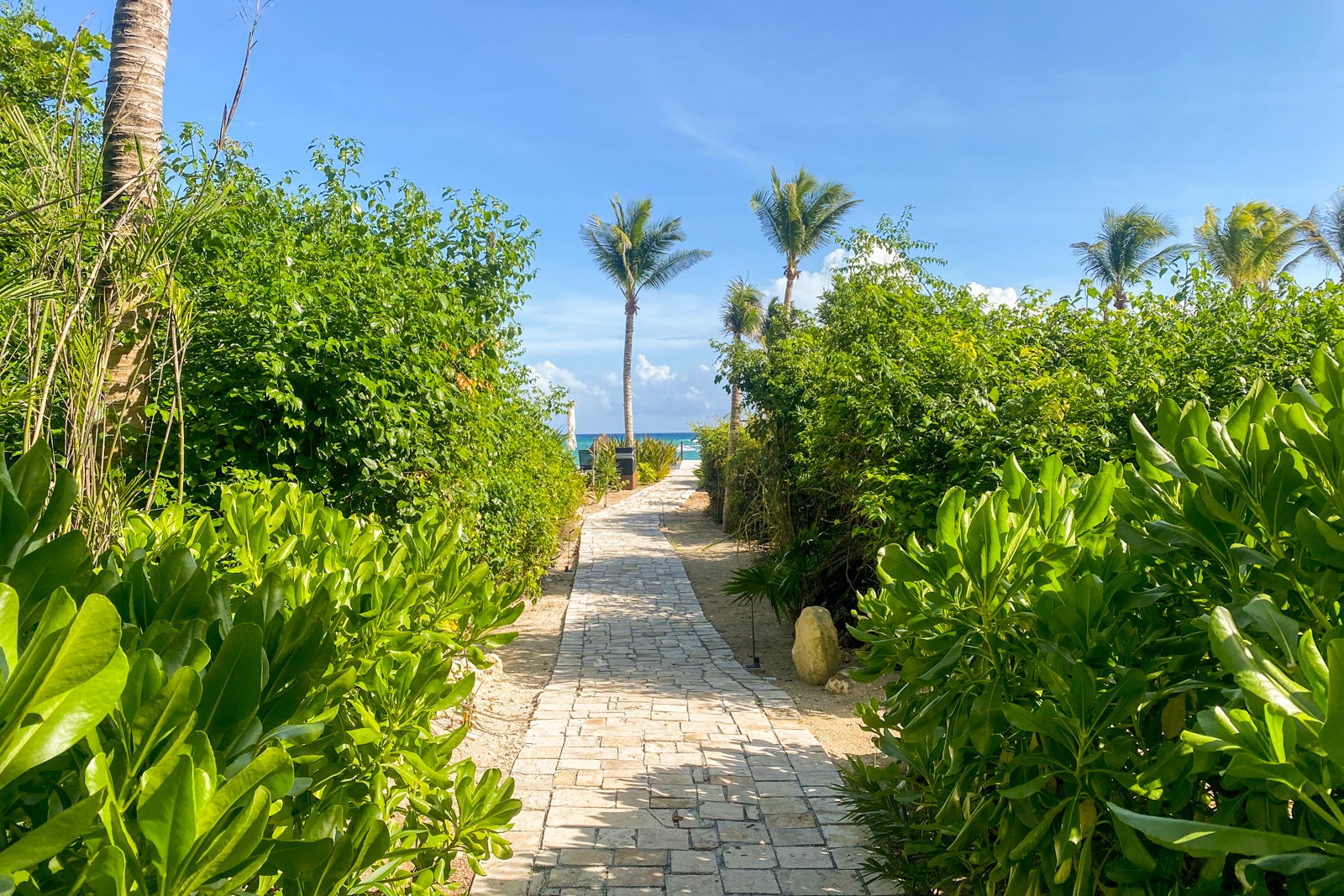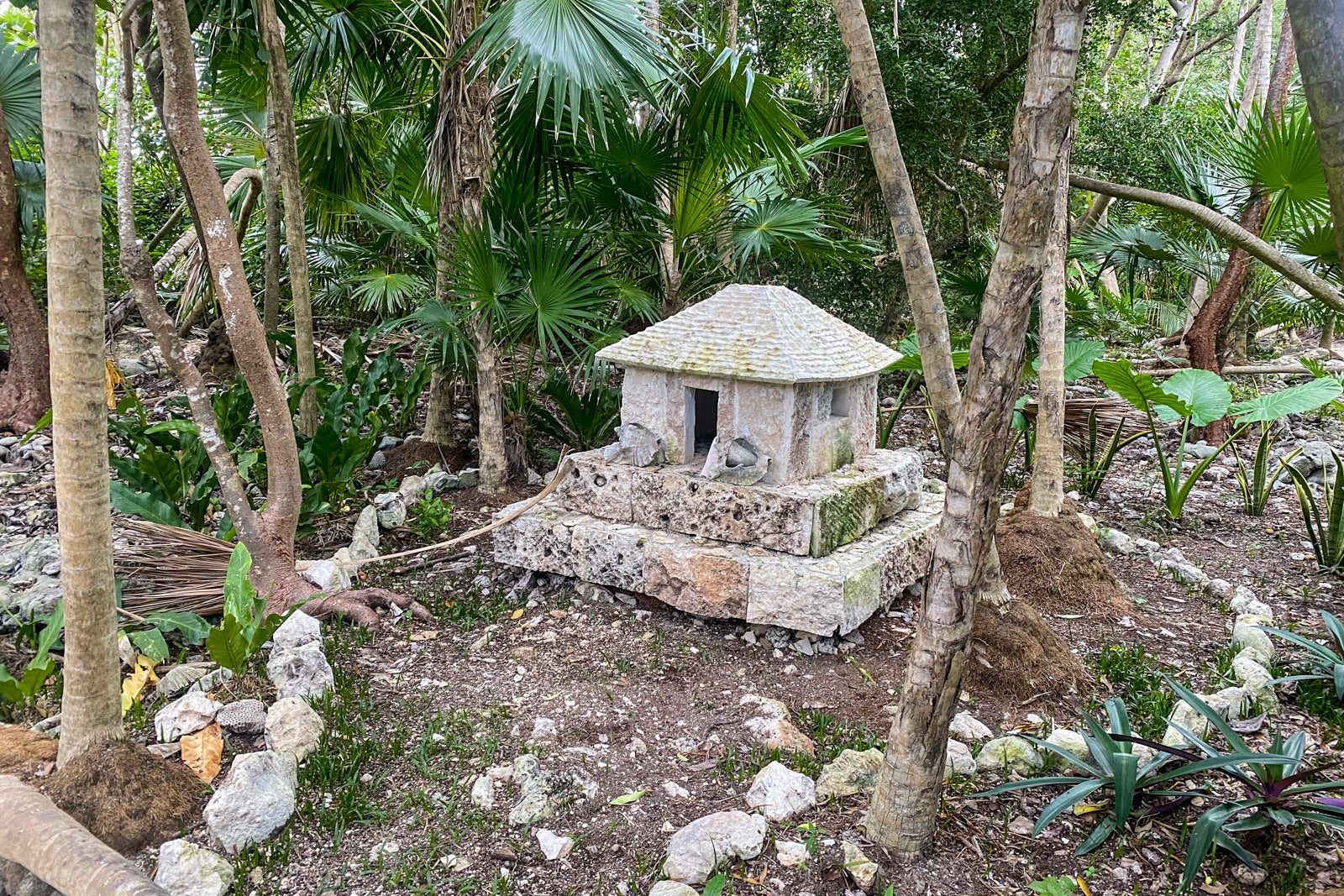 Drawbacks
There were a couple of service glitches: On two occasions, there was no response when calling the front desk — once to tell them my coffee maker wasn't working (when I did get a response it took almost an hour to get another one).
There was no way to contact the spa from my room and I needed to go to the reception desk and have them call for me.
The dining venues are swanky and beautifully designed, but I felt it was missing an oceanside venue that offered a feet-in-the-sand or under-the-stars experience — it seems like the kind of place that should.
I loved the castaway feel to the beaches here, but they are small and contained, and may not be everyone's idea of a perfect Caribbean escape.
Vibe
An instant sense of serenity and calm takes hold at this Conrad. Creative types and urban escapees gently ease into Tulum's bohemian vibe, napping in hammocks strewn across the outdoor lounges, dancing and drumming under a full moon, or indulging in spa treatments and shaman-led cleansing rituals, which utilize herbs from the on-site garden.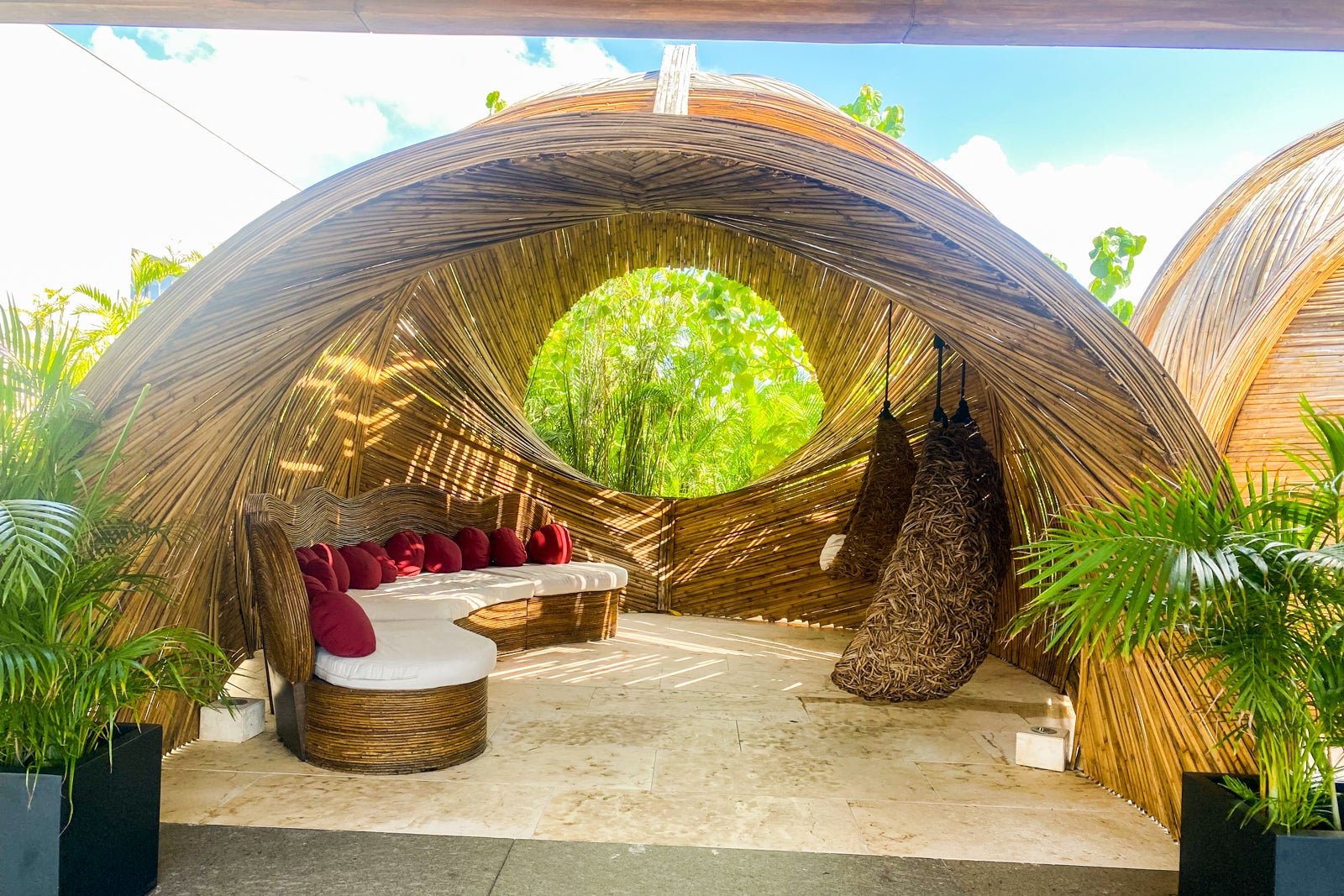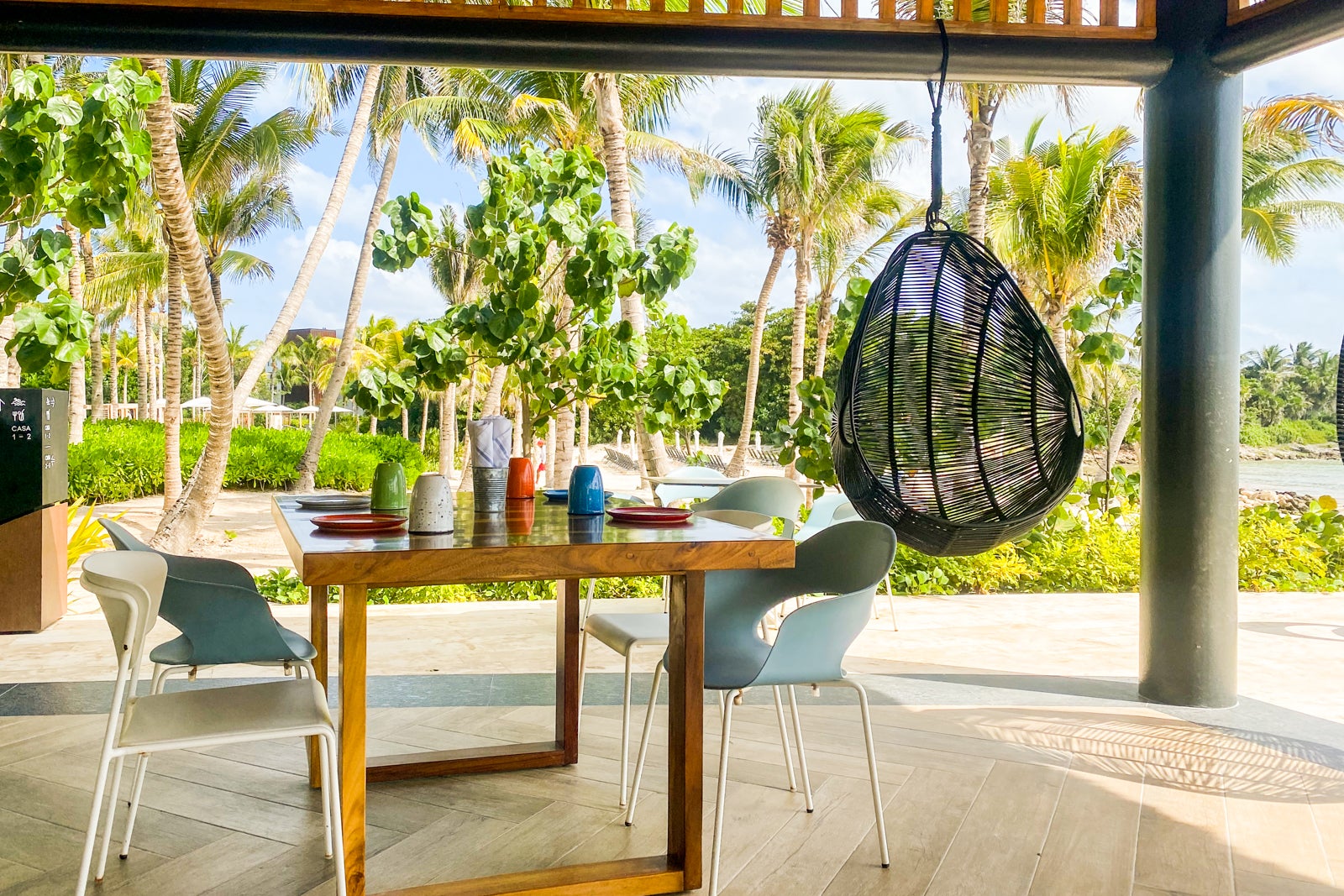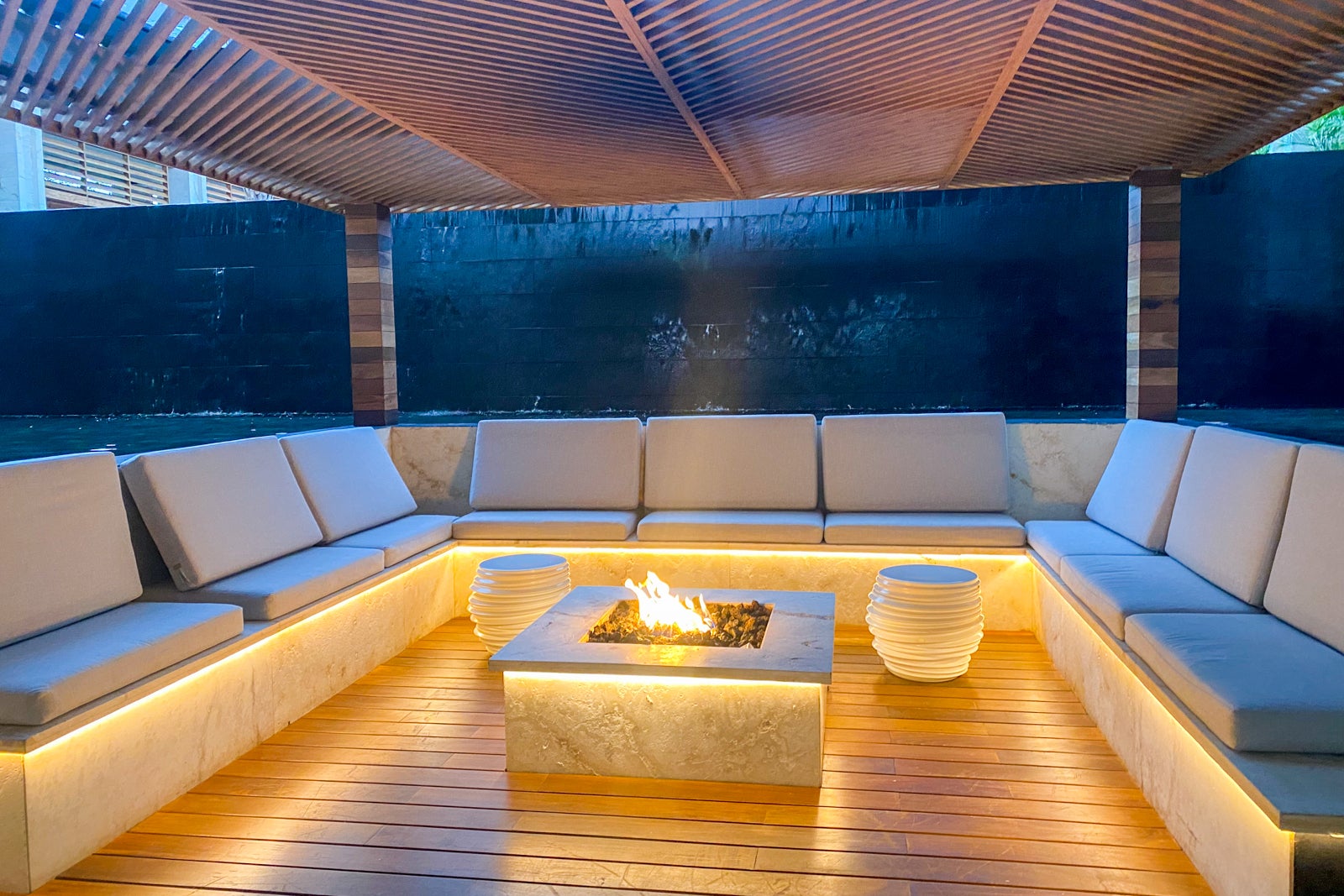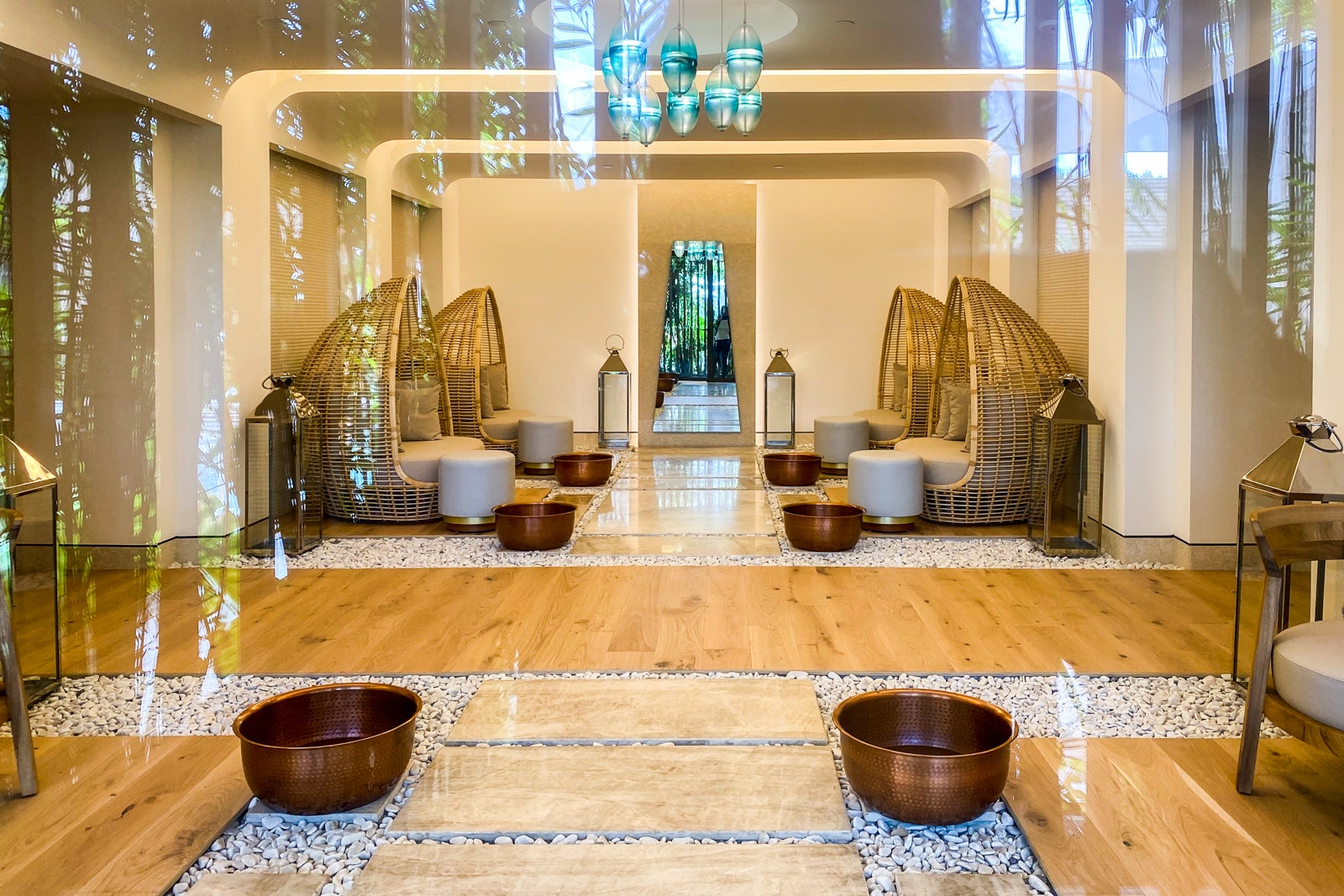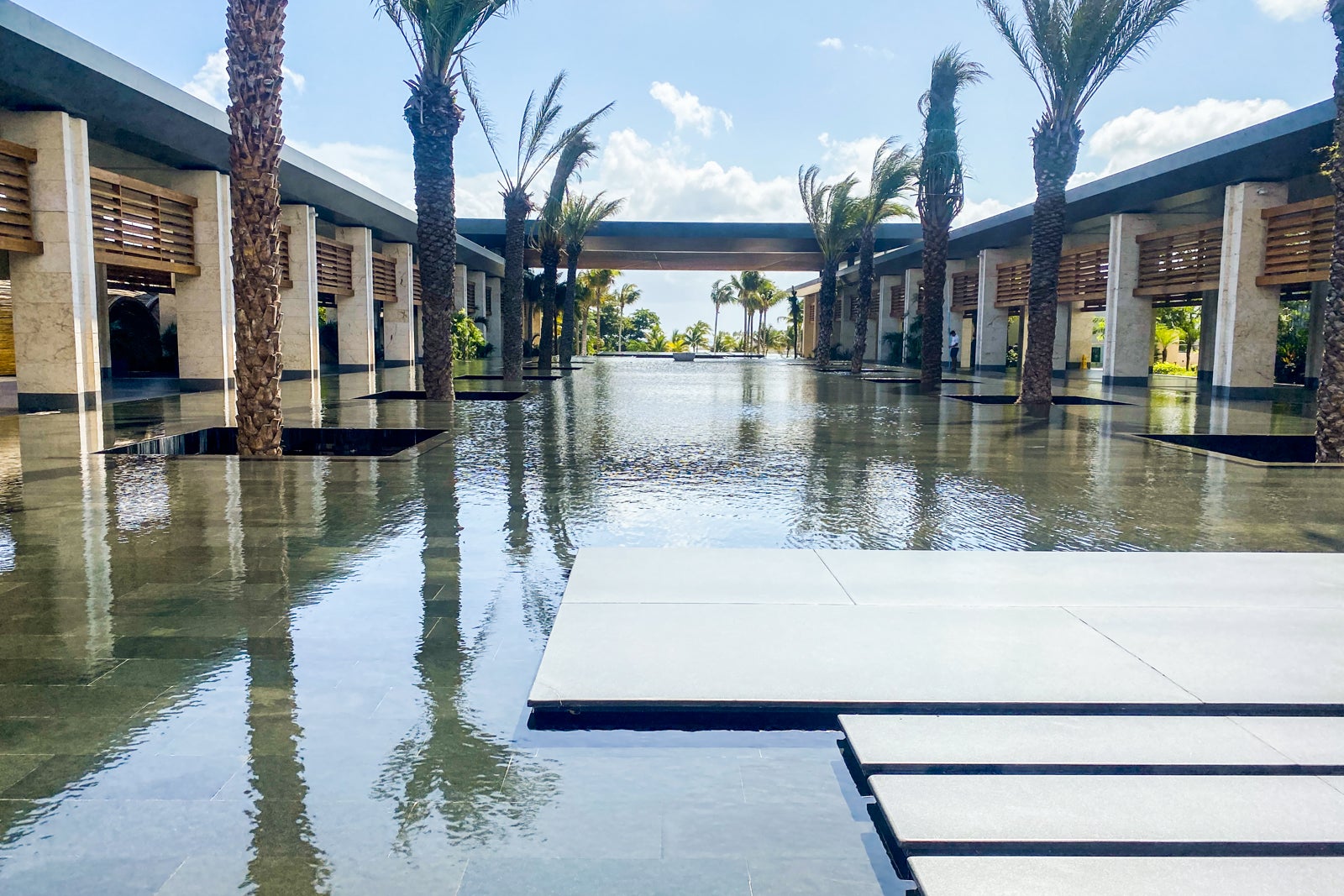 The gorgeous central infinity pool seems to pull everyone in, and things kick up a notch around lunchtime as cocktails flow and a DJ spins classic tunes — but this is no wild Ibiza pool party. At sunset, smartly dressed guests mingle against a sultry backdrop of fire pits, elegant white sofas and a black-tiled ornamental waterfall at the open-air Ultra Mar, where superb mixology (try the zesty Coyota cocktail made with mezcal, lime and ginger for 295 Mexican pesos, or about $15) and live music is the perfect preamble for imaginative, gourmet dining. 
The room
My room was in a low-rise "casita" a short walk along a jungly trail from the main pool and lobby. At 505 square feet, it wasn't massive, but it was stylish and user-friendly.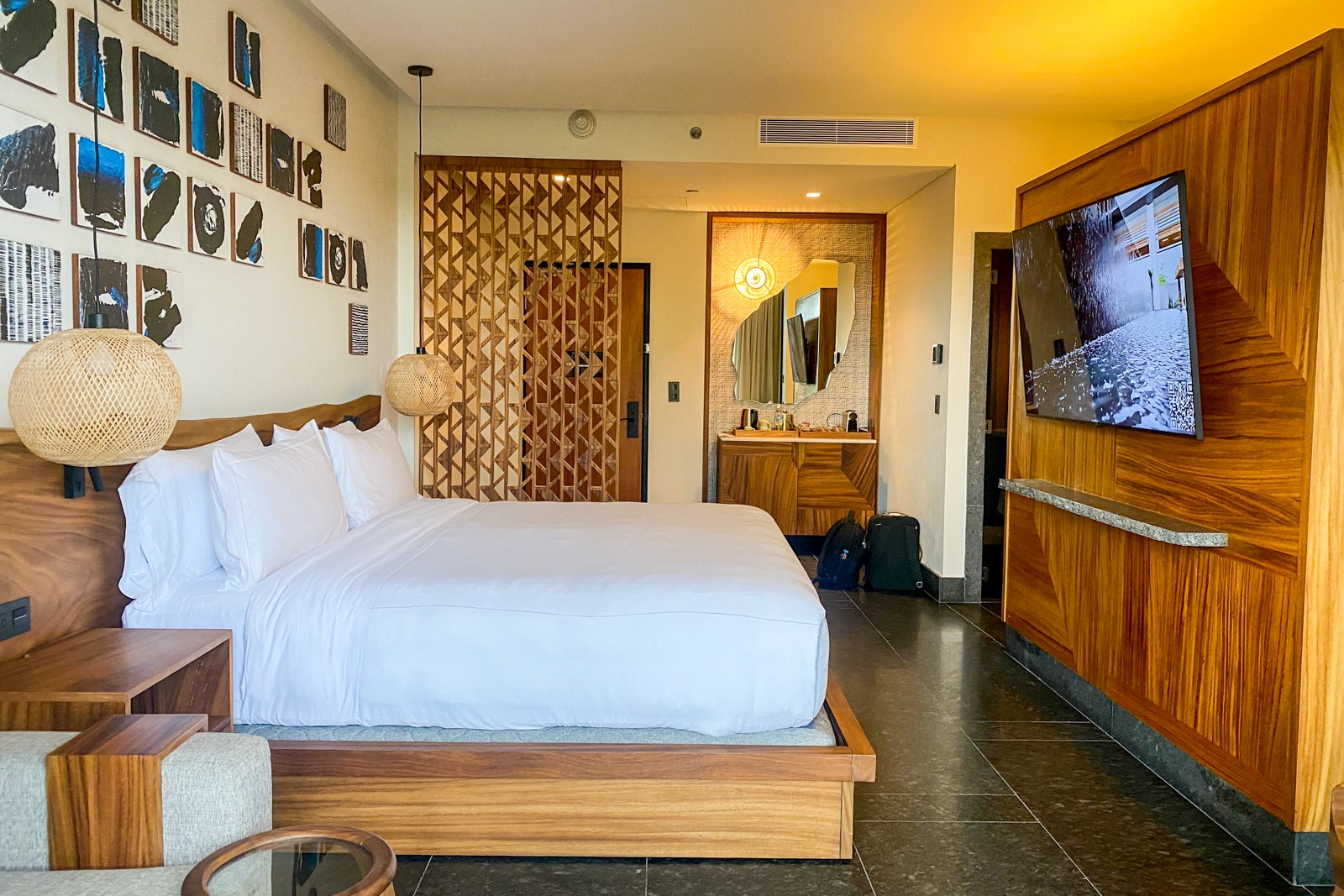 The room was artfully designed to maximize space, with a wooden lattice entryway, a small sitting area, a table and chairs and a wooden screen-style wall, mounted with a flat-screen television, that divided the bedroom from the bathroom.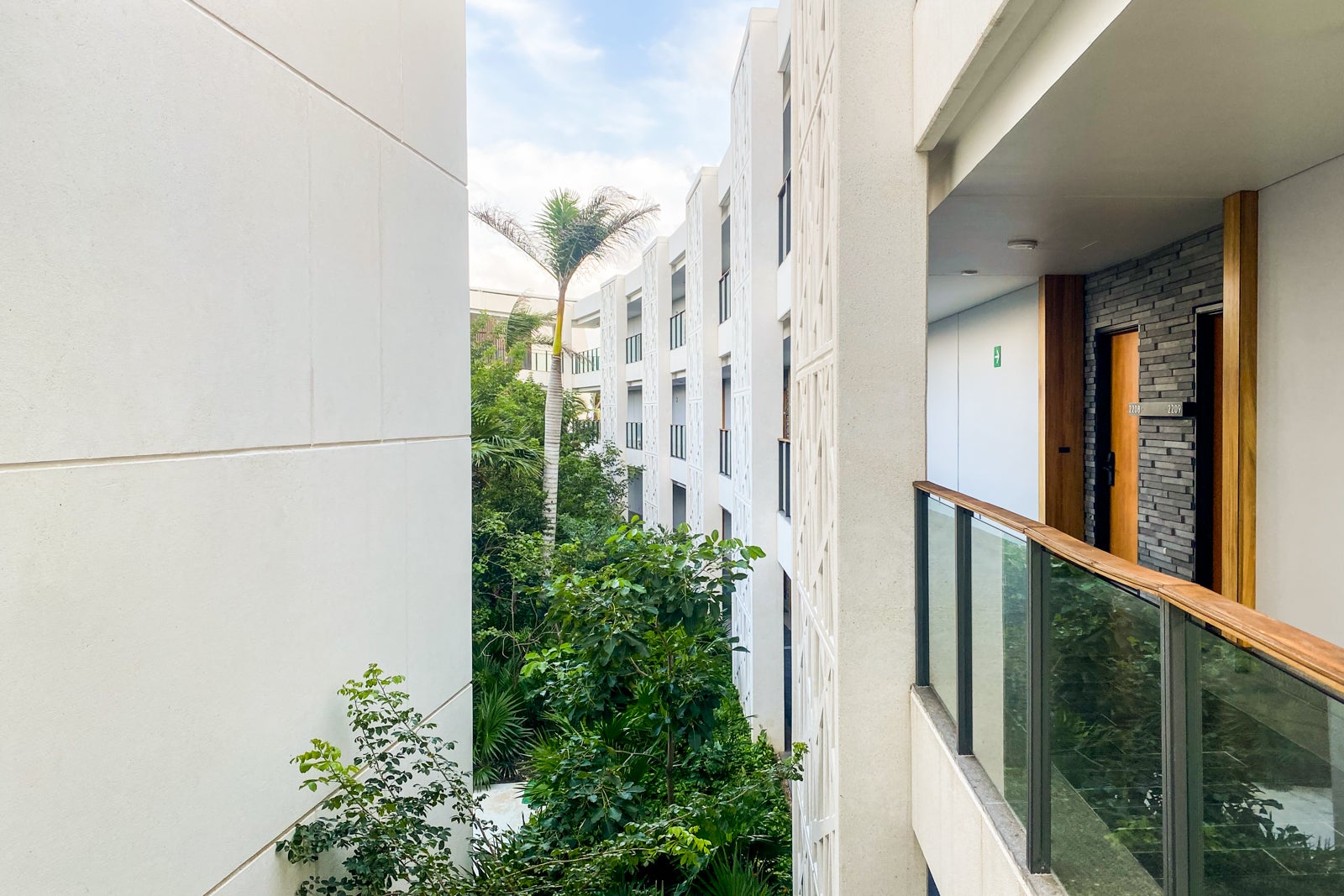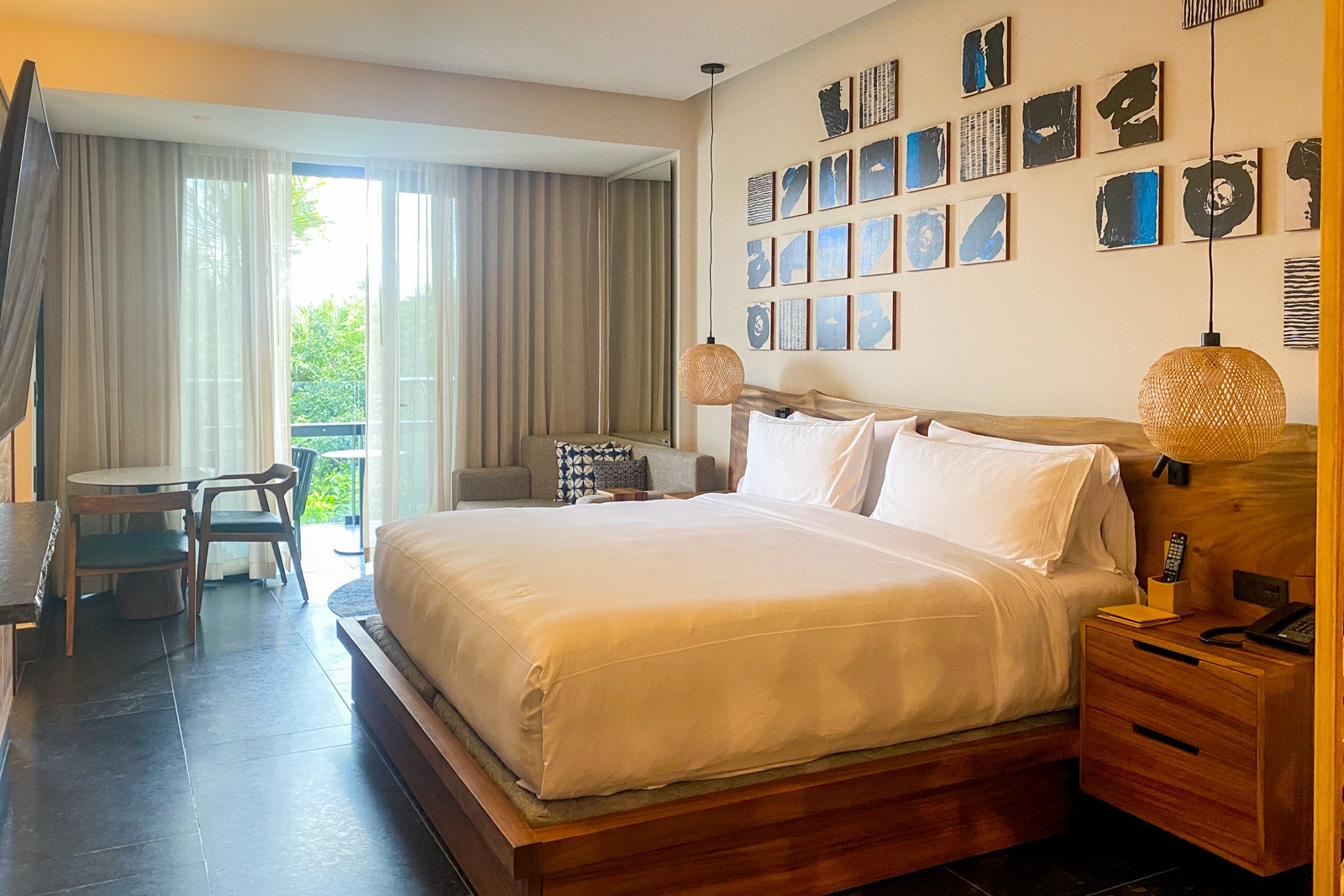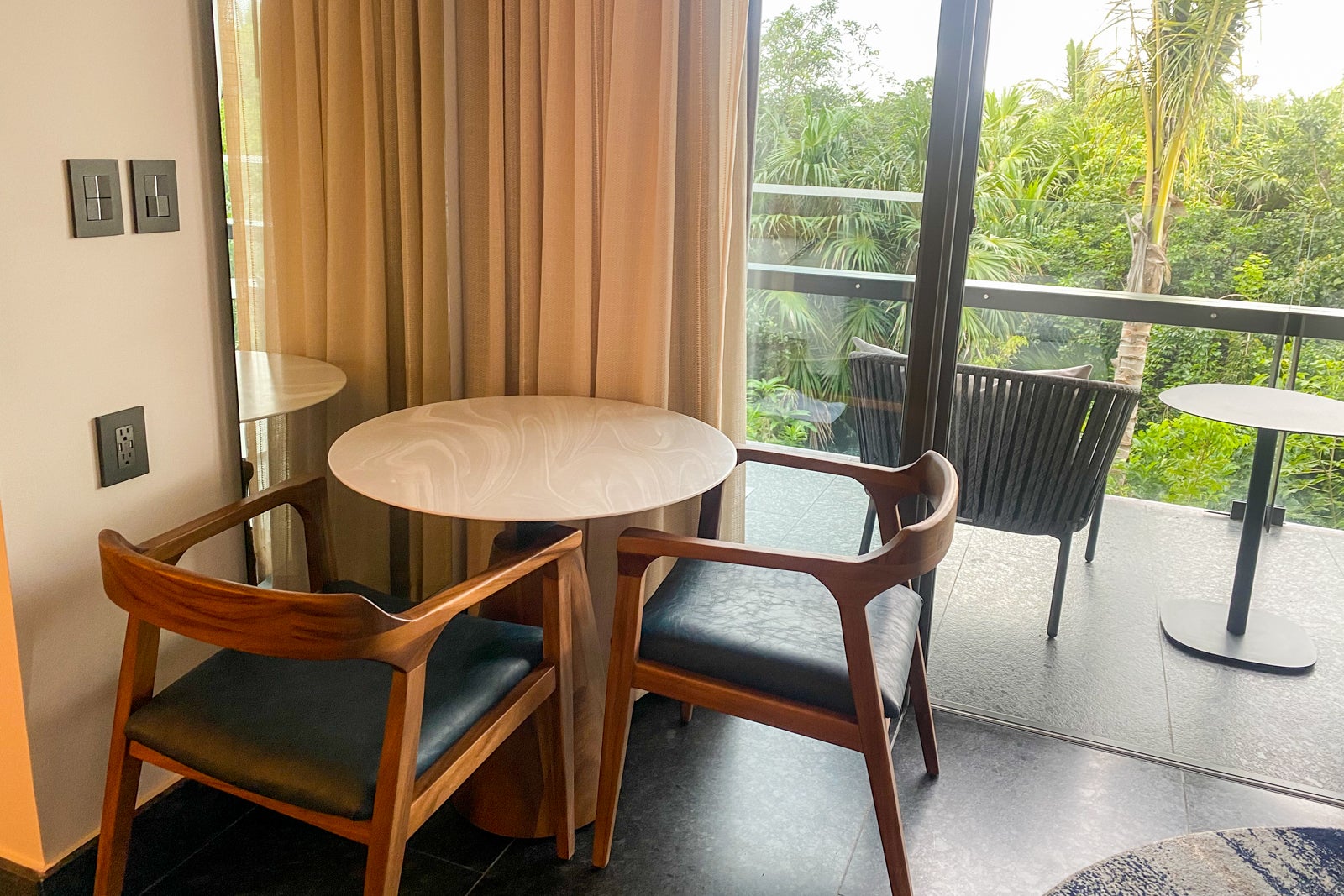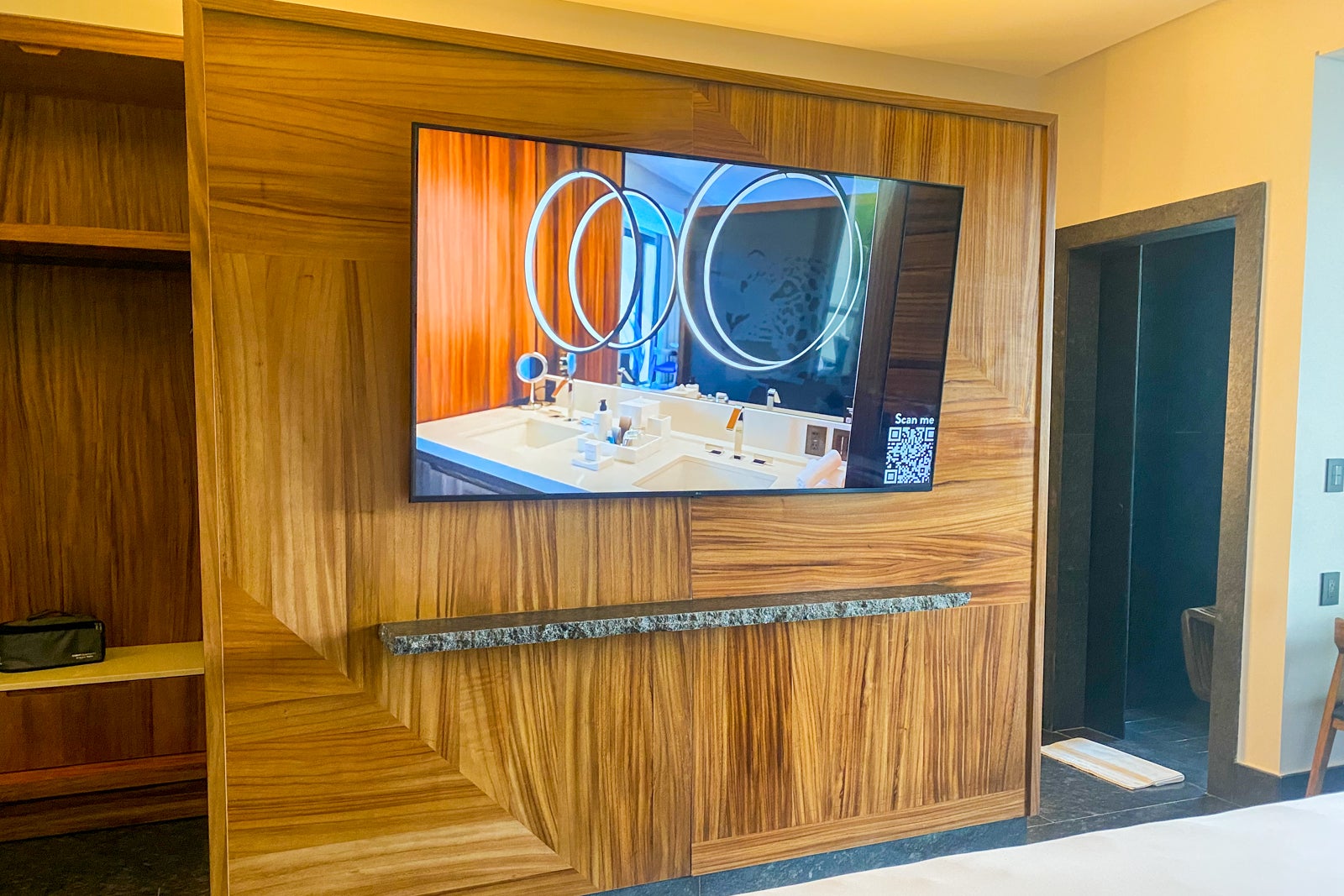 Both tropical and ocean-view rooms reflect modern Mexican design and the natural setting with organic fabrics, wooden furnishings and hand-painted tiles and artworks.
In the bathroom, marble-clad double vanities were surrounded by tropical wood and flanked by a separate walk-in shower on one side and water closet on the other. A shuttered window opened from the shower room to the balcony, which featured a built-in soaking tub; every room at the Conrad has either an outdoor soaking tub or a plunge pool.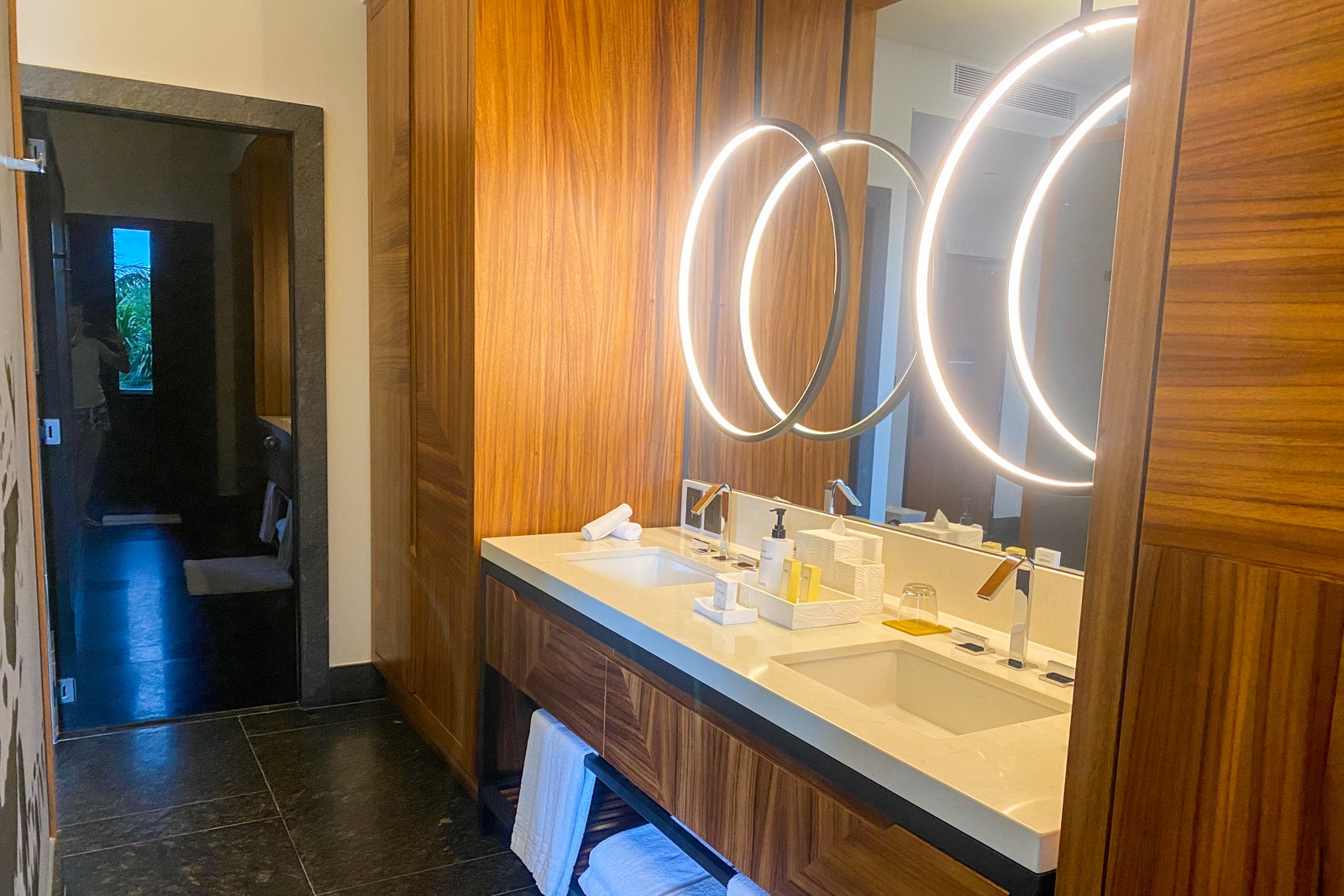 Overall, the room was extremely functional and user-friendly. Room lights were intuitive, outlets plentiful and well positioned, and upscale amenities included plush robes and Nespresso coffee makers.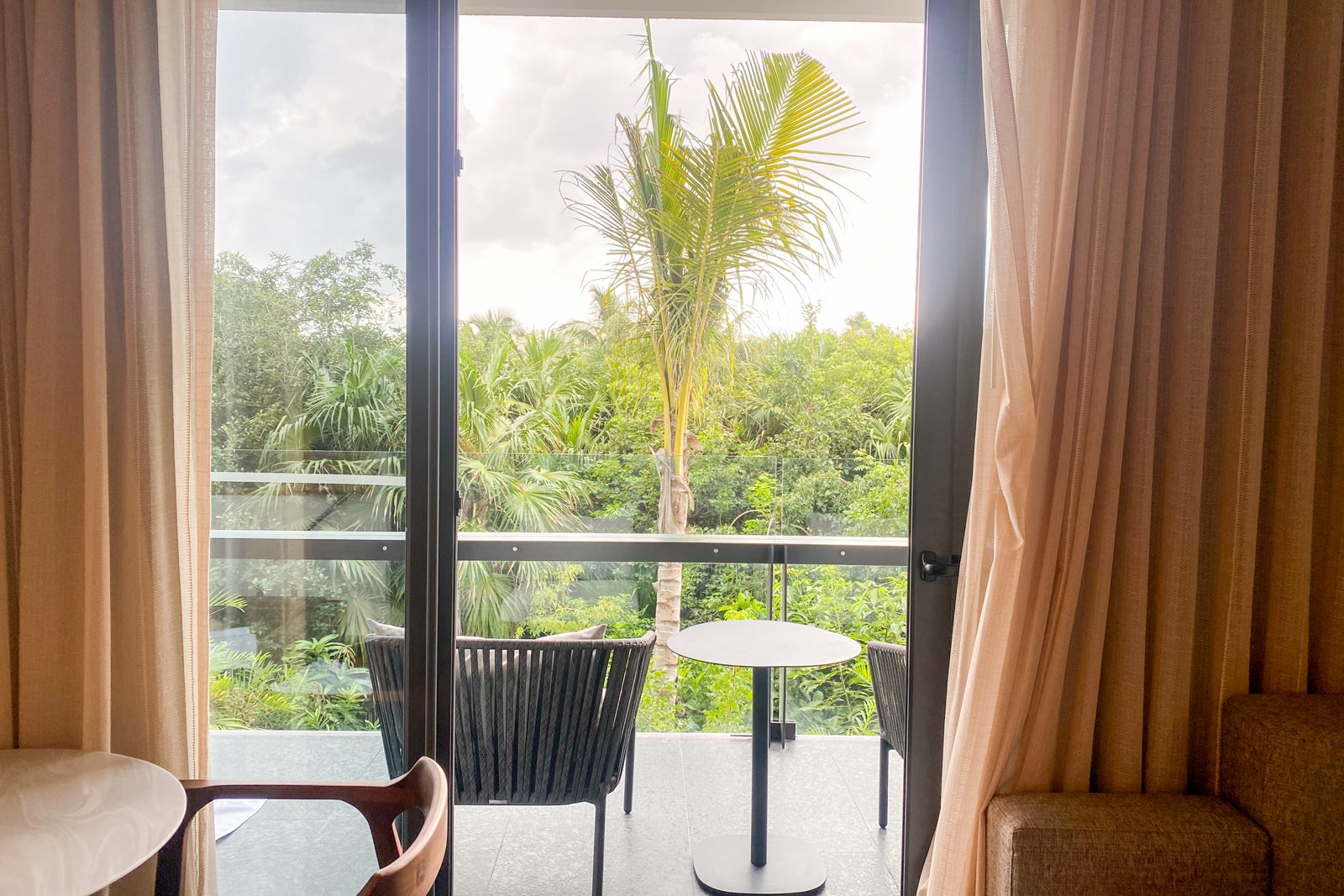 If money is no object, book the 1,065-square-foot Ocean View Suite with a separate living and dining area and some of the resort's best bay views.
Food and beverage
Four fine dining venues offer something for every palate: Autor (nouvelle Mexican), Kengai (Japanese), Ukai (sushi) and Maratea (Mediterranean). An expansive breakfast buffet (700 Mexican pesos, or about $35, for adults and 350 pesos, or about $17.50, for children under 12) is served at Arbolea from 7. a.m to 11 a.m. and includes tropical fruits, baked goods, omelet and waffle stations, and Mexican specialties like chilaquiles and ceviche. The contemporary interior is inviting with gray marble pillars and cedar wood booths topped with black leather cushions, but the best place to start the day is on the leafy terrace surrounded by thick mangroves overlooking the ocean.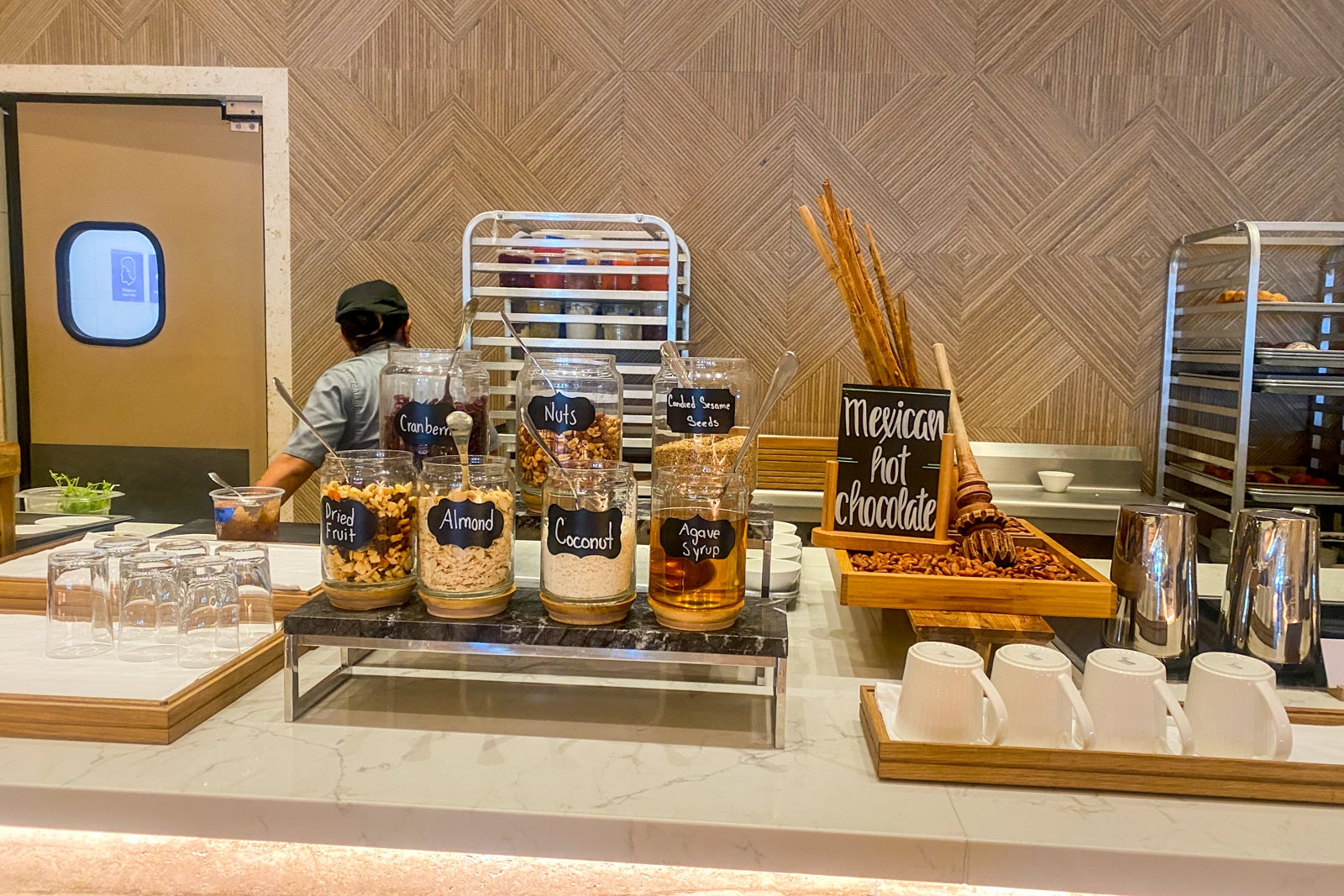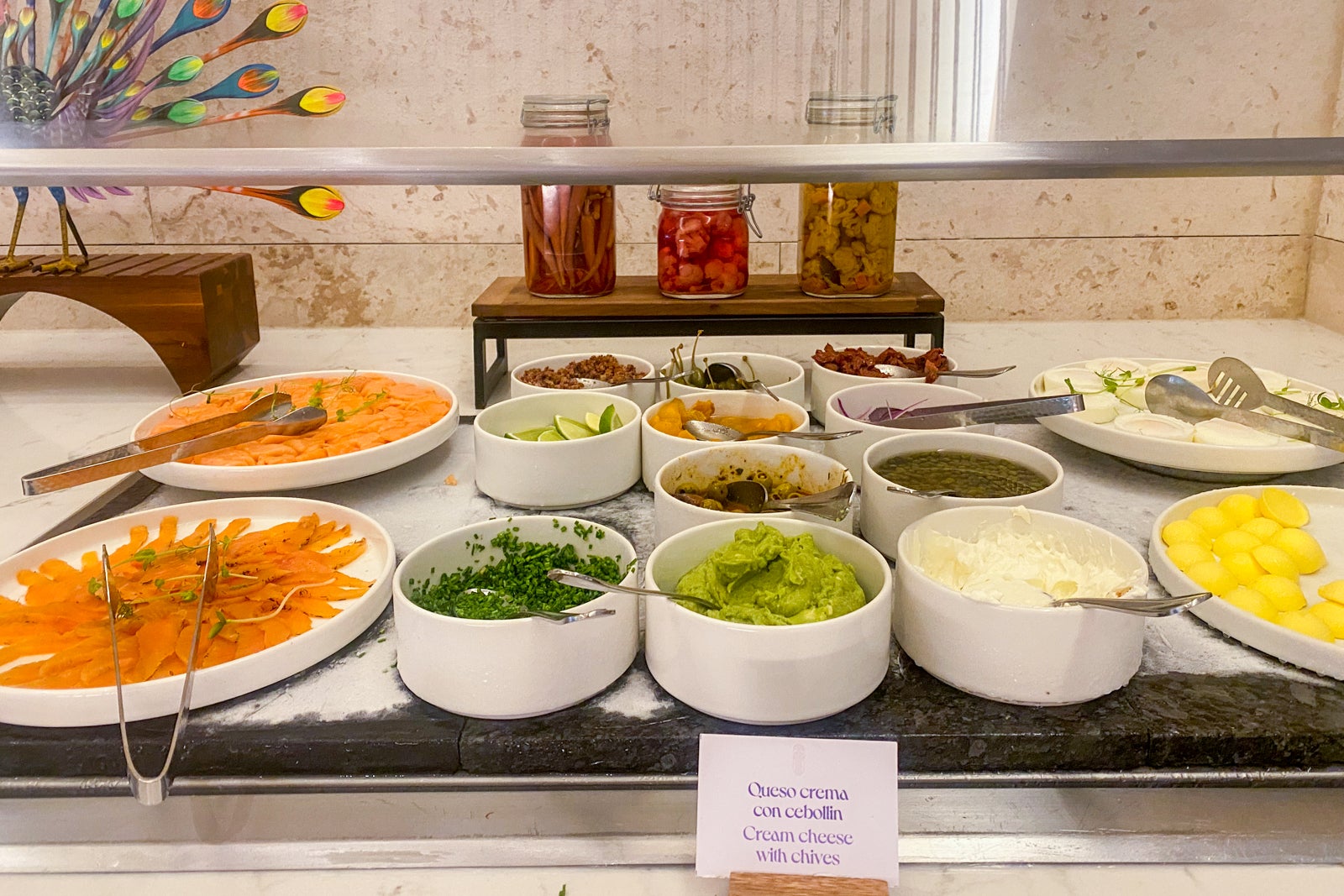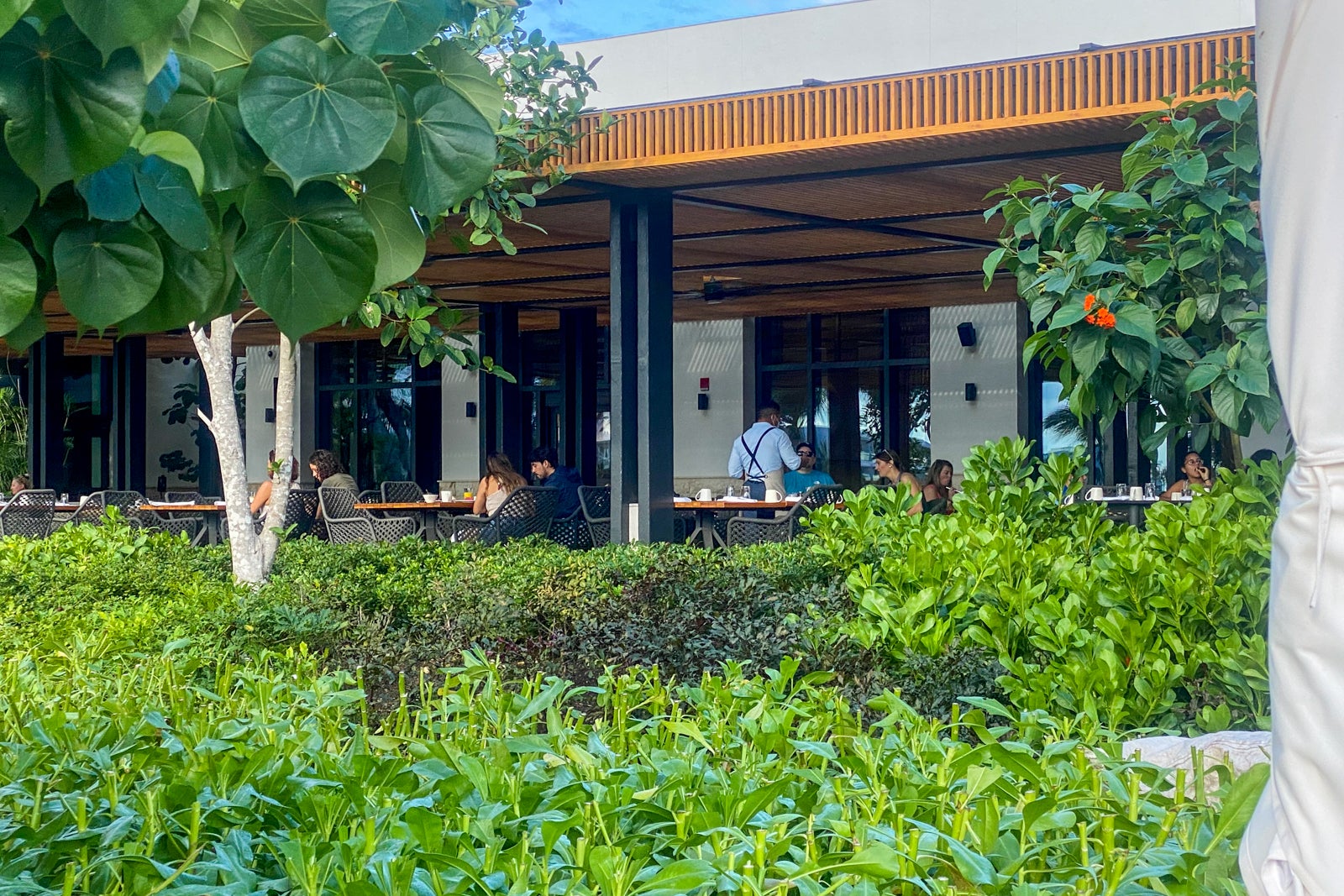 For lunch and all-day grazing while prone on a lounger, each of the three palapa-style pool bars serves an assortment of modern and classic Mexican fare. Heartier options include tacos with chili-laced crab or octopus with pork belly (340 pesos, or about $17), and there are several lighter, plant-based items such as portobello ceviche (330 pesos, or $16). I ordered the catch-of-the-day ceviche ($388 pesos, or $19), sea bass marinated with hibiscus, lime, and cilantro, and topped with an avocado emulsion — it was Mexico in a bowl, zingy, artfully presented and delicious.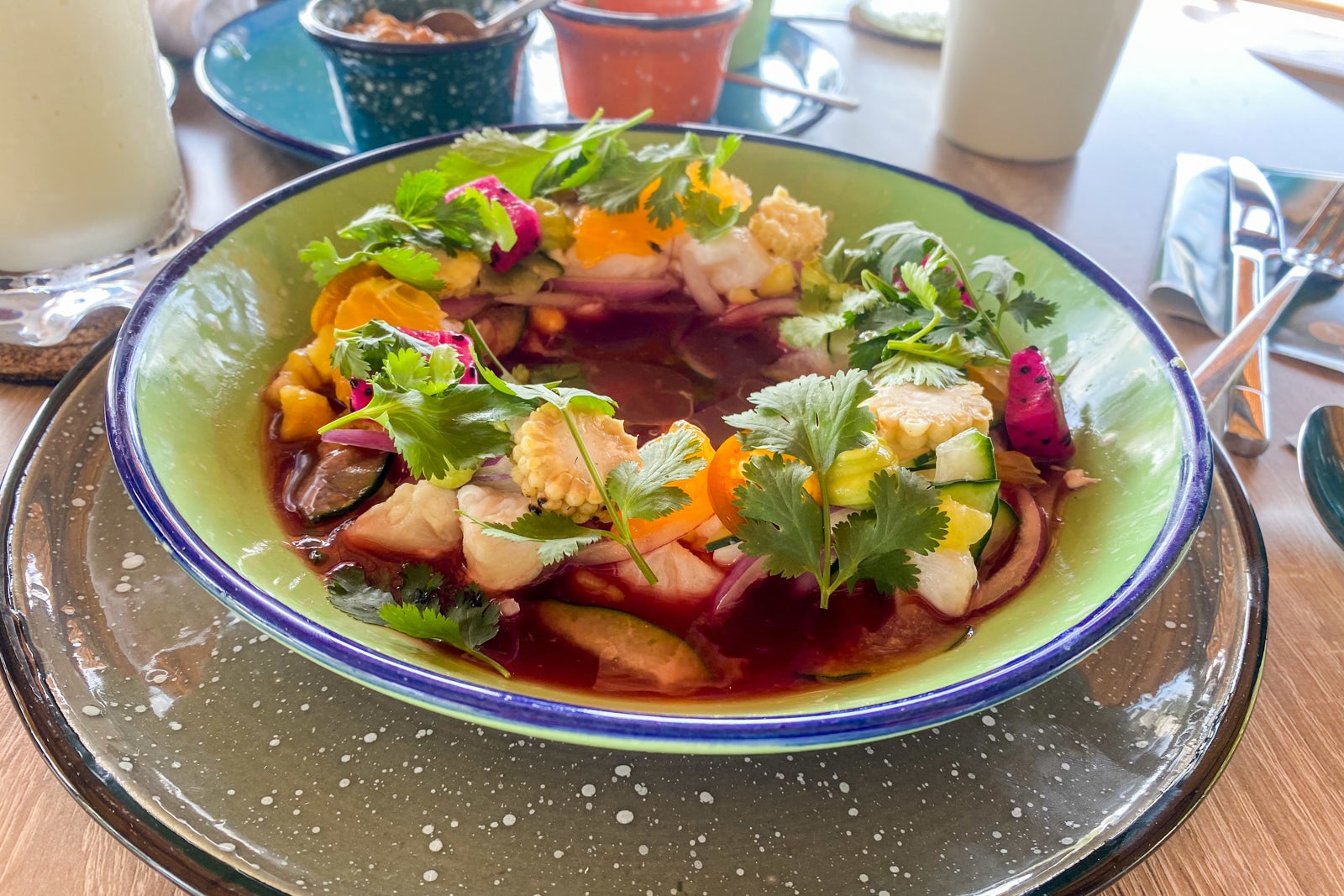 For my first night, I dined at the Mediterranean restaurant Maratea, which some fellow Chicagoans I'd met at the pool had raved about. Inside, the Moroccan-inspired dining room has an earthy sea-and-sand palette with circular booths fashioned from natural mesh fibers and an indigo-blue mosaic tiled floor.
The appetizer menu features meze such as date-stuffed grape leaves (260 pesos, or $13) as well as a handful of crudos and salads. I ordered the tuna tartare with fried capers and harissa (530 pesos, or $26) followed by perfectly seared striped bass served with couscous and asparagus spears (560 pesos, or $28). Both dishes were outstanding and had unusual, subtle flavor combinations.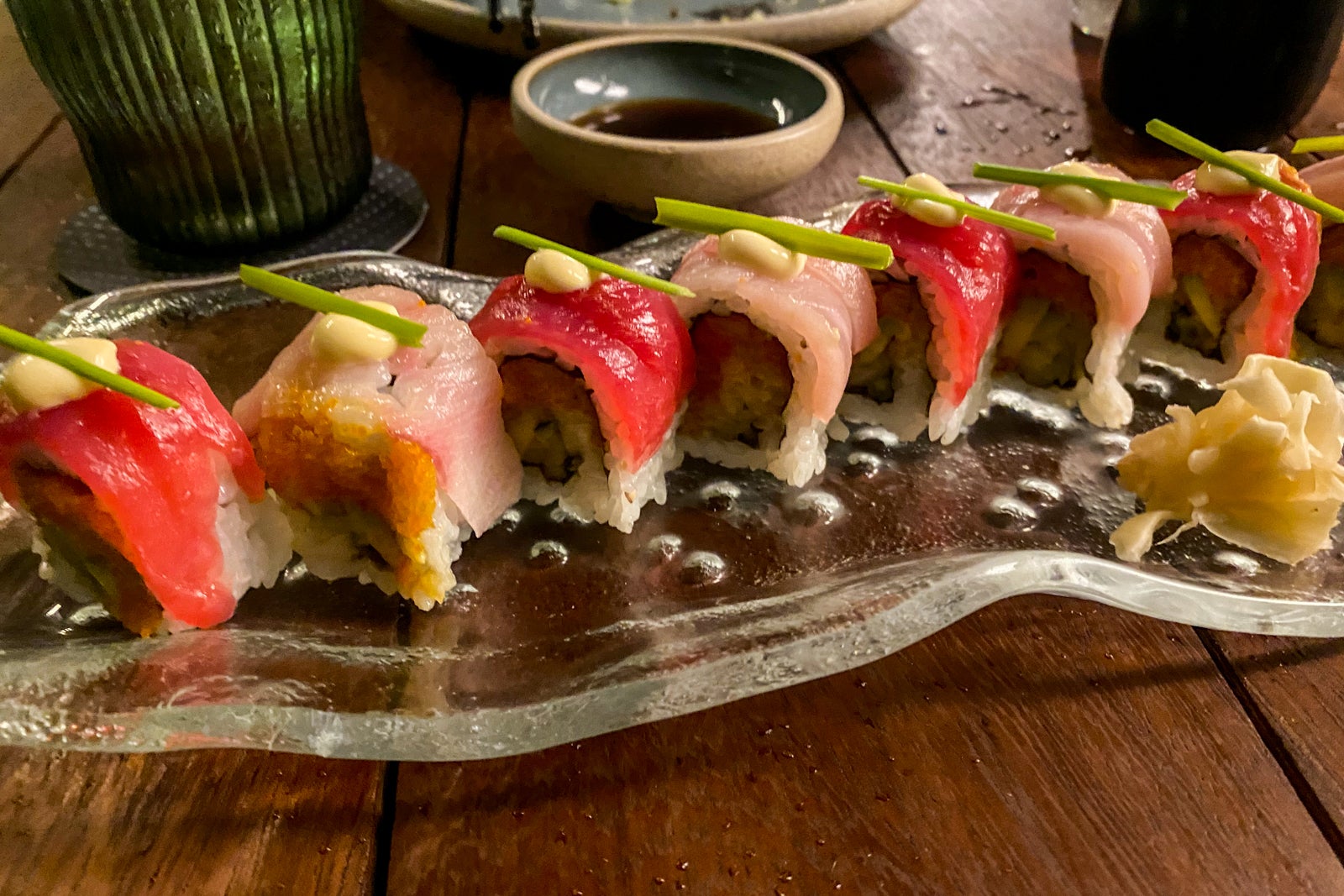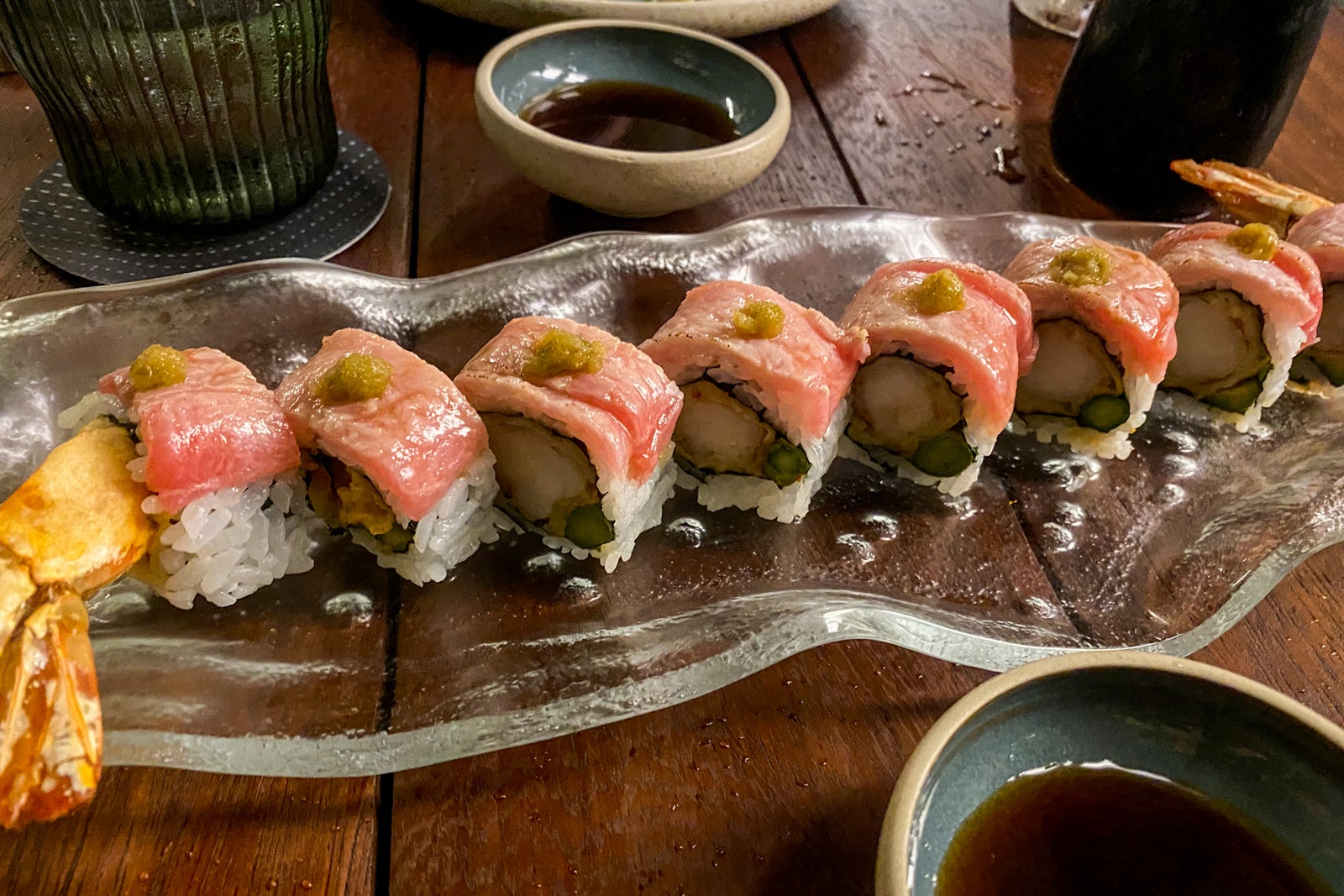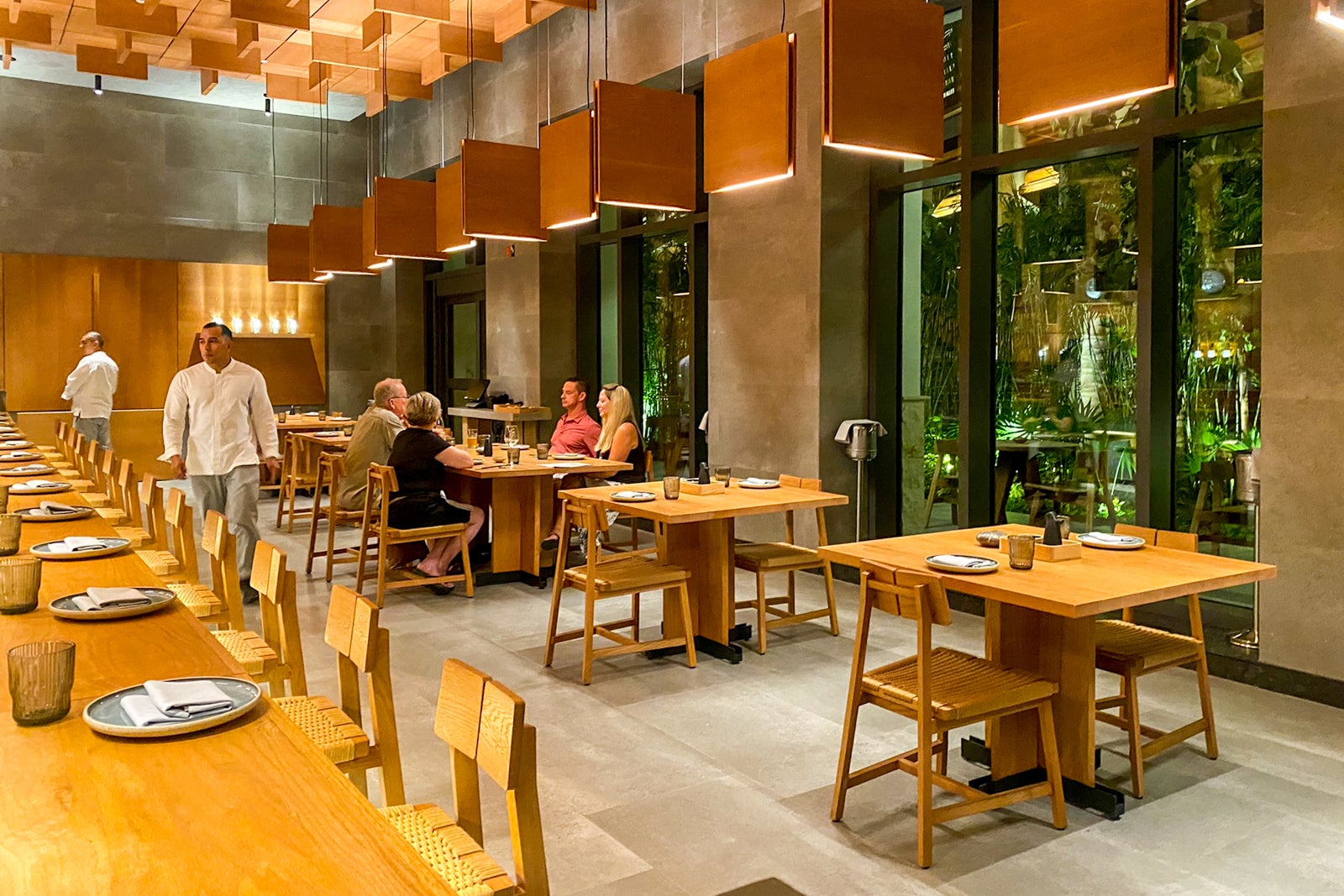 For my last night, I tried the Japanese sushi restaurant, Ukai. The small dining room has a minimalistic aesthetic, with a blond wood interior and rectangular tables laid out between floor-to-ceiling windows and a long wooden sushi bar.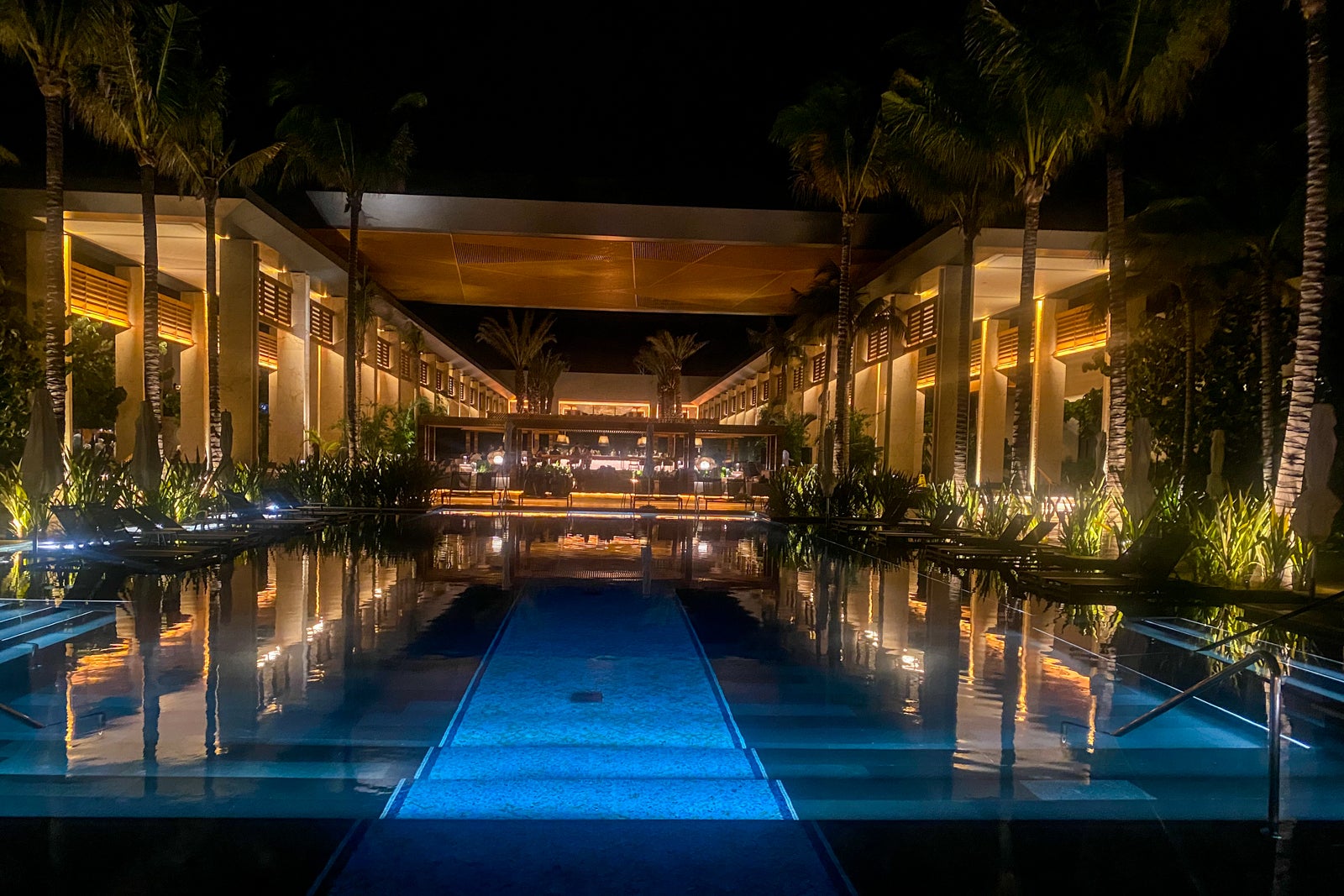 I dined on the terrace which was separated from the hotel's ornamental reflection pool by a wall of foliage. I ordered one of the chef's daily special rolls — a mouthwatering combination of tuna, hamachi and truffle oil (390 pesos, or $20) — and the spicy flamed sea bass with buttered enoki (380 pesos, or $19). The taste, presentation and overall experience was wonderful — even big-city sushi snobs shouldn't be disappointed.
Service at both restaurants was impeccable, too: attentive, warm and knowledgeable.
Amenities
In addition to the central infinity pools, each of the three casita blocks has its own quieter, more secluded pool and chiringuito (palapa-style pool bar), which guests (especially families with kids) can happily toggle between. There was no designated kids pool, but there were plenty of older kids enjoying the pools during my stay.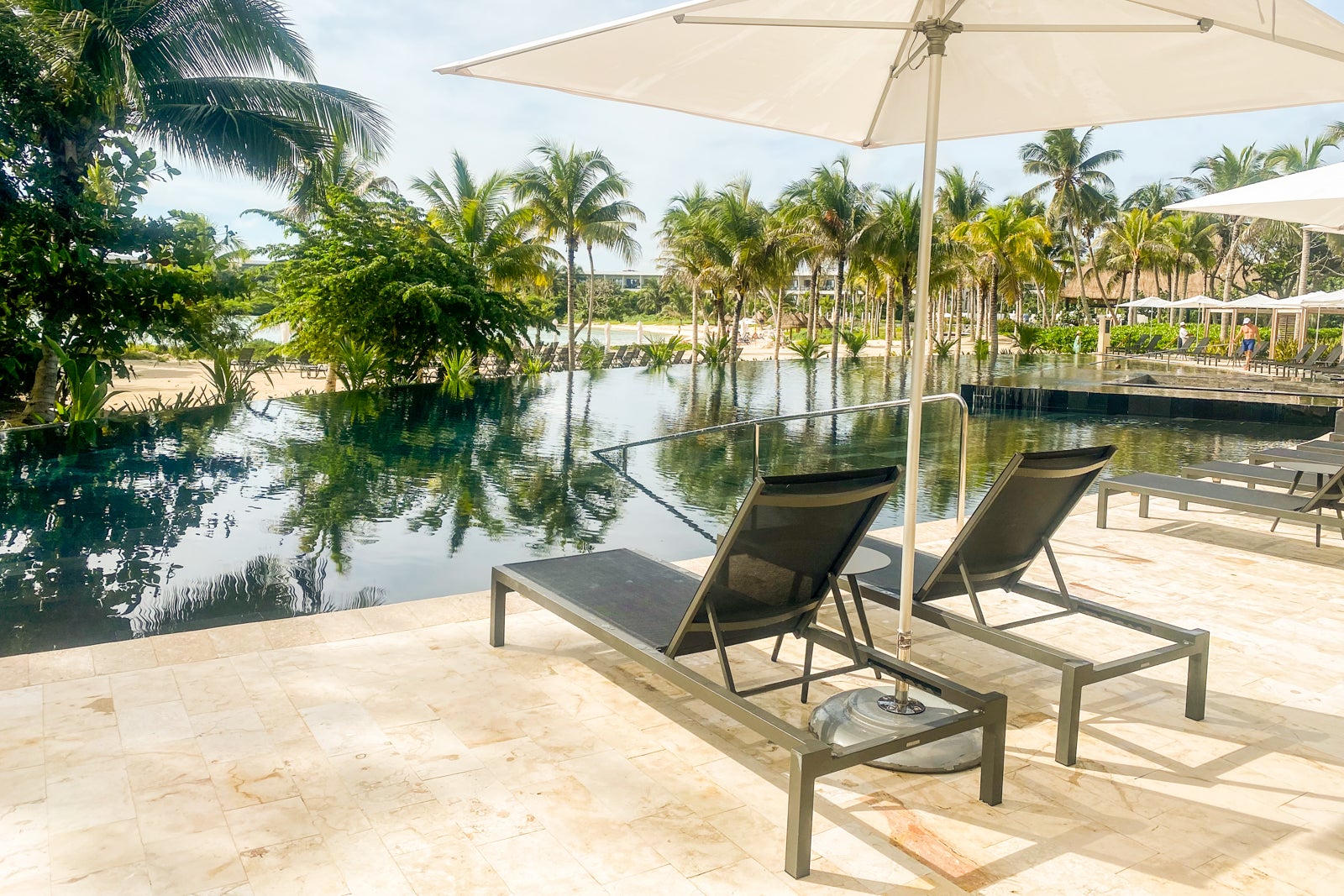 The beach is lovely for families, with soft white sand that gently slopes into warm, clear water. Pool staff members orbited constantly, setting up black metal loungers and white parasols and providing ice buckets with water and menus. When the water is calm, families can also make use of complimentary water sports equipment, such as paddleboards and kayaks, to explore the bay.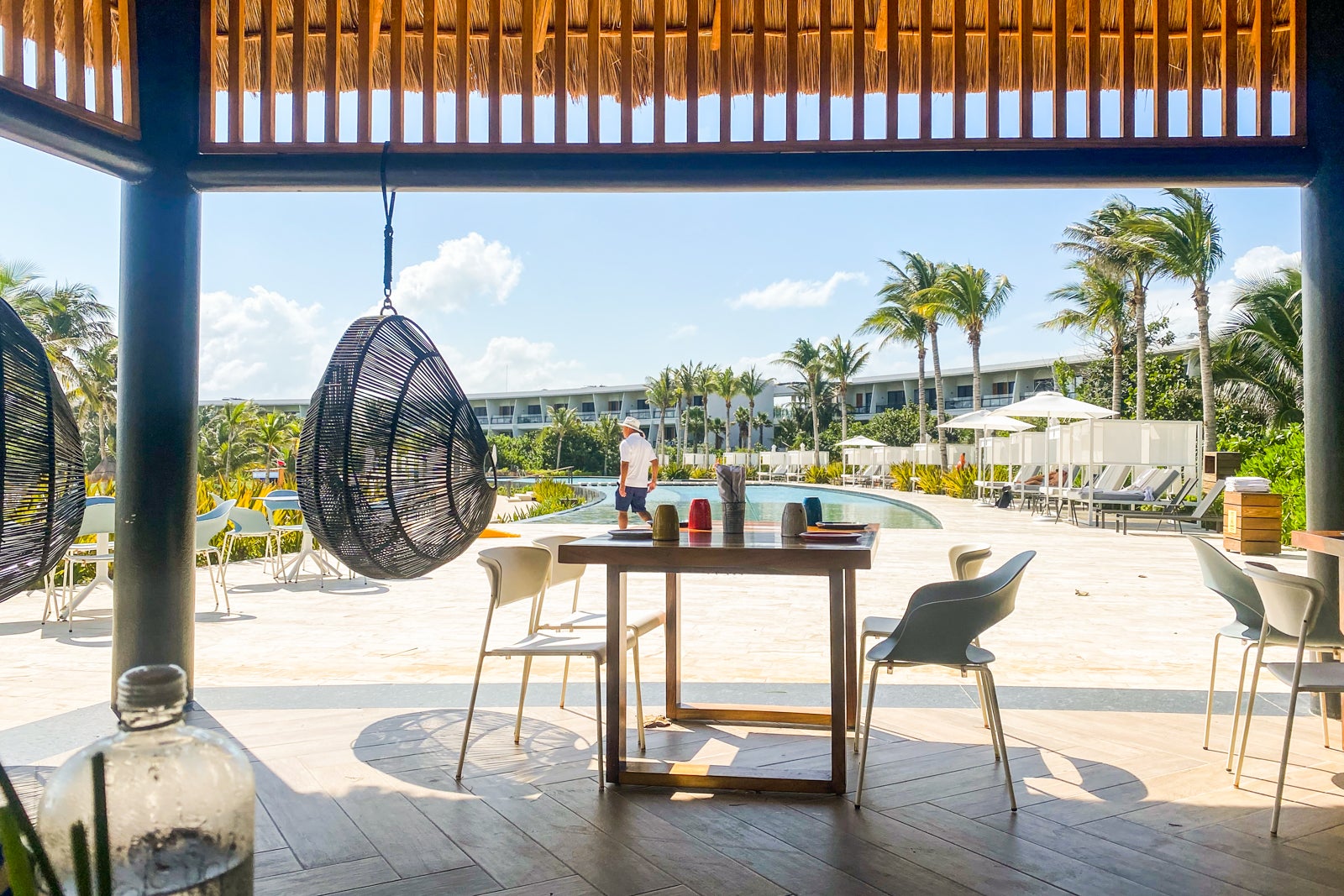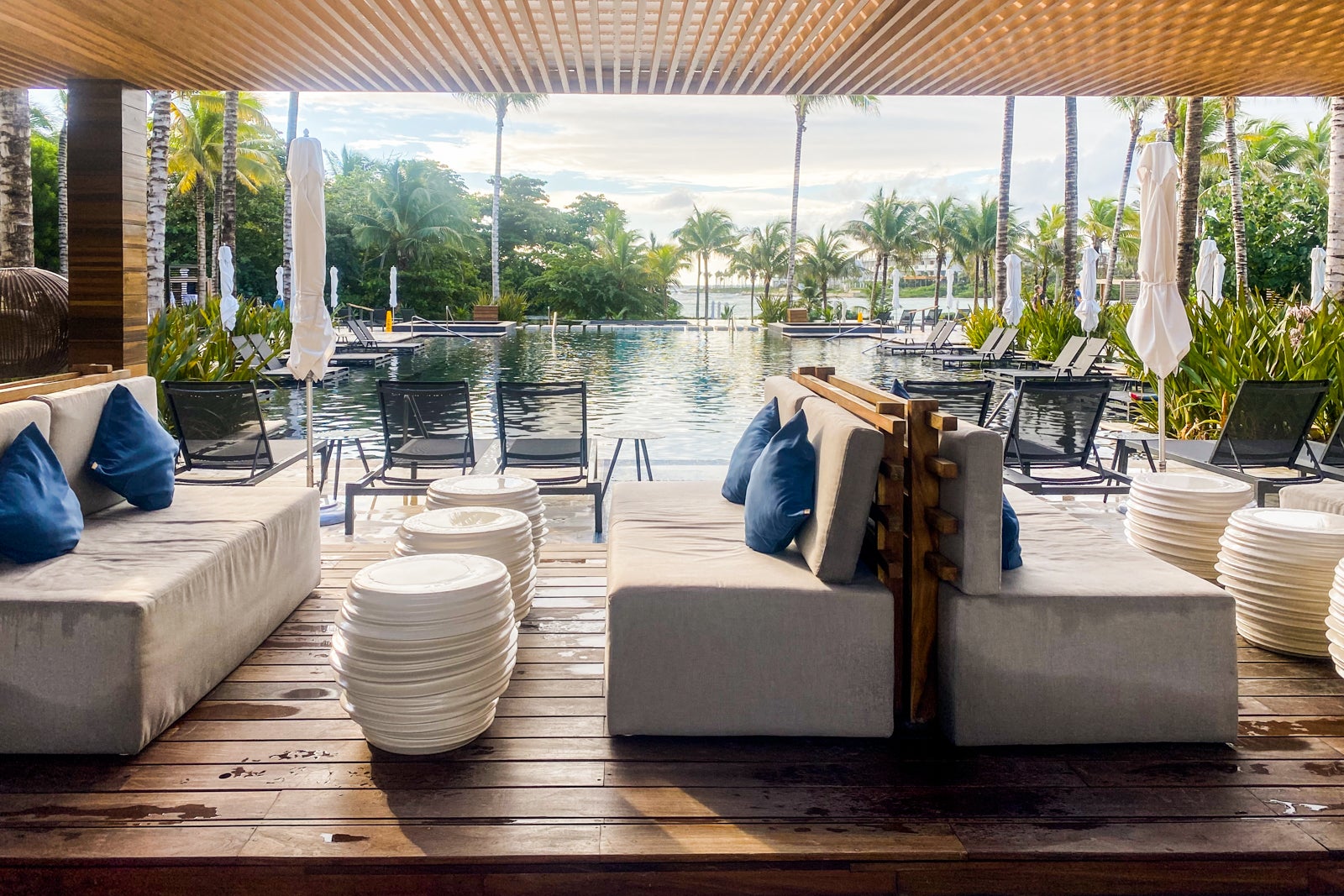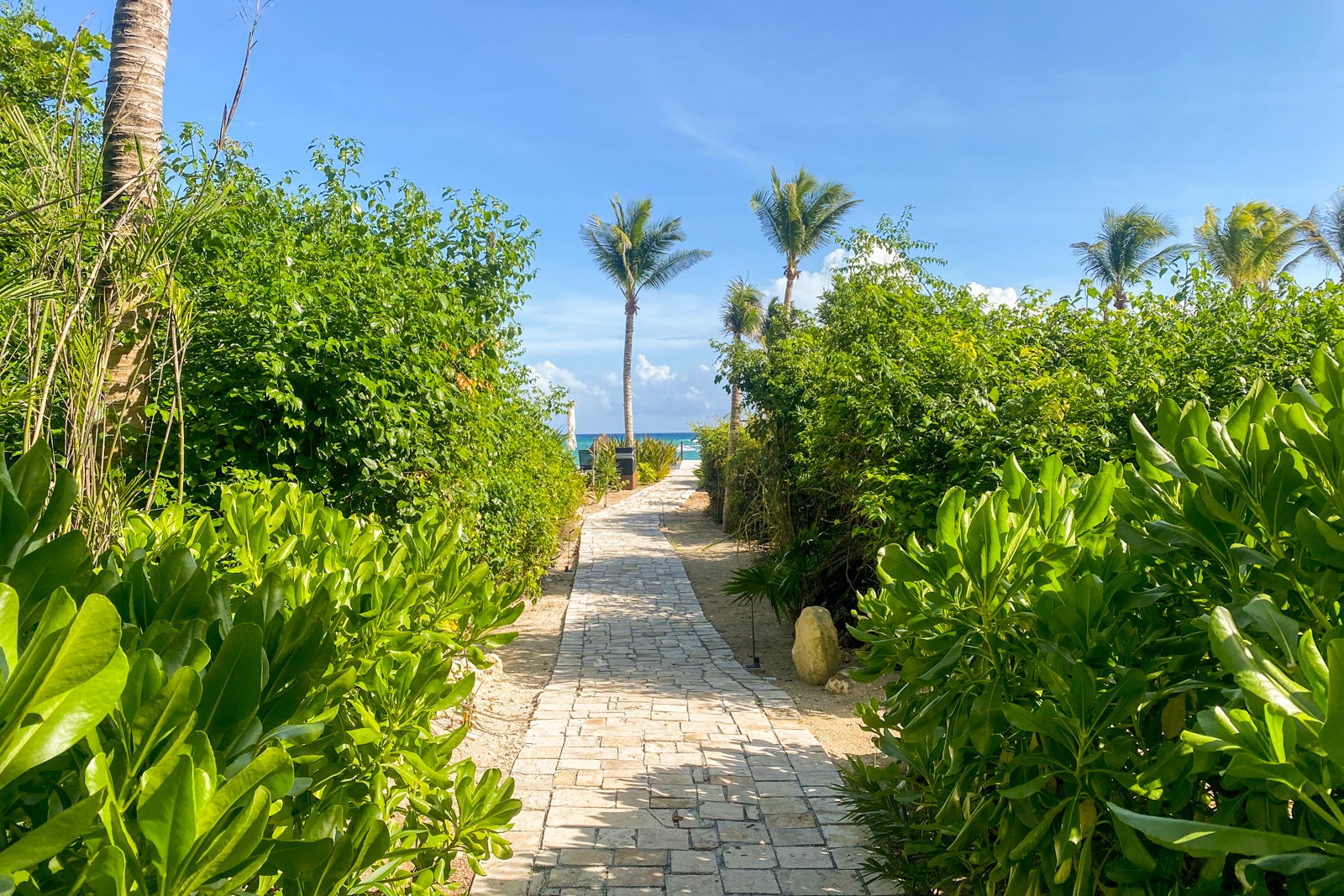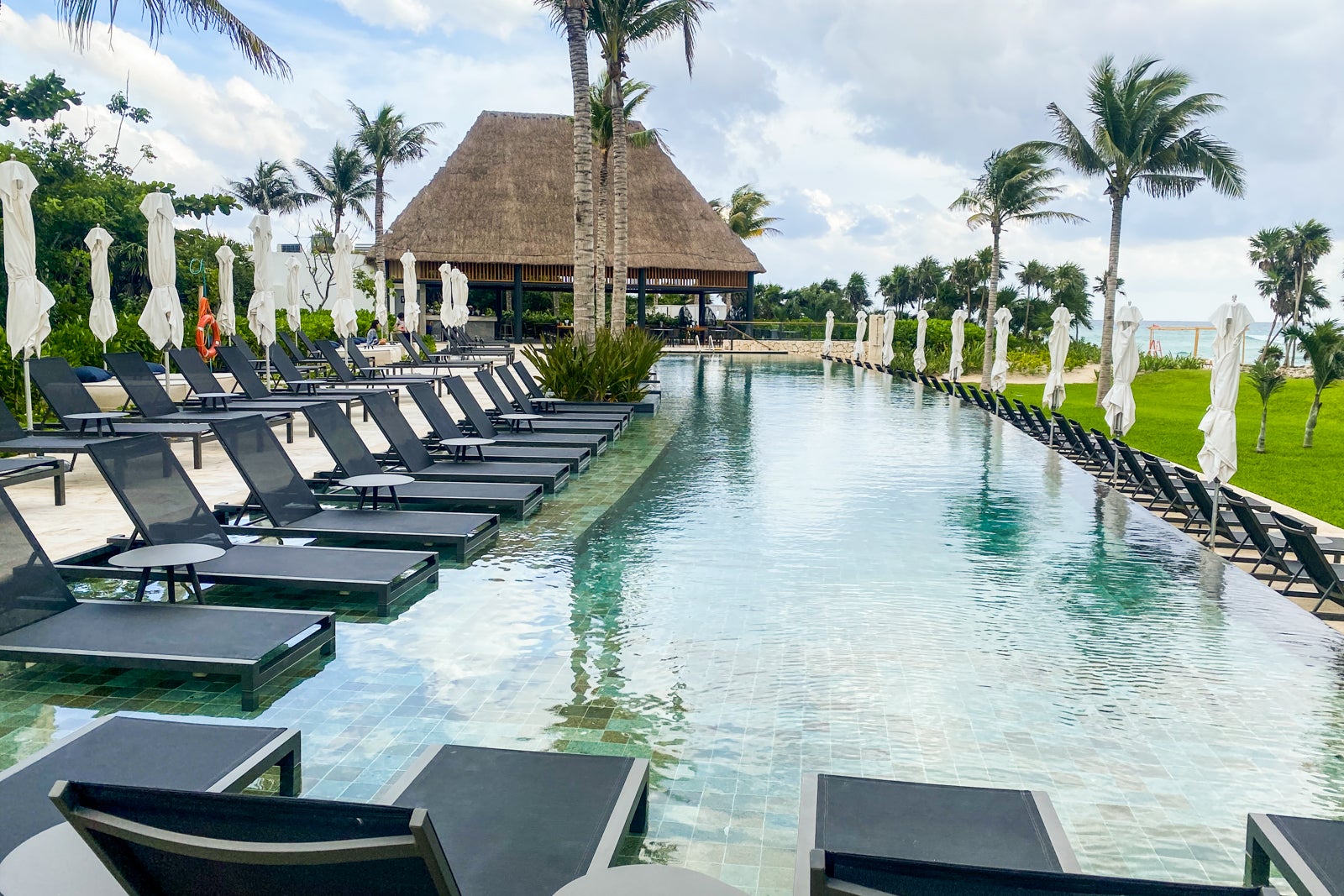 The lavish spa, which is designed to resemble a cenote, is shared with the all-inclusive Hilton Tulum Riviera Maya, located within the same gated complex but with access to a different beach. There's an array of Mayan-inspired treatments and massages to choose from that use indigenous herbs and incorporate chanting, aura cleansing and mind-body rituals, as well as more traditional Swedish, deep tissue and ayurvedic massages. The Kinich Ahau Journey (80 minutes) begins with an aura cleansing followed by a four-hand massage using hot poultices with corn and cocoa seeds (5,400 pesos, or about $270).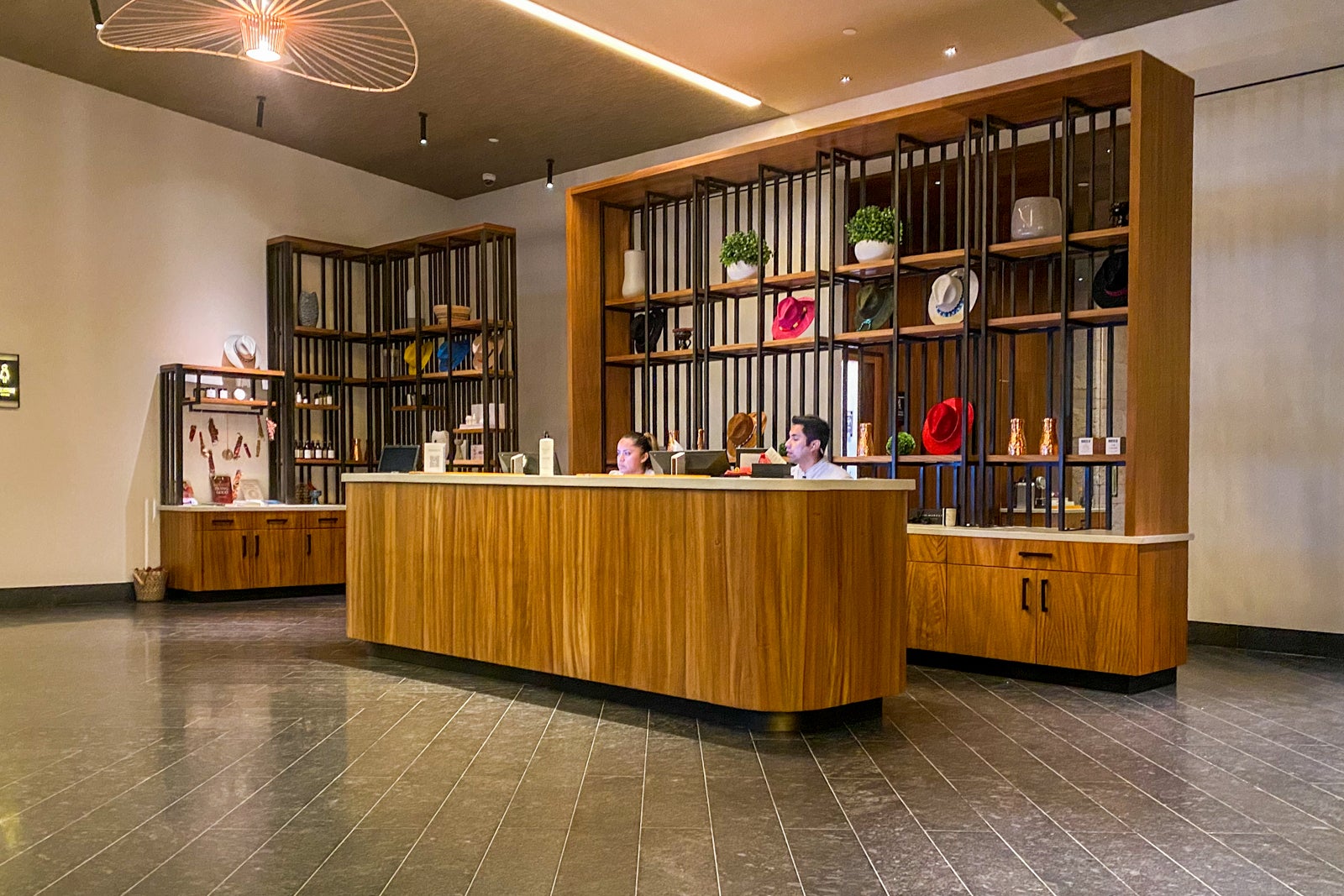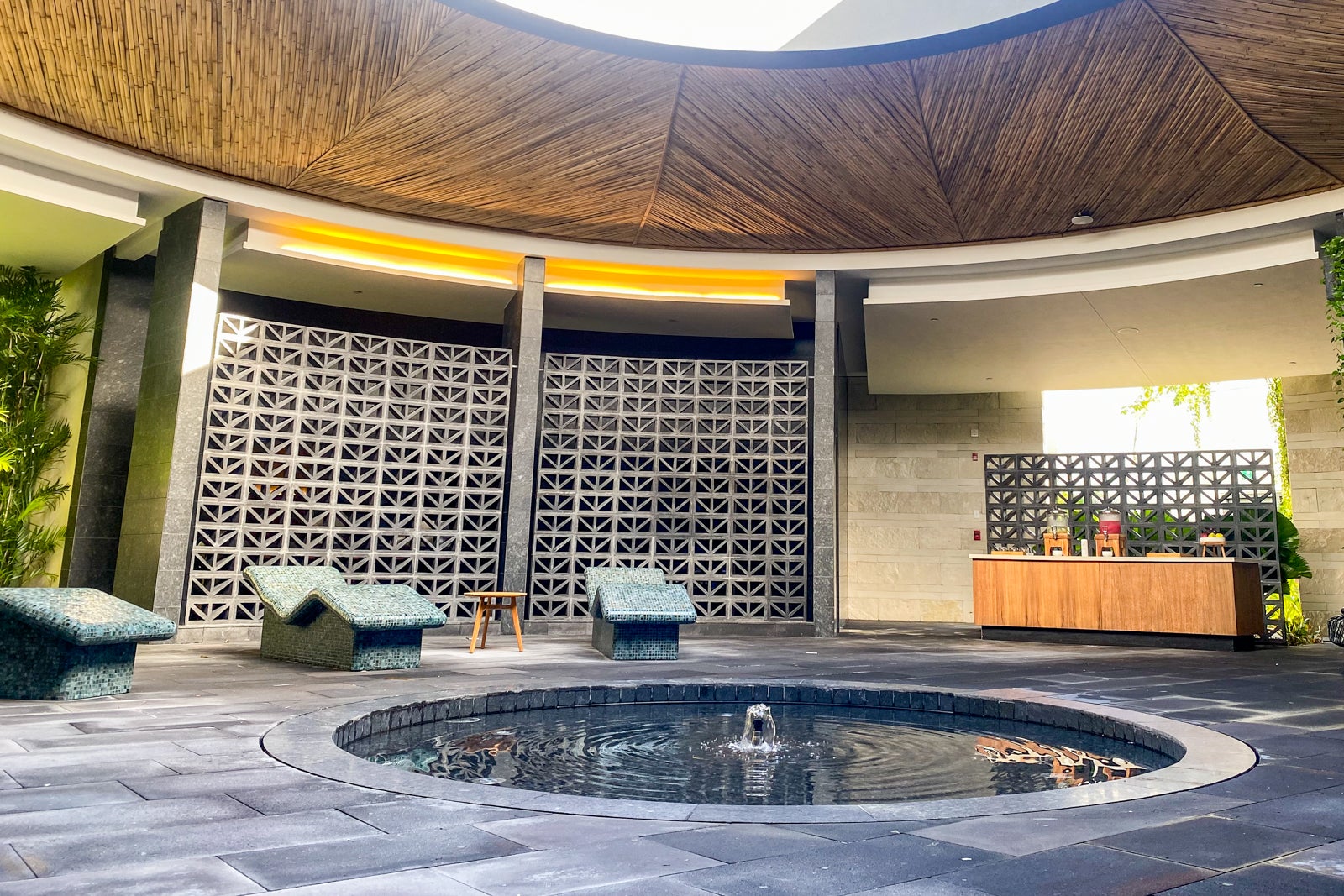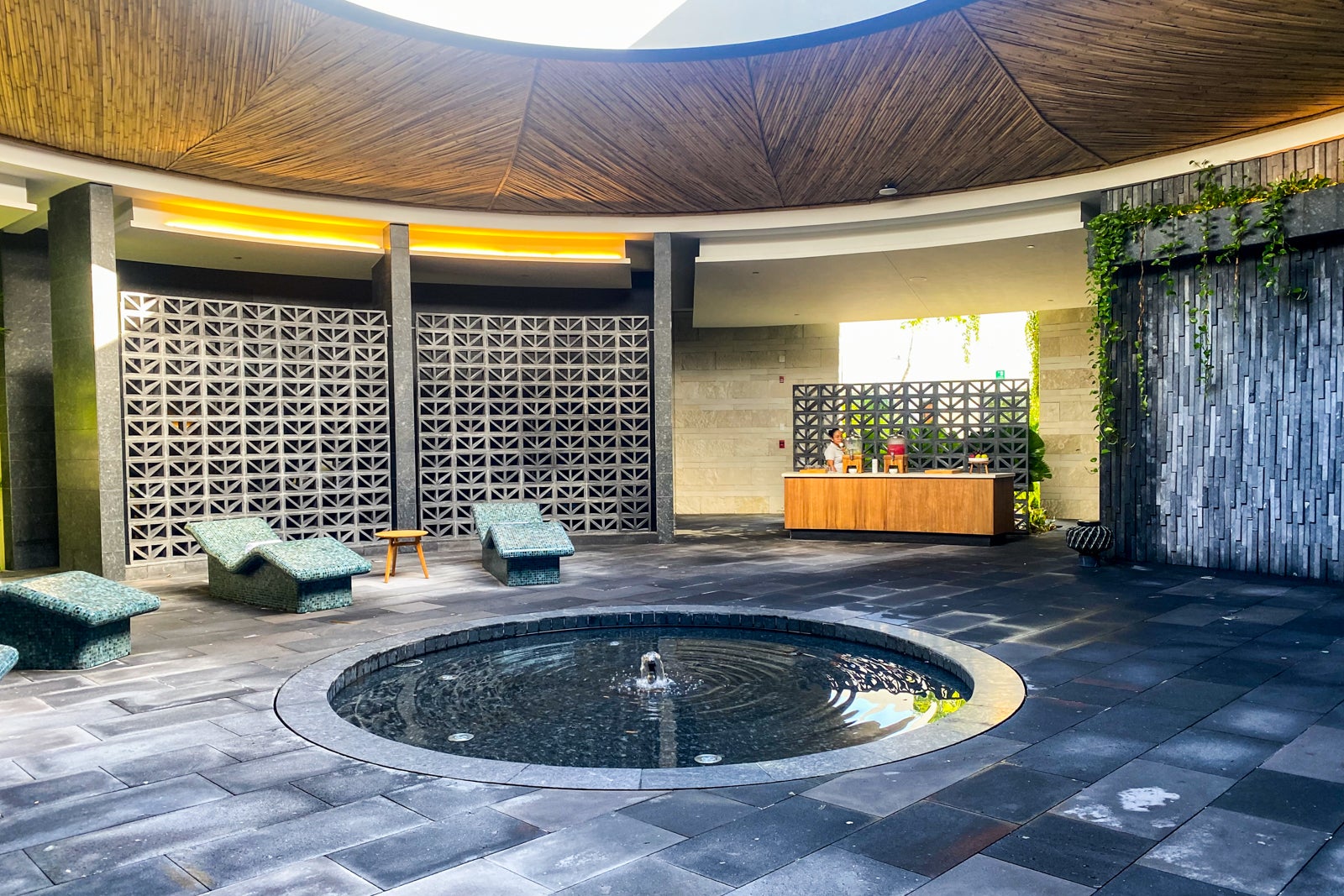 The sleek gym, located on the lower level of the main building, has a handful of cardio equipment — ellipticals, treadmills and stationary bikes facing picture windows framing thick foliage — as well as free weights and a small studio that hosts a daily schedule of fitness classes, as well as yoga and pilates.
Embracing the region's alt-lifestyle and mystical vibe, there are also full moon gatherings with dancing and "sound healing," as well as Mayan calendar reading and astrology practice.
The kids club and teen zones are engaging, beautifully designed spaces for younger guests and offer a full program of activities and events, including crafts, face painting, video games and a DJ lab.
Out and about
While it might be hard to drag yourself away from the resort's pools and chill vibes, Tulum's Mayan archeological ruins and sacred cenotes warrant a couple of half-day excursions at least. Hidden beneath thick jungle, some 22 miles south of the resort, Gran Cenote is an otherworldly spot where snorkeling among fantastical stalactites and stalagmites in crystal-clear water is a one-of-a-kind experience. There's also superb snorkeling and diving along the Great Maya Reef near Puerto Morelos, or a boat ride away in Cozumel.
Coba (around 43 miles inland) is one of the Maya Route's more immersive archaeological sites, with many pyramids and temples that haven't yet been fully excavated.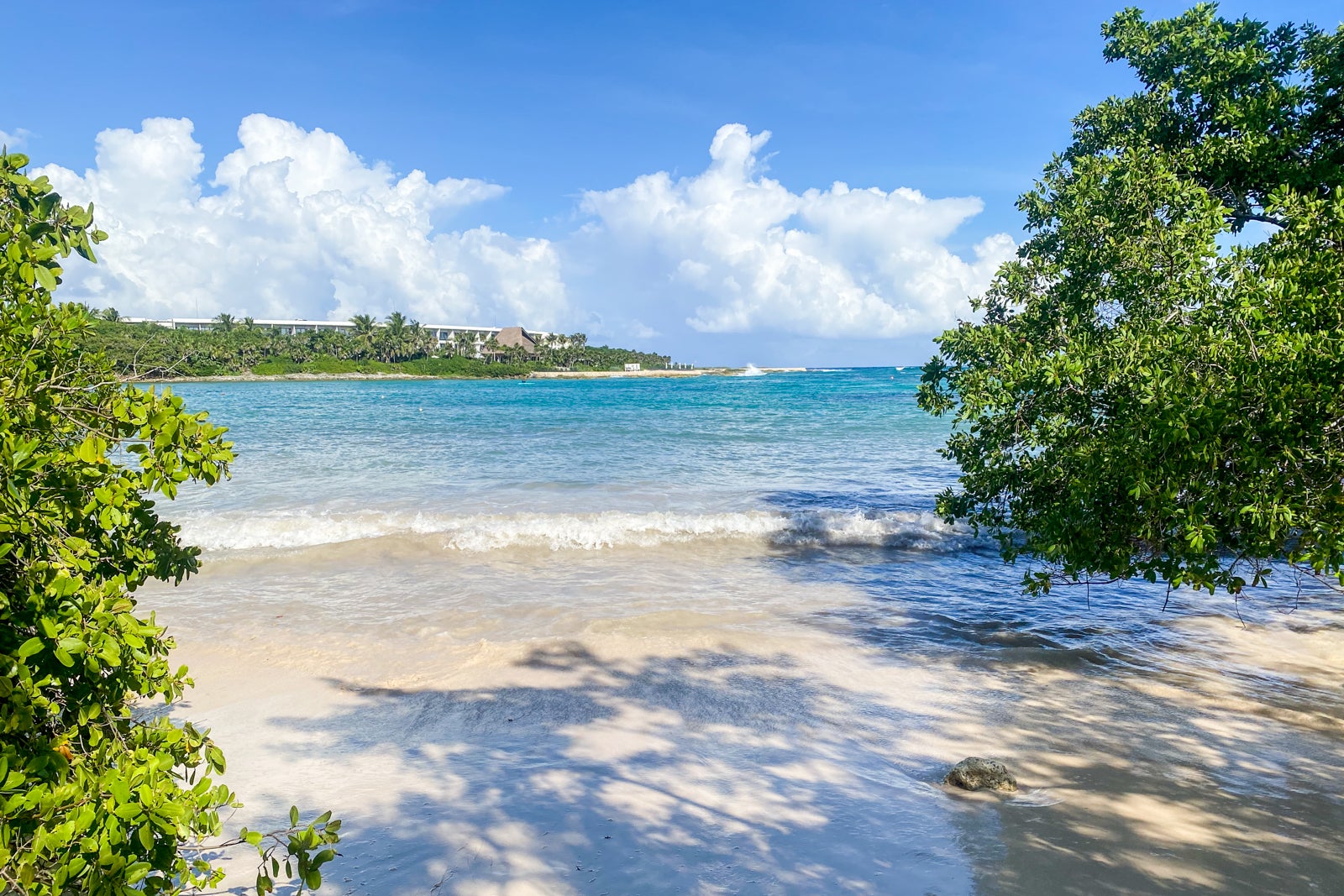 Related: 7 amazing spots in Mexico's Riviera Maya that aren't Tulum
Accessibility
The Conrad has accessible king room options with roll-in showers. All the hotel's public spaces, including the pool areas, are accessible via ramps and paved walkways.
Guest rooms and restaurants all have wide doorways to accommodate wheelchairs. Walk-in showers are equipped with handrails and a wooden bench and user-friendly light panels by the bedside also control the drapes. There are audible alerts, visual alarms and Braille signs in the hallways and elevators.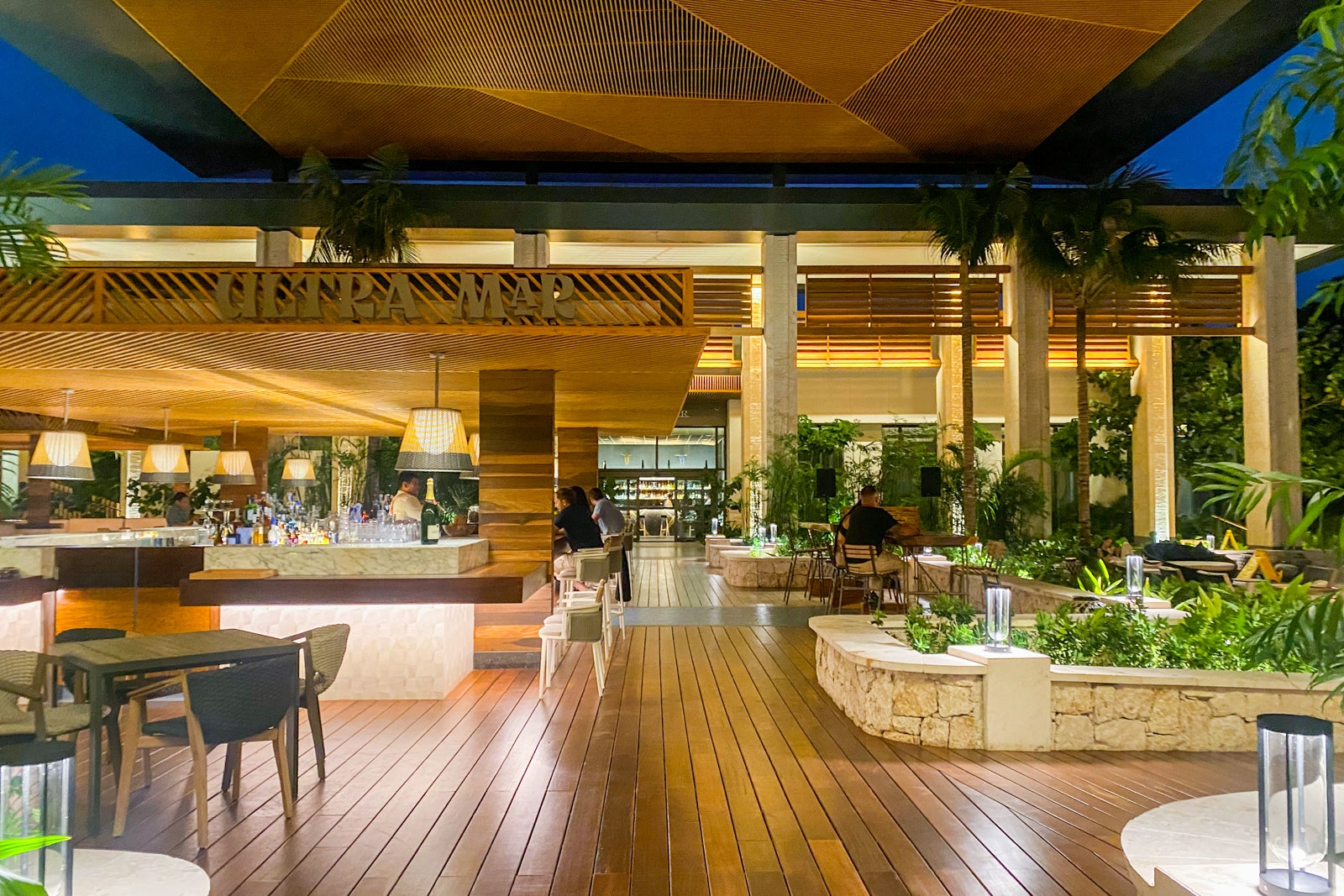 Bottom line
I absolutely loved my stay at this hotel. The Conrad Tulum combines all the sophistication, character and style you'd expect of this upscale Hilton brand along with a true sense of place. It is cool without being off-putting, bohemian without going way out there, and functional without being generic. With plentiful amenities, excellent dining options (with impeccable service) and an overall mood-boosting vibe, it's a place where couples can easily spend four or five days without ever leaving the resort.
For young families, there is a kids club and teen zone with programming, but, overall, it does feel like more of a grown-up sanctuary where days of pampering and holistic pursuits can be punctuated with excursions to visit Tulum's Mayan ruins and cenotes.
While the Conrad may not offer quite the same long-weekend accessibility of many resorts along the Riviera Maya that are closer to Cancun airport, it's a stylish launchpad for exploring one of Mexico's most sought-after destinations.