Clutter hotspots abound throughout our homes, attracting all types of miscellaneous items like bees to honey.
Essentially, they're the dumping grounds in our living spaces.
Junk drawers, closets, front entryways, and garages are just a few of the common clutter hotspots that restrict your home from functioning at peak efficiency.
A Professional Organizers of Canada study found that 83% of Canadians described themselves as "extremely disorganized". 91% of Canadians believe that their life is negatively impacted by clutter.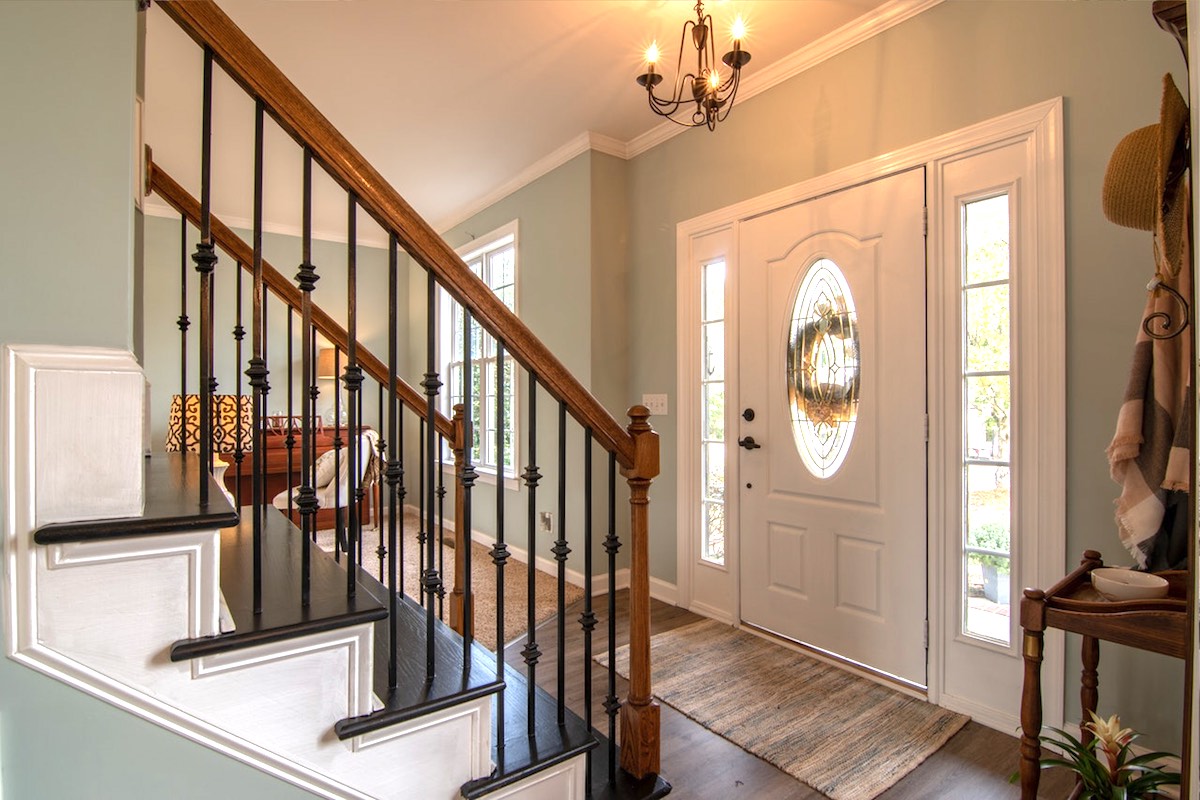 The causes of our clutter hotspots
Those numbers are alarmingly high. It's no wonder we're drowning in so much stuff – and unhappy about it.
We live in a time where you can't drive more than a minute or two without seeing a Walmart, Costco, or dollar store dotting our suburban landscape, luring shoppers with aisle after aisle of cheaply priced merchandise.
The massive growth of online shopping makes it easier than ever to buy almost anything. Jeez, who knew that being able to purchase something in only a few seconds by tapping a phone screen (without even needing to get out of bed) and having it delivered to our front door might be too much of a good thing?
Clutter starts to multiply in our homes because, let's face it, the vast majority of us dislike spending our cherished free time doing tasks as admittedly tedious as decluttering. We also let clutter accumulate because we get too attached to things and have a hard time letting go of them.
But you can't ignore clutter forever.
Why your home clutter shouldn't have a home
Allowing too much clutter set up permanent residency in your home affects your life negatively in a number of ways that are costly (literally and figuratively).
Clutter costs you wasted time searching for things. When things get misplaced, they get purchased again…only to have the misplaced item mysteriously turn up shortly thereafter with frustrating frequency.
Clutter is costly to your mental health and can cause stress and contribute to poor sleeping habits.
A home's ability to run efficiently is limited when there's too much clutter around. Trying to function in a messy garage, laundry room, or bathroom simply isn't as easy as it is to function in the same spaces if they're organized.
Tackle these clutter hotspots
Target the areas of your home where clutter always seems to end up.
Dealing with these clutter hotspots is only half the battle. They're the most sensible places to start, though, as you work your way towards organizing your home once and for all.
Here are 9 common clutter hotspots in your house or condo to focus on fixing.
1. Garages
Garages are perhaps the most popular go-to space in a house for stashing clutter. Ironically, clutter often ends up in the garage because it's such a large space, but that extra space is there because the garage is designed to accommodate vehicles for parking.
Instead, junk that collectively isn't worth more than probably a few hundred or a few thousand dollars (at the most) occupies prime real estate in many garages.
Meanwhile, vehicles that are worth tens of thousands of dollars sit parked in the driveway or on the street where they're far more vulnerable to theft and vandalism.
Garage remodel experts Garage Living have a number of helpful articles on their blog that can help you get the room more organized and functional.
Get started by following their guide listing 15 different things you can toss from your garage that you won't miss.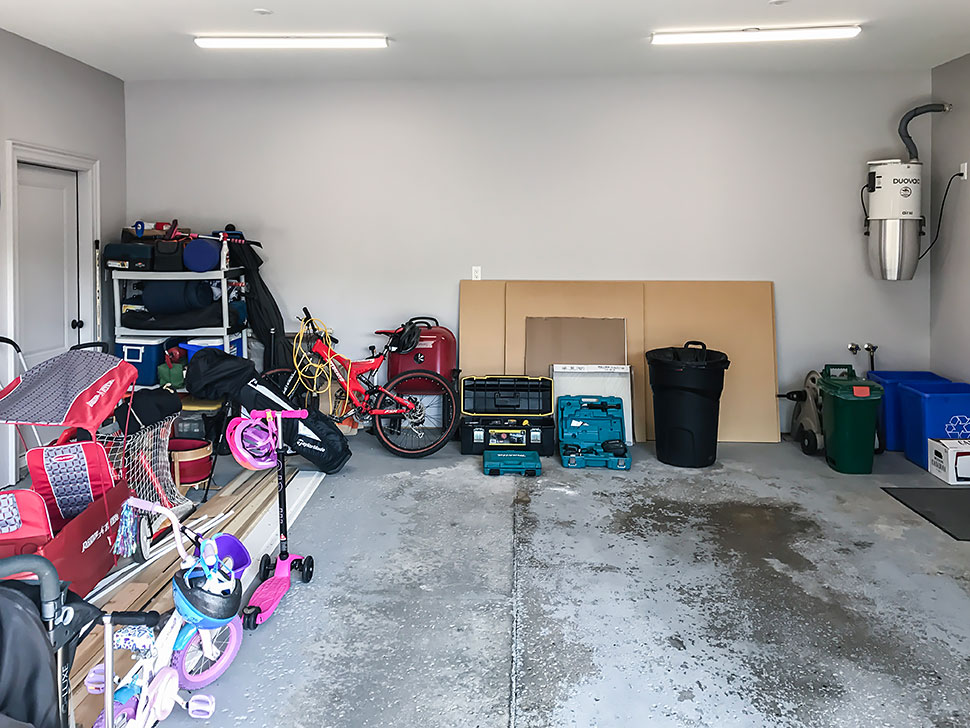 2. Junk drawers
Anyone living in a country in the Western world who disputes that we're a wasteful, consumerist society has to defend the junk drawer. We're pretty sure they're a foreign concept in countries like Japan, where they wouldn't even think to attach a name with the word "junk" in it to an area of their home.
Junk drawers may not take up a lot of space (unless you have a few of them spread throughout your home), but there's no reason these notorious clutter hotspots are even a thing. Most of the stuff in a junk drawer is, by definition, junk.
Turn your junk drawers into odds and ends drawers
Spend an hour or two tossing out or recycling all those grease-covered delivery and take-out menus. Bookmark the websites of your favourite restaurants on your phone or computer.
Those menus will probably be faster to find online compared to hunting through your junk drawers for a particular menu. Some of those businesses likely have a phone app available to make ordering from them even easier, too.
Clear out that collection of junk drawer pens (soooo many pens) and figure out which ones still even work. The same goes for the assorted batteries that most junk drawers contain. All of those plastic cutlery packages, condiment packets, outdated cables and cords for your electronics, and loose change can take a hike, too.
Now you've gotten your odds and ends drawers (which has a nicer ring, doesn't it?) down to a manageable number of items. To keep your drawers more organized, add dividers and keep the items you'll use most at the front.
3. Closets
The National Association of Productivity & Organizing Professional's (NAPO) Public Survey of Residential Organizing Attitudes found that closets ranked first as the most disorganized storage area in homes.
55% of the 1,005 people polled in the NAPO's revealing 2019 survey gave that response. Garages, cabinets and shelves, and attics/basements also took the top spots in this category.
Cultural shifts like the aforementioned online shopping boom and the rise of fast fashion (when high-fashion clothing is mass-produced and sold for low prices) has led to our closets becoming overstuffed.
A different NAPO survey found that about 80% of your clothes are only worn 20% of the time. To streamline your home's closets, edit their contents at least once a year to prevent them from becoming clutter hotspots.
Maximize the storage space in your closets by having a closet design expert like Organized Interiors give them a makeover. Closet organization systems and accessories for added functionality will help make your wardrobe and other items stored in your home's closets easier to manage.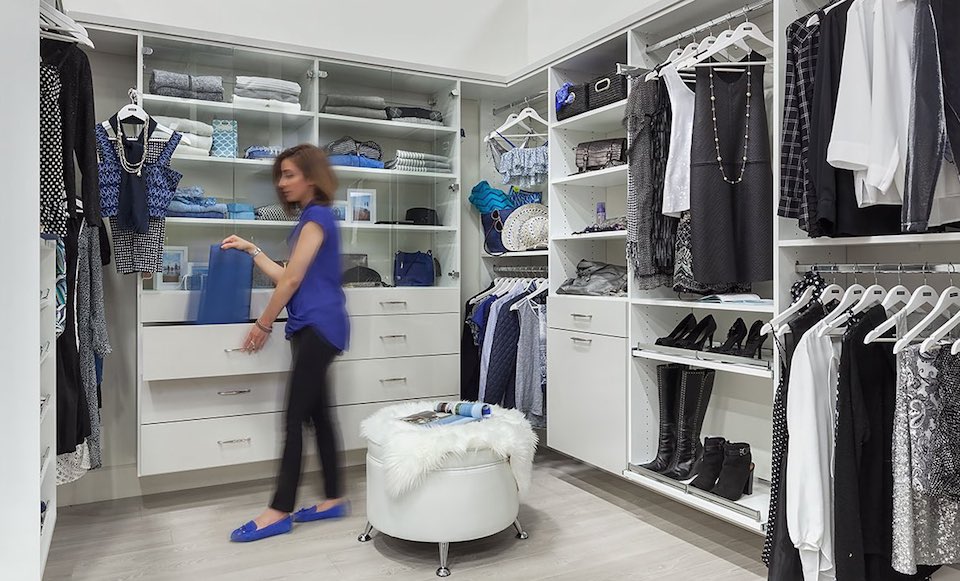 4. Kitchen cupboards
Kitchen cupboards and pantries tend to harbour a lot of clutter. Some examples include:
expired condiments
appliances you never use (we're looking at you juicer, slow cooker, and waffle maker)
plastic food storage containers
more glasses, mugs, bowls, and dishes than you ever use
tote bags
stale dry food and old canned goods
expired spices
You can only use so many food storage containers, so recycle what you can and only hold onto your favourite items. To cut down on the amount of plastic in your home, consider investing in some microwave-safe glass food storage containers.
Thin out your kitchen pantry by getting rid of spices you never use and spices you've had for a while. Ground spices have a shelf life of about three years and whole spices are good for around four years before they lose a lot of their flavour.
Tote away those extra tote bags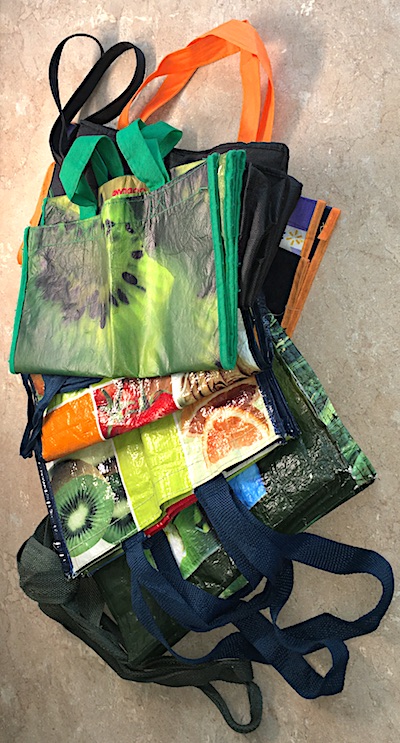 Reusable shopping bags are a fantastic concept that are so ultra-practical, it's a wonder it took us so long to embrace using them without a second thought, as most of us do nowadays.
They're way more reliable than using paper or plastic shopping bags and can hold more groceries. And most importantly, of course, tote bags keep billions of plastic bags from ending up in recycling facilities, landfills, and nature every year.
That being said, the rise in the usage of tote bags has resulted in virtually every company on the planet giving away bags with their logos on them willy nilly. Now our kitchen cupboards, closets, and cars are filled with more bags than we'll ever need.
Clear out the bag clutter by donating them, using them when giving things to friends, having the tote bags recycled, or tossing them out when all else fails.
5. Entryways
It's logical that our entryways accumulate clutter because they're the first point of contact when anyone enters the home.
Your front entryway, in particular, should always look organized because it's the area visitors to your home see first.
First impressions count
A survey by The Independent Network powered by VEKA (a UK organization representing window and door manufacturers) found that guests judge your home within 38 seconds of entering it.
Your home's entryways shouldn't just be kept tidy for the benefit of visitors, however. Anyone living under your roof should appreciate entering their living space and being greeted by a clean, organized doorway that gives them that home sweet home feeling.
Assign homes for your kids' school bags, sports equipment, apparel, and footwear. Wall hooks and cubby storage systems are ideal for keeping the space tidy. If necessary, use labels with your kids' names to encourage them to put things away properly.
Ensure out-of-season clothing is stored anywhere besides your high-traffic entryway areas. Set up a doorway spot for placing car keys, house keys, and mail.
To keep your home'e entryways tidy, ask Organized Interiors about our mudroom design and storage ideas.
6. Home offices
The 2019 NAPO survey shows that home offices were the second-most disorganized living area in our homes, just slightly below the kitchen.
More people are working from home and numerous studies over the years consistently find that one of the biggest factors that lowers workplace productivity is clutter. Messy desks and workspaces impede our ability to focus and slow down our productivity.
Set up a paper management system
Excess paper is one of the main things that clogs up your work area and makes an office look untidy. Set up a practical paper management system that includes a shredder and filing system. To simplify things even more, make your paper management system one that involves handling barely any paper at all!
It's the 2020s, so most of the statements you receive that outline your monthly expenses, due payments, and financial portfolio should be getting to you via cyberspace, not your mail carrier's truck.
Desktop computer screens and monitors also come in large sizes like the latest iMac's 24″ display. That lets you have multiple documents and windows open on your computer desktop at once, instead of having paper documents spread out on your desk.
If you're working full-time from a home office now, you have every reason to optimize your work setup to encourage better productivity.
7. Bathrooms
It's no surprise that bathrooms, one of the busiest rooms in our homes, end up as a clutter hotspot.
We use a lot of different products to clean and groom ourselves and most of them are kept in the bathroom.
Go through your medicine cabinets and bathroom storage cabinets to get rid of expired medications, first-aid products, and beauty products. Your skin can have a bad reaction to expired makeup that is applied to it. Most makeup products have a shelf life of about three months to two years.
Also get rid of any mini-sized shampoos, soaps, or other toiletries you've accumulated that never get used. Call a local homeless shelter or charity to find out if they will accept them.
Avoid storing extra bath towels and linens in the bathroom
If you're coming up short on bathroom storage space for all of your toiletries, you may wish to reconsider keeping your extra bath towels and other linens stored in the room. The reasons for why you shouldn't store linens in the bathroom may surprise you.
Old bath towels lose their softness and absorbency over time and can start to fray. Get them out of the bathroom and use them as rags. Some veterinarian clinics and animal shelters will welcome your old bath towel donations, which can be repurposed as bedding for their furry patients and residents.
There are lots of practical reasons to have a linen closet in your home that is located in a hallway or somewhere else outside of a bathroom.
8. Nightstands and dressers
The tops of nightstands (or bedside tables if you prefer) don't have much space, so whatever items are put there can make them look cluttered in a hurry.
Most nightstands have at least one drawer, which should be used whenever possible to keep the surface organized. Prioritize keeping only essential things on top of a bedside table, such as an alarm clock, sleep mask, reading glasses, and lamp. It's also nice to have a little room beside the bed to place a hot beverage or glass of water.
Things like magazines, night creams, tablets, and phones should be put away in the nightstand drawer(s). This makes extra sense for your phone, so alerts or late calls don't disturb you as you fall asleep.
Professional organizers recommend keeping any flat surface beside the bed as clutter-free as possible, which can help you get a better night's sleep.
Another area of the bedroom to look at is the top of your dresser. This space is another clutter hotspot that can become an eyesore that is covered in things like:
spare change
jewellery
car keys
watches
wallets and purses
sunglasses
By all means, make use of this handy space. All it takes to keep things tidier is to use some drawer dividers or a few organizing trays and mini storage bins on the top of the dresser.
9. Kids' bedrooms and playrooms
A list of home clutter hotspots wouldn't be complete without including our kids' bedrooms and playrooms.
Try as they might, most youngsters don't have it in them quite yet to keep their spaces tidy on a consistent basis.
If you're frustrated that your kids' rooms can't stay clean, see if there are any ways to make it easier for them to keep their rooms more organized. Adding better storage systems and making the storage they use for their toys, craft supplies, clothing, and other things more accessible can help.
For their bedroom closets, parents should be working with their growing kids by going through their closets and dresser drawers together at least once a year to remove outgrown clothing.
Conquer your clutter hotspots. Need some help?
Identifying the clutter hotspots in your house or condo is a positive first steps towards ridding your home of the unnecessary things that cause you to feel weighed down.
One of the questions from that NAPO survey was "What prevents you from effectively addressing the clutter in your home?". The top reason people gave for not dealing with their home clutter is, "Dealing with clutter is overwhelming."
Yes, it is. But that's why professionals with home organizing solutions like Organizing Interiors exist.
We specialize in helping our clients feel a lot less "whelmed" when they're making the effort to get their homes organized.
Schedule a free design consultation with us to get your home on the path to becoming a tidy, clutter-free space you can enjoy more.
Please share this post if you found it useful.
See also: