The ultimate guide to Princess Cruises ships and itineraries
Posted by admin on
Call it the cruise line for people who want a big, amenity-filled ship that isn't a floating amusement park.
Princess Cruises operates relatively large, reasonably priced vessels. However, unlike many of its competitors in that space — most notably Royal Caribbean, Norwegian Cruise Line and MSC Cruises — it doesn't load them up with sprawling waterparks, go-kart tracks, laser tag courses and other flashy, family-focused diversions.
Compared to most of its big ship-operating rivals, Princess is known for a more serene, almost "old school" sort of cruising that isn't about a lot of gee-whiz attractions.
For more cruise guides, news and tips, sign up for TPG's cruise newsletter.
As Princess executives like to say, the line is all about warm and gracious service in an atmosphere of comfortable elegance designed to spark connections between passengers.
Instead of bustling attractions, its top decks offer lots of quiet and relaxing pool and lounge areas where you can enjoy the experience of being at sea without a lot of hustle and bustle. Inside, the experience revolves around dining, classic showroom entertainment and a classy bar and music scene — just as it has on Princess ships for years.
This is, notably, just the way Princess customers like it. Popular with middle-aged couples, retirees and multigenerational families, the "Love Boat" line caters to people who like a more traditional type of cruising than you'll find on the vessels of most other big-ship lines.
Related: Which cruise brand is right for you?
3 things TPG loves about Princess Cruises
The abundance of outdoor pool and lounge areas on its ships.
Its expansive spas.
Its far-flung itineraries.
What we could do without
The lack of big suites on its vessels.
The Princess Cruises fleet
Princess has downsized the size of its fleet considerably over the past few years with the removal of five vessels. However, it's still the world's fifth-biggest cruise line by passenger capacity, with 15 ships that together offer more than 46,000 berths.
In general, Princess operates big ships, though they're not quite as big as the vessels operated by Royal Caribbean, Norwegian and MSC Cruises — the three lines best known for giant ships. The biggest Princess vessels, the line's six Royal Class ships, measure around 145,000 tons. That's about 35% smaller than the biggest ships operated by Royal Caribbean.
The Royal Class ships are the belles of the ball in the Princess fleet. Newer and more amenity-filled than the line's nine other ships, they began rolling out in 2013 and carry about 3,600 passengers a piece at double occupancy.
(In case you're curious, the name of the series ties to the godmother of the initial Royal Class vessel. Dubbed Royal Princess, it was famously christened by a royal, the U.K.'s Catherine, Duchess of Cambridge. The cruise line's first Royal Princess, which debuted in 1984, was christened by Diana, Princess of Wales.)
Related: The best credit cards for booking cruises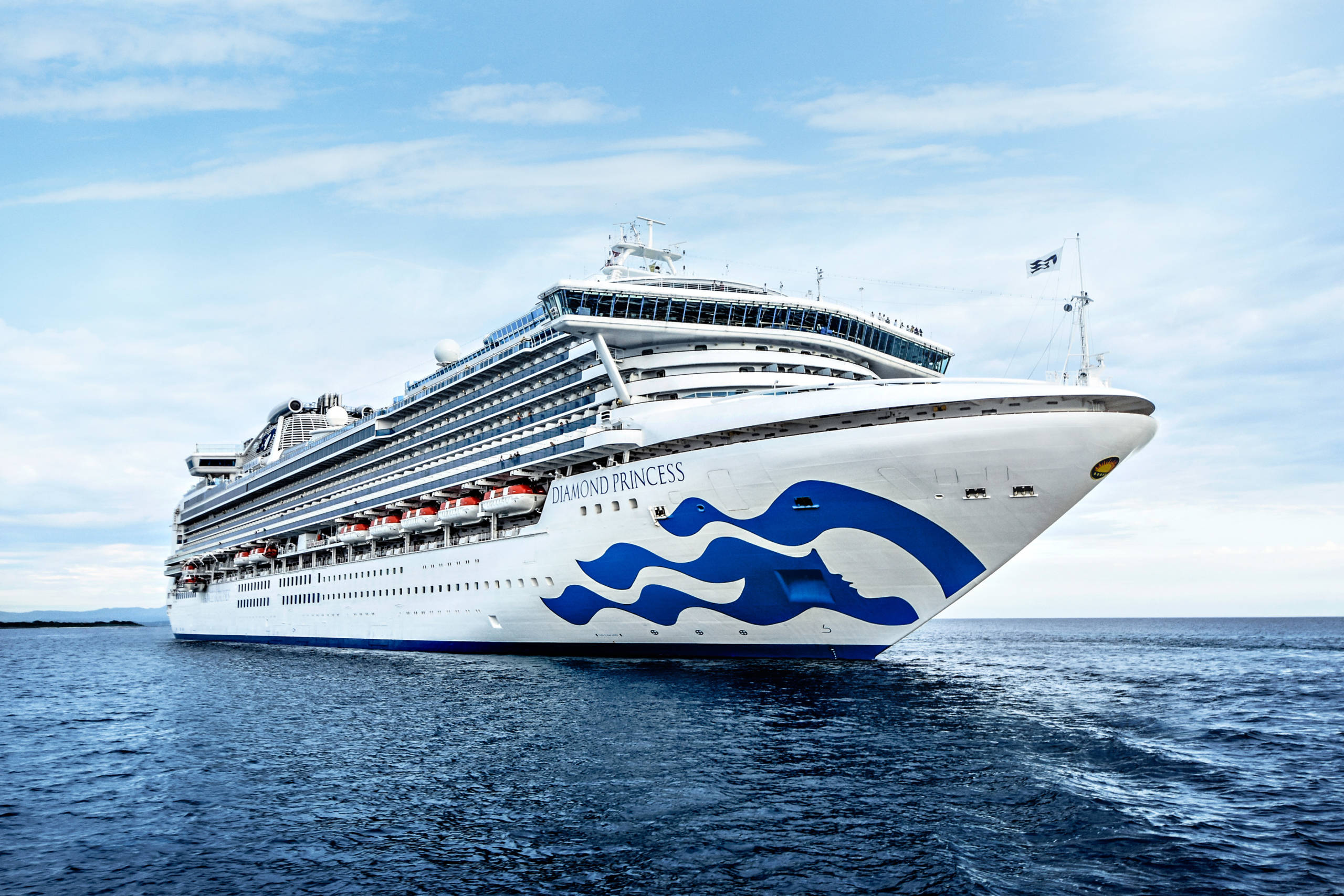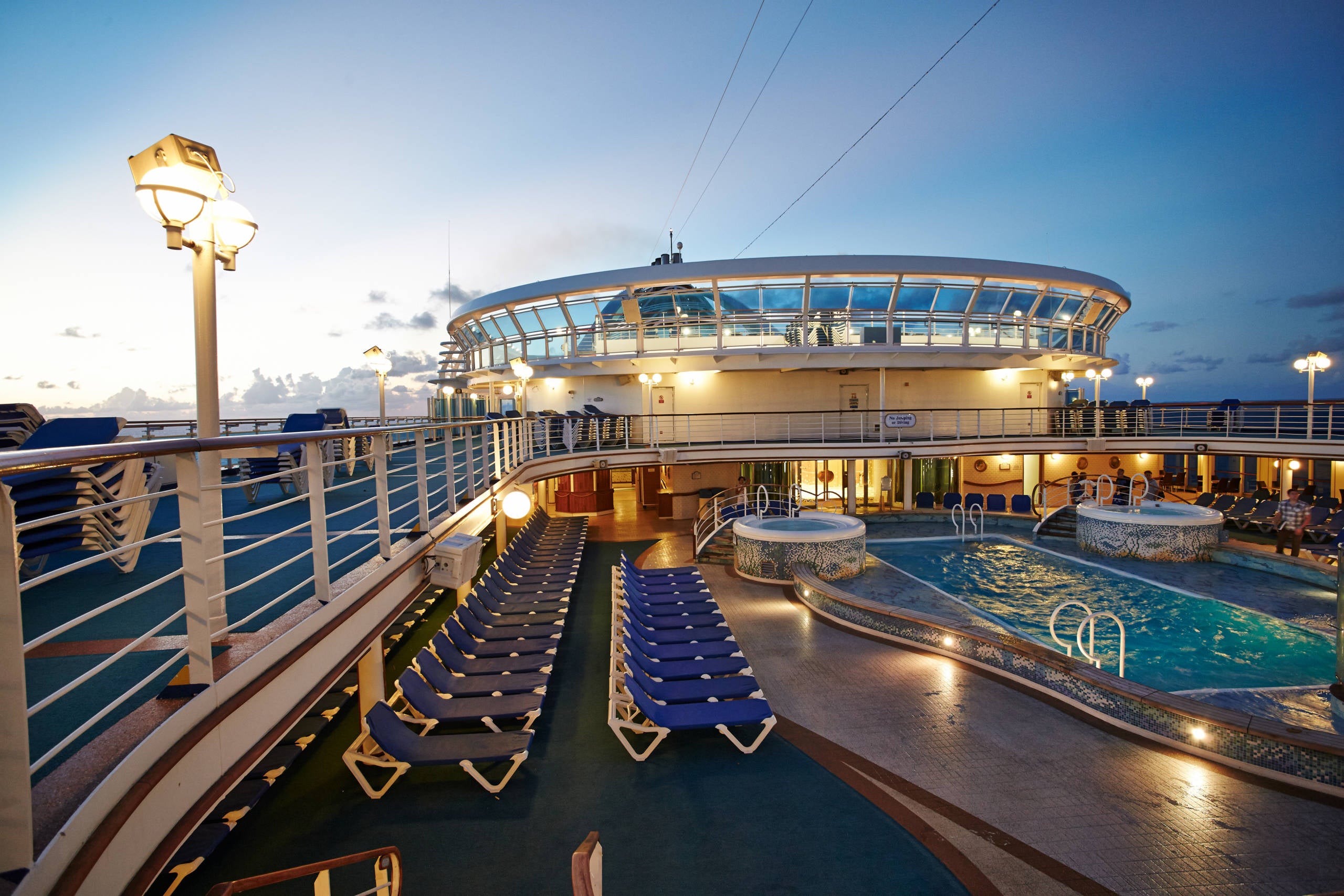 Still, just as much at the core of the Princess fleet are its seven Grand Class vessels. Unveiled between 1998 and 2008, the ships are smaller than the Royal Class vessels at around 107,000 to 116,000 tons in size. This smaller size allows them to operate a wider range of itineraries than the Royal Class ships. However, they're still big enough to feature a lot of onboard venues. The Grand Class ships carry between 2,600 to 3,100 passengers at double occupancy.
Princess also has two even smaller vessels that measure around 92,000 tons a piece. Named Coral Princess and Island Princess, they are sister ships that make up the line's small Coral Class of vessels. They each carry around 2,000 passengers at double occupancy.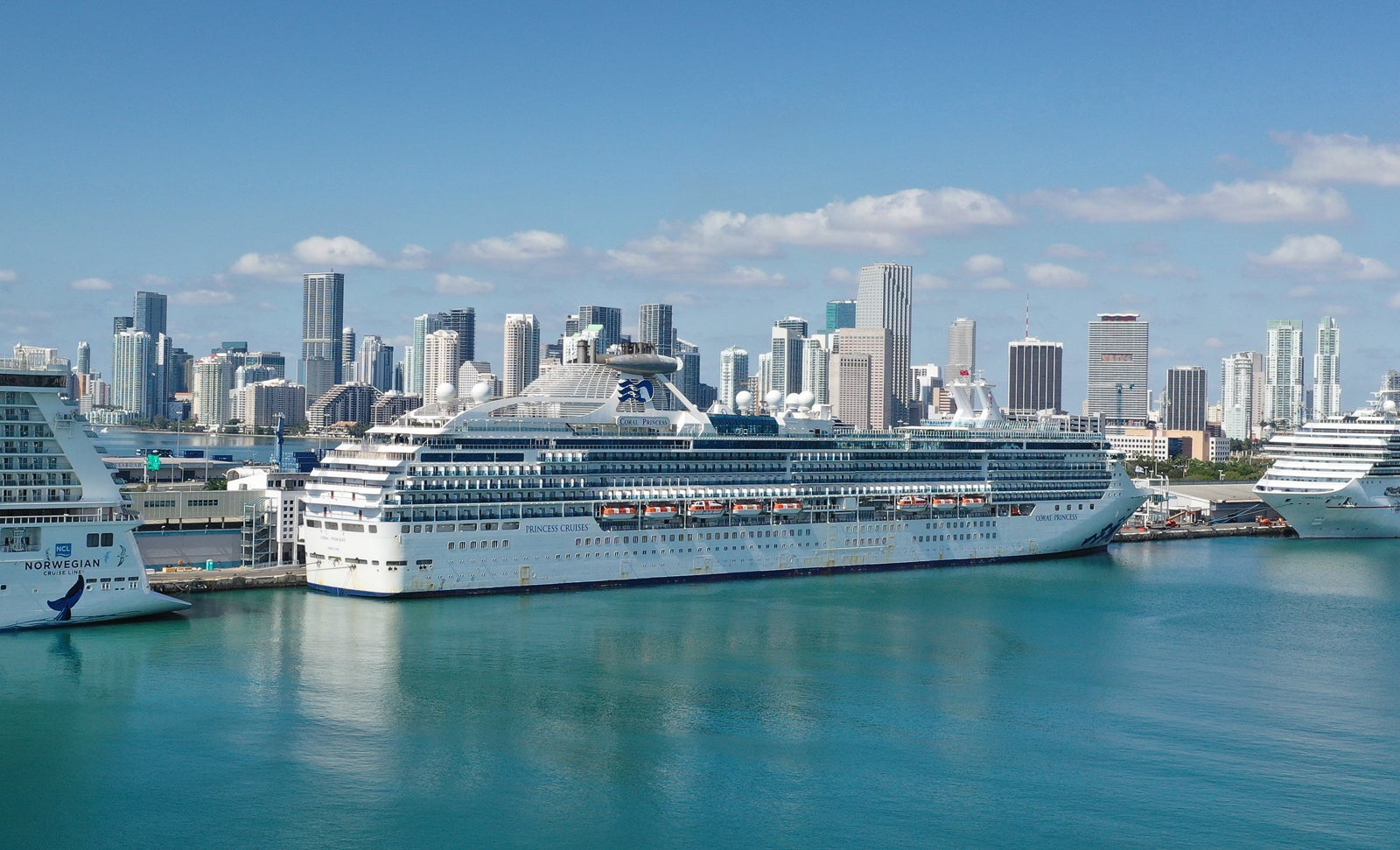 The downsizing of the Princess fleet over the past few years had a lot to do with the COVID-19 pandemic. Three ships left the line's fleet starting in 2020 as part of an effort to cut costs during the line's coronavirus-caused global shutdown. Another two vessels — Golden Princess and Star Princess — had been scheduled to leave the Princess fleet even before the pandemic began. They were transferred to one of the line's sister companies, P&O Cruises Australia.
The line currently has two more vessels on order that, at around 175,000 tons, will be its biggest ships ever. The first of the vessels (to be called Sun Princess) is due to debut in 2024, followed by an as-yet-unnamed sister due in 2025.
Related: TPG goes on board the new Sky Princess
Destinations and itineraries
Princess Cruises sails to more than 100 countries on seven continents, from North America and Europe to Asia and Australia, and it offers a wide range of itineraries — around 170 in a typical year. The line's ships visit more than 380 different ports and destinations and take passengers to more than 100 UNESCO World Heritage Sites.
Among the line's voyages, you'll find everything from three-day sampler cruises along the West Coast of the U.S. to 111-day around-the-world voyages.
Princess is particularly known for cruises to Alaska, where it dominates the market for cruises along with sister line Holland America. In a typical year, Princess deploys seven or eight ships to Alaska in the summer — far more than most other lines. It also operates its own wilderness lodges in the state, as well as tourist trains and buses. It uses the lodges, trains and buses to offer a range of 10- to 17-night Alaska "cruisetours" that combine a cruise with land-based touring.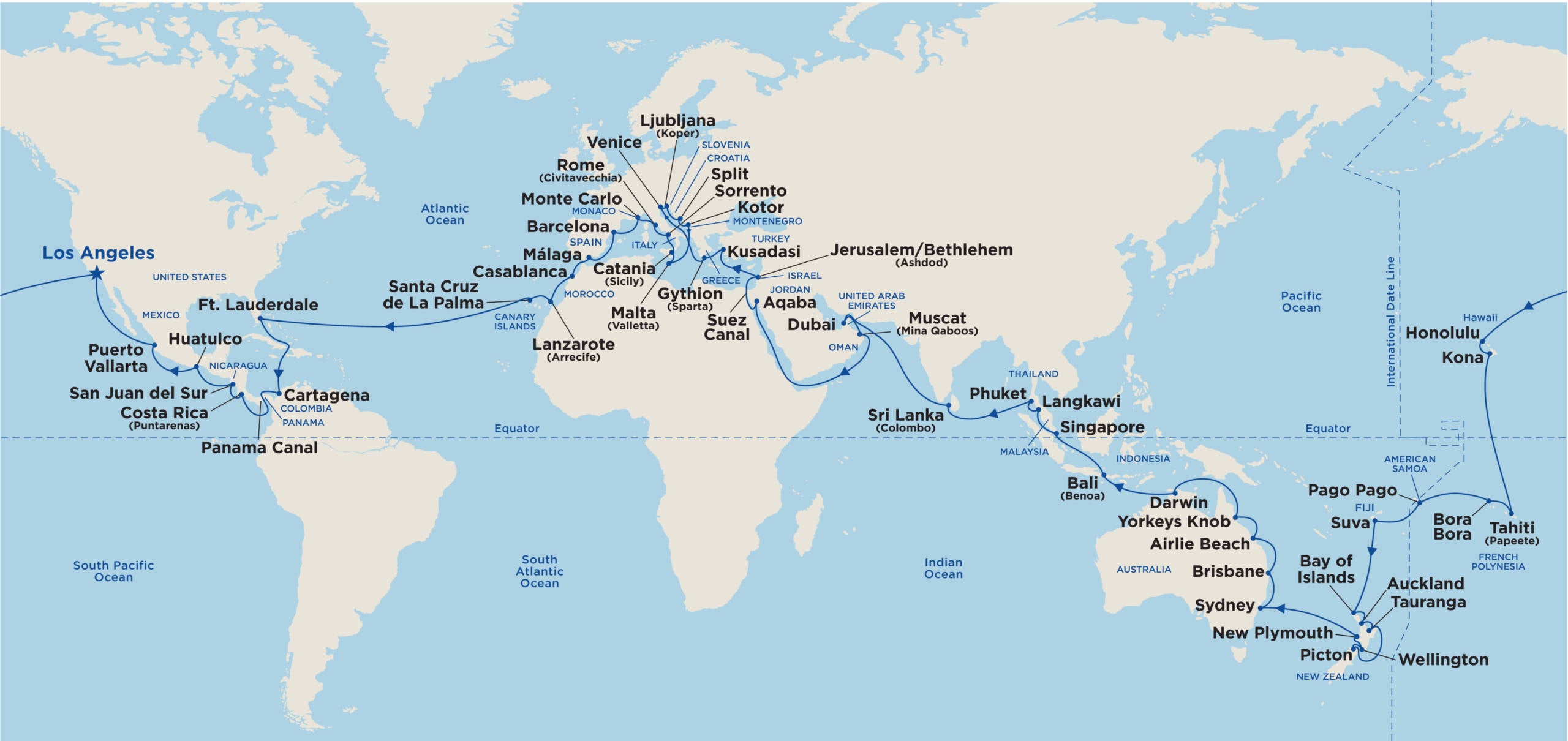 Princess also deploys as many as eight ships to Europe in the summer, and it has a big presence in Australia, where it can deploy as many as six ships for parts of each year. In recent years, it has also become a major player in cruises around Japan that cater to both American and Japanese travelers, as well as Australians.
In North America, Princess ships sail out of Fort Lauderdale; Los Angeles; San Francisco; San Diego; Seattle; Galveston; Vancouver and Whittier, Alaska, with some sailings from New York City, Quebec City and Honolulu.
In Europe, Princess ships mostly sail out of Southampton in the U.K.; Copenhagen, Denmark; Barcelona, Spain; Piraeus, Greece (the port for Athens); and Civitavecchia, Italy (the port for Rome).
Related: The best Caribbean cruises for every type of traveler 
Who sails Princess Cruises
Princess appeals to an older demographic than lines such as Carnival and Norwegian. The average age of passengers is around 57, and you'll usually see a lot of couples on board in their 50s, 60s and 70s.
As noted above, these aren't people necessarily craving go-kart tracks and ropes courses at sea. They're people looking to explore the world in a comfortable, classy sort of way that also is relatively affordable. That last part is key. Princess offers a lot of globe-circling itineraries of the sort often offered by high-end luxury lines. However, it does so at a much lower price.
While not the biggest line for families with young children, Princess does draw a lot of multigenerational family groups. It's the line you take if you want an affordable ship that'll appeal to your 70-year-old parents as much as your 12-year-old kid.
Princess also draws a lot of passengers celebrating milestones. The line markets heavily to people marking birthdays and anniversaries with special packages and programs. It's also a huge player in the market for destination weddings at sea, with a division that will help you arrange a ceremony on board or at an exotic location on land during a port call.
Princess was, notably, the first cruise line to host modern-day weddings on ships, offering ceremonies officiated by the ships' captains hosted in onboard chapels.
It is, after all, the "Love Boat" line.
Cabins and suites
When it comes to rooms, Princess is sort of the Marriott of the big-ship cruise world. Its rooms are comfortable and functional but a bit bland. Avant-garde style is not a Princess thing.
The vast majority of the accommodations on Princess ships fall into one of three broad categories: windowless inside cabins, oceanview cabins and balcony cabins. Balcony cabins, in particular, are widespread on Princess ships. Among mass-market lines, Princess was the pioneer in adding large numbers of balcony cabins to ships.
While balcony cabins are common on Princess ships, you'll find relatively few suites on them. Just 46 of the 1,830 rooms on the line's 3-year-old Sky Princess are suites, and — believe it or not — that's an improvement from earlier vessels in the same series, which had just 36 suites.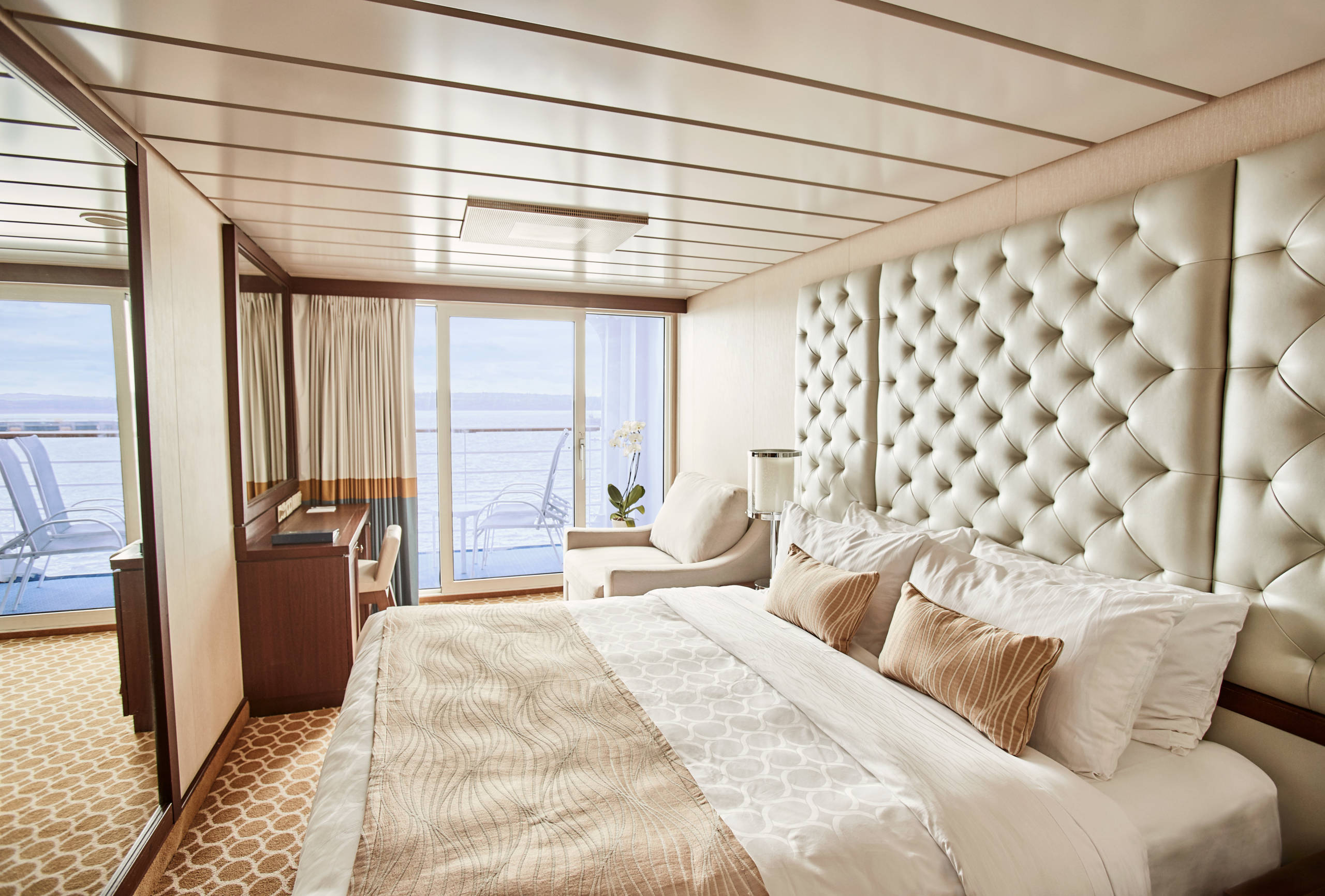 What this means is there aren't a lot of ways to live large on a Princess ship or to pack a lot of people into a single accommodation. Until the debut of Sky Princess in 2019, the line didn't have a single cabin that could accommodate more than four people.
That said, the Grand Class vessels each offer two "Family Suites" that can be created by connecting a Mini-Suite with an adjacent inside stateroom to create a six- to eight-person complex.
Sky Princess featured the line's first truly large stand-alone suites, dubbed Sky Suites, when that ship debuted in 2019. Such suites have also been added to the line's new Discovery Princess.
There are two of the suites on each of the ships, and they measure a generous 1,800 square feet (though more than half of that space is taken up by a huge wraparound balcony). With two bedrooms plus a living room with a pullout sofa, they're designed for up to five people.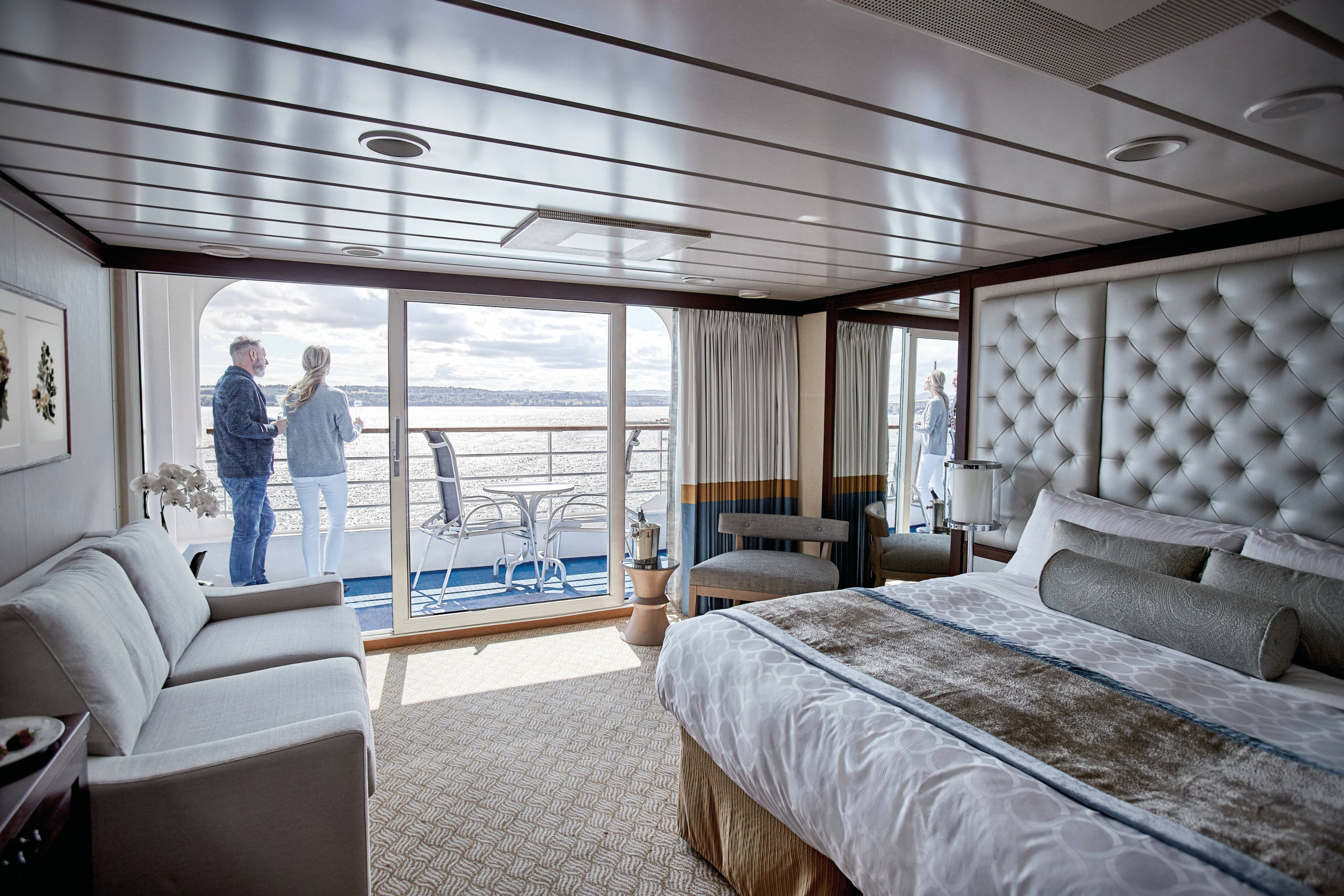 Still, even the Sky Suites on Sky Princess aren't the truly epic suites with huge interior living spaces that you'll find on the latest Royal Caribbean or Regent Seven Seas Cruises ships. If that's what you're after, Princess isn't your line.
Related: The new, $11,000-a-night cruise ship suite that's bigger than a house  
Restaurants and dining
Every Princess vessel has one to three main dining rooms where meals are included in the fare, and these dining rooms are at the heart of the dining experience on Princess ships. Many passengers have all or most of their dinners in a main dining room.
For dinners in a main dining room, you can make a reservation for any time, provided a table at the time you want is available. To ensure the time you want, it's best to reserve a table far in advance of your sailing, which you can do online once you've paid for the cruise in full. But you also can make reservations on board ships during your cruise or even show up to a dining room without a reservation (in which case, you will be seated on a space-available basis).
Note that Princess no longer offers a fixed-time "traditional" seating option where you can request the same table at the same time every night of a cruise.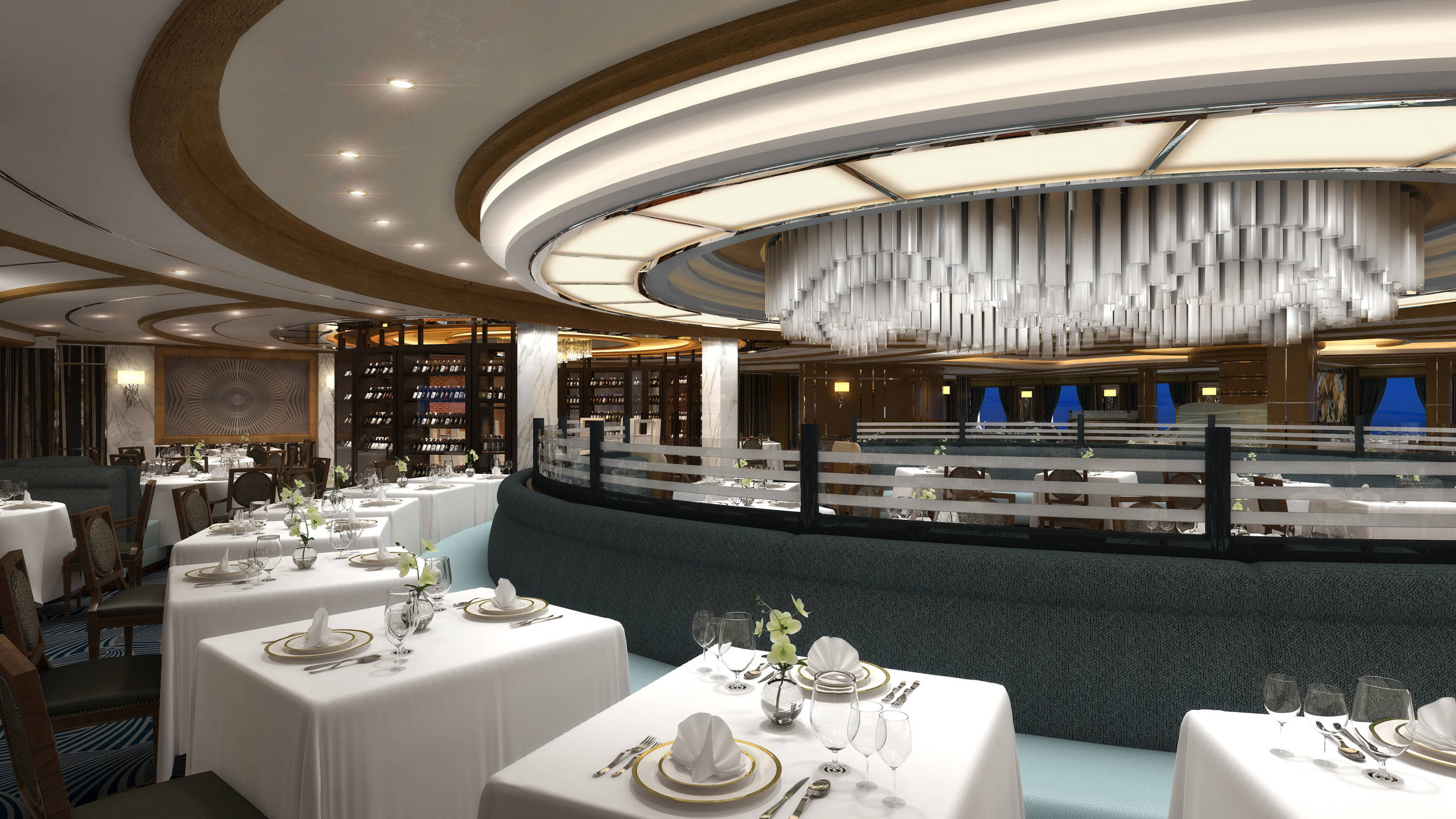 Every vessel also has a casual buffet eatery where meals are included in the fare. Near the main pool area on ships, it's usually called Horizon Court but is also known as the World Fresh Market or Panorama Buffet on some vessels.
Other included-in-the-fare options on at least some Princess ships include poolside pizza outlets and poolside grills serving burgers. Also, on sea days, Princess transforms a bar or dining venue at lunchtime into an included-in-the-fare English-style pub. It serves traditional pub food such as fish and chips and cottage pie, along with (for an extra charge) Bass Ale or Guinness.
Every Princess ship also has at least a couple of extra-charge eateries. On most ships, you'll find the line's signature Italian restaurant, Sabatini's. It serves homemade pasta, seafood and other Italian specialties in an elegant setting and comes with a flat fee of $35 per person.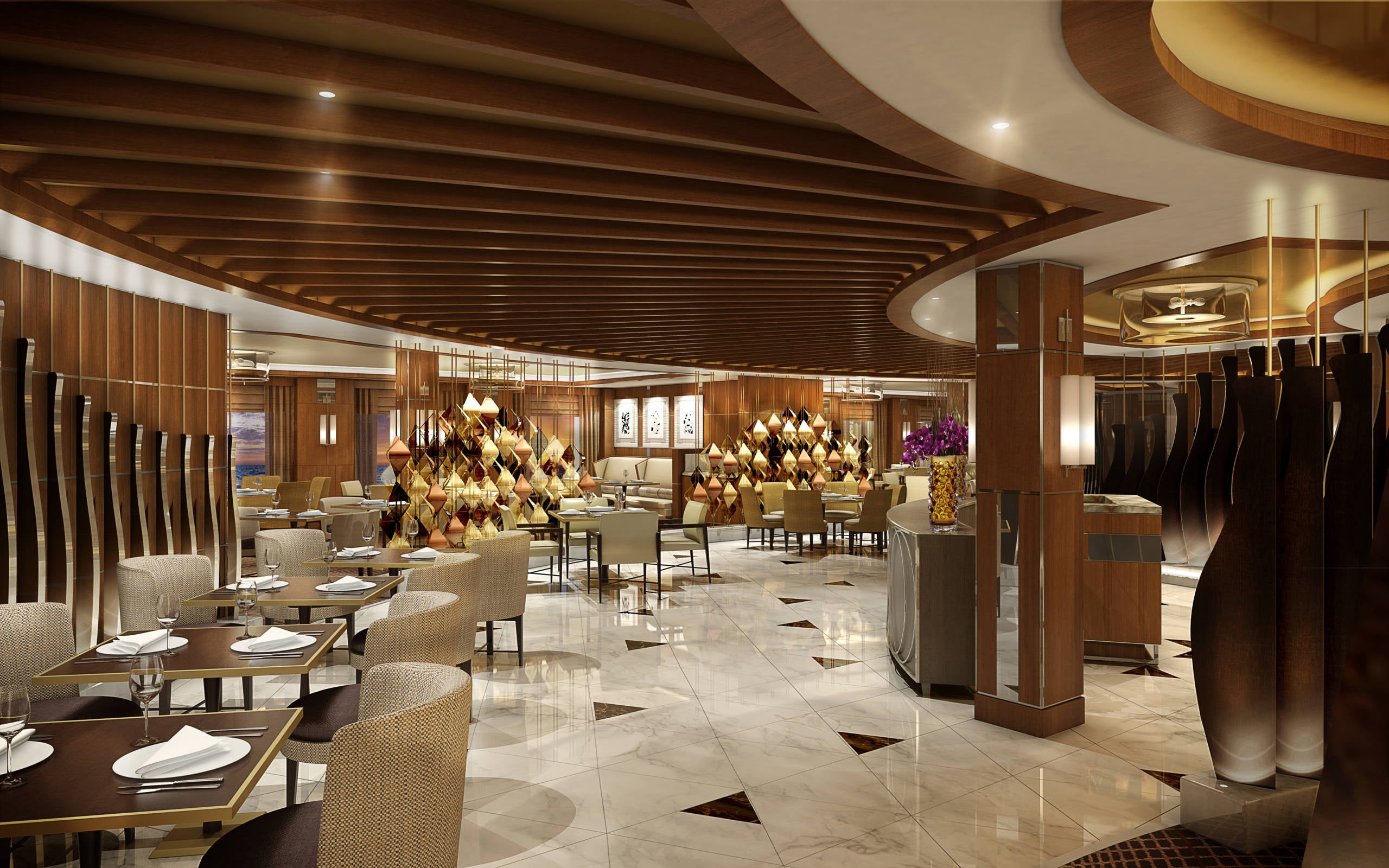 Most Princess ships also have a signature steakhouse. On most vessels, it's called Crown Grill and offers premium beef and seafood cooked to order in an open, theater-style kitchen. On two ships — Diamond Princess and Sapphire Princess — it's called Sterling Steakhouse, where passengers choose their cut of steak from a tray presented by their waiter.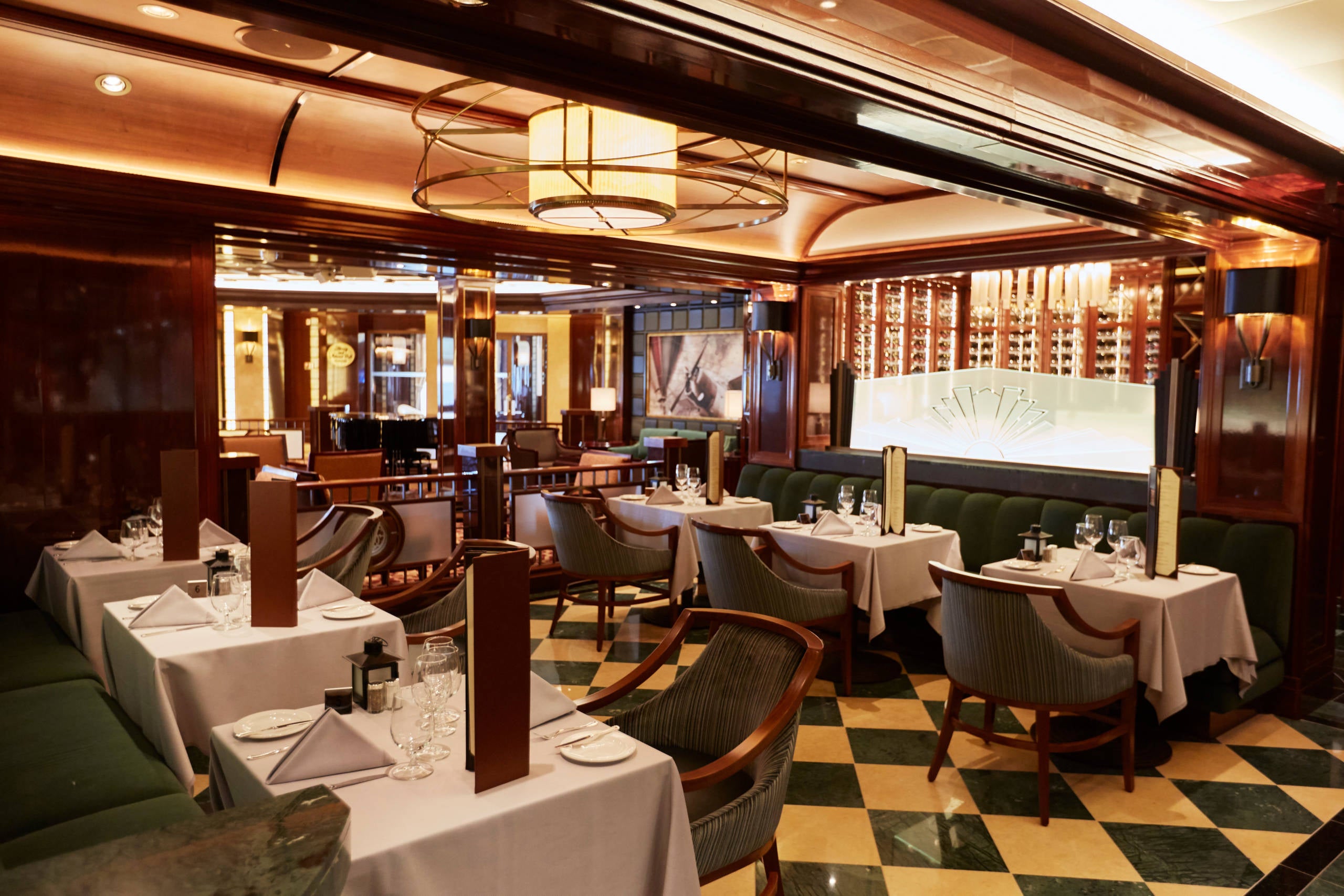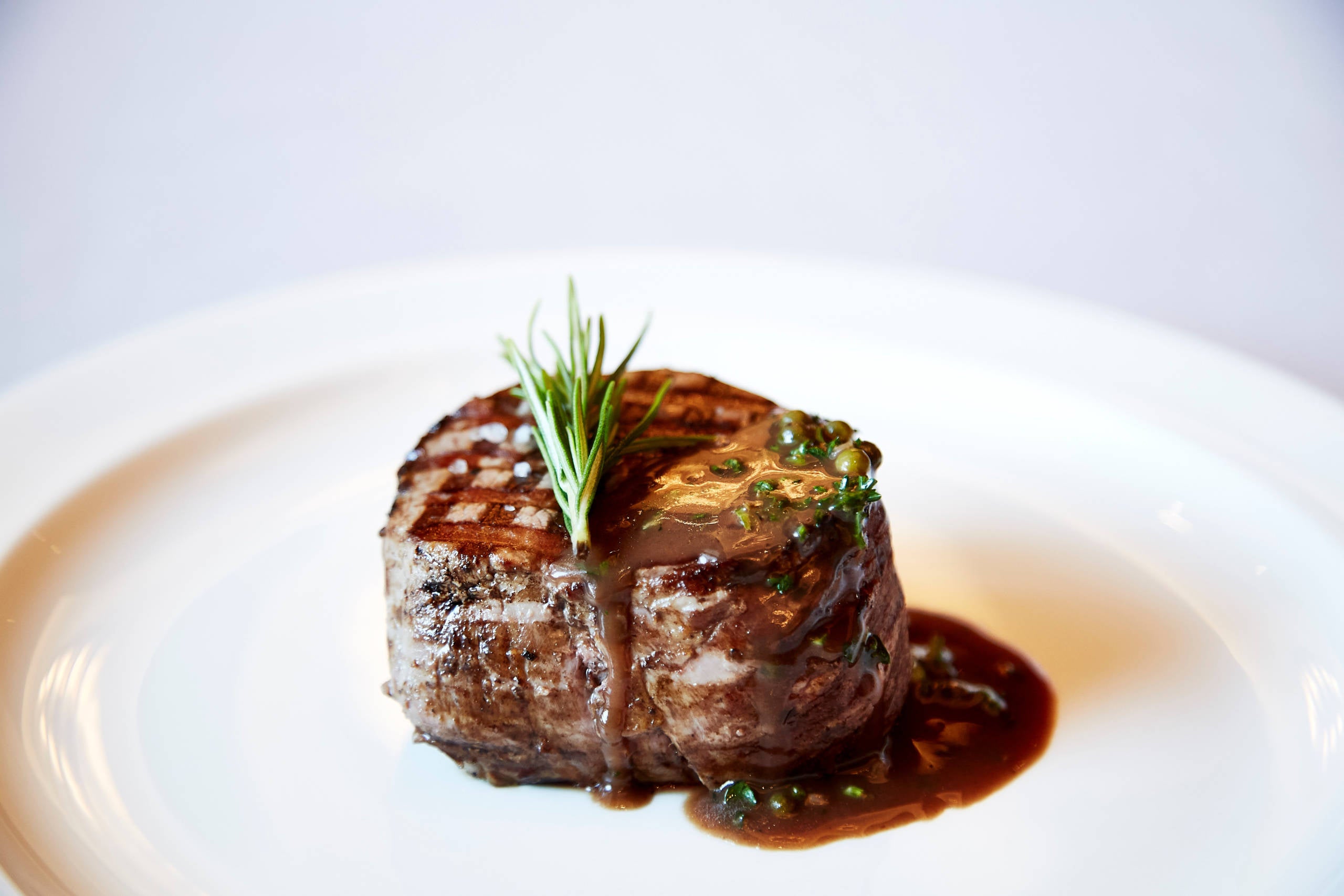 On two ships — Coral Princess and Island Princess — the steakhouse has a Cajun and Creole twist. In addition to steak dishes, the menu features New Orleans-style peel-and-eat shrimp, alligator ribs and gumbo. On those vessels, it's called the Bayou Café and Steakhouse.
All the steakhouses come with a flat fee of $39 per person.
Princess ships also offer a Chef's Table experience — a concept the line pioneered in the cruise world. Costing $95 to $115 per person, it includes pre-dinner cocktails and hors d'oeuvres in the ship's galley with the executive chef before a main dining experience at a private table in the dining room.
Another dining option that recently began popping up on Princess ships is a French eatery called Bistro Sur La Mer. The restaurant is only on Enchanted Princess, Sky Princess, Majestic Princess and Discovery Princess. It offers dishes created by star chef Emmanuel Renaut, whose restaurant in the French Alps boasts three Michelin stars. Like the Princess steakhouses, it has a $39 per person cover charge.
Related: The 7 best meals you can have at sea 
Entertainment and activities
Princess ships are loaded with entertainment that ranges from Broadway-style theater shows to "street entertainers" who appear in each vessel's central piazza. They're not floating amusement parks, though. Unlike some big-ship lines, Princess isn't topping its vessels with waterslides, go-kart tracks, ropes courses and other family-focused attractions.
Theaters and shows
There's no shortage of theater and lounge entertainment on Princess ships. On a typical night, you might find a flashy, fast-paced production show playing in the main theater, a comedian performing in a secondary lounge and live music on offer in several more venues.
In many cases, the main theaters on Princess ships are quite elaborate, with Broadway-show-level lighting and special effects, and the productions housed within the theaters are elaborate, too.
Princess has upped its game with its theater productions in recent years through a partnership with Stephen Schwartz, the Tony Award-winning composer of "Wicked," "Godspell" and "Pippin."
Among new productions that Schwartz has worked on is "The Secret Silk," which features life-size puppetry from Jim Henson's Creature Shop, dance and special effects. It was created and directed by John Tartaglia, a star of Broadway's "Avenue Q" and "Beauty and the Beast."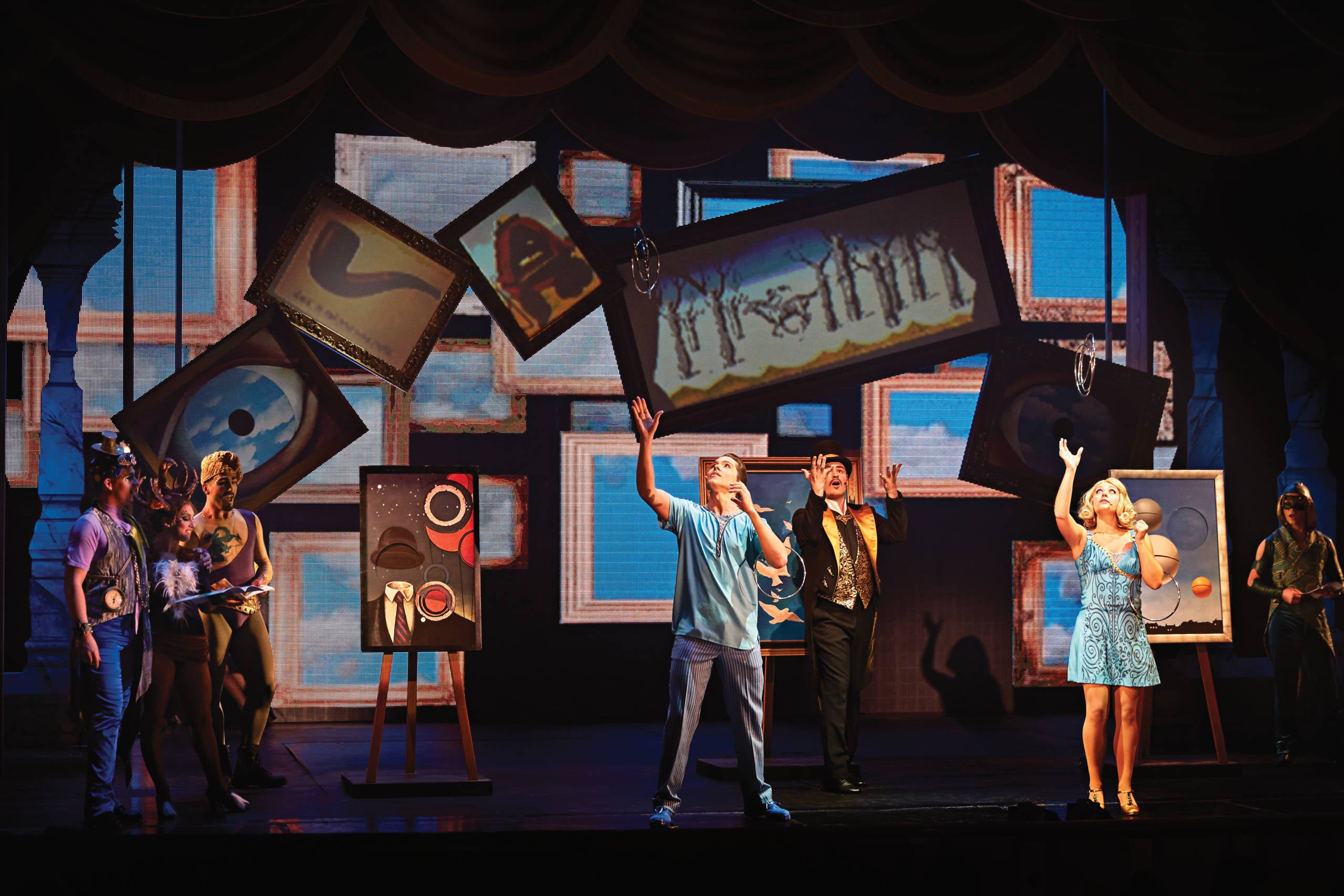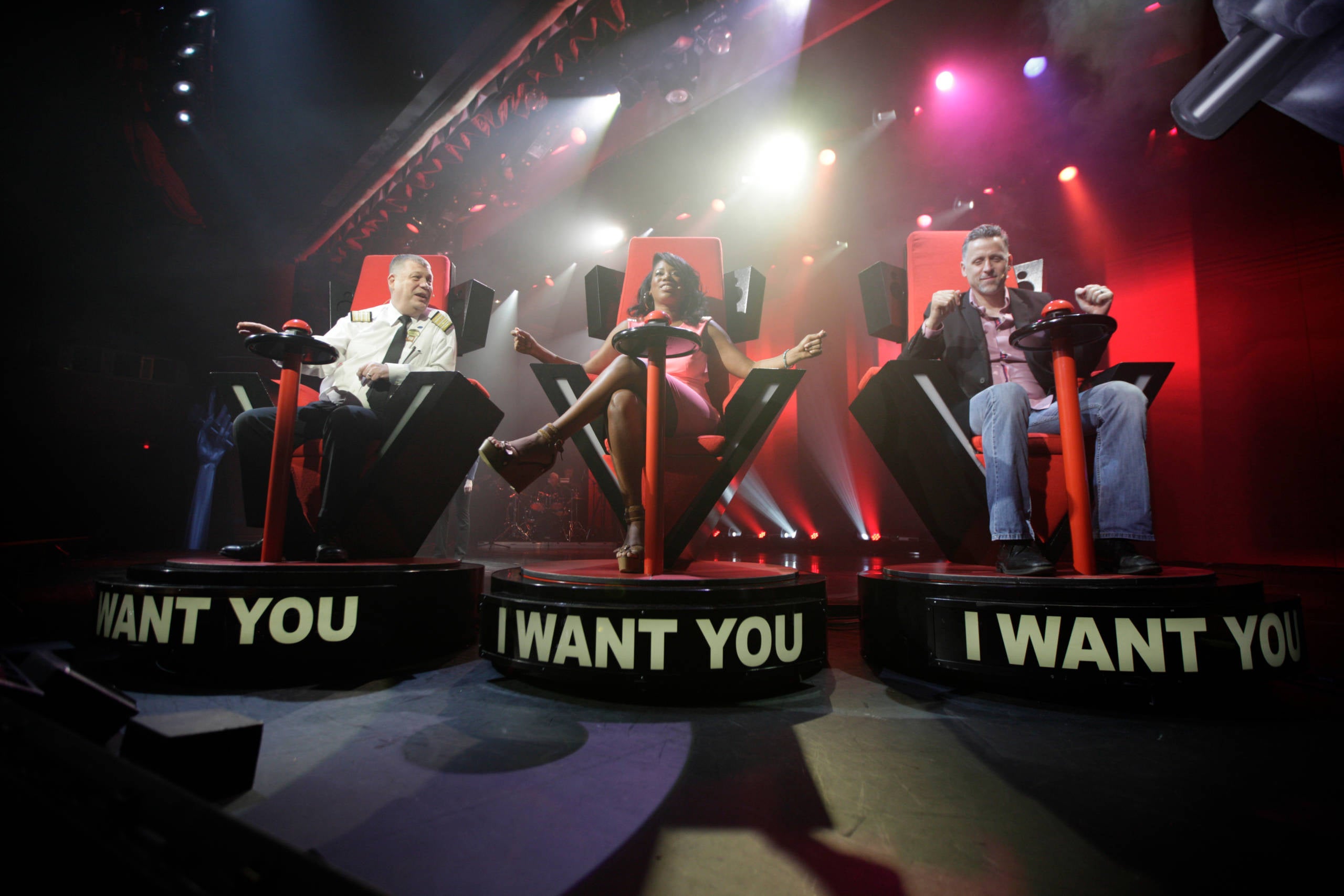 Schwartz also provided the score for "Magic to Do," a musical revue paired with onstage illusions that features many of his best-known songs, as well as an original number he created just for Princess.
Princess is also known for its karaoke nights, and it recently began holding a new "The Voice of the Ocean" competition during cruises that is a spinoff of the TV show. Passengers compete in a live performance after karaoke auditions and rehearsal sessions with the shipboard band and backup singers. A team of coaches sits in giant "I Want You" chairs just like on the show, and passengers vote to choose the winner.
Other interior attractions and activities
In addition to entertainment spaces, the interiors of Princess ships are filled with other venues where passengers can kick back and let loose day and night, including a range of bars, lounges and nightspots.
On many ships, the hub of activity is the Piazza, a sprawling, multilevel space designed to resemble a square in Italy. The configuration of the Piazza varies by ship, but the area typically offers several shops, a coffee bar called International Cafe, a wine bar called Vines and (on some vessels) additional bars and eateries. The Piazza is also home to roving "street performers."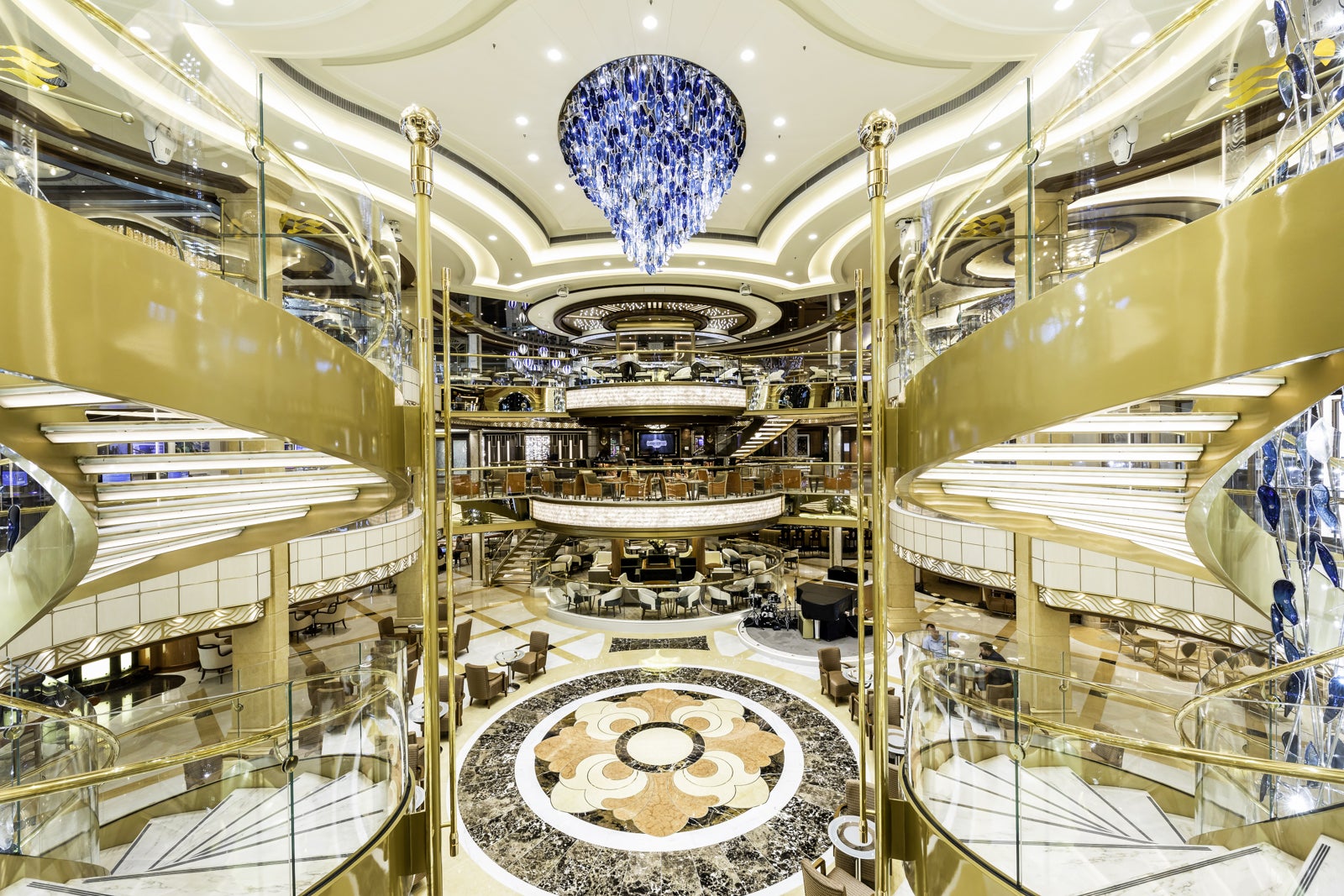 Every Princess ship also has a casino, often just off the Piazza, and spas are big on Princess ships. The Lotus Spa complexes on the line's Royal Class ships offer nearly two dozen treatment rooms, an extensive beauty salon and a thermal suite with a hydrotherapy pool, heated stone beds, Turkish-style steam bath and other steam chambers.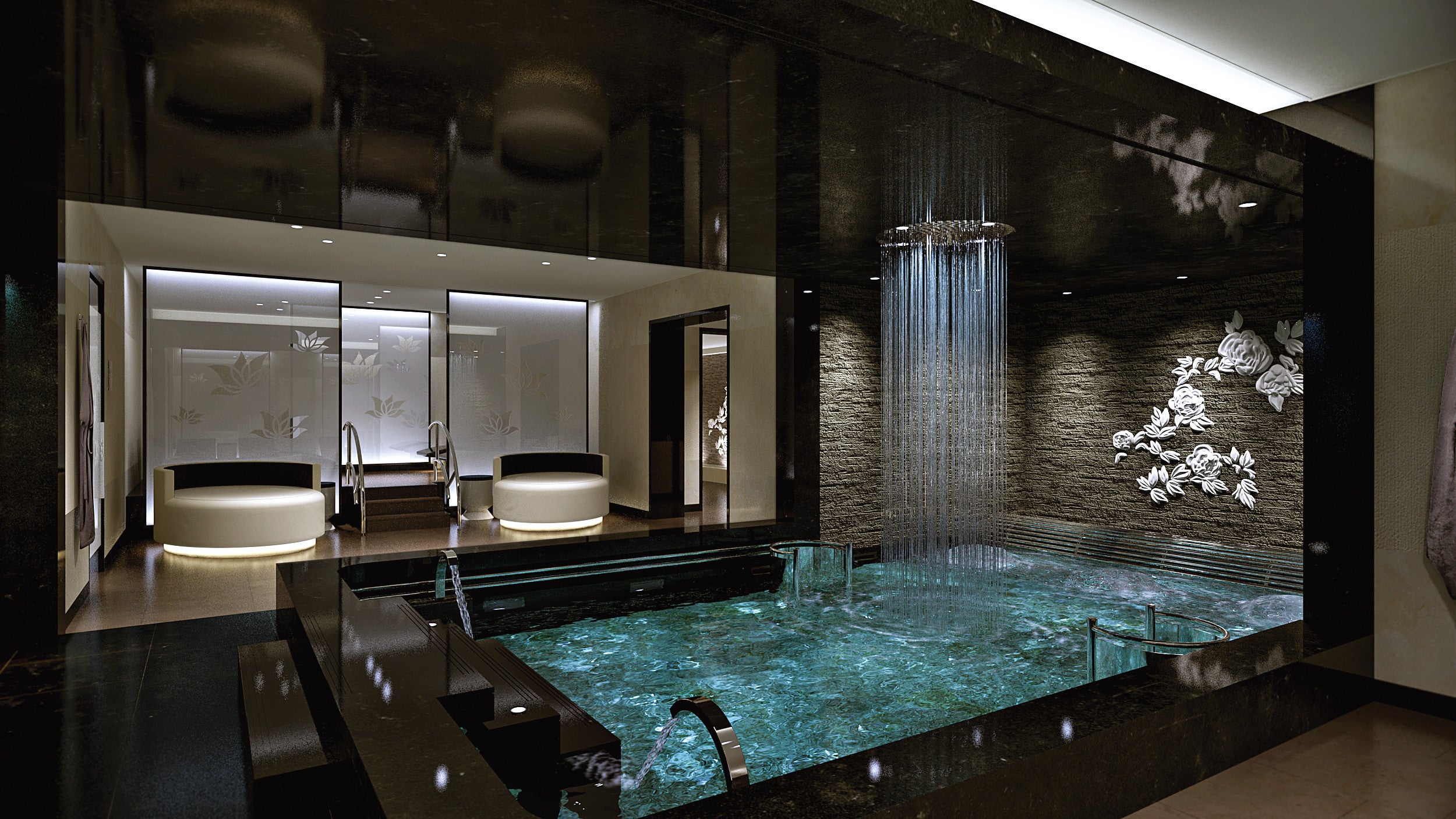 The recently unveiled Sky Princess was home to the first jazz club on a Princess ship (called Take 5), and a similar venue has since been added to Enchanted Princess and Discovery Princess.
In addition to such venues, Princess offers a lot of enrichment activities on its ships. The line has partnered with Discovery to offer a Discovery at Sea program on vessels that includes activities like stargazing with a specialist from a top deck. The program also brings destination specialists and naturalists on board in places such as Alaska to offer insights.
Inspired by Discovery's popular Shark Week, Princess has also created Shark Week at Sea programming that runs on select sailings in the summer with activities and games designed to challenge both adults and kids on the myths and interesting facts about sharks.
Culinary demonstrations, wine tastings and dance classes also are big on Princess ships.
Top-deck attractions
The top decks of Princess ships are notable for what they don't have: There are no pedal-powered sky rides or ropes courses like you'll find on Carnival ships or the go-kart tracks that top some Norwegian vessels. There are no surfing simulators, sky diving simulators, rock climbing walls or zip lines of the sort found on Royal Caribbean vessels. For the most part, there aren't even waterslides or watery splash zones (one vessel, Caribbean Princess, now offers the Reef Splash Zone for families).
Princess executives long ago decided not to engage in what they call the "amusement park arms race" taking place between lines operating big, resort-like ships.
Instead, the line has stuck to the basics with its top decks. They are covered with relaxing pool and lounge zones — and lots of them.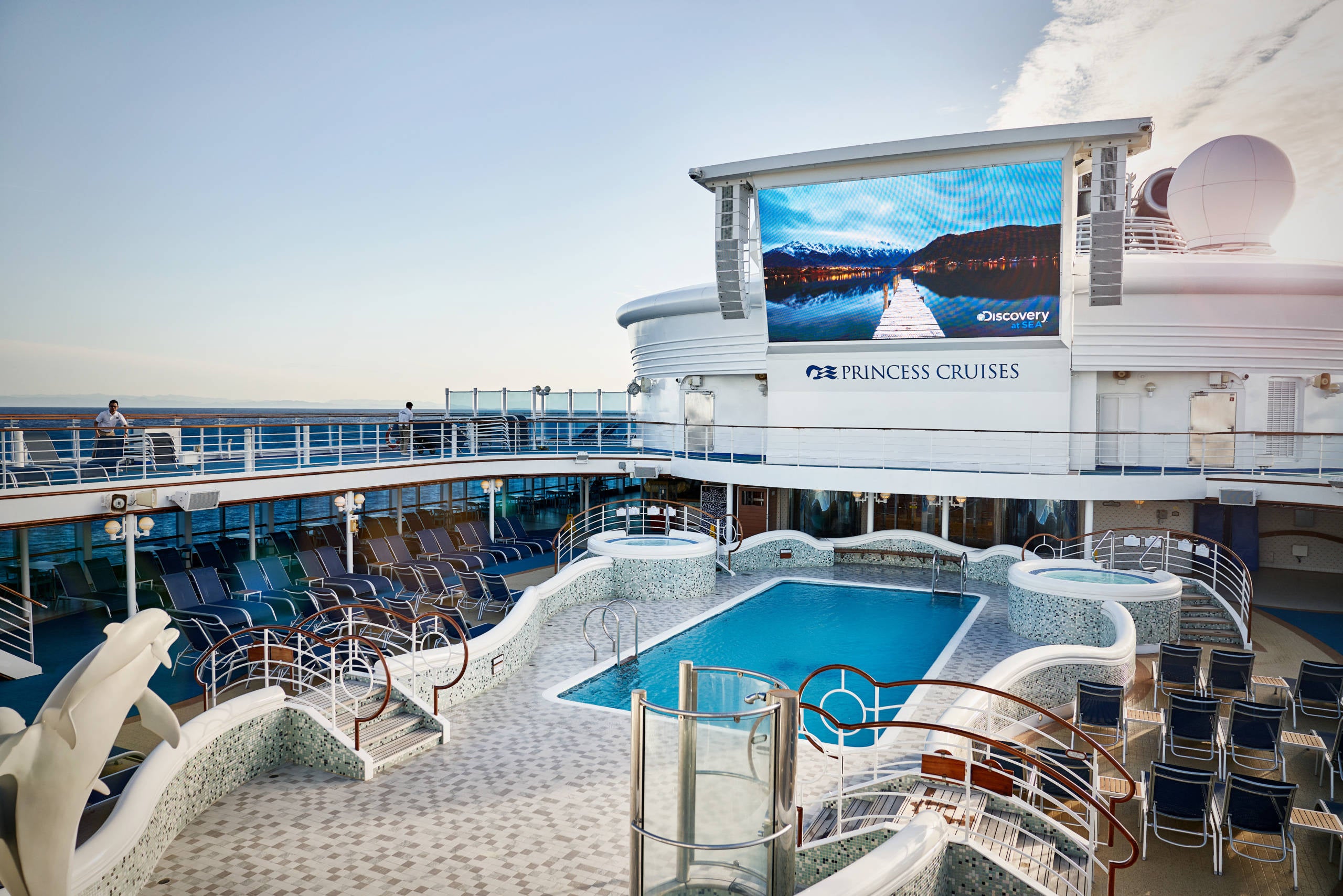 On the last three Royal-class ships, for instance, there's a main pool area at the center of the top deck with two full pools and three hot tubs, and a secondary pool area at the back of the ship with another pool. There's also an adults-only pool area toward the front of the vessel, along with an extra-charge, adults-only relaxation area called the Sanctuary.
Between all these pool and lounge areas, running along the sides of the ship, are additional sunning areas with lounge chairs and four more hot tubs.
In short, there is a ton of space for relaxing on the top deck of these newest Princess vessels — more than you'll find on any other ship of comparable size, save for their earlier sisters in the Royal class.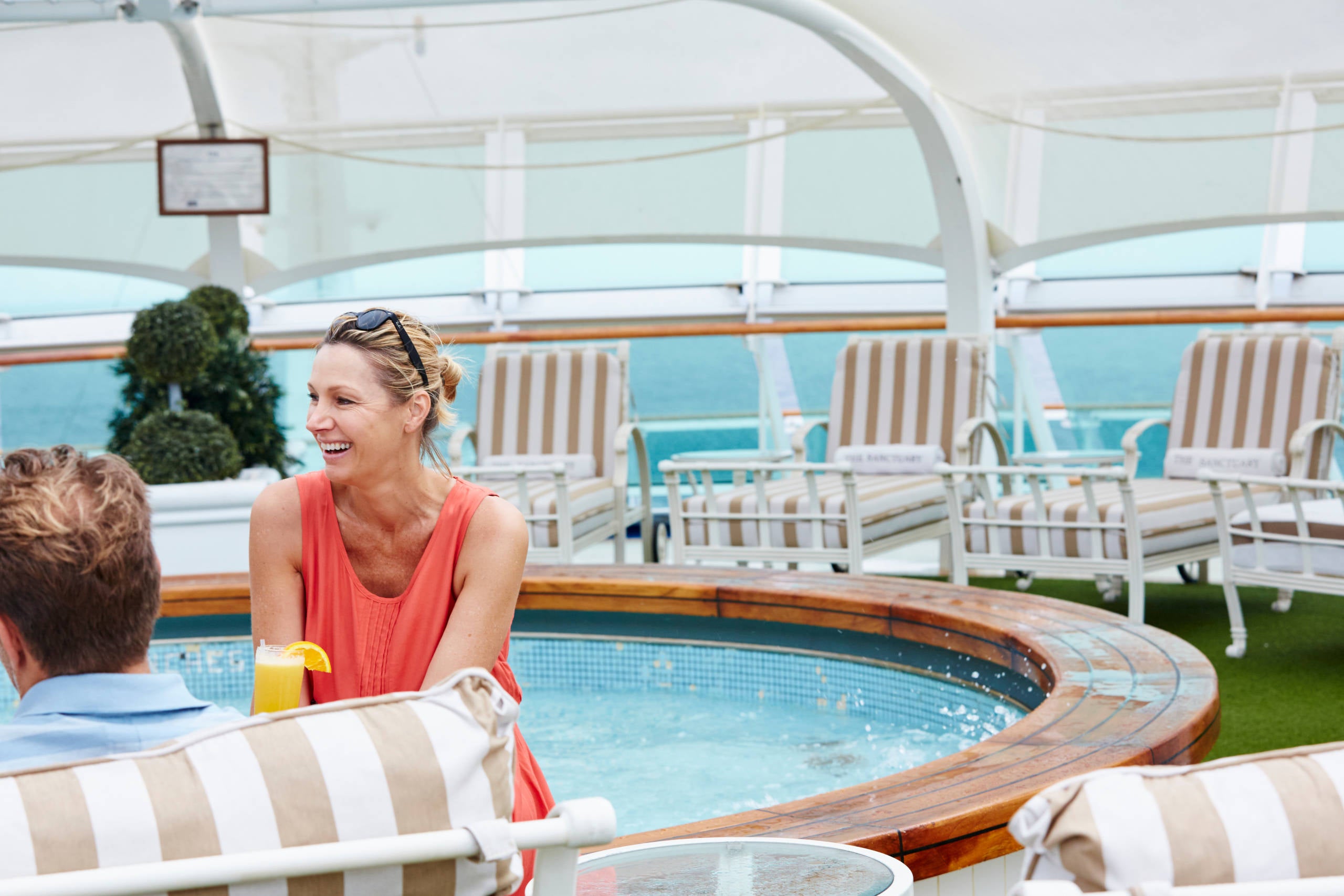 The one big "attraction" that you will find on the top deck of Princess ships, always at the main pool area, is a giant Movies Under the Stars movie screen. A growing number of cruise ships now have movie screens on their pool decks, but Princess pioneered the concept.
The screens show movies, concerts and sporting events during the day, but at night they really shine. In a longtime Princess tradition, the line turns the main pool areas of its ships into outdoor movie theaters at night by reconfiguring lounge chairs to face the screen and bringing out blankets to ward off the evening chill. They even serve popcorn.
Some ships also feature basketball courts, miniature golf putting courses, shuffleboard games and ping-pong tables tucked into corners of their top decks.
Children's programs
While it doesn't draw as many families with young children as Carnival or Royal Caribbean, Princess offers an extensive children's program that gets high marks from parents.
The Princess Youth and Teen centers were recently rebranded "Camp Discovery" as part of the line's partnership with Discovery Communications, and offer free, supervised activities daily for children ages 3-17.
The line splits children in the program into three age groups: the Treehouse (ages 3 to 7 years), the Lodge (ages 8 to 12 years) and the Beach House (ages 13 to 17 years). Each age group often has its own separate facilities on ships. On some ships, the age groups may be further divided based on available space.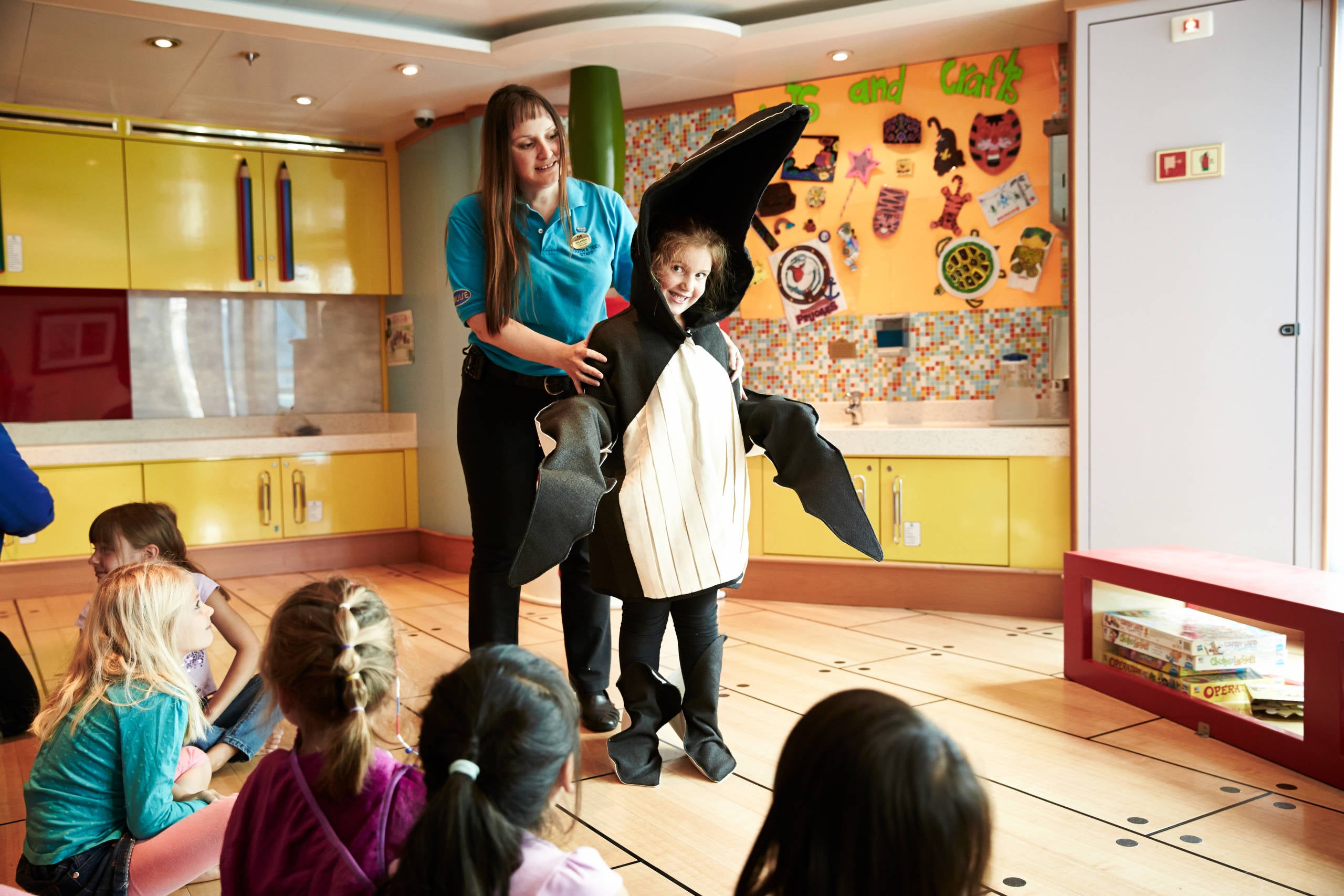 Each group has its own age-appropriate activities, with newly revamped experiences designed to "help young Princess explorers learn, play and create fun memories."
While the free programming for children ages 3 to 12 ends at 10 p.m., you can pay extra to leave your kids at shipboard Youth and Teen centers past 10 p.m. until 1 a.m. During those hours, they're supervised in what is essentially a group child-sitting service.
The Youth and Teen centers also welcome children under the age of 3 if they are accompanied by an adult.
Related: The 12 cruise ships with the most spectacular attractions at sea 
What to know before you go
Required documents
A passport is required for all international itineraries, including sailings to Africa, Asia, Australia and New Zealand, Europe, India, Central and South America, Panama Canal (partial and full transit), Caribbean voyages that visit Martinique or Guadeloupe, South Pacific, Tahiti and World Cruises.
If you're a U.S. citizen, you don't need a passport for many domestic itineraries (including Alaska, Bermuda, Canada, Caribbean, Hawaii and Mexico sailings). You can instead travel with an official copy of your birth certificate and a driver's license or other government-issued photo identification. A few other forms of identification, such as a passport card, are also acceptable. That said, Princess strongly recommends that all travelers bring a passport.
Passports must be valid for at least six months. The name on your reservation must be exactly as it is stated on your passport or other official proof of nationality.
Gratuities
Princess adds an automatic service gratuity of $16 to $18 per person per day to final bills, depending on your cabin category. If you are unhappy with the service you receive, you can adjust this amount at the Guest Services desk before disembarking. (You can also increase the tip amount if so desired.) Also, an 18% gratuity is added to bills at bars, dining room wine accounts and spas.
Related: Everything you need to know about tipping on a cruise ship 
Wi-Fi
Princess has been rolling out faster Wi-Fi systems with land-like speeds across its fleet in recent years, such that you now can stream video on some ships. Pricing changes over time, but the line recently charged $9.99 per day to hook up a single device. In February 2023, the rate for a single device is scheduled to rise to $15.
The faster Princess Wi-Fi system is called MedallionNet, and it's one of several technological upgrades that Princess is rolling out to ships under an umbrella called MedallionClass. MedallionClass also brings expedited embarkation, keyless cabin entry, on-demand food and beverage delivery, and the ability to locate friends and family on board — all via several apps for mobile devices and a Princess-issued medallion that passengers carry while traveling.
Related: Wi-Fi on ships really is getting better 
Carry-on drinks policy
Princess allows you to bring one bottle of wine or Champagne per person onto ships at boarding at no charge (for consuming in your room; you'll be charged a $15 corkage fee if you want to bring it to an onboard restaurant or bar to drink). You can bring even more bottles of wine on board, but you will pay a $15 corkage fee per bottle.
Smoking policy
On all ships, smoking (including electronic cigarettes) is only allowed in designated outdoor areas and in cigar lounges, designated sections within nightclubs and at designated slot machines within casinos (for those who are playing). It's forbidden in cabins and on cabin balconies. Passengers caught smoking in their cabins will be charged a $250 fine per occurrence. One exception to the above rule is that e-cigarettes are allowed in cabins (but not on cabin balconies).
Laundry
Princess ships have self-serve launderettes on cabin decks with washing machines, dryers, irons and ironing boards. There's a $3 per load charge to use a washer or dryer. The launderettes also have vending machines that dispense small boxes of detergent and water softener at $1.50 per box. In addition, vessels offer extra-charge laundry and dry cleaning services.
Related: Everything you need to know about cruise ship laundry services
Electrical outlets
All vessels have standard North American-style, 110-volt outlets in rooms, and some also have European-style, 220-volt outlets and USB ports in cabins.
Currency
The currency used on most Princess itineraries is U.S. dollars. The exceptions are select sailings on ships based in Australia, where pricing is listed in Australian dollars. All vessels operate on a "cashless system," with any onboard purchases you make posting automatically to your onboard account. You'll receive a medallion that you can use to make charges. This same card or medallion also is what lets you into your cabin.
Drinking age
You must be 21 to consume alcohol on many Princess itineraries. The exceptions include sailings between ports in Europe, China, Australia and New Zealand, and Singapore, where the drinking age is 18. For cruises between Japan ports, the drinking age is 20.
Dress code
During the day, there is no specific dress code, and people dress casually. If it's a sea day in a warm-weather destination, and you're bound for the top deck, that means looking like you're going to the beach — T-shirts, shorts and bathing suits (with a cover-up to go inside) are just fine.
During the evenings, there is an official dress code that is enforced when entering restaurants. Most nights are designated "smart casual," which Princess takes to mean pants and an open-neck shirt for men and skirts and dresses or slacks for women.
Beach attire, shorts, baseball caps and casual jeans (think the fraying kind or those with holes) are not allowed. One or more nights per cruise, depending on the cruise length, will be designated as a "formal" night when men are expected to turn out in dark suits with a tie or even a tuxedo. The suggested attire for women on such nights is evening gowns or cocktail dresses.
Related: What to pack for your first cruise
Princess Cruises' loyalty program
Princess has a four-tier frequent cruiser program, the Captain's Circle, that is worth joining for the perks — if you're willing to bear with its convoluted tier qualifying structure.
You reach the first tier, Gold, by taking a single cruise. However, from there, you move to each successive tier either by accruing a certain number of "cruise credits" (which aren't necessarily the same as the number of cruises you've taken) or by sailing a certain number of days.
To reach the Ruby level, for instance, requires three cruise credits (more on those in a moment) or 30 days on Princess ships. Platinum status kicks in after five cruise credits or 50 days on ships.
Related: The Princess loyalty program in detail
In most cases, members earn one cruise credit for every cruise they take. However, members who book a suite or travel solo in a cabin meant for two will receive two cruise credits for the voyage. The number of cruise credits you have earned is thus often the same as the number of cruises you have taken, but not always.
As is typical with cruise line loyalty programs, lower tiers don't bring all that much in terms of truly valuable benefits. You'll receive things like an invite to a private party (at the Gold tier) and a free upgrade to your travel insurance package when buying it through the line (at the Ruby tier). However, higher levels of the program start to be enticing.
The second-to-highest tier, Platinum, brings such perks as priority check-in and boarding, and a free internet package.
The top Elite level (15 cruise credits or 151 cruise days) adds such things as an exclusive window to preview and book new itineraries, priority ship-to-shore water shuttle service, complimentary laundry and a complimentary minibar setup.
Members at all tier levels get access to special pricing on certain cruises. They also receive a monthly newsletter and membership pin.
Note that, in contrast to airline frequent flyer programs, cruise line loyalty programs do not require you to requalify for status every year. So, yes, the perks with lower tiers aren't great. However, it's not as difficult as it might at first seem to hit the more rewarding higher-level tiers in just a few years if you're cruising a lot.
A Princess passenger staying in suites will hit the Platinum level after just three cruises. The top Elite level is reachable within just eight cruises for someone staying in suites.
Related: The TPG guide to cruise line loyalty programs 
How much does a Princess cruise cost?
Princess ships are very reasonably priced. They're not the least expensive vessels out there, but they're not pricey by any means. It's possible to find Princess voyages to the Caribbean, Bahamas or Mexico starting under $100 per person, per night, including all taxes and fees — at least in the offseason.
As of the date of this story's posting, for instance, seven-night sailings from Fort Lauderdale to the Eastern Caribbean in May started at just $571 per person, not including taxes and fees of $140. That works out to just $102 per night, per person, with taxes and fees for a package that includes your lodging, transportation and meals.
As you might expect, pricing for ships will generally be lower during offseason periods such as September, October, November (not including Thanksgiving week) and parts of December.
When you book can also matter. Cruises book up much further in advance than airplanes or hotels. Many cruisers will tell you that the best pricing for any given sailing is often available when cruises first go on sale (which can be a good two years before a departure). Booking far in advance also gives you the best chance of getting your preferred cabin type and location on a ship.
Once on board a Princess ship, you'll pay extra for most drinks, extra-charge restaurants, spa services, shore excursions, internet service and a few other things — unless you've bought a package for some of these items in advance.
Specifically, the line recently unveiled new bundle pricing for extra-charge items such as gratuity fees, Wi-Fi fees and a few other fees for onboard items if passengers pay for them in advance.
The line's new Princess Plus plan gives passengers pre-paid gratuities, a single-device Wi-Fi plan and a basic beverage package for a bundled price of $50 per person per day.
The line also recently launched an enhanced version of the above plan called Princess Premier, which adds a photo package and two free meals at restaurants that normally have an extra charge. The Princess Premier plan costs $75 per person per day.
Most onboard activities, such as theater shows, are included in the fare.
Related: 15 ways that first-time cruisers waste money on a cruise 
How to book
If you're sure you know what sort of cabin you want, on which ship, on which itinerary — and about a dozen other things — you can head over to Princess.com to make a booking directly.
That said, given the complexity of booking a cruise — there are a lot of decisions to make during the booking process, trust us — we recommend that you use a seasoned travel agent who specializes in cruises.
A good travel agent will quiz you about your particular interests, travel style and preferences, and steer you to the perfect cruise line, ship, itinerary and cabin for you. They can also help you if something goes wrong just before, during or after your voyage.
If you're sure that Princess is your line, look for a travel agent who specializes in trips with the brand. You want someone who understands all the little quirks that are unique to Princess cabin categories and, preferably, has done ship inspections to see the cabins first hand.
Related: How to book a cruise with points and miles 
Whether you use a travel agent or not, make sure to maximize your credit card points when paying for the cruise by using a credit card that offers extra points for travel purchases. This could be the Chase Sapphire Reserve, which offers 3 Ultimate Rewards points per dollar on travel and dining (excluding the annual up-to-$300 travel credit). There's also the Chase Sapphire Preferred Card, which brings 2 Ultimate Rewards points per dollar on travel and 3 Ultimate Rewards points per dollar on dining.
Bottom line
Princess offers big, amenity-filled ships that are comfortable and classy, at an affordable price.
If you're looking for a lot of deck-top pizzazz — waterslides, go-kart tracks and the like — it's probably not the line for you. However, if you're on the hunt for not-too-expensive vessels that will take you to the farthest corners of the world in comfort, the ships of Princess should be on your shortlist.
It's also a great line if you're trying to put together a multigenerational trip, as its ships are designed to appeal to a wide range of age groups.
---
Share this post
---
---