The Best Comedy Movies Of 2022, Ranked
Posted by admin on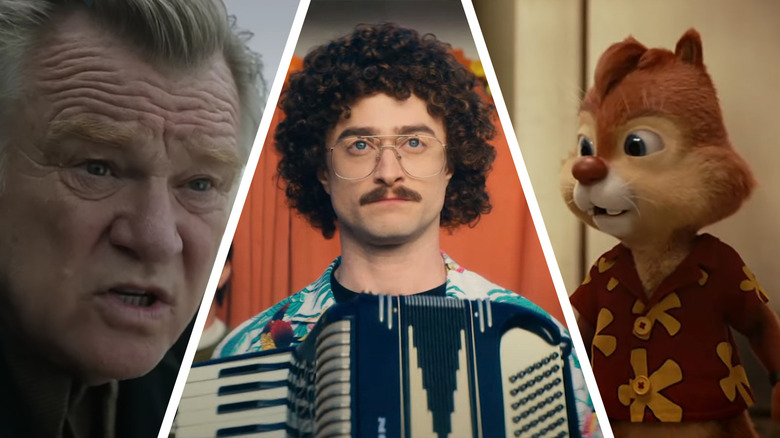 In recent years, the major Hollywood studios have been taking fewer chances on straight-up comedies, which is a bit of a bummer. The days of movies like "Anchorman: The Legend of Ron Burgundy," "Superbad," "Bridesmaids," and "The Hangover" making bank at the box office are behind us, and many comedies have been relegated to streaming services unless they happen to offer cross-genre laughs mixed with sci-fi, action, or horror. In fact, most of the highest-grossing comedies overall are animated movies geared toward the whole family. But many of the best comedies dabble in the naughtier side of humor and skew away from pleasing parents and their kids. 
When it comes to 2022, many of the best comedies leaned toward adult laughs, but there are a few titles that managed to be quite clever without venturing into the realm of raunchier fare. Whether it's a boxy makeshift robot rebelling against his reclusive creator, the time-traveling antics of a couple of dimwitted teens, the sheer absurdity of the endless multiverse, the totally unbelievable biopic of a certain accordion-inclined parody musician, a pair of animated chipmunks trying to solve a mystery, or some of the most painful and gross stunts you've ever seen, there were plenty of big laughs to be found at the movies this year. Let's rank our favorites!
Brian And Charles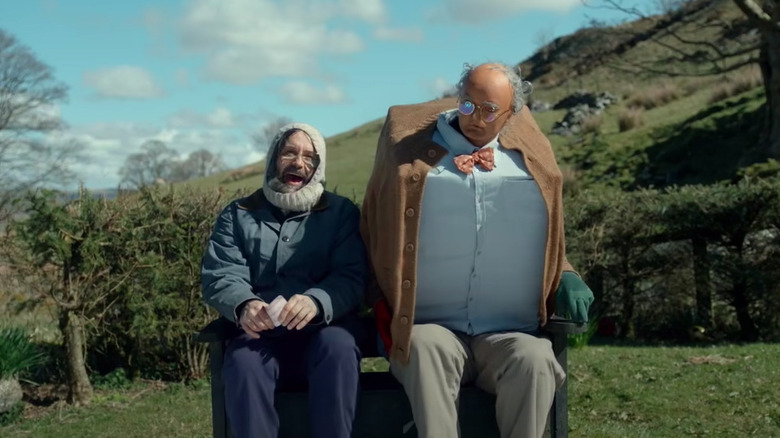 What happens when a reclusive inventor creates a makeshift, sentient robot in rural Wales? You'll find the answer in "Brian and Charles," an indie darling from the 2022 Sundance Film Festival featuring a seemingly simple robot made out of a washing machine, a mannequin head, and various pieces of junk. Things start simply enough with the robot learning English from a dictionary, showing an obsession with cabbages, and naming himself Charles Petrescu, all while striking up a lovely friendship with his quirky creator, Brian. But their friendship takes a turn when Charles wants to see more of the outside world and begins to push back against Brian like a rebellious teen.
Early on in the movie, it's Brian's strange inventions that bring the laughs. But once Brian has created Charles, much of the comedy comes from the deadpan delivery of the robot voice he's given, like an old computer model. This only becomes more hilarious when Charles starts giving Brian a bit of attitude, wanting to go into town or head off to Hawaii. The clumsy way Charles moves about the house is worth some hearty chuckles, too, especially when he's dancing or trying to sneak around and be discreet. 
The expressionless face combined with the dry, robotic voice is endlessly funny. But most importantly, the movie features a wonderful blossoming friendship where the two pals learn a little about themselves in the process. This a real indie comedy gem.
I Love My Dad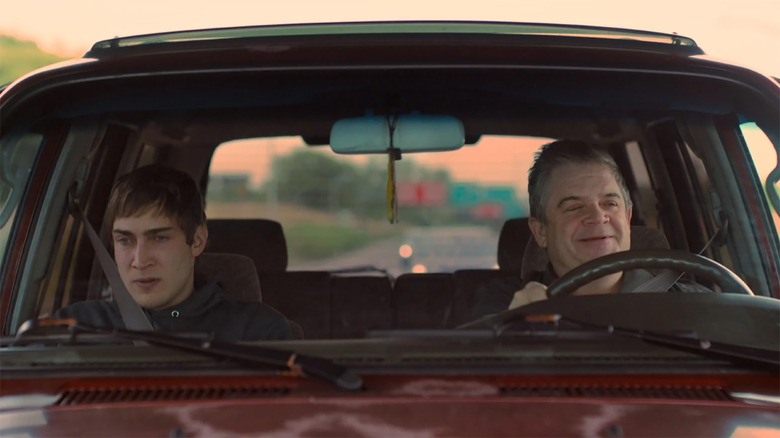 Taking the comedy of cringe to skin-crawling levels, Patton Oswalt takes the lead in "I Love My Dad," the story of an estranged father who tries to reconnect with his twentysomething son in the worst way possible. 
Franklin (James Morosini) is fresh out of a rehabilitation program to help him confront his trauma, anxiety, and depression, which has inspired him to set boundaries with his father, Chuck (Patton Oswalt), by blocking him on social media and ignoring his calls. Desperate to keep in touch with his son in the only way he's been able to for a long time, Chuck decides the best course of action is to catfish him on social media, pretending to be a cute young girl. 
As the relationship unfolds, things get more and more uncomfortable, and the way that Morosini (who also directs) visualizes the blossoming romance only makes things more awkward as he sneaks Oswalt into the conversation in place of the physical manifestation of this fake girl (played by Claudia Sulewski). Chuck isn't clueless about how awful this situation is, but watching him try to navigate the moments where he has to keep up the ruse makes for some unsettling laughs, especially when things start to get a little intimate in the text thread. 
If you can handle cringe-worthy comedy, then "I Love My Dad" will deliver in droves, and it packs a hefty heart too. 
Beavis And Butt-Head Do The Universe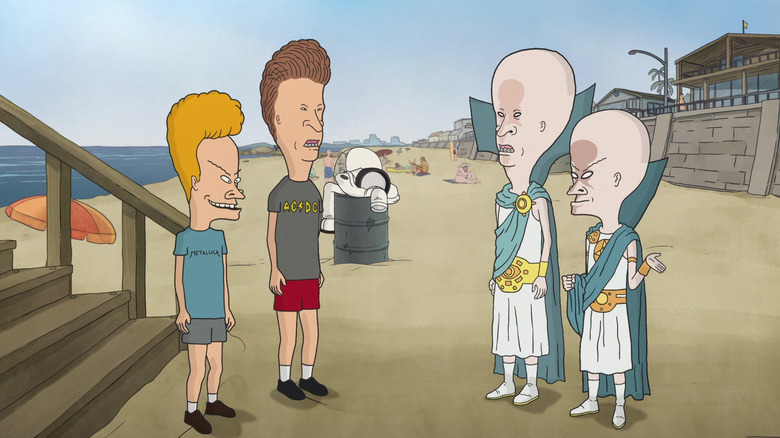 Despite being gone for over a decade, Beavis and Butt-Head haven't missed a beat, thanks to the brilliant stupidity of Mike Judge. On Paramount+, the two idiotic teen boys return in "Beavis and Butt-Head Do the Universe," a new feature-length adventure that finds them trying to do what they've always been so desperate to do: score. Of course, this leads them on a series of misadventures that are bigger than ever, including a trip to outer space that will take them into a black hole and throw them out the other side in 2022, which actually serves as set up for their revived animated series on Paramount+.
What's incredible is that Mike Judge didn't need to update Beavis and Butt-Head to keep them funny. They're just as stupid and immature as they've always been, chuckling at the dumbest double entendres and always finding a way to make their conversation about "doing it." This time, there's a new wrinkle as Beavis and Butt-Head "learn" about the multiverse from one of the otherworldly, somewhat intelligent versions of themselves. But that new knowledge goes in one ear and out the other, and they're much more concerned with the new cell phone that they've accidentally acquired and using it to buy a plethora of nachos. Much like "Beavis and Butt-Head Do America," their clueless antics get them involved in a plot that they're blissfully unaware of, and it's stupidly funny. You will need plenty of TP for your bunghole. 
The Unbearable Weight Of Massive Talent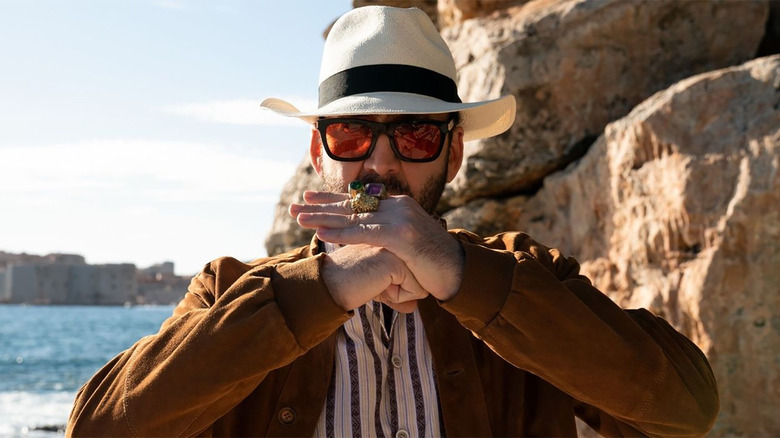 What's better than Nicolas Cage playing an exaggerated version of himself? Honestly, not much. "The Unbearable Weight of Massive Talent" takes the eccentric actor and puts him into an unbelievable situation. Thanks to a struggling career, Cage accepts a paid offer to be a guest at the birthday party of billionaire playboy Javi Gutierrez (Pedro Pascal), but he gets more than he bargained for when the CIA suddenly tracks him down and asks them to help thwart a kidnapping that they believe Javi is responsible for. 
However, as Cage tries to succeed in this sudden mission he's been given, he finds a surprising kinship with Javi, who is truly one of Cage's biggest fans. He even has a shrine dedicated to the actor that is chock full of props from many of his movies. Their blooming friendship is worth a few laughs, but truly it's the performances by both Cage and Pascal that make this a laugh riot, especially when Cage has to interact with "Nicky," the younger version of himself that's criticizing his career and trying to set his life straight. Plus, how can you go wrong with a movie where Nicolas Cage falls in love with "Paddington 2" after watching it for the first time? 
Of course, the situation escalates, and the movie turns into the kind of buddy action romp that we've seen Cage tackle plenty of times before, and the meta layers of the story take the hilarity to such satisfying heights.
Thor: Love And Thunder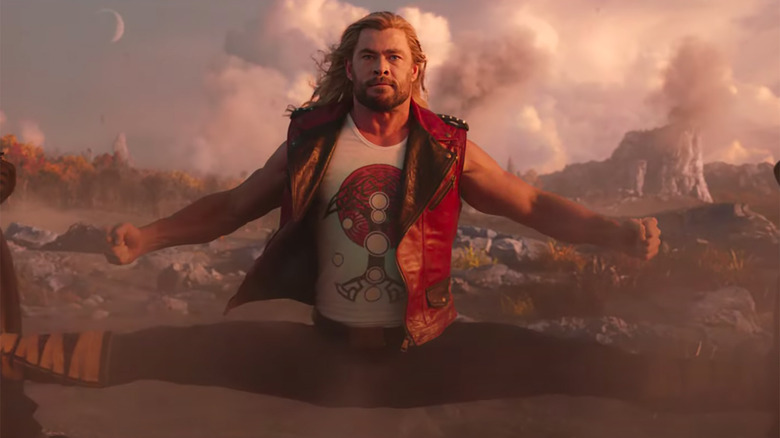 Marvel Studios has a penchant for throwing some decent laughs into all the movies of the Marvel Cinematic Universe, sometimes to their detriment. But with Taika Waititi at the helm of "Thor: Love and Thunder," the comedy has become one of the key components of the franchise, especially since "Thor: Ragnarok" was such a refreshing new direction for the God of Thunder. Granted, "Love and Thunder" meanders and loses focus a bit too much, but that doesn't keep the movie from delivering thunderous laughter.
Whether it's Thor doing the splits like Jean-Claude VanDamme to stop two speeders in the middle of battle, the jealousy of Thor's axe Stormbreaker when the God of Thunder sees Jane Foster as the Mighty Thor cavorting around with his old hammer Mjolnir, or a scene-stealing turn by Russell Crowe as an orgy-obsessed Zeus, there are plenty of jokes to laugh at. Perhaps the most consistent source of humor is Taika Waitti's return as Korg, but even Christian Bale displays some grimly funny moments as the villain Gorr the God Butcher. At times, the movie may have even put too much emphasis on the comedy, which may have hurt the serious nature of the overall story, but at least it still made us laugh a lot. 
The Banshees Of Inisherin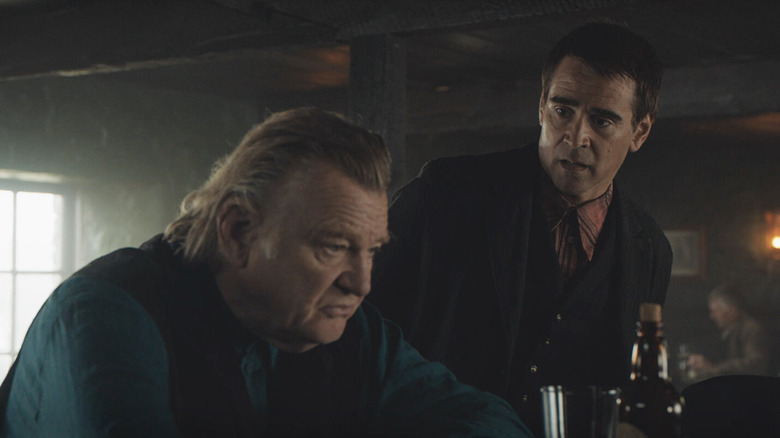 Yes, "The Banshees of Inisherin" from director Martin McDonagh may have a depressing center, but that's also what makes it one of the best dark comedies in recent memory. It's 1923, during the Irish Civil War, and Inisherin's resident folk musician Colm Doherty (Brendan Gleeson) suddenly decides he doesn't want to associate with his long-time friend and drinking buddy Pádraic Súilleabháin (Colin Farrell) anymore. It's a baffling decision, and the dim but kind Pádraic, played masterfully by Farrell, simply can't process this life-changing development on their tiny Irish island. In order to emphasize the legitimacy of his new position, Colm ends up threatening to cut off one of his fingers every time Pádraic tries to speak with him again. He's quite serious, and he ends up with a bloody stump to prove it.
While "Banshees of Inisherin" deals with depression and despair, it does so in a darkly hilarious way that makes it funnier than some straight-up comedies. Pádraic's incredulity about the situation drives much of the humor, as do the reactions and deliberations from the rest of the Inisherin locals as this confrontation unfolds, especially Barry Keoghan as Pádraic's last remaining dopey friend, Dominic. Many of the best comedies aren't just going for laughs, but they also have something to say about the state of life, and that's exactly what makes "The Banshees of Inisherin" such a rich portrait of friendship with just the right amount of drama. 
Weird: The Al Yankovic Story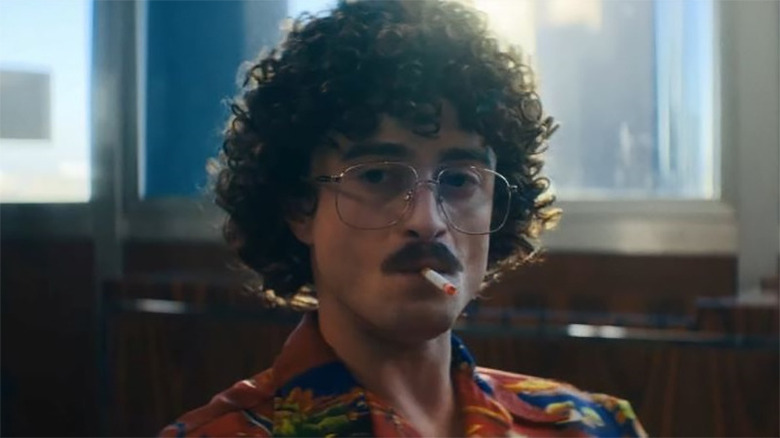 The only way to tell the life story of parody musician "Weird Al" Yankovic is by parodying the music biopic itself. Even though "Walk Hard: The Dewey Cox Story" may have beaten Yankovic and director Eric Appel to the punch, the two comedy masterminds still managed to make this "biography" a wildly uproarious affair. Though "Weird: The Al Yankovic" story treads some of the same territory as the John C. Reilly movie that has effectively ruined every dramatic music biopic, it takes a surprising direction by putting a new spin on Weird Al's real-life career.
Just when Yankovic is at the height of his fame, his "original" song "Eat It" is parodied by Michael Jackson, resulting in "Beat It." This sends Yaknovic into a tailspin that throws the story completely off the rails in the best way possible, especially when it comes to the totally fictional relationship with a wild 1980s Madonna (satisfyingly brought to life by Evan Rachel Wood). With the spirit of "The Naked Gun," this biopic parody is raucously hilarious, and it's mostly because Daniel Radcliffe plays everything incredibly seriously. No, he's nothing like the real Yankovic, and that's exactly the point. Radcliffe understood the assignment, and the result is a movie that will only make it harder for Hollywood to make serious biopics about famous musicians without feeling incredibly cliche.
Babylon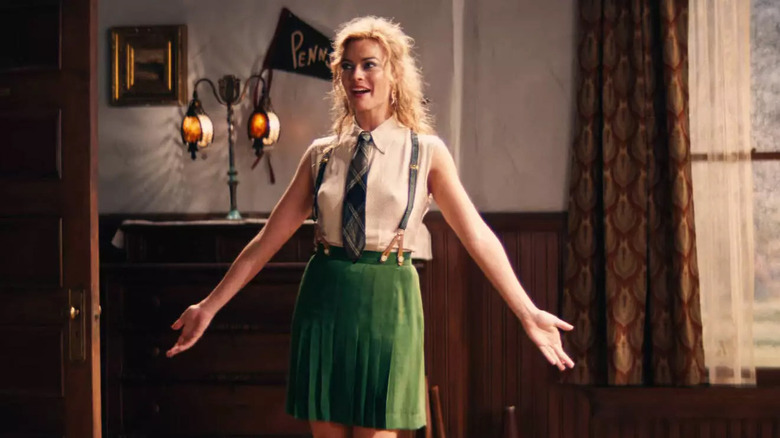 After the likes of "Whiplash" and "La La Land," you might expect Damien Chazelle to bring audiences a nostalgic look back at classic Hollywood with his latest directorial effort, "Babylon." Instead, what we get is an endlessly chaotic, wild, and drug-fueled circus. The movie skewers the racist, sexist, and rule-free era of Hollywood as silent movies were on their way out and talkies were on the rise, but it also celebrates the magic of movies that came from this unbridled recipe of madness. Because of all this unrestrained lunacy, "Babylon" is also supremely funny. 
In the opening five minutes of "Babylon," an elephant being trucked up the hills to a huge Hollywood party blasts liquid excrement over the poor workers recruited to transport the animal. It's then followed by 25 straight minutes of debauchery, drugs, drinking, and depravity. There's also 2.5 hours of movie that follows with increasingly haywire moments. A myriad of films being shot in the middle of an open field creates an endless array of madcap moviemaking that is barely being held together by the crews doing their best to organize the chaos. Another anxiety-inducing sequence shows just how difficult it is to get a single usable take of film with sound in the wake of the first talkie, giving the entire runtime of "Uncut Gems" a run for its money. The cast and crew's frustration, including an increasingly sweaty Margot Robbie, and the endless expletives being shouted in this sequence are pure hysterical mayhem. But that's not even the most disturbing yet funny part, which comes when a vampiric crime boss takes a couple of characters into the seedy underbelly of Los Angeles. 
"Babylon" is both the best and worst of old Hollywood, and it's a wild, entertaining ride full of shocking laughs. 
Everything Everywhere All At Once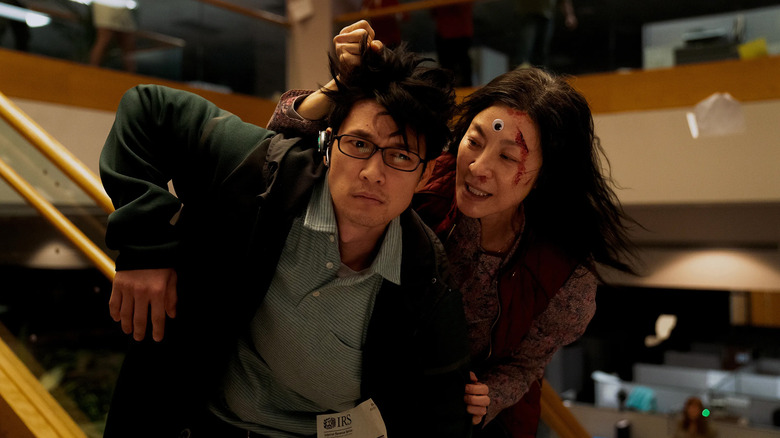 It's only appropriate that a movie called "Everything Everywhere All At Once" has a little bit of everything, everywhere, all at once. It's the story of an exhausted Chinese American woman (Michelle Yeoh) who suddenly finds her life thrown into upheaval when she can't finish her taxes and inadvertently learns about the sprawling multiverse that surrounds her. When a version of her husband from an alternate universe asks her to help him defeat a multiverse-jumping villain who has taken the form of her estranged daughter, Evelyn Wang must put aside her laundromat concerns for the sake of the entire universe. 
Throughout this action-packed sci-fi adventure that features breathtaking action sequences, there's plenty of silliness and absurdity to go around. Whether it's an impeccably choreographed fight involving a trophy that looks like a butt plug, a chase involving a chef being controlled by a raccoon (a la "Ratatouille"), or two sentient rocks with googly eyes discussing the emptiness of existence, "Everything Everywhere All At Once" is packed with humor derived from a mesmerizingly unpredictable ride through the multiverse. It manages to be funny while still doing almost everything that a movie can to keep you entertained while telling a meaningful story that pulls at your heartstrings and makes you ponder the choices in your life.
Glass Onion: A Knives Out Mystery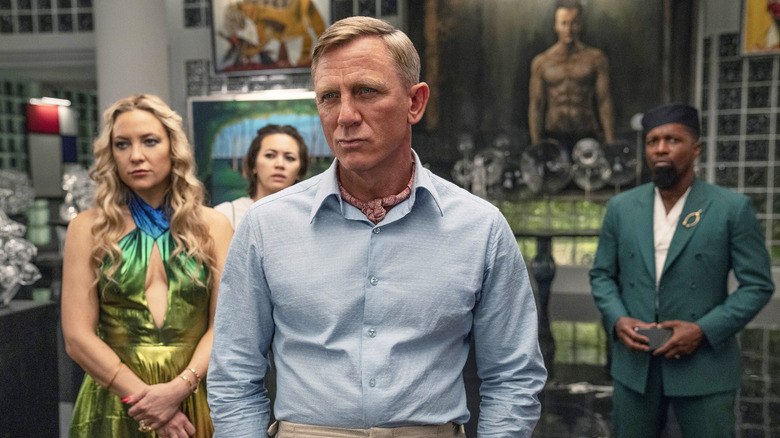 With "Knives Out," Rian Johnson managed to deliver a murder mystery that was both compelling and timely, brought to life by an outstanding ensemble of characters whose worst tendencies were revealed by the death of a family member. It also managed to be quite entertaining and rather amusing. Therefore, it's surprising and impressive that Johnson was able to outdo himself with "Glass Onion," an entirely new murder mystery with only Daniel Craig returning to crack a new case involving another star-studded line-up of actors and a fresh murder. Not only is the mystery at the center of "Glass Onion" bigger and more twisty than "Knives Out," but the follow-up also happens to be far funnier.
On top of the hypnotizing Southern-fried accent of Daniel Craig's Benoit Blanc, the new roster of suspects couldn't be more entertaining. Edward Norton is absolutely perfect as this blowhard tech bro who piggybacks off his far more brilliant friends and couldn't be more of a buffoon if he tried. Kate Hudson has never been better as a clueless star who always seems to be one step away from getting canceled. Dave Bautista uses his muscles to his advantage as a beefy YouTube influencer who inappropriately brandishes his firearm at a moment's notice. Every single member of the "Glass Onion" cast gets their moment, and they all have some way of bringing laughs to this deadly scenario. Then there are the surprise cameos that we won't spoil here, including a couple namedrops that make for killer jokes.
At its core, "Glass Onion" is overwhelmingly brilliant, and the fact that it's actually better than "Knives Out' is nothing short of a miracle. But the fact that it's laugh-out-loud funny and keeps up an incredible comedic momentum alongside an intriguing mystery makes it one of the best movies of the year.
Jackass Forever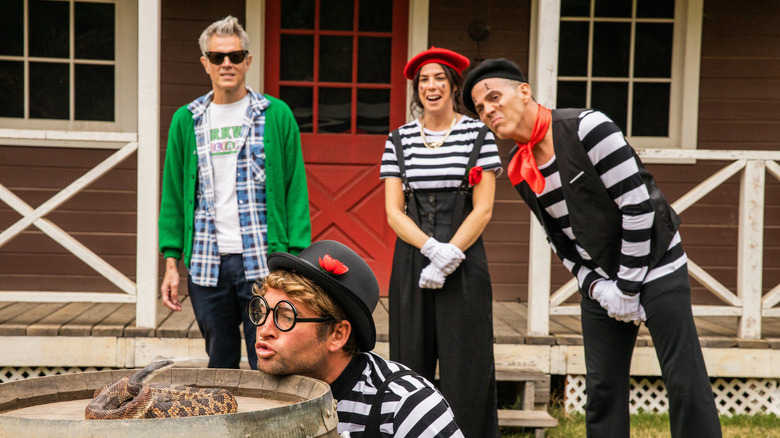 Sometimes the heartiest laughs come from the simplest places. That's what makes the return of the "Jackass" crew and a whole new assembly of dangerous, gross-out, ridiculous stunts so enjoyable. Johnny Knoxville and the old gang are back with a shocking array of nut-shots, sucker punches, electrocution, body-slamming, high-flying, bone-crunching, and death-defying exploits, and they have a few young new friends to absorb some of the blows alongside them. And yes, there are plenty of wieners flailing about, whether they're dressed up as kaiju, covered in bees, or being punched by professional MMA fighters. 
"Jackass Forever" is undeniably stupid, but it allows us to live vicariously through the idiocy of this group of friends who do all this dumb stuff just to have a good time with each other. There's a camaraderie that reminds us of the good times we spend with our own friends. Though most of us are playing games and eating charcuterie boards instead of trying to injure each other, it's the friendship that's the point. The bonus is that we get to laugh at Steve-O, Dave England, Chris Pontius, Ehren McGhehey, and more as they throw themselves into anything and everything. They hurt themselves so we don't have to, and it's always worth a good guffaw. 
Chip 'N Dale Rescue Rangers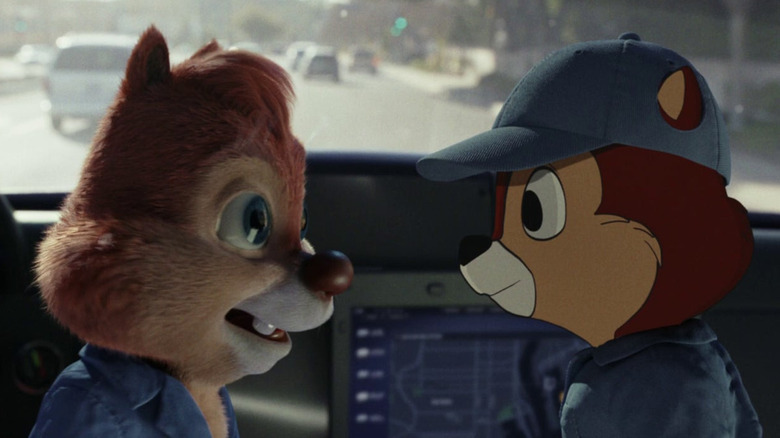 A spiritual successor to "Who Framed Roger Rabbit" in every way possible, the "Chip 'n Dale Rescue Rangers" movie was a breath of fresh air in the typically underwhelming world of streaming originals, especially when it comes to Disney+ offerings. Directed by Akiva Schaffer, the film follows the titular chipmunks from the ABC animated series of the same name as they find themselves called back to action while struggling through their lives as washed-up actors. Estranged as friends, Chip and Dale (voiced by John Mulaney and Andy Samberg, respectively) are forced to team back up to find out what happened to their old friend Monterey Jack, and it leads them to a conspiracy that threatens all cartoon characters.
What makes "Chip 'n Dale" so damn satisfying is the meta storytelling that made "Who Framed Roger Rabbit" such an innovative hybrid of animation and live-action. There are tons of winks and nods to the animation industry, which now includes a plethora of computer-animated characters, including the unsettlingly realistic but not quite right motion-capture characters that graced movies like "The Polar Express." The presence of CGI as one of the many animation mediums also allows for what might be the greatest gag of the year: Ugly Sonic. The abandoned early design of Sonic the Hedgehog with human teeth is used as a hilarious joke, spending his days signing autographs at pop culture conventions and acting way too confident for a character who spawned so much fan backlash. 
The amount of animated characters and outside references to other cartoons is unbelievable, and it's kind of amazing that Disney actually allowed this movie to be made under their banner. Just as "21 Jump Street" gave us an incredibly clever spin on the tired trope of adapting old TV shows for the big screen, "Chip 'n Dale: Rescue Rangers" does the same thing for animated shows being given live-action/CGI hybrid reboots, and it has a sharp story at the center of it. Bravo!
Read this next: The Best Movies Of 2022 So Far
The post The Best Comedy Movies of 2022, Ranked appeared first on /Film.
---
Share this post
---
---