Three of the 100 are in this picture! The Rolling Stones, in 1964, from left to right: Bill Wyman, Mick Jagger, Keith Richards, Charlie Watts and Brian Jones.
The problem with lists like this is they are invariably bullshit. So our prime objective was to make sure we didn't do a bullshit list.
I'm not saying we did a scientific one either. Because that isn't possible — actually, it is, if you wanted some compilation of who sold the most records/concert tickets/has the most fans/got the most death threats, etc., and someone could come up with a bunch of very empirical metrics and create a "heat index" or something, and could deliver an actual scientific ranking! But we, um, didn't do that.
In fact we didn't even, technically, do the "we." I picked the list. I ranked everyone and along with several excellent SPIN contributors and the editor Daniel Kohn wrote the entries. So this is as subjective as it gets!
I say "I did this" not out of vanity — I know, for once, right? — but because this is so subjective, I think it's important to take responsibility. This is opinionated! Deliberately. Because, you know, that's rock 'n roll too. Rock is not science!
But there's context, and, I would claim, a great deal of thoughtfulness was put into the creation and execution of this. And honesty — we say what we really think, whether that's "safe" or politically correct be damned (as, no doubt, I am forever now, after this).
The notion of a "Rock Star" was first mentioned in 1960 — before that and for a while after as well, the biggest musicians of this new, fast evolving musical genre were simply pop stars. There came a time in the mid '60s when rock 'n roll overwhelmed the pop charts, and the previous giants of record sales, the Sinatras and Miles Davises, receded into the distance, and the generational seam between the Baby Boomers and their parents was sealed. So this is a list of rock stars, not necessarily the best musicians, or most important songwriters, (although we won't have missed many of them). A star is, perhaps by definition, undefinable. They just are. They're luminescent. Even when, in some cases, they didn't want to be.
There are four Irish rock stars, and 33 dead people on this list. Eight groups have multiple rock stars on the list, and four of those have three, including one group, the Yardbirds, that featured three here enshrined who all had their significant success in later bands.
There aren't a lot of young people on the list — except, ahem, some of the dead ones — because to be among the greats requires having had an impactful career, and that is more or less achieved over time. There are a couple of rappers here, because they transcended their success and status in rap.
There are several assholes on this list.
100  Elvis Presley
The day Elvis died, Johnny Rotten was being interviewed by Rolling Stone and upon being told the King was dead, said: "Good riddance to a fucking load of old rubbish!" While a bit harsh, as music criticism it isn't that far off. Elvis was a very average musician, with a very good voice that came along at the right time, to be the white, commercial, acceptable bridge from what was then known as Race Music to what became known as Rock 'n Roll. Black musicians were selling their music to white kids, but it took a white star to make the music an industry. Sure Elvis had some great songs — I can't think of any — I mean that are great, except "In the Ghetto" which arguably Nick Cave did better — but they're there. And he had charisma and caught lightning in a bottle and became the guy who cut the ribbon for rock 'n roll, and it was here to stay.   Bob Guccione, Jr
99    Gary Puckett
Credit: Michael Ochs Archives/Getty Images
Gary Puckett & The Union Gap (named after a city in Washington,near where Puckett grew up) were a moment in the late '60s, elevated by Puckett's rich tenor voice, which contrasted with most of what you heard on the radio. The band had hits with "Young Girl" (a song about fearing your girlfriend is underage — Jimmy Page did not cover this, just saying, as an aside) and "Woman, Woman" and, under whiz producer Jerry Fuller, were becoming a top act. Gary tired of the ballads that Fuller was giving them, though, and rebelled, and the relationship ended. But it was on his first Fuller-free album, in 1969, that the band put out one of decade ending classics, "This Girl Is a Woman Now." (At least this one they knew was old enough.)    BGJ
98  Bono
Many people — chiefly among them Bono — would expect to see his name at the top of this list, elbowing David Bowie and Mick and Jimi, not at the bottom where, frankly, he belongs. Because he's a bore. Great singer, yes, and writer/co-writer of some classic, anthemic U2 songs. But, well, we've really just had enough of him, haven't we? Jesus Christ himself would have taken a day off from being so relentlessly virtuous! And he would have stopped after Rattle and Hum, ending on a high.    BGJ
97  Tina Turner
From Tina Turner's raucous, edgy early performances of "Nutbush City Limits" and "Proud Mary" to an unexpected, massive second act — restrained but no less passionate hit ballads of the '80s like "What's Love Got To Do With It"  and "We Don't Need Another Hero" — Turner exudes a power, pride and poise as commanding as her voice. Simply "The Best" indeed.    Katherine Turman
96  Micky Dolenz  
Hey, hey…did you know that the Monkees outsold both the Beatles and the Rolling Stones in 1967? They were a TV fabrication, but along the way made some truly great, rousing and enduring music, with chart-topping hits like "I'm a Believer" and "Last Train to Clarksville." Well, here's your chance to bow down: Mickey, who had been a child TV star and gave the group a rounded charisma, and Mike Nesmith, the remaining surviving original members, are kicking off their farewell tour this fall, so you can thank them for the memories—and relive some of your childhood—by buying a ticket.    Liza Lentini
95    David Lee Roth 
When your nickname is "Diamond Dave," that should say it all. But it doesn't come close. Easily the fastest tongue in the West (for his amazing one-liners), Roth brought the attitude to Van Halen. His high-energy routine was the perfect counterbalance (and foil) to Eddie Van Halen's eruptions that see the band hit heights never expected for a Pasadena party band (and ultimately be their downfall). Roth took decadence and dalliances to another level…and if not for him, we'd never have such reverence for Brown M&Ms as we do now.    Daniel Kohn
94  Frank Zappa
Credit: Michael Ochs Archives/Getty Images
The man who named his children such peculiar names like Dweezil and Moon Unit was actually a straight-laced cat who didn't embrace the drug culture of rock, leaning more towards a jazzy-innovative rock sound in the '70s. Zappa released a mind-bending 60 albums in his 30-year career, including the conceptual double album Freak Out! — only the second double rock album ever released at the time (June 1966). Zappa's in-studio skills were matched by his ability to get behind a camera, directing music videos, short films and features. In the mid-'80s Zappa rediscovered politics and memorably testified against music censorship at the infamous Parents' Music Resource Center hearings in 1985 in Washington, D.C.    Jason Stahl
93  Paul McCartney
"Our Paul" as a whole generation of British people, mainly old women, curiously, called him, is one the greatest songwriters ever, and a singer gifted with an Angel's voice, and the star of the greatest band of all time, Wings — no, I'm kidding! The Beatles, of course! But he only gets on our list for Wings, which had some superlative rock songs, and one of the great rock albums, Band on the Run. The Beatles liked to think of themselves as a rock band, and probably were when they were playing covers in Hamburg, but really, as the immortal group we know, they were a pop group. The best ever, without a doubt. And Paul, unlike John Lennon, was awkward, and in fact highly unsuccessful as a rocker. But on Band on the Run he propels chest cleaving songs like "Let Me Roll It" and "Jet," and the title song, which is almost exactly like a good Beatles song, only rockier. I also loved "Picasso's Last Words (Drink to Me)." Venus and Mars was great too. After that came… "Mary Had a Little Lamb"? Did it come before? Whatever.   BGJ
92  Brian Jones
Credit: Mark and Colleen Hayward/Redferns
Jones really did die before he got old, and is a charter member of the eerie "27 Club" of rock superstars who died at the tragically early and precious age of 27. He was found dead in his swimming pool, a presumed accident following drug overindulgence, a possible suicide, a whispered rumored murder. I guess it doesn't matter anymore, if it ever did. Brian was the founder of the Rolling Stones (not Mick!) and its true musical guiding force. He was also the ultimate rock star, still a nascent concept in the mid-'60s, fashion setting, sexy and sex-soaked — he, more than Mick originally, was the ones the girls all wanted. He flamed out, inevitably, dying just weeks after leaving the band because he'd become disillusioned with their musical direction.    BGJ
91  Axl Rose
Decked out in a kilt, a ball gag around his neck and his strawberry-blonde hair ratted high, Indiana's Axl Rose was a new breed of rock star on the L.A. scene in the mid-'80s. With his lineup of debaucherous street urchins, early Axl was a pinup-worthy screamer who captured the personal decadence of his Hollywood on the classic Appetite For Destruction. Roses' piercing bluesy vocals and arena-ready stage presence made him the only choice to fill in as AC/DC's frontman in 2016, bridging the distance between the fabled Bon Scott and lusty vocalist Brian Johnson.    KT
90  Steve Van Zandt
He's just a rock star — he just is. He was originally and is again Springsteen's musical consigliere (just as he was Tony Soprano's, really). His place in the E Street Band is rock immortality right there, and his solo career has been stellar even if not on the same commercial level as with Bruce. He's in it for the joy of playing rock 'n roll, and that's what we get from him, the unadulterated, sheer joy of rock 'n roll.   BGJ
89  John Fogerty
Credit: Paul Natkin/Getty Images
John Fogerty was the dragon's breath of Southern Rock. Before Creedence Clearwater Revival (and no matter that they came from San Francisco) there were Southern rockers, and most of rock 'n roll comes from the Blues, but was there Southern Rock? I don't think so. I think it was Fogerty's voice that solidified it from the swirling primordial mists. Creedence was just such a great band with just such a fresh and joyous sound, and it was Fogerty's voice and guitar playing that made songs like "Have You Ever Seen the Rain?" and "Looking' Out My Back Door" curl around us, and that made "Proud Mary" and "Up Around the Bend" rock so hard. His solo career never matched those heights but still gave us some fine music.    BGJ
88  Keith Emerson
Keith first came to attention as the keyboardist for English rock group The Nice, who had a moment, but you kind of had to be there. He left the group in 1970 to become part of one of the arena playing behemoths of the decade, Emerson, Lake and Palmer. They blended classical music — actual classical compositions, to be clear — with electric and electrifying rock 'n roll. They were known as Prog Rock, a weak classification for truly exciting experimental rock music. They were contemporaries of, and had to be an influence on, Queen, who also formed in 1970. Their sound was so huge and wide even arenas couldn't fully contain it. Carl Palmer was as skillful a drummer as any of the great jazz drummers and light years ahead of just about any rock drummer, and Greg Lake was the guitarist and booming, ethereal voice of ELP, but Keith was the musical blood, the genius always furiously trying to get out of the instruments. An incomparable musician.    BGJ
87  Jerry Garcia
Credit: David Corio/Redferns
Raise your hand if you would have guessed that a bespectacled, bearded (though not at first) and slightly burly singer-songwriter from San Francisco would epitomize the counterculture? Those are just the broadstrokes of what Jerry Garcia, unassuming rock star did. He and the Grateful Dead didn't just counter-culture, they made their own culture. They pretty much spawned a new genre (you know, that thing called jam bands) that some love and some hate, and built a community that is still fervent to this day. Though some forms of the Dead have existed since Garcia's all too early death at the age of 53, they never matched what the singer/guitarist, due to his intricate playing style, brought to the band.    DK
86  Liam Gallagher 
The only rock star to make a parka look fashionable, Liam Gallagher is the epitome of the in-your-face snarl that reflects his northern England hometown. Swaying his arms behind his back during the band's live shows and even heckling his brother from the audience at others (most famously at MTV Unplugged) this supersonic rock n roll star has even greater achievement: making Manchester City FC relevant. No, Sheik Mansour didn't do it, but the club's no. 1 fan (sorry, Noel) reflects not just the heart-and-soul of the City fanbase, but the heart-and-soul of a blue-collar city that got the hero it needed at the onset of the Britpop movement.   DK
85  Otis Redding
Credit: Michael Ochs Archives/Getty Images
Soul star Otis Redding had the voice of an angel, too subtle and divine for this undeserving, debased world. He could've rested on the laurels of his exceptionally classic "(Sittin' On) The Dock of the Bay" alone, which seems like a thousand minds went into the making of it, but it garnered all its enormous fame after his premature death at 26.   Logan Blake
84  Lemmy
Credit: Michael Putland/Getty Images)
Hard-living, hard-drinking, hard-rocking Motorhead main-man Lemmy looks like the guy your mother warned you about. His rumbling, instantly identifiable bass playing and gravelly voice (and too-high-mic), iconic sideburns and mole made the late, loved Lemmy one of a kind. The humble road dog walked it like he sang it, vis a vis "Ace of Spaces": "Playing for the high one, dancing with the devil / Going with the flow, it's all a game to me."    KT
83  Paul Westerberg
The lead singer/guitarist frontman of The Replacements defined the unforgotten of punk with the band, before slowing down to more melodic new-wave, but without sacrificing any of the talent or energy – only evolving into something more tamed and restrained, from song titles like "Fuck School" to "Kiss Me on the Bus."   LB
82  Morrissey
Meat may be murder and Moz may have inspired a generation of loners with his earnest songwriting, but he's become such a total shithead in the past decade that even The Simpsons are making fun of him. That doesn't stop the Smiths from being one of the most influential bands in history though and for the world from wanting them to reunite — politics be damned.    Josh Chesler
81  Ritchie Blackmore
The English guitarist and founding member of Deep Purple has said to have been "stuck in a musical no man's land." The legacy that was begotten from his captive "no-zone" is forever immortalized through every beginner guitarist learning the ultra-famous "Smoke on the Water" riff, sending him into the Rock and Roll Hall of Fame in 2016, but now, more importantly, into this list.    LB
80 David Byrne
Big suit? Check. Some of the greatest alternative tracks of the '80s? Check. Sold-out Broadway show? Check. Introduced world music into rock n roll? Check. Has pretty much always looked like your weird uncle? Double-check.    JC
79  Billy Corgan
Forget the accolades he picked up as the driving force of the Smashing Pumpkins, Billy Corgan was by far and away the biggest rock star to ever appear on the cover of PAWS Chicago Magazine — and he did it multiple times at that. He's one of the greatest alternative songwriters of all time and yet still manages to piss people off pretty much all the time. A rare talent indeed.    JC
78  Madonna
Credit: Ross Marino/Icon and Image/Getty Images
If you don't believe in destiny, have a think about a Catholic woman born in the 1950s, named for a blessed symbol of virginity, who succeeded against all odds at making a career out of shocking and shaking shit up. For whatever colossal influence Madonna had on music—its industry, its women, its everything—over the last 40 years, it's nothing compared how she's forever influenced the way the entire world views "the second sex". Oh, yeah, and she's also the best-selling female artist of all time.    LL
77  Alice Cooper
Credit: George Stroud/Express/Hulton Archive/Getty Images
School's out. For ever.    BGJ
76  Nick Cave
The lanky, literary raconteur taps into the underbelly of life to sing tragicomedies of miscreant characters operating on the sordid side. All within an eclectic mash-up of what you might call arty post-punk, noise, and other, non-specific unsettling sonics. Nick Cave is the Prince of not quite Darkness, but the Underground.    LB
75  Bob Mould
The take-no-shit-from-nobody Bob Mould formed Hüsker Dü (named after a Danish board game) with Grant Hart and Greg Norton in St. Paul, Minnesota in the late '70s. They entered the '80s with a bang louder than their hardcore sound, releasing six albums in less than six years! The most notable of those was the concept album Zen Arcade, which had 23 mind-blowing tracks. The former frontman transitioned from performing punk to experimenting with electronic music once he felt comfortable with his sexuality, announcing to the world in the late '90s he was gay.    JS
Click NEXT at the end of the text to see the next group
74  Sid Vicious
Credit: Michael Ochs Archives/Getty Images
Despite apparently barely being able to even play bass (and allegedly murdering his girlfriend), Sid Vicious effectively defined the visuals of punk rock, helped launch an entire movement he'd never live to see, and may single-handedly be responsible for more of Hot Topic's business than anyone else. His entire short life was arguably the most punk rock existence in history.   JC
73  Buddy Holly
There was much more to Buddy Holly (Charles Holley, actually) than his black-rimmed glasses. Considered one of the pioneers of rock and roll, Holly's trademark sound influenced such bands as The Beatles, Rolling Stones, and solo artist Elvis Costello. Holly topped the charts and was most known for the song "Peggy Sue," inspired by someone actually named Peggy Sue Gerron, who was dating Holly's bandmate in The Crickets, Jerry Allison. After purchasing a Fender Stratocaster electric guitar, Holly changed the way music across all genres — rhythm & blues, rockabilly, country & western — would be performed. Sadly, Holly's career ended too soon when he died in a plane crash, along with Richie Valens and the Big Popper, February 3, 1959, considered "the day the music died." Holly's influence would live on forever.    JS
72  Ozzy Osbourne
As the voice, face, and name of the early days of both heavy metal and reality television, Ozzy is the only person who can call himself "the Prince of fuckin' Darkness" in both of those industries — whether he's protesting against bubbles or biting the head off of a bat. Hell, he even got fired from one of the biggest bands in the world and went on to be an even bigger star.   JC
71  Jane Wiedlin
Credit: Aaron Rapoport/Corbis/Getty Images
There's a reason we campaigned hard for the Go-Go's to get inducted into the Rock and Roll Hall of Fame. Not because they needed it to prove their relevance as one of the most revolutionary (all-girls) bands of all time, but because we, the fans, wanted that validation. And the reason we chose Jane for this list, is because whether she's admitting punk rock saved her life, penning "Our Lips Are Sealed", boldly breaking up the band she started (and then reuniting with again and again), we love her style and we love her spirit.    LL
70  Don Henley
I guess "The Boys of Summer" is a good song, but yeah, there's no denying that the second half of the '70s were widely influenced and dominated by those sweet Canyon sounds that emanated from the Eagles, in particular, Don Henley's songwriting. That's not even to mention his consistently stellar solo career, which was (ducks) better than what the Eagles did. I know there's one (fictional) person who can agree with me on that.   DK
69  Roger Daltrey
The lead singer of The Who, who had a fraught and contentious relationship with the group's founder and guiding light, Pete Townshend, which sometimes erupted into fistfights, which went better for Roger than they did Pete, was for a while the golden voice of rock 'n roll. Late '60s, early '70s rock sailed on his primal howl, from his testifying about "Talkin' 'bout my g-g-g-generr-ray-shunnn" to tipping his hat "to the new constitution" and getting down on his knees to pray "We don't get fooooled agaaaa-ain". He was the deaf, dumb and blind boy and there really was no better live band than The Who ever, and the diminutive, blonde tousled, man-child showman whirling the chord of his microphone was the center of that.    BGJ
68  Iggy Pop
Credit: Allan Tannenbaum/IMAGES/Getty Images
Seriously, what were the odds back in the day that Iggy Pop would outlive people like David Bowie, Lou Reed, and all of the relevant Ramones? The Godfather of punk rock is living proof that genetics are ultimately always more important than taking care of your body — he may also the reason punk rock ever even existed in the first place.    JC
67  Keith Moon
Credit: Eddie Sanderson/Getty Images
Keith was on his own spiritual plane as a drummer and contributed more to The Who's signature sound than perhaps any other drummer to their band with the exception of Bonham with Led Zeppelin. And in a way Keith even more so, because there was a freneticness more than an accomplished musicianship to him, like he was possessed, and neither he nor his bandmates knew by what. He drove a Rolls Royce into a swimming pool. A Rolls Royce.   BGJ
66  Ray Davies
Ray Davies is the rare songwriter who can operate in basically any style — as singer and bandleader of the Kinks, he seamlessly bounced from power chords to baroque pop arrangements, from fluffy pop tunes to heavy concept albums. Along the way, he crafted some of popular music's most unimpeachable tunes: "Lola," "You Really Got Me," "Waterloo Sunset," "Picture Book" and "This Time Tomorrow," to merely scratch the surface.   Ryan Reed
65  Trent Reznor
Before he was an award-winning composer for Pixar films, Trent Reznor provided the soundtrack for pretty much every dude who owned a snake in the '90s. Nine Inch Nails brought the dirty, industrial sound to the forefront of rock music in ways no one had before (or likely since), and now he's gone from mud and Woodstock to nearly an EGOT.    JC
64  Eric Burdon
Eric once told me a great story, about a party in his home during the late '60s. "It had gotten really late and I wanted people to go, but no one was leaving. Jimi Hendrix was fucking Jim Morrison in the middle of the floor. So I got my gun and shot the chandelier and it came crashing to the ground and everyone left." They just don't make rock stars like that any more!
Burdon, from Newcastle in England, had as powerful a blues voice as any white boy. He belongs in the firmament for being lead singer and spirit-force of the Animals alone, and especially for his delicious, tragic version of "House of the Rising Sun," and '60s radio anthem "We Gotta Get Outta This Place". He formed Eric Burdon and War (later just War) in 1969, a multi-racial rock/funk band, staying with them until 1971, recording classic and trippy tunes "Spill the Wine," "The World Is a Ghetto," "Why Can't We Be Friends," and "Cisco Kid." Jimi Hendrix played with Eric and War at Ronnie Scott's jazz club in London the night before he died.   BGJ
63  Gwen Stefani
Beyond being a legendary singer, songwriter, and fashion icon, Gwen Stefani is also the reason that so many women cringe when looking at their hairstyles from 20-30 years ago. She also helped to bring '90s ska into the mainstream with No Doubt before wisely launching into pop stardom and reality TV show judging — that's a little thing called foresight.   JC
62  Leslie West
Credit: Michael Putland/Getty Images
Listen to the monster riffs "Mississippi Queen," just do it. (Pauses for a minute) OK, now that you've done that, tell me how this tenacious guitar player didn't influence hard rock and even metal. I dare you. Yeah, that what's I thought.    DK
61  Aretha Franklin
The Queen of Soul will never be usurped from her musical matriarchy. The mezzo-soprano singer and pianist's instant classics like "(Never Loved A Man) Like You" and "Respect" set a new standard for soul and sent her straight to the Rock and Roll Hall of Fame as its first female singer inductee while inspiring a whole fleet of influential chanteuses along the way. Without her, we'd have no Whitney Houston or Lauryn Hill, and we'd certainly have no soul.    LB
60  Duane Allman
The man who singlehandedly put Macon, Georgia, on the map for all of the right reasons, Duane Allman's guitar kickstarted what became Southern rock. Forming the Allman Brothers Band with sibling Gregg, the outfit was powered by Duane's distinct blues-driven style and incredible improvisational skills, which also in a way, helped pioneer jam bands (don't believe me? Listen to the 1971 Fillmore East show). In fact, if not for Allman, one of the most iconic solos in rock history (on "Layla") may never have existed. Tragically, Allman's life was cut short at only 24 due to a motorcycle accident, not only curtailing an already magnificent career, but cast a dark shadow over the Allmans that would haunt them for the rest of their 40+ year existence.    DK
59  Thom Yorke
Alternative music's eternal paranoid android, Thom Yorke has guided Radiohead through self-deprecating college-rock, triple-guitar art-rock, mindfuck electronica and most spaces between. He's a master abstractionist, channeling modern angst into profound catharsis. And decades after "Creep" became a standard, his falsetto is still one of the most bewitching instruments on Earth.   RR
58  Chuck D
Credit: Paul Natkin/Getty Images
I was in Vezelay, France in 1991, on vacation with my girlfriend, an MTV VJ — so, two music professionals but at that moment wide-eyed tourists — and as we walked down a narrow, ancient, cobbled street, we heard Public Enemy's "Fight The Power" blaring from a window above us. I looked up and there was a white kid with a baseball cap on backwards, glaring down contemptuously at the stream of tourists beneath him, and I said to Kristiane: "That's why rock 'n roll will never die, because in every town in the world, no matter how beautiful it is, there's a kid dying to get out." 
There were many pivotal moments and players in the fast moving evolution of rap and you could point to a few as particularly instrumental in making it mainstream. But Public Enemy slammed the barn door shut on rap's outlier status and they did it without a scintilla of compromise. For a while, there was no more important, or popular, group on the planet. Chuck D was an angry, articulate Black man, and a force for change. He stood for, and shaped, a revolution, and everyone listened. And it was great music, not at all bitter medicine.   BGJ
57  Tom Petty
Rock's true mad hatter, has anyone written better songs with a simple formula ("Don't Come Around Here No More" withstanding)? Petty ushered in a new era of anthemic rock songs that comprised kickass instrumentation, relatable lyrics that there were just good. Oh, and remember Hard Promises, the album where took on his record label over price gauging and won to save his fans a dollar? Now THAT'S a rock star.   DK
56  Slash
On top of being the slithery heart and soul of Guns N' Roses' sound, Slash made the top hat cool again, snatching it back from boffo magicians. After he departed the band under acrimonious circumstances in 1996, Slash was literally everywhere (and Guns N' Roses was never the same without him) before finding his way home again in 2016 for one of the profitable reunions in rock history. Don't believe us about his prolificness? Maybe you'll believe these guys.    DK
55  Little Richard
Little Richard was iconic and revolutionary. And appropriately inappropriately outrageous. From his instantly recognizable vocal style of jubilant squalls to his boisterous swagger that defined the coming decades' hedonistic abandon, he also innovated a new form of soul and funk pretty much singlehandedly. Like all great artists, he was also a thief who stole riffs from people like Ike Turner (and admitted it, to his credit). He's one of the founding fathers of rock 'n roll.    LB
54  Carlos Santana
Credit: Luciano Viti/Getty Images
Abraxas felt like the perfect end of the '60s album, and maybe it was, part of that illusion having to do with Santana's revelatory appearance at Woodstock, but it was actually released in 1970. It was stunningly fresh and different. Hits from it, the hypnotic "Black Magic Woman" and jazzy "Oye Como Va," both covers, made Santana the first Hispanic rock superstar. No one sounded like him on guitar, or his band in total — they were lusciously tight and Latin cheery and made enchanting music. This was the time when rock was maturing (on the one hand) and deliciously experimental on the other, the genuinely new sounds lighting our world like fireworks. In many ways the early '70s was music's real golden era, because of that.    BGJ
53  Stevie Ray Vaughan
The Texas ax-slinger is one of the great what-ifs in guitar hero history. He died far too soon at the age of 35 in a plane crash but his impact even before that is an honor roll of accomplishments. Few, if any can make playing such complicated blues numbers so accessible and is one of the greatest raw talents who influenced an entire generation of guitarists — often replicated, never duplicated.   DK
52  David Thomas
Credit: Gus Stewart/Redferns
David Thomas is the founder and lead singer (and only constant member) of Cleveland's eccentric and experimental — and brilliant — rock group Pere Ubu. The group takes its name from an amoral, despotic character in surrealist Alfred Jarry's 1896 play Ubu Roi (meaning "King Ubu"). Which esotericism makes sense when your declared intention is to create "avant garage" music, which they most certainly did. Pere Ubu's albums weren't for everybody, which is a shame, because they're among the most interesting music made in the last 45 years. It incorporates rock, a tinge of still-in-the-womb punk, and the rather pretentious sounding "musique concrete," which is mostly recorded industrial sounds, manipulated and strained through special audio effects. Mind you, he was doing this in the late '70s, long before sampling and computer effects were commonplace. A friend once drove me, late at night, around the perimeter of Cleveland's gigantic Oil Refineries, their forest of steel towers and tanks lit by bright white lights like a multitude of stars, clouds of grey fumes blooming across the dark sky, while playing Pere Ubu on her car's cassette player. It was the greatest, one-off, holographic immersive music video ever.    BGJ
51  Jon Bon Jovi
The mulleted man and his namesake band crushed ballad after ballad in the '80s and part of the '90s with songs that we all memorized the lyrics to, from "Livin' on a Prayer," to "You Give Love a Bad Name." The latter was produced in Bon Jovi's childhood home in Sayreville, New Jersey, where he was living up until the band's third album — Slippery When Wet — when Jon was finally able to afford to rent an apartment. Rent's not a problem nowadays, after selling more than 130 million albums. What else can you say about Jon Bon Jovi? Every woman wanted him, dead or alive. And you can't deny shouting halfway there while being all the way drunk at happy hour.    JS
50 John Lennon
Credit: Vinnie Zuffante/Michael Ochs Archives/Getty Images
Lennon had the sweetish pretension that he was a rock 'n roller — I imagine he imagined himself as a '50s kind of rock star, like Buddy Holly, or maybe Jerry Lee Lewis, unsophisticated, unfinished. But he was the Great Intellectual, and the ultimate, encyclopedia entry-picture hippie, remembered indelibly for his bed-in with Yoko Ono, for Yoko Ono full stop, actually, The Beatles, and being in India with The Beatles during their most-hair and trippy phase. But of course he's a musical giant, with his own private suite in rock's Pantheon, although he's more Dylan than Bruce. Yes, he could belt out a tune, but he's extraordinary for the poetry in his songs.    BGJ
Click NEXT at the end of the text to see the next group
49  Roger Waters
Don't let his love/hate relationship with David Gilmour and his outspoken foray into activism fool you — Roger Waters, frontman of Pink Floyd and exciting solo artist, is one of the greatest songwriters in history. He wrote The Wall mostly alone, what else there to be said?  DK
48  Syd Barrett
Credit: Andrew Whittuck/Redferns
"Shine On You Crazy Diamond" is about him, the disquieted genius who co-founded Pink Floyd and gave them so much of their identity, and who the band kicked out after two albums because of his madness, exacerbated by the psychedelic drugs he ingested. The Wall — the whole album — is inspired by him. He's probably rock's greatest enigma (and much about him is myth, because he flared out before media became so metastasized). He pioneered dissonance and feedback and recording effects and set the foundations for Floyd's unique, ethereal sound and storytelling. He put out a couple of solo albums before retiring completely in 1972. He didn't spend the rest of his life in a mental hospital as was often presumed — he lived quietly and privately in the country, painting until his death in 2006.    BGJ
47  Peter Gabriel
Credit: Paul Natkin/Getty Images
First of all, Peter Gabriel was Genesis, when that group was brilliant and exciting and breathtaking and meaningful — before it became drippy and Phil Collins became a metastasizing incarnation of Muzak. Then Gabriel went solo and made music for the ages — if you listen to any of his post Genesis albums, they remain superior to 99 percent of what anyone else was recording or has recorded since. You feel Peter Gabriel in your chest, and he makes your muscles twitch.     BGJ
46  Elton John
Credit: D. Morrison/Express/Getty Images
Everybody suspected/nobody cared but he didn't admit it, because in the social dark ages of '70s pop culture, being gay was an anethema and a career douser. Liberace didn't admit it, for chrissakes! And he made Elton John look like Bruce Springsteen. Only in the '80s did Elton come out, by which time it was news to absolutely no one, but it's a sad indictment that the free flowing '60s and '70s, especially the so-called free love movement, was disappointingly not so free. 
But Elton rocked. Flamboyantly, sometimes campily, sometimes archly and achingly, but always powerfully, often anthemically. His range was earth-curving, from "Your Song" and "Candle In The Wind" (later refashioned for Princess Diana after her death, and subsequently becoming the top selling single of all time), to "Rocket Man," "Saturday Night's Alright" and "Bennie And The Jets." His piano playing was jet propulsion level, but also high virtuosity. His band's live performances were joyous and transporting and in the mid-70s no one was bigger, no concert more coveted.    BGJ
45  Jim Morrison
He reeked of sex, oozed sex, symbolized what it meant to be a rock star and have more sex in a week than most men of his generation had in a lifetime. No one else looked like him, he was pure and menace at the same time. He wore leather pants, before anyone else really thought of that, at least anybody white. He had a voice like thunder, curling in the sky, then ripping the sky apart.
He fronted The Doors like a Greek God without the baggage. He ​wore​ the pretension of being a poet, and​ had​ a poet's soul, and flair, if not ​one​'s constitution. He shone brilliantly and quickly, like burning magnesium, putting out six superb and successful albums in his short, wild lifetime, including the iconic L.A. Woman, Strange Days, and The Soft Parade, and wrote and sang the immortal tracks "Riders on the Storm," "L.A. Woman," "Light My Fire" and "Love Her Madly," to name just a few. A terrible alcoholic, his stage performances were erratic and brilliant. He died way too young, at 27, in Paris, sealing his mythology. His cause of death never officially established, mysteriously.    BGJ
44  Johnny Winter
Credit: Paul Natkin/WireImage
The legendary blues musician had horrible eyesight but was a visionary when it came to playing the guitar. Born in Beaumont, Texas, Johnny and younger brother Edgar, performed throughout the South starting in the late 1950s. He gained national recognition in 1968 when Rolling Stone described him as "a 130lb cross-eyed albino with long fleecy hair playing some of the gutsiest fluid blues guitar you have ever heard." Winter was signed by Columbia Records a year later for $600,000 ($4.4 million today), an absurd amount of money in those days for a solo artist. His talent caught the attention of none other than blues icon Muddy Waters, who hired Johnny to produce consecutive albums for him — each album won a Grammy Award. Though just as talented as Jimi Hendrix and the other guitar luminaries of the '60s, Winters preferred to shy away from rock 'n roll and "play real raw country blues in my own style."    JS
43  Jeff Beck
Of the Yardbirds' three iconic guitarists, Jeff Beck is the sleeper favorite — less instantly recognizable than Jimmy Page or Eric Clapton, equally revered by the legions of players he inspired. He almost might be the most versatile, equally at home in hard rock, jazz-fusion and electronica. And he wrote the timeless instrumental "Beck's Bolero."   RR
42  James Hetfield
Any time you get lit on fire on stage during a show in Montreal, survive and manage to continue on with your stadium tour not 17 days later makes you a little bit of a crazy person, but shows that you're the ultimate badass.    DK
41  Chris Cornell
Credit: Alison S. Braun/CORBIS/Corbis via Getty Images
Why did he take his own life? Because now that's how we start conversations about him. He led Soundgarden, in many ways the best of the grunge bands, even if and perhaps because they were the slightly quieter of the genre, a hair more measured, and had, in Cornell, the sweetest voice, the saddest voice.   BGJ
40  Chuck Berry
Chuck Berry refashioned the blues into rock'n'roll, influencing countless musicians ahead of him. From coming up with the duckwalk to classics like "Johnny B. Goode" and "Move Over, Beethoven," he was an early progenitor of rock 'n roll, one of the Rosetta Stones. But, cruelly, his only No. 1 hit was "My Ding-a-Ling." Don't ask, just keep walking.    LB
39  Eminem
Credit: J. Shearer/WireImage
Marshall Bruce Mathers III​, better known as Eminem,​​ once brought his​ daughter into the studio to sing on a track about murdering her mother and helping her father bury the body. It was​ his version of​ Take Your Daughter to Work Day.​ ​There weren't many taboos unbroken on Eminem's increasingly provocative, increasingly brilliant albums. His releases made most gangsta rappers' records look like a Mr. Rogers' Christmas Album. He was hated and assailed by the left and the right, unusually agreeing on something. He was misogynist, homophobic, pretend murderous and, I guess, generally anti-social. And the music loving public devoured it. 
He claimed it was his alter ego's alter ego, Slim Shady, doing all those nasty things, and he had as much right to that defense as any other rapper boasting of smoking this or that poor bastard who got in their way. In person, out of character, or at least mostly out of it, he seemed painfully fragile and menacing at the same time. He lived hard before he, almost improbably, made it. He may or may not be a tortured artist (he certainly seems like he is) but what is 100 percent definite is that he has always been uncompromising, expressing exactly what he wanted to. And that's very rock 'n roll.    BGJ
38  John Bonham
Credit: Michael Putland/Getty Images
John Bonham was the archetypal rock drummer and an exemplar all the same. His over-the-top hitting defined rock bombast (put on "Achilles Last Stand" now!), and the few who could match his raw strength could never get his swing down (the answer to"How Many More Times" is "never enough"). Bonham wasn't just a mountain behind the kit, he was the goddamn terraformer, easy to love and impossible to imitate. Much as rock radio continues to suck the vitality from guitar music and shrink music history to fit into a thimble, you can still be declared legally dead if you're not moved by his opening lines in "Rock and Roll" and "When The Levee Breaks." Why else do you think he was the best man at Thee Riff Lord Tony Iommi's first wedding?    Andy O'Connor
37  Joe Strummer
Strummer was the voice of a mostly voiceless generation, late '70s, dilapidating England. He was the articulate expresser of punk (when you consider Johnny Rotten/Lydon was the competition, the bar wasn't awfully high it has to be said). He co-founded The Clash and with albums Give 'Em Enough Rope (their first) and the boundary-breaking classic London Calling, the band brought punk into the mainstream, and, in their case anyway, morphed it into top tier rock 'n roll (as Nirvana did 10 years later, by the way). Strummer wrote smart, political, bold, brave lyrics and his voice sliced through the thick air of Britain's then sorry-for-itself pity party. The band stayed together for 10 years, before falling apart after Strummer ousted fellow band leader Mick Jones. But they had made their impression.  A lasting one.   BGJ
36 Mick Jones
Credit: Keith Bernstein/Redferns
Mick Jones also co-founded The Clash, and was as identifiable as its lifeforce as Strummer, and was really the better musician. Without their (apparently difficult) chemistry, the band would never have been as potent and thrilling as they were. Once that was severed when Strummer pushed Jones out, the band slowly, rather pathetically, dissolved. Jones went on to start Big Audio Dynamite, whose first album This Is Big Audio Dynamite was a glorious jambalaya of funk, reggae, rock and even a bit of rap. And some early sampling: Jones played me a tape of the record before it was released and one of the tracks included a sample from the 1960s Michael Caine movie Zulu, which he had simply recorded off the TV. He asked me not to tell anyone, because he didn't want to get in trouble for infringing copyright, thinking maybe nobody would notice.   BGJ
35  Neil Young
It's hard to invent one genre, but to seamlessly glide between, oh, I don't know, like five? That takes an entirely different beast, but Neil Young isn't your average beast. Name a guy who can go from writing earnest acoustic numbers to joining the world's biggest supergroup (at the time) in CSNY to leaving that to create moody rock to heavy jam rock with Crazy Horse? And this is all before 1979! Not to mention signing with Geffen, being sued by David Geffen for not writing commercial music (can you imagine that?), to later releasing an album with Pearl Jam as his backing band. Pretty good. But we're only up to 1995. The rest of Young's ballyhooed career stands on its own and with his massive archival project continuing to showcase so many uncut gems from his legendary vault, it somehow seems like we maybe haven't even heard the best music he's produced. At a young 75, there may not be a more beloved…or cantankerous figure in rock history (just ask David Crosby).   DK
34  Jimmy Cliff
Credit: K & K Ulf Kruger OHG/Redferns
Before the ubiquitous rap pretense of the OG, Jimmy Cliff was the Original Gangster. In the 1972 movie The Harder They Come, which he wrote the soundtrack to and which remains his signature album, he plays the lead in a movie about the mean streets of Kingston, Jamaica, where his character Ivan can't catch a break, even though he releases a hit single, the movie's title track, and — you saw this coming — he falls down the rabbit hole of a life of crime which includes killing multiple police officers and being hunted across the Jamaican countryside and finally killed by the police. Cliff, and especially the Harder They Come album, brought reggae to the world and it was intoxicating.
It vaporized the Harry Belafonte sound which most people thought was Jamaican music. He released a number of further albums, and had international hits with spiky songs like"Many Rivers To Cross" and "Vietnam." At his height he was an uncompromising voice of conscience and if he never attained the Godhead status of Bob Marley, he had more to say.    BGJ
33 Robert Plant
There's rock stars, rock gods and then there are Golden Gods—even if they do allegedly say so themselves—and when it comes to the latter, there's only one, and that's Robert Plant. There will never, ever be another like him. He started out as the white-hot, red-maned, bare-chested frontman and key songwriter for one of the best-selling bands of all time, and when they disbanded, he had no intention of reinventing his past. In his over half-century of making music, he is consisting trying something new. No, it's not a reinvention (why fuck with perfection?) it's a consistent discovery based on a genuine respect for musicians, and a deep, true love for the music they create. What some have considered the best voice in rock 'n roll may have aged, but it never lost its passion. As he told us in our November 2020 interview, it's been an "absolute, invaluable journey."    LL
32 Eric Clapton
"Layla" by Clapton, when he fronted Derek and the Dominoes, was and remains one of the ultimate rock songs ever recorded, and one of the scummiest anyone ever wrote — it's a public plea for a friend's wife to leave her husband for him. (She did, it was a disaster, there's really nothing good to say about Clapton for that.) Duane Allman played guitar on the song too, FYI. 
Before Clapton became the musical bore he's been for the last 40 or so years, he was one of, if not the, most exciting rock guitar players recording. Coming from a stint playing with British bluesman John Mayall, he formed the Yardbirds with Jimmy Page and Jeff Beck, a sort of Holy Trinity of Rock's biblical era, and then birthed an even better group, Cream, where he played with the legendary drummer Ginger Baker and bassist Jack Bruce. They released the uniquely English sounding blues-infused classics "I Feel Free," "Born Under a Bad Sign," "White Room" and "Sunshine of Your Love." Listen to those songs if you haven't. They might change your sense of the evolution of music.  -BGJ
31 Eddie Van Halen
The man literally reinvented how to play guitar, making the simple complicated and the complicated simple. Don't believe us? Listen below.   DK
30  Ike Turner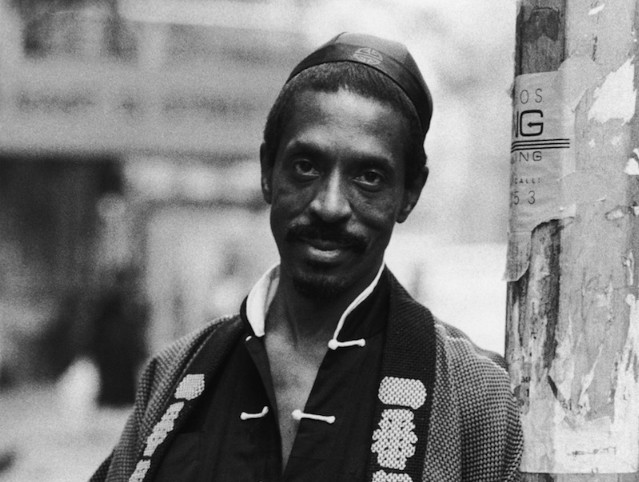 Credit: Dave Hogan/Hulton Archive/Getty Images
Ike got paid 40 bucks for inventing rock 'n roll when he recorded "Rocket 88" and accidentally created the distorted electric guitar sound (here's the story of how that happened). "Some guy at the record company ripped me off," he once said, resignedly. He didn't even get credit for the song at the time, because his producer was readying another single of his for release, and expected that to be the bigger hit and didn't want to distract from it, so they put "Rocket 88" out as by Jackie Brentson, the singer in Ike's band, The Kings of Rhythm. 
Ike was a musical genius, something he gets far too little credit for. He was a dirt poor Mississippi black guy when he started touring the Southern "Chitlin Circuit" in the early '50s. In the '60s he formed the Ike and Tina Turner Revue, which, with hits like "Proud Mary" and "A Fool In Love" and a polished, scintillating stage show, made them one of the top acts in the world in the '60s and '70s. Ike married Tina (whose real name was Anne Bullock) and copyrighted "Tina Turner" so that if she left the revue, he could hire someone else to replace her under the same brand name. He infamously abused Tina and she eventually left him, the professional act ended and Ike's life deteriorated. A terrible, longstanding cocaine habit left him penniless and in jail, and when he was released he was mostly homeless on the streets of L.A. In 1985, when the general consensus was that he was dead, and Tina was publicizing her abuse at his hands, SPIN famously found him. He died in 2007, mostly forgotten again, but not before putting out a critically acclaimed album, Risin' With the Blues, in 2006 (which was Grammy nominated) and being inducted, with Tina, into the Rock 'n Roll Hall of Fame.    BGJ
29  Tom Waits
The anti-hero as a rock star: Low-key, low-voiced, high-concept — the shambolic genius of Tom Waits is in the details. The deft turn of a heartbreaking phrase, a carnival barker's sly appeal, this Bukowski of song is deceptively unkempt. Waits' dry humor hits all the right notes, his careful tunes classic enough to be covered by Rod Stewart, Johnny Cash and the Ramones. Cinematic and resonant, Waits' words are as cool as Beat poetry, his persona and performances wonderfully way out.  A troubadour for the ages.   KT
28  Steven Tyler
Aerosmith's Steven Tyler is America's answer to Mick Jagger. Big-lipped, shimmery and lascivious –albeit with a wink and a nod – Tyler's bluesy, passionate vocals imbue classic Aerosmith anthems like "Sweet Emotion" and "Dream On" with timeless power. Joe Perry plays his Keith Richards. Incredibly, and consistently, Tyler has been the template for bad boy rock stars since 1970, and shows little sign of slowing down.    KT
27  Pete Townshend
Credit: Richard McCaffrey/ Michael Ochs Archive/ Getty Images
Skinny, tall, aquiline nosed, lead guitarist and spiritual and intellectual leader of The Who, Pete Townshend, when he had long hair and on occasion wore a tux or suit, looked more like an awkward prom date than a rock star. Actually, he never looked like a rock star. But he most certainly was, his windmill sweeping arm grating rock 'n roll sirens out of the guitar he would invariably smash at the end of each live performance. (I guess he didn't like his guitars!) His songwriting was matchless. "I Can See For Miles," "I Can't Explain," "Magic Bus" and "My Generation" were just some of songs that lit up the radio in the second half of the '60s, before he wrote the first Rock Opera, as he called it, Tommy. 
The Who played and wowed Woodstock (and are a highlight of the three record soundtrack) and made the half million people there forget to care about whether the Rolling Stones would turn up (they didn't). After Tommy came another cinematic aural masterpiece, Quadrophenia, and the immortal Who's Next, with Townsend writing and conducting rock's tightest band at his finest. In the '70s they were the band to see and were famous for never doing encores, except one time at Madison Square Garden in NY, when after 20 minutes no one, including me, would leave the arena, they came back out, fearful as much as anything they might start a riot if they didn't, and Daltrey sheepishly said, "we've never done this before and don't know what to play," before improvising a mini set of Tommy songs.    BGJ
26  Van Morrison
He's the most reluctant rock star. He often turned his back on his audience — literally while performing and metaphorically in all other aspects. He's shy (my estimation) and surly (almost everyone else's estimation). He's always been press averse, and every time he gives an interview he seems to regret it and not do it for another five years. He simply doesn't care for the trappings of fame, which started in the hard streets and years of Belfast in the early '60s. Over a 60-year career,​ he has made some of the most beautiful and searing and timeless albums ​ —​ especially Astral Weeks​, regarded as one of the best of all time, Moondance, Tupelo Honey and the elegiac Hymns to the Silence — and songs, like "Gloria", ​"Wild Night", "Domino", "Someone Like You", "Brown Eyed Girl" ​and ​the aching "Ballerina" and "Madame ​George​" (both from Astral Weeks)​. ​His is the sweetest, most evocative voice ever in rock 'n roll, and no one has ever had a more powerful one. He makes lyrics float or tremble, as he wishes.   BGJ
25 Chrissie Hynde
Credit: Paul Natkin/Getty Images
For over four decades we've been able to count on Chrissie Hynde, the leader of the Pretenders, one of the most influential bands of the '70s, for her authentically no-bullshit approach. From her early London days of hanging with Malcolm McLaren and almost marrying Sid Vicious (for a residency visa!) to changing and maturing punk rock with a voice as kick-ass as it is heartbreaking, she has been a trailblazer, and not just because she was a woman leading a rock band. Her lyrical, percussive songs stopped us in our tracks, and were milestones on the road of our lives. Chrissie Hynde created a virtual roadmap to how to be true to yourself with her superb 2015 memoir Reckless: My Life as a Pretender.   LL
Click NEXT at the end of the text to see the next group
24  Joan Jett
If you created a rock star from scratch, you would add a hard-as-steel exterior with a beautiful heart, songwriting prowess and killer guitar chops, ability to forge new rules for herself and for all rock stars that follow, and thrive throughout a nearly-50-year career. And let's not forget the fuckability factor. In our November 2020 interview, we were happy to hear that she still loved rock 'n roll. Can you imagine if she didn't? Joan Jett is rock 'n roll.   LL
23  Stevie Wonder
Credit: Aaron Rapoport/Corbis via Getty Images
Little Stevie Wonder, so called because he was precociously young when he first hit the charts with the quite adult "My Cherie Amour," gave early notice, in 1969, that he was going to be a force. No longer little, he plastered the mid-'70s and early eighties with a succession of era-shaping albums and hits, including "Superstition," "Living For The City," and the crescending "Higher Ground." He was so dominant that one year when he didn't have a record, Paul Simon, upon winning the grammy for best album, thanked him for not releasing one.
Blind from childhood (and a fan of the Holiday Inn chain, "because all the rooms are the same" so he could easily get around in them), Stevie Wonder preceded, and in many ways presaged, Prince: He was a genius who made records that sounded so different than anybody else's, seemed to exist on sonic planes no-one else could reach, and were so profound that they made everyone pay attention. For about a dozen years (give or take) he was the standard by which all musicians measured themselves.   BGJ
22  Sinead O'Connor
Credit: Mick Hutson/Redferns
From our 1991 cover story at the start of her career to our November 2020 interview — and surely until the end of time— Sinead is and will always be one of our favorite artists. It could be based on talent alone, a raw vulnerability in a powerful, ethereal voice that leaves us stunned every time. Like her voice, she is a force. If her story—her gorgeous honesty—somehow puts you off, then it's not Sinead, but humanity that you have an issue with. We will never truly measure what we've gained musically, socially, spiritually from Sinead. That she's still here is the miracle.   LL
21 Gene Simmons
Credit: Michael Putland/Getty Images
The consummate rock 'n roll businessman (at least in his eyes) you won't find a bigger entertainer or sex-crazed rocker quite like the God of Thunder. Debate his playing style or vocals all you want, but one thing remains certain: Simmons is the ringleader of rock's greatest circus. Without his (and Paul Stanley and Bill Aucoin's) foresight, you wouldn't be able to book into a KISS casket once you meet your demise, or go to an L.A. KISS (RIP) football game or, you know, see the theatrics of a kid from Queens spitting blood into the air and all the theatrics that KISS stands for. Give him this, outside of making money, all the guy wants to do is rock and roll all night and party every day (although he's never touched a drop of alcohol or done drugs). Do you blame him?     DK
20 John Mellencamp
Very few musicians have sold more records or played to more people than John Mellencamp, rock's great troubadour. While Springsteen plays to the gallery with his sometimes oversized gestures and songs, Mellencamp plays to the front row, dead center, with his more genuine, more awkward and unresolved songs of small towns and lives — our towns and lives. Songs like "Jack and Diane," "Hurts So Good," "R.O.C.K. In The U.S.A." and "Pink Houses" — and the mid-'80s breakout hit of his then-new musical sound and activism, "Rain On The Scarecrow" — made him a best selling pop star and household name who sold-out arenas and stadiums. But it was songs like "Jackie Brown," which was never a hit, and "Hard Times For An Honest Man" or "Paper In Fire" that cemented him as a thrilling musician and a truly great American storyteller, indelibly singing the pain of his characters. I think of Mellencamp as the spiritual, orphaned love child of Woody Guthrie and Hank Williams, eternally restless and apparently eternally discontent, as an artist.   BGJ
19 Ann Wilson
Of all the voices in rock 'n roll, Ann Wilson's three-octave soprano has the power and drama of a true warrior goddess—which is exactly what she is. She and Nancy—her sister and Heart guitarist—charged into the '70s male-dominated music scene, unapologetic and ready to rock. Plenty of women were singing and playing music, but none quite like Heart. They didn't play songs about love that made you a-flutter, they belted about the kind of love that erupted in throbbing passion, sweat and heat—the "Crazy on You" kind. You can bet Heart's "Magic Man" knew exactly what he was doing.
Ann makes it all look so easy. Her sound is always beautiful and perfect—best part is, for a "perfect" singer, there's nothing precious about her. After '70s success easily transitioned into '80s hard-pop chart-toppers, Ann and Nancy are both still at it today, creating music together and separately, Ann is still known for incredible live performances.   LL
18 Dave Grohl
You don't earn the title of the nicest guy in rock without merit. Whether he's making documentaries about van life or paying tribute to beloved recording studios, or even firing up a grill at some of the San Fernando Valley's best restaurants, Grohl is the anti-rock rock star and the relatable everyman who just so happens to write ridiculously catchy rock songs. Oh yeah, he also happened to be the drummer in a little-known band named Nirvana. Just to think, all of Grohl's greatest successes came during an improbably second art which just never happens in music. Unless you're Dave Grohl of course.   DK
17  Stevie Nicks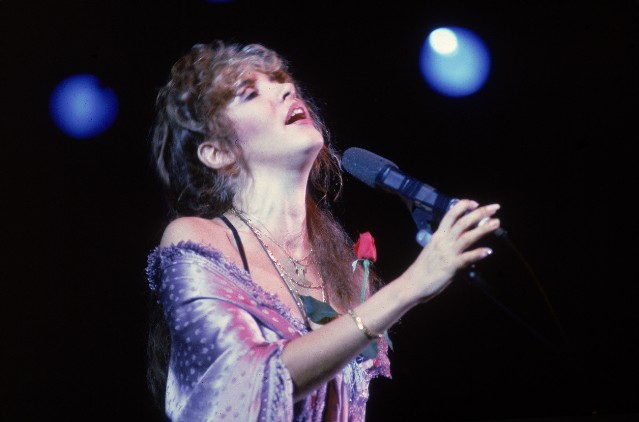 Credit: Hulton Archive/Getty Images
Stop what you're doing and remind yourself: No matter what happened to you today, you live in the same world as the indelible force known as Stevie Nicks. And that is truly something.    LL
16  Freddie Mercury
Credit: FG/Bauer-Griffin/Getty Images
Mercury, the closest planet to the sun, paled in comparison to the Queen frontman who took its name. Freddie Mercury is proof that some stars really are just born, because no matter how much training, coaching or classes, there will never, ever be another. It wasn't simply his five-octave range that set him apart from the rest, it was his innate bravado laced with deep vulnerability, and his ability to command and connect with a crowd, and his uncompromised ability to break musical ground. We miss your fire, Freddie.   LL
15  Eddie Vedder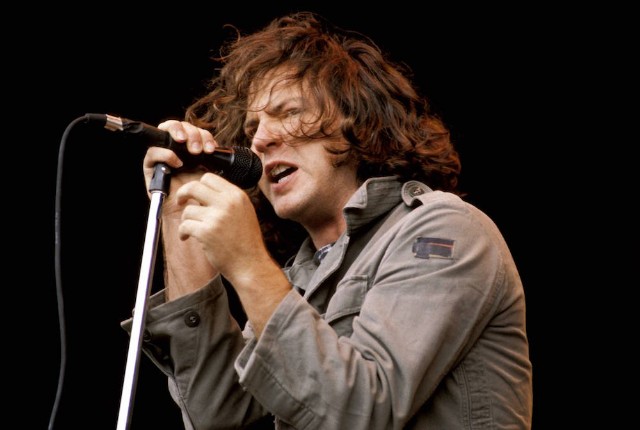 Credit: Mick Hutson / Getty Images
When you think of the Pearl Jam frontman beyond his iconic baritone, the thing that everything Vedder comes back to is authenticity. Unlike the era that preceded Pearl Jam, everything Vedder stood for (and stands for) was worn on his heart sleeve and quite literally. Name another artist who, in 1992, would scribble "Pro Choice" on his arm on a national television program? (And write about it for this publication?) Or another who would pay tribute to a fallen friend during one of the darkest Saturday Night Live performances in the show's history? Vedder spawned many, many, MANY imitators who sought to ride the wave of his booming voice to a life of alt-rock stardom. Yet, they all failed miserably. He's the rock star your cool older brother loves…and the one who has no issue weaving in and out of appearances with dynamos like Bruce Springsteen, Neil Young and Roger Waters to then guesting with Liz Phair, The Strokes and Beyoncé. There's only one person who commands the respect of that: Eddie Vedder. The world is a better place because of that.   DK
14 Debbie Harry
Credit: Lynn Goldsmith/Corbis/VCG via Getty Images
Essentially… there's Debbie Harry and then there's everyone else. As the frontwoman of Blondie, Debbie was a blast of arctic fresh air across '70s and '80s music. From her punk rock roots to her glam-rock style, every game she was in she took charge. She and Blondie sailed above their contemporaries with forever hits "One Way or Another," "Call Me," and "Heart of Glass." Her sound was unique and thrilling. Poignantly open in her autobiography Face It about the challenges and hardships of her life, nothing has hardened her. She's forever brave and big-hearted.   LL
13  The Edge
His given name is David Howell Evans but to the world he's The Edge, and, frankly, musically, he really is, because without him, U2 would be an ordinary rock band, with an admittedly great singer, going head to head with the Waterboys for who was Ireland's best rock group. The Edge gives U2 its sound, its uniqueness. Not to dismiss the others, all accomplished musicians, but U2's best songs are all hallmarked by The Edge's guitar riffs (and sometimes keyboards). He's the electricity in their music. He could've made the Carpenters sound like the Rolling Stones.    BGJ
12 Bob Marley
Credit: Charlie Steiner - Hwy 67 Revisited/Getty Images
A radical revolutionary, Bob Marley started off living in the slums of Trench Town and managed to bring reggae rock to the world. His songs? Inescapable? His lyrics? Bringing a voice to the voiceless that remains poignant and true today. Had he not succumbed to cancer at the age of 36, you bet your ass that Marley would continue his fight against injustice to this very day.    DK
11 Janis Joplin
Credit: John Byrne Cooke Estate/Getty Images
One of the more overlooked members of the infamous 27 Club, Janis Joplin was so undeniably talented and outspoken that the Boomers who loved her in the '60s would've hated her by now. Plus, she's arguably the first tattooed celebrity and gave the artform an early push into the mainstream — where it would be feared and hated by many of her peers for another 30 years.   JC
Click NEXT at the end of the text to see the Top 10
10 Kurt Cobain
Credit: Frank Micelotta
What's there to be said about the greatest rock star who never wanted to be a rock star? Handsome, hilarious, genius and self-destructive, Kurt Cobain, unintentionally, became the voice of an entire generation and he hated it. As one of the first prominent male feminists, his songwriting captured the sea of change in the air at a time when über macho hair metal ruled the musical landscape. By burning out instead of fading away, Cobain left perhaps at the peak of his powers and the same time, had so much more to give, which is a shame.   DK
9 Grace Slick
Credit: CBS via Getty Images
Rock 'n Roll is sex. That used to not be a controversial statement and even though now the busy woke bees must reject any concept of something being measured, or — God forbid! — appreciated in terms of sexiness, some things are too big, too true, to be stung to death by their little woke bee-stingers. This is not to say that Grace Slick's only or main contribution to Jefferson Airplane, or the '60s, or San Francisco's Haight Ashbury music and hippie scene slash American cultural renaissance, was her sexiness. That alone would not have carried the group and the music, or the moment/movement. It was that she was part of the weightless, everything is possible unfettered sensibility of the moment, and she was the shudderingly powerful, exquisite voice of the at-the-time greatest American rock band and standard bearers of all that was glorious about the Hippie movement. 
Her singing was anthemic before anyone knew that was something you could call the music. "Somebody to Love" and "White Rabbit" were just two of the Airplane's massive hits that, no exaggeration, gave the American '60s their soundtrack. Grace was the first female rock star — it's not important whether technically Janis or Aretha predated her on the charts. Grace was an incandescent star the way Mick Jagger was a star. Marty Balin and Paul Kantner liked to promote the idea that Jefferson Airplane was their band, but it wasn't. It whirled, centrifugally, around Grace. Without her grabbing rock 'n roll by the throat and holding it for as long as she cared to, American music would have been shallower, thinner and less dimensional. And less exciting. And, yes, less sexy.    BGJ
8 Mick Jagger
Jagger was the first, real, fully developed, Bad Boy rock star. (Forget the Elvis posturing — in reality he was about as much a rebel as Mike Pence. Elvis was a corporate man, through and through.) But the wiry, implausibly wide-mouthed lead singer of the Rolling Stones set himself and the band as the non-conformist, darker side of the Beatles sunny coin, and it made them the sexier, more electrifying of the two, and more popular than just about any group but the Beatles. Jagger was never the best singer, dancer, performer, or musician. But he was the best Mick Jagger, a lead role in the long running Pantomime of rock 'n roll.    BGJ
7  Bob Dylan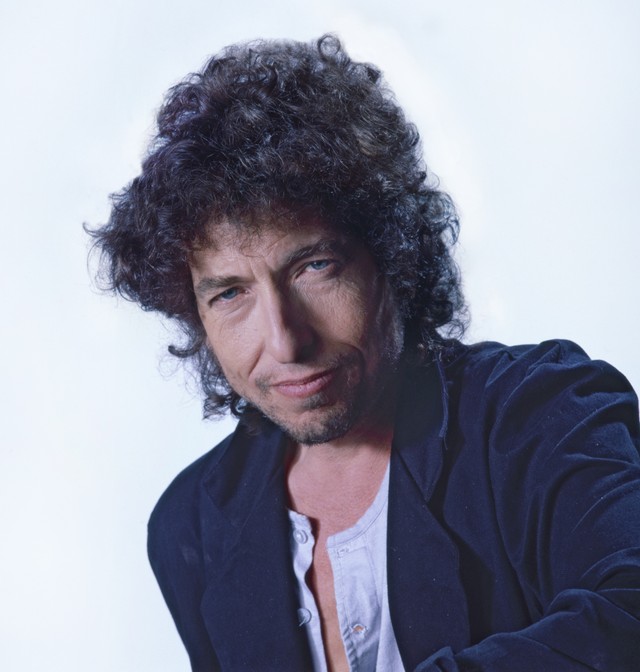 Credit: Aaron Rapoport/Corbis via Getty Images
Bob Dylan is the rock's first real renegade. He's also rock's first true troll. Who else would have the balls (or chutzpah) to go to the 1965 Newport Folk Festival, plug in and say he ain't gonna work on Maggie's Farm no more? Or, what about a year later in 1966 at show Manchester, when faced with a booing crowd calling him Judas, telling his backing band to "play it fucking loud!" Oh, wait, what about right after his electric success with Highway 61 Revisited and Blonde on Blonde, and almost instantly making a country album as a response? Or better, you know what punk really is? Converting to Christianity and making three (mostly great) Christian rock albums because that's what you believe in. And lastly, what about when some idiot with the phrase "Soy Bomb" threatens to ruin your big comeback moment at the Grammys and you barely even acknowledge he was even there. Now that's rock n roll.    DK
6 Bruce Springsteen
(Clears throat) Uh, 1..2..3..4! From his rise as a Jersey bar band to the guy who covered Time and Newsweek at the same time to international icon, Bruce Springsteen remains the everyman that everyone looks up to with his earnest lyrics that literally became the blueprint for every heartland rock imitator. For many, New Jersey's greatest son is the living epitome of both the American Dream…and hope. Case in point, as New York City was burning on 9/11, the Boss, like everyone, was watching the destruction…but he saw it firsthand across the river. Famously, a passing motorist yelled, "Bruce, we need you." Not only did he respond, he wrote one of the best late-stage albums in history with The Rising, kicking off a successful stint with the E-Street Band that continues to this very day. Bruce is the rock hero we need, not the one we deserve. Besides, which rock star could go to Broadway and perform an irreverent, yet deeply personal and open one-man show…and joke about it being his first honest job?  DK
5  David Bowie
Credit: Michael Ochs Archives/Getty Images
David Jones, young man about town in Swinging London in the '60s, was going to be an art director and foresaw a career trajectory where he would have his own advertising agency. "I could've done a Saatchi. I know I could. I'm great with ideas — I can see things. If I had stayed in advertising, I might well have had a New Bond St. agency. That'd be very funny," he once told me.​ Instead, he became David Bowie, rock's great changeling and perhaps its greatest artist.
​He was certainly rock's most​ interesting and creative ​personality.​(​A​nd​ probably its ​most intellectual​,​ and genuinely curious and absorbent​ ​one.)​ Starting in the mid-'60s he produced a 50 years chain of brilliant albums, and periodically morphed from one sound to another, from the buoyancy of glam rock to the hard, distorted rock of Station to Station, 15 years before Nirvana brought us grunge, to jazzy cabaret, with stops in between​.​
He was a poser, but that was his job description. He had multiple personalities, and toyed with them all, like an agile cat batting around ​the proverbial​ mouse, and resolved each of them — Ziggy, the Thin White Duke, Aladdin​, the late period wise crooner, even to the point of effectively delivering his own eulogy with Blackstar and the chilling "Lazarus."​ ​B​ut there was one character he never got back in the box, his real self, David Jones​, whose name he was forced to​ abandon because Davy Jones of the Monkees was more famous at the time. ​Twenty years ago ​I asked him​ if he ever imagined having a drink in a pub with ​then middle-aged Jones, and discussing what might have happened had he stayed with him. 
"​I've ​really ​had to reflect ​upon​ how much I've been absorbed into the David Bowie persona. Is it more than just a name change or have I symbolically—by changing my name so early on— given myself permission to completely change the way my life would've gone?​ ​​Is this what David Jones turned into, or did David Bowie allow David Jones to become this? I don't know​!​" he replied.   BGJ
4  Jimmy Page
Credit: Larry Hulst/Michael Ochs Archives/Getty Images
Some say he's the greatest guitarist to have ever lived. Aside from forming Led Zeppelin, one of the most successful bands of all time, Jimmy Page's style and influence as a guitarist are immeasurable. Long-haired and bell-bottomed, Page was the consummate pioneer and perfectionist, a true virtuoso, his epic solos, unique techniques and signature riffs forever changing the guitar-playing game. Thanks to Page, young guitarists for centuries to come will learn just how tough achieving the "Dazed and Confused" distortion, "Heartbreaker" smearing and "Black Dog" bends can be. Some will try and play with a bow. Thanks to him, they'll learn from a master.    LL
3  Jimi Hendrix
Credit: Monitor Picture Library/Photoshot/Getty Images
A kid from Seattle changed the world with the flick of his fingers — and it's not who you think. James Marshall Hendrix invented how the modern electric guitar was to be played. Not to mention his distinctive '60s, swingin' London look that not only was cool, but it also epitomized cool With a swagger, groove and maximum volume intensity, Hendrix turned the guitar into the musicians' choice weapon of mass destruction — even if he destructed it himself. Who can forget the Monterey Pop Festival when he set his ax aflame? Oh, not impressed? What about waking Woodstock up at 8:04 am (so says my father who was there) with a now-iconic version of "The Star-Spangled Banner" before launching into "Purple Haze." You want trippy? How about "Voodoo Chile?" Not ferocious enough for you? What about "Fire" or the mangled greatness that was "Manic Depression"? Hendrix did the impossible though, he reconstructed a Bob Dylan song and made it his own. So impressed Dylan was that he has played Hendrix's version live ever since. How's that for a legacy?  DK
2 Prince
Credit: Michael Montfort/Michael Ochs Archives/Getty Images
Wizard. Freak. Icon. Legend. Controversy. One Man Army. A Little Off the Deep End. Control Freak. Those are just some of the words how you can describe the Purple One. What's indisputable is the body of work that he left behind following his shocking 2016 death at the age of 57. Prince was an artist in the truest sense of the word. Always creating, always innovating, never settling for anything less than the best. It could be heard in his demos, lost albums and kinetic live performances that left you feeling like your head was on a swivel. And, just to think, he has literally thousands of songs that didn't meet his standards that are still in his vault. Have you heard any of the songs that have been unearthed yet? If not, do yourself a favor and do so — Prince's leftovers are 96.43% better than anything else that has been put out by others. Yes, it turns out his legacy is a bit muddied by some erratic behavior, but there's no doubt about this: Prince is your favorite rock star's (and musician, really) favorite rock star.  DK
1 Keith Richards
Credit: Graham Wiltshire/Redferns
Mick Jagger was the poster boy for the Stones, and Brian Jones the artsy visionary of the band, who introduced the others to the Blues and blended it into their sound. Both were cut from the mystical cloth of the rock star, and resided in that rarified strata of excess high above our average lives. But Keith Richards was the sound of the band, and the real rock star, the guy who really didn't give a damn, including from time to time, it seemed, whether he lived or died. 
He was never the pretty boy and even when he was younger he looked older than he should, and more spent, like the guy who's at the end of the bar in the pub too much. But if anyone in the Stones made a deal with the Devil for musical divinity, ala Robert Johnson's mythical pact, it was Keith. Think of the opening to "Jumpin' Jack Flash" or "Honky Tonk Women." Or the urgent and accelerating intro of "Street Fighting Man." He gave "(I Can't Get No) Satisfaction" its thrust. And then there's "Sympathy For the Devil"'s chilling and immortal guitar line, the wail of "Winter," the ache of "Angie." His guitar propelled the forceful, percussive "Start Me Up" and, as so often his playing has done, once again made the Stones sound fresh when they were far, far from that.
He refers to himself as the Riff Master and wrote in his autobiography Life "I'm blessed with them and I can never get to the bottom of them. When you get a riff like 'Jumpin' Jack Flash' you get a great feeling of elation, a wicked glee. 'Flash' is basically 'Satisfaction' in reverse. Nearly all of these riffs are closely related." 
So the greatest rock star of them all, from the time of the first budding notion of what that might be, is the anti-rock star. The one who never tried to be one in the first place. The guy who, for a little under 60 years, has been the sonic spine of rock 'n roll, the real deal, the baddest of the bad boys.   BGJ
The post The 100 Greatest Rock Stars Since That Was A Thing appeared first on SPIN.