Do you have full moon fever? Are your kids howling at the moon? Do they love staying up late and catching fireflies? Do you ever want to find new and exciting activities to do together as a family in the long summer evenings? Look no further! This post filled with fun full moon frolics for families will give you lots of ideas for creating the perfect evening full of moon-related activities for your kids. Today, Georgia homeschooling mom of three, SarahRuth Owens describes how to frolic under the moon with your kids. You will not only learn why full moon frolics are a wonderful addition to your evening family time, but you will also gain tools and ideas to launch this outdoor activity into action!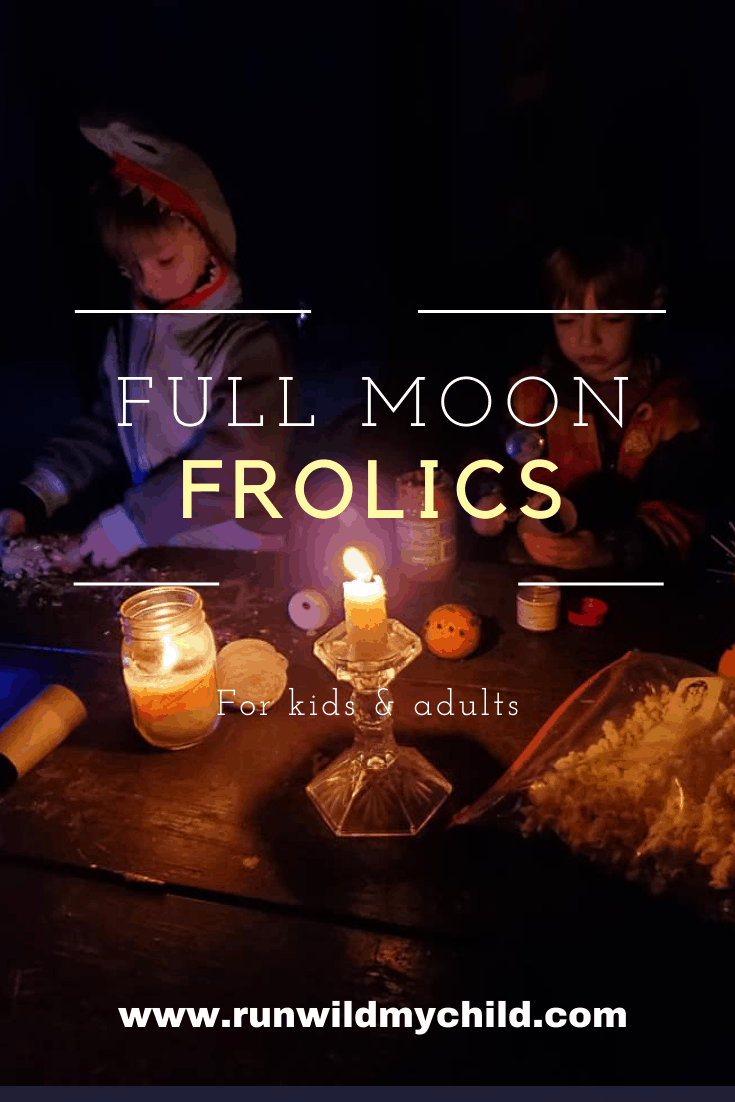 Go out, go out I beg of you
And taste the beauty of the wild.
Behold the miracle of the earth
With all the wonder of a child."
~ Unknown
Full moon frolics for families
A full moon occurs when the moon appears as a complete circle in the sky. We see it as a full orb because the whole of the side of the moon facing the Earth is lit up by the sun's rays. A full moon is a beautiful sight and one that we love to acknowledge and appreciate each month. Our family celebrates each full moon with an evening of full moon frolics! It's a tradition we started a while back and have come to love doing month after month. I'm here to help you do the same with your little moon-lovers. 
Planning an evening of full moon frolics is easy to embark on and requires as much or as little prep as you want. It can be leisurely and relaxing or it can be an educational teaching opportunity. You can spend a lot of time planning out your activities for the evening, or just wing it as you go! You can make it as elaborate or simple as you want. But no matter how you structure your evening outing with the kids, it's sure to be fun!
Monthly moon outings
Nearly every month there is a full moon! A full moon happens roughly every 29.5 days. This is the length of time it takes for the Moon to go through one whole lunar phase cycle. Did you know that a month was originally defined to be either 29 or 30 days, to correspond with the lunar cycle? However, some of our calendar months were later padded out with extra days, so that 12 months would make up one complete 365-day solar year. Because our modern calendar isn't quite in line with the moon's phases, sometimes we get more than one full moon in a month. This is commonly known as a blue moon.
Since there's a full moon every month, this means that you've got an amazing opportunity to create a year-round experience for your kids, month after month. Being consistent and making your full moon frolics a monthly tradition means that your kids will grow to appreciate and observe the moon. We're raising "look at the moon" people!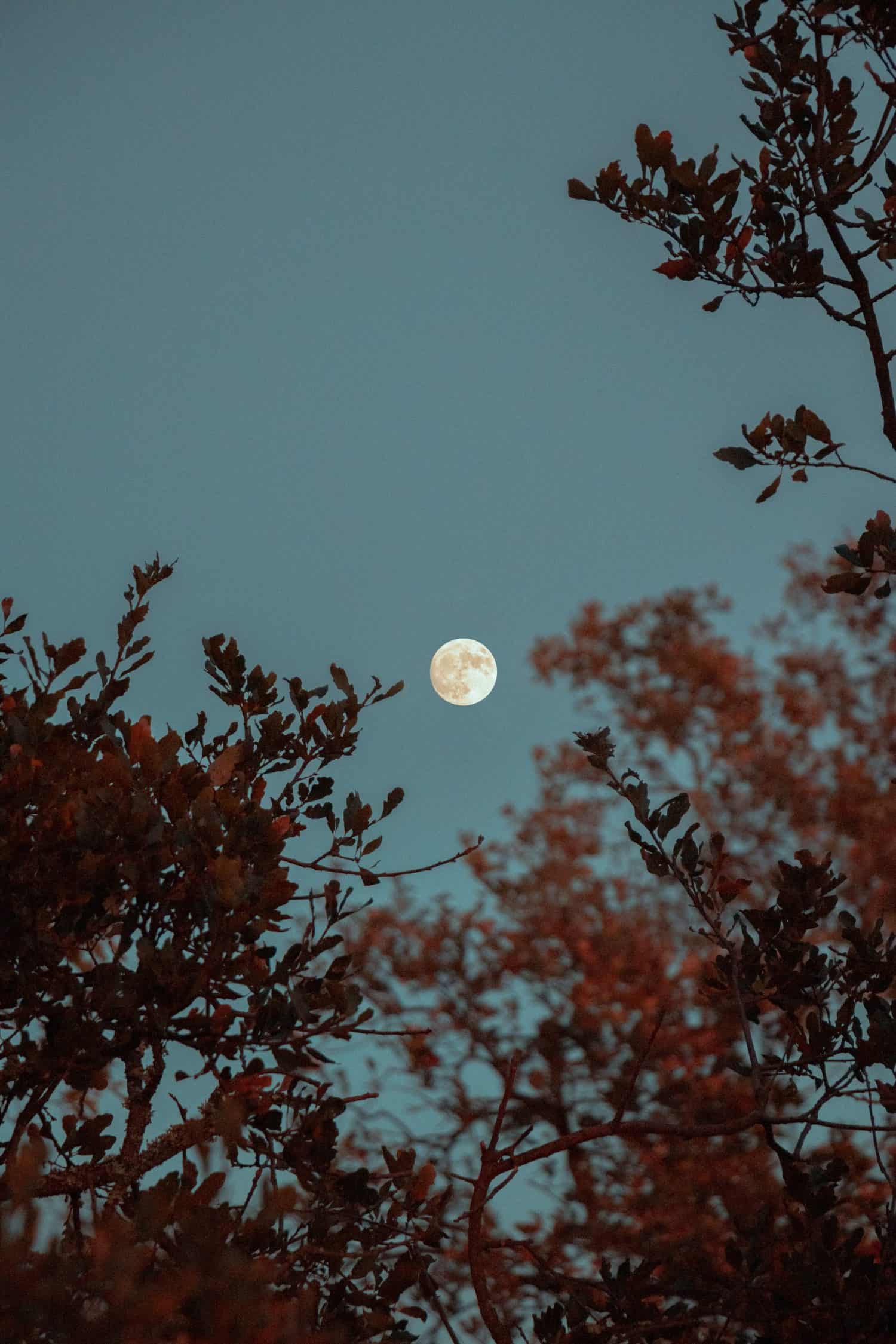 Creating special family traditions
But before we dive into how to set this all up and make your full moon evenings a reality, let's talk about why…
Why skip a 6:30 bedtime (wait, maybe I am the only one who does that) and hit the trails during or even after the witching hour? Why stay up late and look at the moon? Why plan all these evening activities for your kids? 
Because it's fun! Simple, but true. Families that have fun together, thrive. Consider a full moon frolic for families your invitation to be light-hearted and enjoy something beautiful and magical with your children. Something changes at dusk. Fairies become a real possibility, frogs croak louder, and wonder appears without needing any special encouragement. The evening is a magical time and a little break in your normal evening routine means your kids will think this is a very special adventure! 
Beyond fun, there are so many benefits to observing the night sky. It is science and all that jazz (insert cute winking emoji here). So don't worry, you can write your kiddo a note to take the teacher when they skip out on their homework because the fam was busy checking out the moon.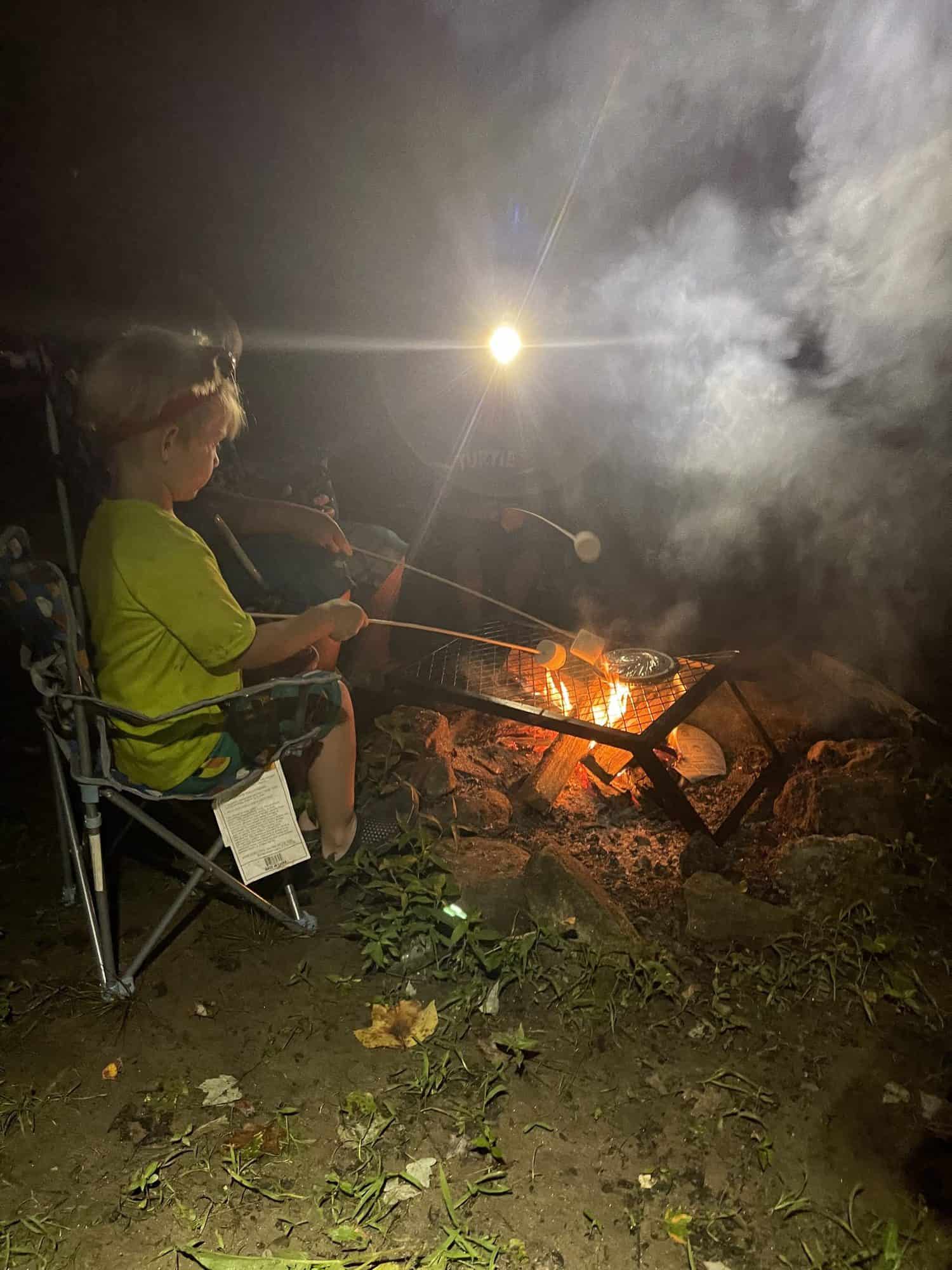 How to plan full moon activities for kids
Now, let's get to the specifics so you are equipped with ideas and resources for creating evenings full of magic, laughter, and learning. Otherwise, full moon frolics will likely remain something you want to do, but don't. This is the good stuff.
So, how on earth do you plan such a thing as an evening of full moon frolics? Does a full moon frolic just mean you step outside and look at the moon? Nope. (Well, okay, it can. But, only if you want it to be that simple.) Luckily, like most activities with kids, there's no one right or wrong way to do things. There's no one-size-fits-all-families option. Your family is unique. You know your kids best and what they'd like to do and be interested in. And again, you can plan as many things as you can (or just a few). 
But, let's say you want to go all in and do this thing one hundred percent. Go big or go home, right? Here is how you do that.
1. Note the dates
A quick internet search will give your the dates of the full moon each month. This will help you plan your evening outing on/near a full moon. We try to schedule our full moon frolics on the date of the full moon, but we're usually flexible (due to weather/clouds, etc.). Jot down all the dates of the full moon on your calendar, which will help you plan. Once it's on your calendar, it'll be easier to remember to celebrate. 
2. Pick a spot
You need to know where you can see the moon. A quick google search can tell you where and when the moon will rise in your area. Sometimes a full moon shows up in the middle of the night or the wee hours of the morning, don't worry about that. Just go when you know it can be seen (the day before the full moon, or even a couple of days after it peaks, is just fine).
We chose a spot a little ways away from our house. Our family enjoys having a brief hike over to where we will make observations. The evening hike just adds to the fun and makes the outing seem a little more special than staying in our own backyard (but that's also totally fine, especially for families with small children). 
3. Learn some basic moon facts
Equipping yourself with some simple knowledge about the moon is helpful when making observations and enjoying your family full moon frolic. With an evening of activities centered around the full moon, your kids are sure to ask a lot of questions about the phases of the moon, the color, the size, and the shapes. You'll want to know that the moon has eight phases and the same "face" or side of the moon is illuminated during each observable phase. My kids find it most interesting that a new moon is not observable (as in, it is the phase when we cannot see the moon from Earth). You don't have to know all the facts, though. Learning about something together with your kids is always encouraged. 
4. Bring snacks
We also love having food at our frolics. You can keep it simple and bring simple snacks (fruits, veggies, chips, pretzels, etc.), or you can decide to have an entire campfire meal! We've done both and neither disappoints. Any food enjoyed outside under the light of the moon is delicious!
If you are feeling up to it, prepare a moon-themed snack to enjoy while you gaze up at the moon on your frolic. Moon pies or moon cheese, for example. Or cut your fruit (banana or kiwi slices) into phases of the moon shapes. During the warmer months, moon-shaped cookies (or any cookies) are perfect, and during cooler months bring some hot chocolate. 
5. Grab some books 
Taking books with you on your moonlight adventure is the perfect way to learn more about the moon while sitting under it. Plus, if you plan on eating a snack or stopping to sit and watch the moon, it gives your family (think younger kids) something to do while they sit. Below are some of my family's favorite moon-themed books to get you started.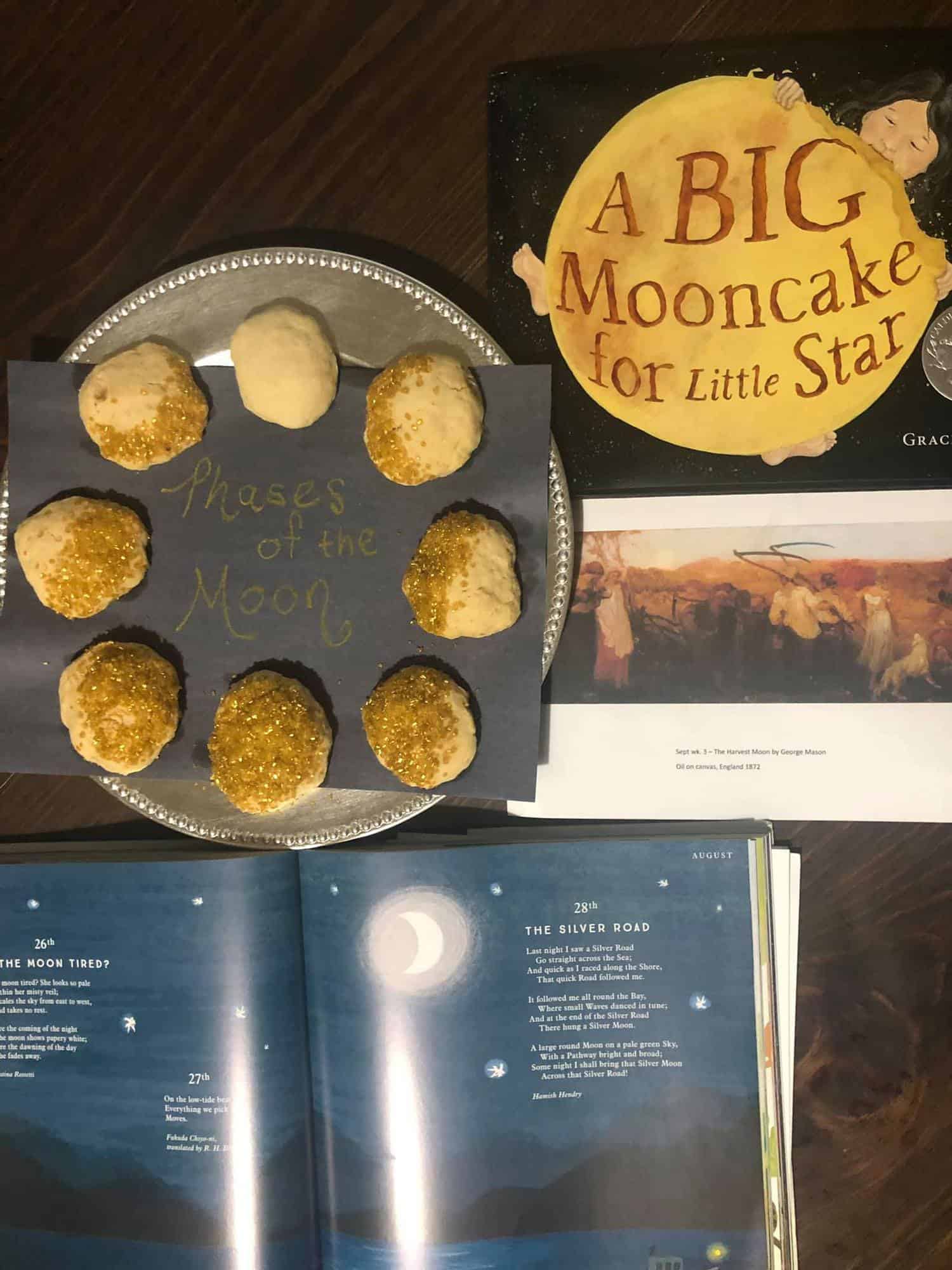 Best moon books for kids
Books somehow always make it into our full moon frolics. There are so many amazing books and resources out there when it comes to this. Here are some of our personal favorites. Often we read these around a fire or while we are enjoying our snack during our frolic. You can check these out from your local library or you may also find many of these titles on thriftbooks at lower prices than buying them new. 
Fiction
Non-Fiction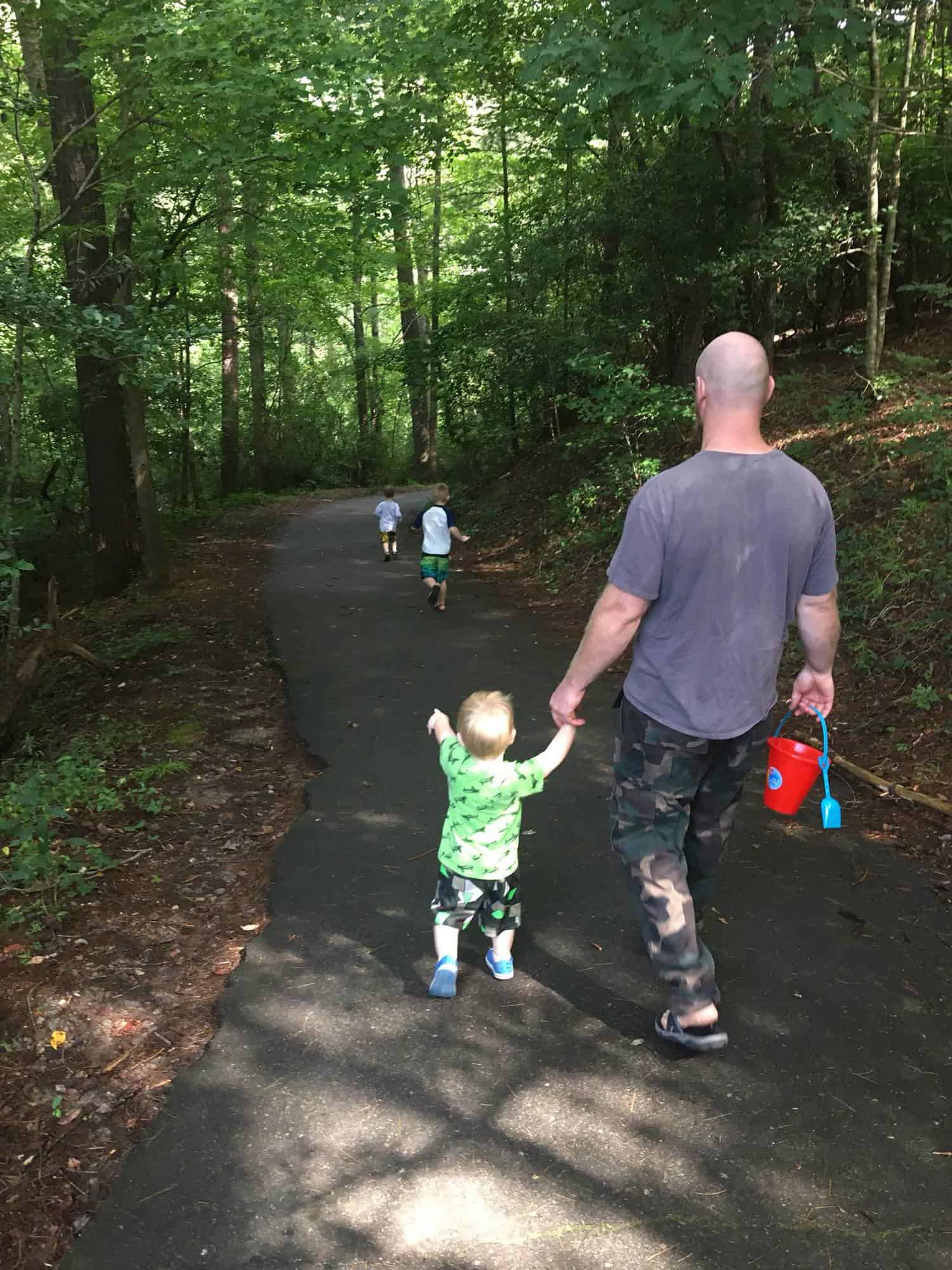 Activities to do during a full moon frolic
One of the most spectacular benefits of doing regular full moon frolics is noticing seasonal changes. As you go out each month, you and your family will begin to take note of how things change outside around you through the seasons. Here are some fun ways to enjoy the various changes in nature during each frolic throughout the year.
Summer full moon activities
Bring a mason jar and lid with holes poked in it to catch fireflies. Of course, if you do not have fireflies in your area, you can listen and watch for the creatures that you have around you (frogs, crickets, cicadas, etc.).
Collect flowers to press (be sure and check the area you are in for permission to ethically collect wildflowers).
Bring a telescope and observe the constellations in your area.
Autumn full moon
activities
Walk silently and listen to the changing creature sounds. What do you hear that you didn't hear during the summer (or what don't you hear)?
Make notes about birds you see.
Paint the colors of the leaves in the moonlight.
Make a campfire. 
Winter full moon 
activities
Bring a ruler to measure the snowfall.
Search for scat and tracks.
Spring full moon 
activities
Observe moths.
Go to a pond for the frolic, and find frog and toad spawn.
Identify trees by their buds.
Activities based on the name of the moon
A quick search will also help you find out the name of each full moon. For example, a few types of moon names are Harvest Moon (fall), Strawberry Moon (June), Wolf Moon (January). Each full moon has a name and a story behind it. Consider telling the story of the reason behind the moon name to your kids each month. Or plan activities and food that corresponds to each moon name (all strawberry-flavored treats for the Strawberry Moon, a scavenger hunt for the Hunter's Moon, etc.).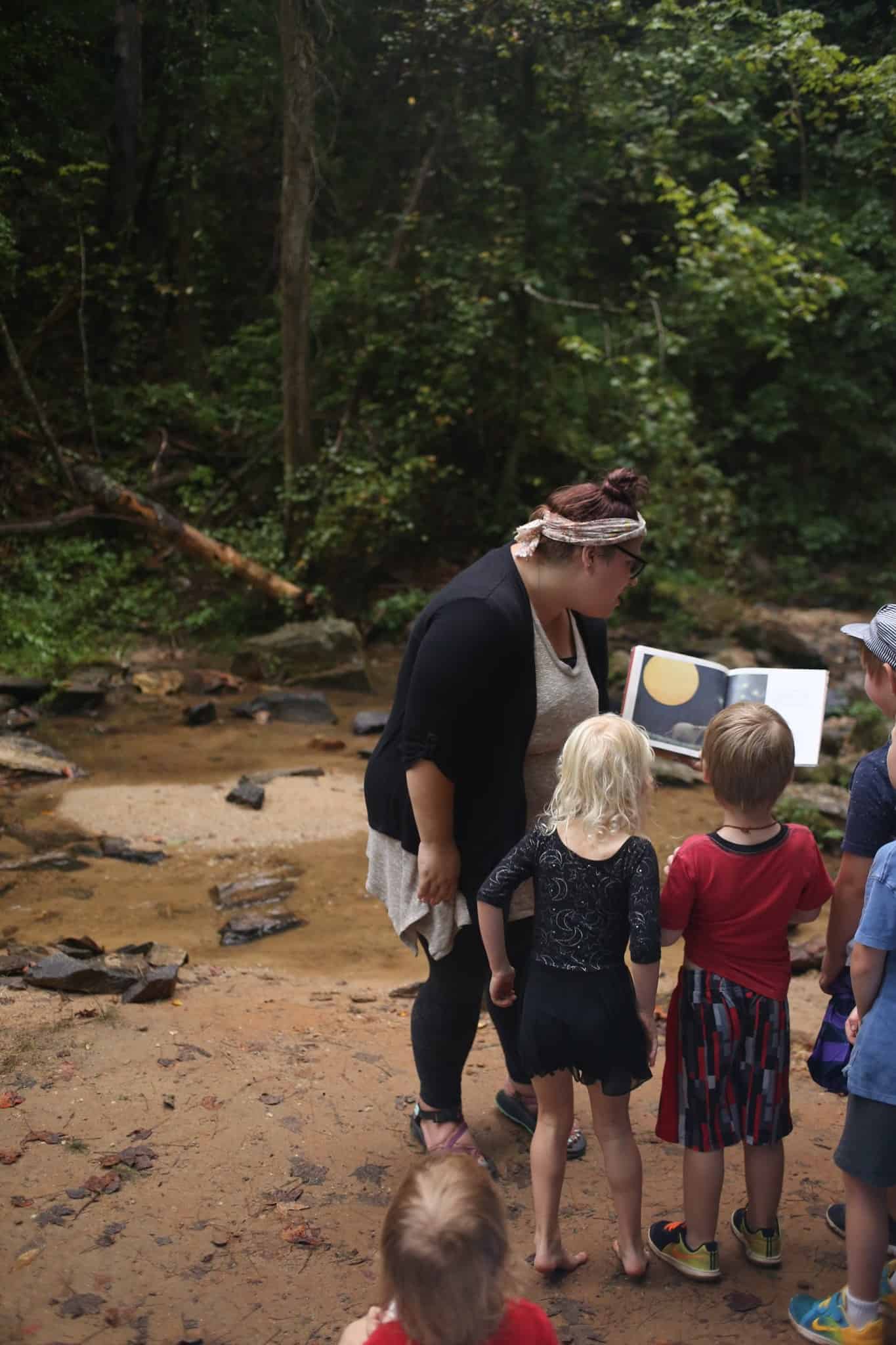 Connection and conversation with kids
One of the reasons I personally enjoy an evening of full moon frolics with my kids is the connection it builds with our family. We have these monthly walks in the woods, at dusk or later, where we have a goal and we have a topic of conversation. In truth, this will work for the oldest kiddos in your home as well as the babies. You can make your frolics simple, like a walk through your neighborhood. Evening walks open us up; there is something unassuming about strolling at dusk or in the moonlight. Guards down, you may find your conversation drifts from the moon to your teen's concerns at school and questions about life. 
If you want to keep focused on the moon, our family likes to choose one picture book and one non-fiction book or general facts about the moon. We learn the common name based on the Farmer's Almanac as well as some of the names given by Indigenous People. The full moon connects us to the past, to religion, to customs, seasons, nature, the beyond, and so much more. 
We didn't realize we were making memories, we were just having fun." -Unknown 
Everyone will remember these full moon frolics
Making memories is the best part of this amazing activity. Full moon frolics can become a family tradition – a monthly adventure that everyone looks forward to. Some months you may go all out and other months you may keep it simple. No matter what, taking a frolic together under a full moon will create fond memories for all!
If you are looking for a more in-depth guide, I created a resource that includes activities, recipes, book suggestions, music, and more for every full moon. It is a Charlotte Mason-inspired approach to moon frolics and includes some faith-based content. 
When are you headed out on a full moon frolic?

About the author
SarahRuth is a homeschooling mother of three boys. She was raised in cities across the East coast, but now resides in the Appalachian Mountains of Georgia where her husband grew up. Passionate about inspiring others to shift from the status quo of Western indoor life, she launched a local Free Forest School chapter in 2017. Her family clocked over 2k hours outdoors in 2019 and believes that outside time as a family is vital to a joy-filled life. She collects books, stray children, and as much coffee as her body will permit. When not foraging, chasing waterfalls, or camping with her crew, you can find SarahRuth crossing the globe from her laptop, teaching English full time online! She has two bachelor's degrees in Education and is passionate about teaching children to love learning through outdoor adventures.
You can find more from SarahRuth in the following online locations:
Instagram: @kindle_togetherness
RWMC posts: SarahRuth 
The post Full Moon Frolics: Evening Moon Activities for Families appeared first on RUN WILD MY CHILD.