If you ask us, the best time to start learning to sew and use a sewing machine is when you're young! Of course, it's never too late to start learning and mastering any hobby or art that you admire and enjoy, but we happen to think that encouraging kids to sew is a great way to foster creativity, patience, and coordination skills. We didn't learn to sew until much later when we were adults, and we made out just fine, but now that we're parents with kids who show an interest in it every time they see us putting our sewing skills to use, we can't help feeling like the best idea would be to get them started nice and early in their lives.
That's why we've been on the hunt for the best kid-friendly sewing machines out there! It's true that many full-sized machines are built simply enough for beginners, but our kids are still a little young for that, so we'd rather invest in something they'll have a lot of fun with and find particularly straightforward to use.
Editor's Choice
Premium Pick
Best Sewing Machines for Kids
As with everything, however, we decided to do a good amount of research before making our final purchase, just to make sure we really make the best decision! By the time we were done considering all our options, we had realized we'd compiled a pretty decent little list of recommendations, so we figured we'd as well share it with other crafters who are looking for the same kind of machine. Check out the 10 best sewing machines for kids that we came across in our search!
Listen, we know that the color of your sewing machine isn't necessarily the most important part of the whole design, but that doesn't mean a bright exterior doesn't make it a whole lot of fun to use! That's part of what caught our eye so well about this bright pink and yellow basic sewing machine offered by Janome! We knew right away that it would have a huge appeal to our kids.
On top of being very fun to look at, this machine is well-sized for small hands, lightweight and very portable, and intuitively designed so that all the key features are accessible and easy to find. Despite the focus being on ease, the machine actually also has a decent range of more professional features that make using a full-sized and more well-equipped machine a bit of an easier transition later on. The machine has 10 useful automatic stitch settings and a free arm feature for sewing things like sleeves and cuffs. It also features a snag-free drop-in bobbin system that makes learning how to wind very simply indeed. Perhaps the best part is that the needle comes with its own subtle and easy-to-navigate guard that's specifically designed to protect little fingers while your child sews. Safety first!
Pros
Super portable and compact. 
Comes with 10 built-in stitches.
Cons
Not the easiest to set up. 
View price on

Amazon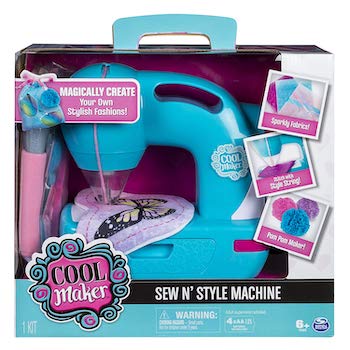 Are your kids very young indeed but feel determined to start sewing alongside you rather than just watching, so you're looking for something even smaller and safer to use than what you saw above, even though you're totally into the idea of the machine you buy having a bright exterior? Then we think you'll appreciate this little blue machine from Cool Maker, for all kinds of reasons! One of the best parts of this particular package is that it comes fully equipped with everything your child needs to make a series of cute things, including yarn for pom poms and thick embroidery floss, and sparkly fabric with printed butterflies and unicorns.
That's right, this sewing machine includes a pom pom maker for yarn pom-poms at one end! This might not be convenient for most professional machines, but the action or preparing the winder and completing the pom mimics that of working with a proper drop-in bobbin, introducing skills your child will need when they transition to a full-sized machine later. Additionally, safety is a top priority in this design!
It's extremely straightforward to thread and feed down into the automatic needle threader, where the needle is actually covered by a plastic shield that lets your child see the sewing action taking place inside for understanding but keeps their fingers entirely away from the sharp end's speed.
Pros
You don't need yarn or thread. 
Works great with felt. 
Cons
Since this isn't necessarily a sewing machine, but rather a felting one, consider whether this is enough for your needs. 
View price on

Amazon
Are you a little less concerned with the color of your child's new sewing machine because they're slightly older and very careful, so you'd rather a piece that functions a little more like the full-sized version in its features, just a little smaller and more manageable for kid-sized hands? Then we think you might have a better time with something like this uniquely shaped showing machine designed specifically for kids, all thanks to KPCB Tech!
This little machine comes fully equipped with a range of custom sized essentials, saving you from having to buy them separately. In the kit, you'll find bobbins, spare needles, pins, and a thimble. You'll also find some fabrics that give your child all they need to make their first practice project; a cute Christmas bag that they can use to give a loved one a gift! Although this model is also equipped with a safety guard to protect your child's fingers, the guard doesn't entirely encase the needle and hide its functions in the same way as some of the other designs you've seen.
The machine also comes with a built-in thread cutter, an LED light for good visibility while you work, and a full manual and tutorial DVD that simply and accessibly walks your child through how to thread, use, and care for the machine. It's also a very light model, made for kids. 
Pros
Super small and portable. 
Comes with lots of materials to use it on. 
Cons
Directions aren't the most straightforward for kids. 
View price on

Amazon
Have we really caught your attention with both the idea of a fun looking machine exterior and the idea of a kid-friendly machine that functions almost like a full-sized professional model only more accessible, but you're caught between the two? Then we're convinced you might prefer this adorable mint coloured design from Janome that's sized specifically for slightly smaller learners and based mostly on the function of easy-to-turn and simple-to-understand adjustable dials.
Although the machine's frame is a cheerful color, it was actually specifically created from metal with durability in mind. Within this particular pack, the company includes a very straightforward diagram-based manual as well as some fun video tutorials on DVD to help your children learn instructional and visually how the machine is used and why certain things work the way they do.
Just like a professional machine, this model has dials for adjusting speed, thread tension, stitch length, sewing direction, and automatic stitch type (including some of the basics every sewing enthusiast uses, like zigzag). Your child will also receive a removable free arm piece, dual retractable spool pins, and several useful presser feet so your child can learn how to change them and sewing different things with their different shapes. As if all of that wasn't enough, this award-winning little machine also comes in bright pink and cheerful blue, just in case mint isn't your thing!
Pros
It features a metal frame, so it's sturdy. 
Also ideal for adult beginners, not just kids. 
Cons
Manual could use more instructions. 
View price on

Amazon
Do you have plenty of confidence in your child's ability to use an almost-like-the-real-thing style machine but, since they are still quite small, you're still on the lookout for a smaller version that won't be overwhelming for them to use? Then we think you'll really appreciate the setup of this kid-sized and adorably designed model offered by Janome! Its layout is intuitive, the setting dials are easy to adjust and straightforward to understand thanks to diagrams, and the cute Hello Kitty design really amps up the appeal this machine has to kids.
Although it threads just like an adult machine, which might take some practice and learning, the fact that this model does require your child to learn a few regular machine features makes for an easier transition to a full-sized machine when they're ready later on. The machine is lightweight, easy to move around, and small, making it easy for little arms and hands to navigate. The machine features dials 7 automatic stitch types, another for stitch length, and a press-down switch for sewing direction.
The bobbin winding system, like the threading, is another thing that resembles a more advanced machine but that works simply enough that your child will undoubtedly master it with a few practice sessions. There's an instructional manual to help, and it's just as kid-friendly as the machine itself!
Pros
Works at a steady speed when using the foot pedal. 
Cons
The instructions in English are poor. 
There is no speed control. 
View price on

Amazon
Are you feeling rather intrigued indeed by the idea of getting your child a user-friendly and kid-sized machine but you have a feeling your little over-achiever will want to make projects of all sizes, so you still want to make sure they have plenty of space to work with even though their machine is a little smaller than yours? Then we're pretty sure this model from Varmax that comes with its own easily attached and detached table for working on! Considering all of the functions and its extendable features, we could hardly believe the price of this particular machine, even given its small kids' size.
Rather than coming with a free arm feature for sewing things like cuffs and sleeves, which would inhibit the machine from getting quite as small as this one can, designers built it with a small cuff groove on the end that works like an introduction to proper free arm use.
In terms of adjustable features, this machine is particularly well equipped when it comes to buttons and dials for controlling stitch speed, stitch auto-type, sewing direction, thread tension, stitch length, and double threading capabilities. Just in case your child's learning process is a little tough on the hardware, this machine comes with a useful one-year warranty and tech support.
Pros
Has a great affordable price. 
Comes with threads, tools, and instructions. 
Cons
View price on

Amazon
Are you still interested in at least a little bit of fun visual detail on your machine, but you're mostly prioritizing the goal of finding a model that would serve to transition your child from the miniature, plastic guarded little kids' machine they already have into eventually using a large professional machine more like yours? Then we think you simply must take a look at this model from Brother that has the perfect features for providing just the sewing experience you're looking for.
This model is slightly smaller than a fully equipped machine and very portable. It also features 10 automatic stitch settings, including some that are basic fundamentals, some that are decorative and work like an introduction to using machines for embroidery, and even a useful but simple buttonhole setting. You'll also get four different detachable sewing feet for different functions, a straightforward manual, and a very simple instructional DVD that walks your child through the process of using each one properly.
Finally, this sewing machine boasts the same kind of free arm piece that most fully-equipped professional machines feature, and it works in the same way, contributing to how good a transition experience this machine provides. As if all of that isn't good enough, the machine comes with a 25-year limited warranty too!
Pros
Features 10 built-in stitches. 
Sturdy build. 
Cons
It's a bit expensive, but that's to be expected given the manufacturer. 
View price on

Amazon
Have you felt quite intrigued by the idea of purchasing a machine that will help your kid move on from the simpler little kids' machine they had before but they've shown quite an impressive knack for decorative stitching that borders on embroidery, so you prefer a model that has a better range of adjustable stitch types than what you've seen so far? Then we'd definitely suggest checking out this simple but slightly specialized model offered by Spiegel.
The stitch settings aren't the only good draw this little, affordable machine has, but they're certainly at centre stage in the experience this model provides. The machine has 32 stitch options, some of which are utility and should be learned by all sewing enthusiasts as basics, and others that are completely decorative but make for beautiful work when it comes to doing more than just constructing, helping your child learn when and how to add fancier details.
In terms of its slightly more practical features, the machine offers a snag-free bobbin system that's easy to learn, as well as a one-step automatic buttonhole, adjustable thread tension, customizable stitch length and width a thread cutter, and an LED light that provides great visibility during sewing.
Pros
Knows 32 stitches. 
Super easy to load the bobbin.
Cons
It doesn't come with any accessories.
View price on

Amazon
Are you the kind of person who has pretty big brand loyalty to the kind of machine you learned on or use because that's the type of function and layout you know the best, and you'd like to purchase the same kind of thing for your child so you can help them a little more effectively when they need it? Well, if your machine of choice has always been SINGER then we think you'll appreciate the way this next machine is modeled after their more professional and fully equipped options and laid out similarly, but this time slightly smaller and more simplified for kids and learners.
Besides a great size and layout for young learners, this machine also gives you simple dials and buttons to make it as easy to use as possible. The automatic stitch type dial, for example, gives you six built-in stitch types that cover the basics and are easy to work with. You'll also find a simple press-down direction stitch, an adjustment dial for stitch length, prongs for two-thread capability, and a very easy bobbin system that might take some learning but that's pretty standard across SINGER machines, making it part of the reason this particular model is a great transition piece.
This machine is also built intentionally durably with the understanding that wear and tear is a part of the process of gaining experience. The metal bedplate withstands all kinds of work but also lets you slide fabric through very smoothly indeed for a snag-free stitching experience.
Pros
Features 6 built-in stitches. 
Actually powerful machine. 
Cons
Instructions are a bit hard to figure out. 
View price on

Amazon
Just in case you're still interested in a transitionary machine that's almost as fully equipped as a regular professional design, but that's a little smaller and more accessible, but you just haven't felt entirely convinced yet, here's another wonderfully colorful and learner-friendly model for your consideration! Brother offers you a model that's awesome for kids who have moved beyond some of the very little and safety guarded machines we showed you earlier but aren't quite ready yet for their own full-sized machine that rivals yours.
This useful little machine offers your child 27 built-in stitches to learn, some of which are basic essentials that everyone should learn and some of which are a little more fun and decorative. One of the fundamentals is a one-step buttonhole feature that helps even young learner try their hand at something they'll always need to know how to do!
Beyond those settings, this machine comes with automatic needle threading capabilities, snag-free bobbin systems that are typical of most machines, six different useful sewing feet, a free arm feature, an instruction manual with its own tutorial DVD, and even a 25-year limited warranty to really make sure your machine lasts like the investment you intend it to be.
Pros
Comes with 27 built-in stitches and 6 feet. 
Features a bunch of accessories. 
Cons
Not as lightweight as you'd think. 
View price on

Amazon
Conclusion
Do you know another sewing, crafting, and DIY enthusiast who has been thinking about investing in a kid-friendly sewing machine for their child but who feels like they could use a bit of advice along the way? Share this post with them, so they have all kinds of options, recommendations, and information to consider along the way!
The post 10 Best Sewing Machines for Kids appeared first on DIYs.com.